Artificial Intelligence (AI) is now well-established as a transformative technology across various sectors of industry, from retail and manufacturing to transport, as well as in government and in scientific research.
Organised by The Chinese University of Hong Kong (CUHK) Business School's Centre for Consumer Insights, an online workshop on AI adoption for traditional industries and organisations will be held on 15 August 2020 morning.
The transformative impact of AI comes from both its effect on intelligent decision making and predictions as well as from its facilitation of greater automation. The workshop aims to help traditional industries and organisations, as well as SMEs on how to embrace AI, an inevitable challenge for businesses around the world.
Five speakers, who are industry veterans on AI solutions, will be sharing with the audiences their insights and the factors that influence adoption of AI in traditional industries, and the opportunities and risks that such adoption will entail.
Language: English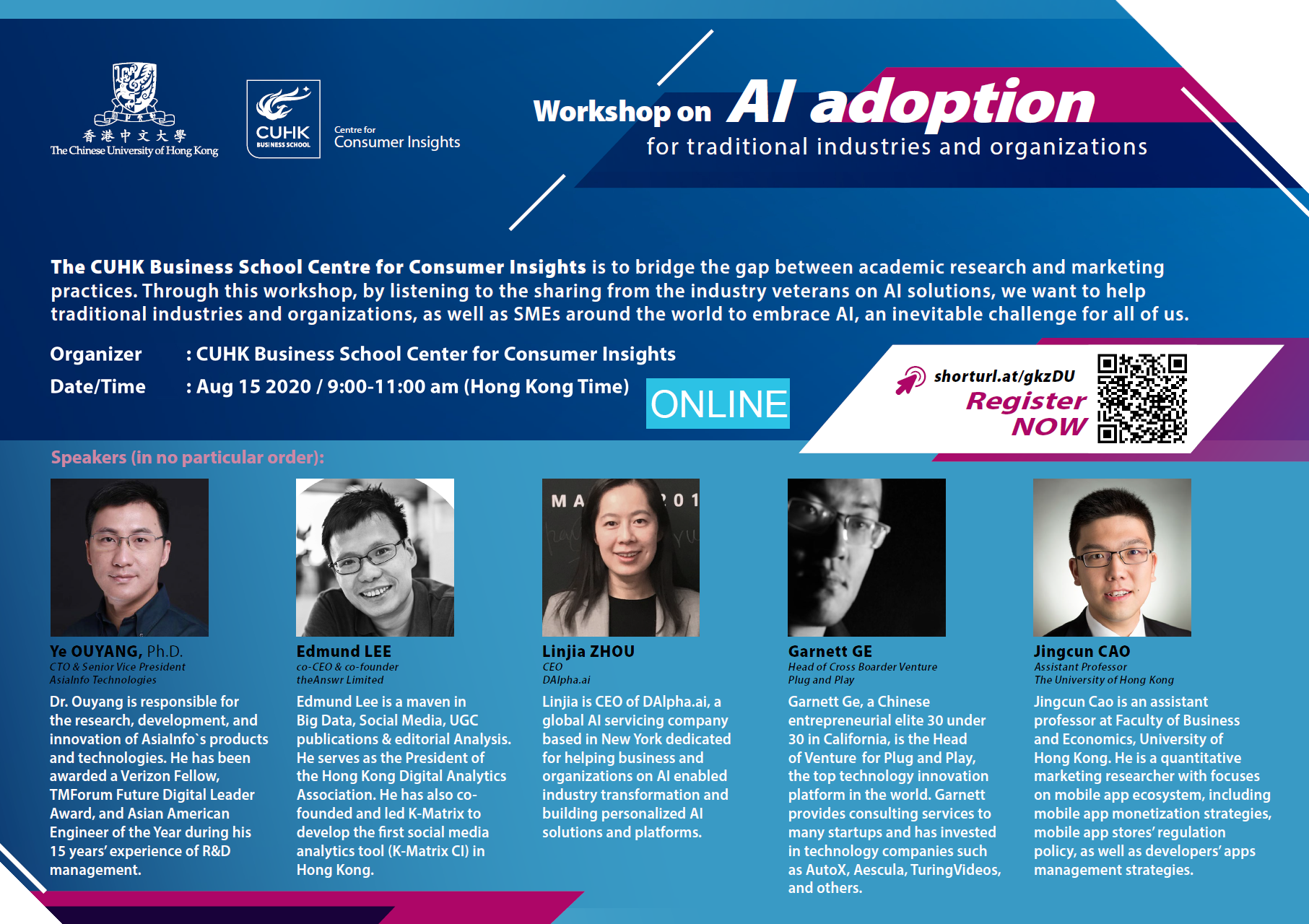 ---
Speakers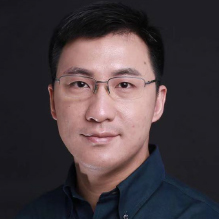 Ye OUYANG
Chief Technology Officer and Senior Vice President
AsiaInfo Technologies
Ye Ouyang is responsible for the research, development, and innovation of AsiaInfo's products and technologies. He has been awarded a Verizon Fellow, TMForum Future Digital Leader Award, and Asian American Engineer of the Year during his 15 years' experience of R&D management.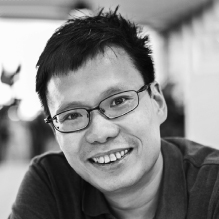 Edmund LEE
Co-CEO and Co-founder
theAnswr Limited
Edmund Lee is a maven in big data, social media, UGC publications and editorial analysis. He serves as the President of the Hong Kong Digital Analytics Association. He has also co-founded and led K-Matrix to develop the first social media analytics tool (K-Matrix CI) in Hong Kong.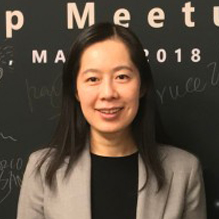 Linjia ZHOU
CEO
DAIpha.ai
Linjia ZHOU is CEO of DAlpha.ai, a global AI servicing company based in New York dedicated for helping businesses and organisations on AI enabled industry transformation and building personalised AI solutions and platforms.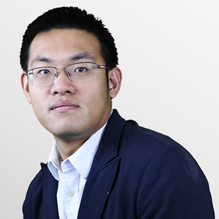 Garnett GE
Head of Cross Border Venture
Plug and Play
Garnett Ge, a Chinese entrepreneurial elite 30 under 30 in California, is the Head of Cross Border Venture for Plug and Play, the top technology innovation platform in the world. Garnett provides consulting services to many startups and has invested in technology companies such as AutoX, Aescula, TuringVideos, and others.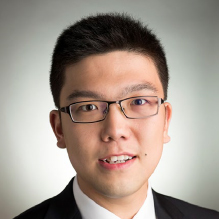 Jingcun CAO
Assistant Professor
The University of Hong Kong
Jingcun Cao is an assistant professor of Faculty of Business and Economics at The University of Hong Kong. He is quantitative marketing researcher with focuses on mobile app ecosystem, including mobile app monetisation strategies, mobile app stores' regulation policy, as well as developers' apps management strategies.