Ten alumni of The Chinese University of Hong Kong (CUHK) Business School brought home 14 awards from the Association of Chartered Certified Accountants (ACCA) Examinations during September 2020 and June 2021.
On 16 October 2021, ten alumni from the BBA in Professional Accountancy (PACC), BBA in Quantitative Finance (QFIN), Integrated BBA (IBBA) and Master of Accountancy (MAcc) programmes were honoured at the ACCA Hong Kong Top Achievers Awards Presentation Ceremony. They achieved outstanding performances in the September 2020, December 2020, March 2021 and June 2021 exam sessions:
September 2020 Session
Top Affiliate: Yangxiaoqing Sheng (MAcc 2017)
Top Score in Audit and Assurance: Wenxing Pei (PACC 2020)
Top Score in Advanced Performance Management: Anastasia Hiu-yan Wong (PACC 2020)
Top Score in Strategic Business Reporting: Karina Ka-yan Wong (PACC 2013)
December 2020 Session
Top Affiliate: William Chak-wai Wang (QFIN 2017)
Top Score in Advanced Taxation: Karina Ka-yan Wong (PACC 2013)
March 2021 Session
Gold Medalist: Michael Tsz-wai Chan (IBBA 2018)
Top Affiliate: Seraph Ching-foon Chi (PACC 2020)
June 2021 Session
Bronze Medalist (Joint): Karina Ka-yan Wong (PACC 2013)
Top Affiliate: Anastasia Hiu-yan Wong (PACC 2020)
Top Affiliate: Sunny Chung-wo Leung (PACC 2020)
Top Score in Advanced Audit and Assurance: Ingrid Yue Zhang (PACC 2020)
In addition, two PACC alumni, Anastasia Hiu-yan Wong (PACC 2020) and Michelle Tsui-ling Tsang (PACC 2022), were awarded the Outstanding CE Award. They were recognised for joining the fast-track ACCA Conditional Exemption (CE) Programme and completing all ACCA papers in less than 2 years.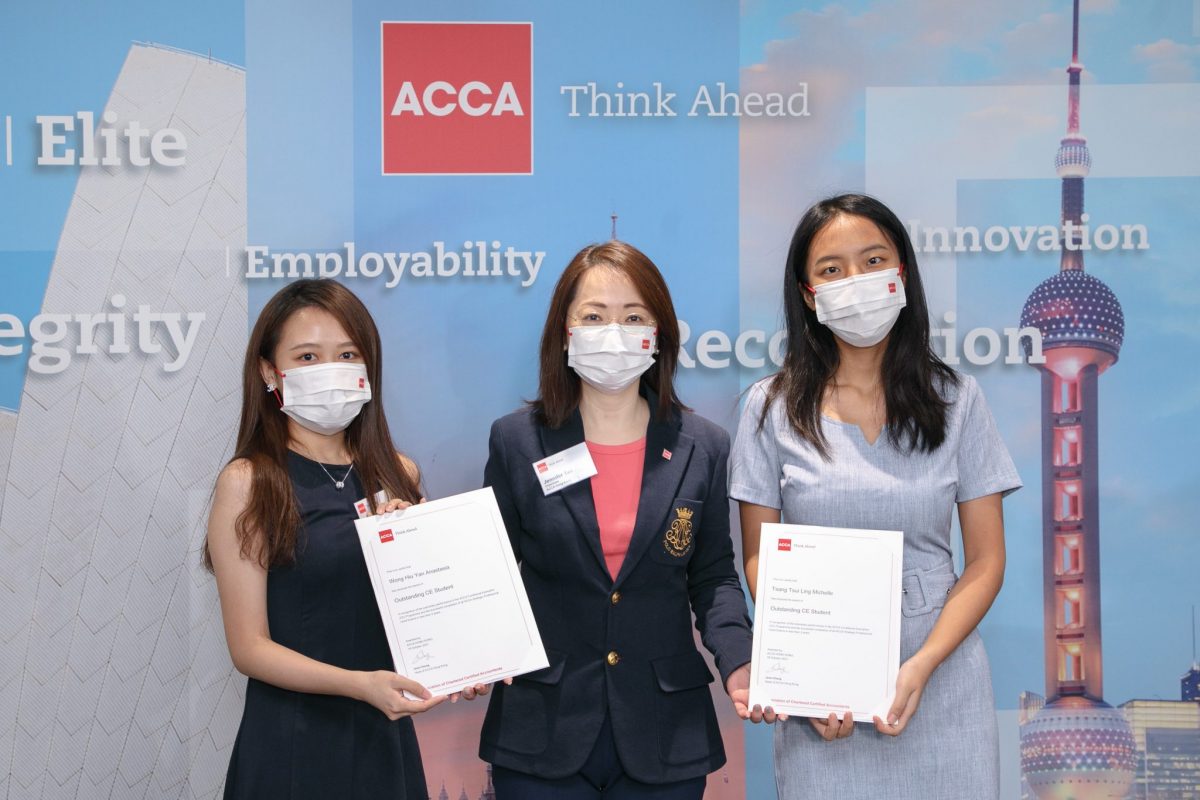 PACC alumni Anastasia (left) and Michelle (right) were awarded the Outstanding CE Award
Anastasia, who swept a total of three ACCA awards, shared: "My 4-year PACC journey was so rewarding. The comprehensive curriculum and all-round activities led me to the decision of further pursuing accounting qualifications and professionalism. The PACC programme guided me through numerous pivotal accounting topics which substantially made my exam preparation easier, needless to mention the privileged paper exemptions that I was granted with. Notwithstanding my current role in banking industry, I was spurred by the ubiquitous usage of accounting skills in the workplace such as financial and credit analysis, risk review and compliance. Undeniably, it was tough to manage working and studying simultaneously, I am thus grateful to finish all the ACCA examinations within a year with great achievements."
Eric Leung, PACC Programme Director and Senior Lecturer of the School of Accountancy at CUHK Business School added: "I am delighted to see the excellent performance of our graduates in the ACCA examinations. An increasing number of our graduates are working in non-traditional accounting roles such as investment evaluation, financial risk management, business advisory as well as data analysis and decision support. These are all relevant roles to get a professional qualification."
ACCA is the global body for professional accountants, offering business-relevant, first-choice qualifications to people of application, ability and ambition around the world who seek a rewarding career in accountancy, finance and management. The ACCA Qualification rigorously tests the skills, abilities and competencies demanded of a modern-day accountant, preparing students for a rewarding career as a qualified and ethical finance professional. The qualification also examines digital skills and knowledge, with enhanced digital content across many of the exams designed to keep ACCA students ahead.
*Notes: Top Affiliates are those who completed all the ACCA exams while also attaining the top aggregate marks for papers in the Strategic Professional level – essentials and option module papers. Among those Top Affiliates, the ones with the highest scores will be awarded Gold, Silver and Bronze Medals.