You are cordially invited to join the CUMBA Alumni Association in helping the Regeneration Society on their Flag Day on 5 October 2019.
The Regeneration Society (再生會) was formed in 1991, with the purpose to promote health reconstruction  (以「健康重建、生機再現」為目標,推廣復康及健康管理,致力為紅斑狼瘡、硬皮症、痛症及有情緒困擾之人士提供多元化的服務。).  The funds raised from the Flag Day would be crucial for the Regeneration Society to sustain and further develop their services.
Join us to form a CUMBA AA Team, and contribute to a meaningful cause!
Each participant will also get a CUHK Business School T-shirt – while stock last!  (sponsored by the CUHK Business School).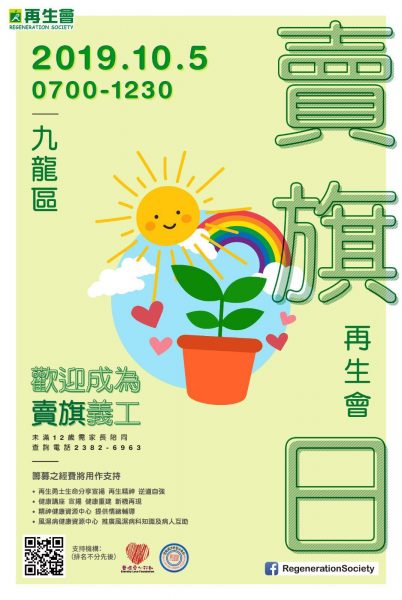 ---
Flag Day Details
Participants
CUMBA Alumni (family and friends welcome)
Two categories
Adult
Family (children under 14 must be accompanied by adults)
Highlights
A Certificate of Appreciation will be presented to the volunteers after the event.
Each volunteer would be qualified to claim 5 hours of volunteering time.
Accident Insurance would be arranged for all registered volunteers.
Registration
Please click here to register online by 17 September 2019.
NOTE: Your name and contact phone number will be provided to the Regeneration Society.
Collection of Flag Bags
A representative of the registered volunteer would be asked to collect the Flag Day materials (such as coins bags & flags, CUHK T-shirts etc) from the CUHK Business School Town Centre, Unit B, 1/F, Bank of America Tower, 12 Harcourt Road, Central, Hong Kong

We look forward to seeing you then!