Overview
In line with CUHK Business School's vision of achieving excellence with purpose and responsibility, we actively pursue corporate partnerships with like-minded companies to contribute to the growth of our school, students, and the business community as a whole.
Contact Us
Strategic Partnership Office
15/F, Cheng Yu Tung Building
12 Chak Cheung Street
Shatin, N.T., Hong Kong
+852 3943 1918
strategic-partnership@cuhk.edu.hk
---
1. Co-create Solutions through Capstone Projects
Through capstone projects, our students incorporate their learning from the programme to address real-world business problems. Under close supervision of our faculty, selected student teams work alongside industry professionals to conduct market research, formulate strategies, and develop business plans, bringing fresh and forward-thinking solutions to the company's unique business issues and challenges.
Capstone Projects offer a number of benefits to project sponsoring companies:
A cost-effective way to address specific business issues through our student teams with support by faculty supervisors.
A chance to gain fresh perspectives and new ideas from our student teams.
Opportunity to recruit bright graduates from a diverse pool of students.
Brand promotion among students, other project sponsors, and the wider community.
A valuable opportunity to connect with our faculty members who are subject matter experts in their respective areas.
Some of Our Past Capstone Project Corporate Partners:
AstraZeneca
Banco Santander
Bowtie Life Insurance
DBS Bank
Eastfort Asset Management
Hang Seng Bank
Huajun International Group
IBM
JLL
Langham Hotel Group
Lane Crawford
Ngong Ping 360
Redhill Capital
Stan Group
ZA Group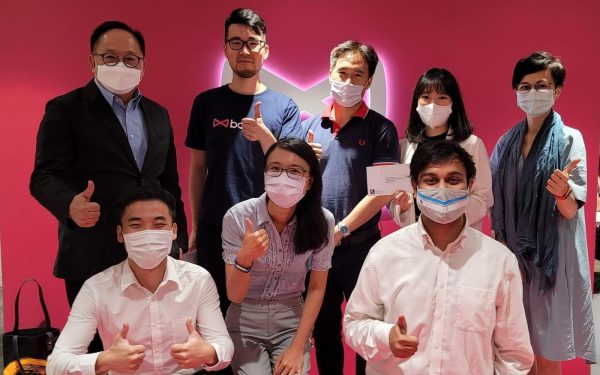 Glowing Reviews from Our Past Project Sponsors
"I was impressed by the students' active listening and ability to take constructive feedback throughout the engagement. With a handful of touchpoints, I was pleasantly surprised that most of my comments and directions were incorporated into the analysis which drove the final recommendations. With the right guidance from future managers and appropriate opportunities to learn and grow, I can see a promising future ahead for this group of students."

— ZA Insurance
"CUHK MBA students have shown enthusiasm and passion in this research project, exploring and gathering the updated market information, and giving a professional presentation. We appreciate the work done by the team, and we have all learned through the process."

— Stan Group
2. Industry Sharing through Guest Lectures and Events
We are committed to grooming knowledgeable future business leaders and equipping them to navigate a constantly changing business landscape.
To that end, we regularly organise sharing activities where industry professionals can inspire our students with their insights about the latest industry practices, business trends, and career tips first-hand.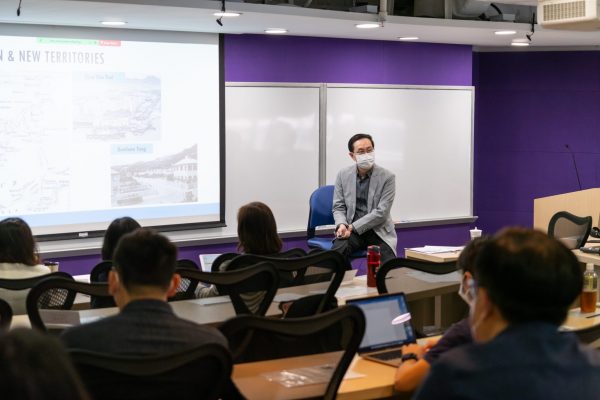 3. On-the-job Learning through Internship and Graduate Opportunities
We cultivate beneficial relationships with our partner organisations by matching the skills and talents of our students and recent alumni to the strategic needs of their business. Through local and overseas internships or graduate placements, our diverse pool of students and alumni enjoy immersive, hands-on learning experiences while contributing to their employers' success and a sustainable business environment.
Welcome to discuss with us on any recruitment initiative. For potential hiring of our students, please contact our Career Management Centre at cuhkcmc@cuhk.edu.hk or +852 3943 8619.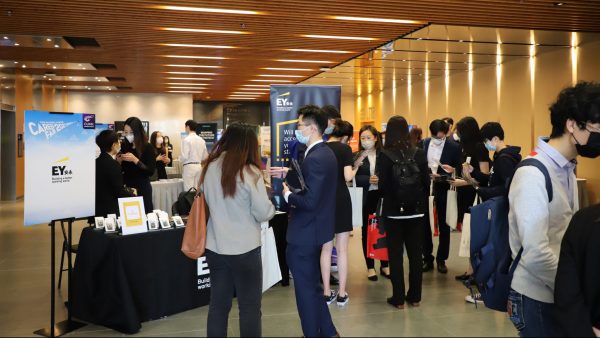 4. Support Future Global Business Leaders through Sponsorships and Scholarships
Sponsorships and scholarships provide a platform for our corporate partners to strengthen their corporate image while supporting talent development among our students. We greatly value the support of generous companies and organisations through sponsorships for teaching, research innovations, and scholarships for outstanding students nominated by the Business School based on academic performance or any other criteria as mutually agreed with the sponsors.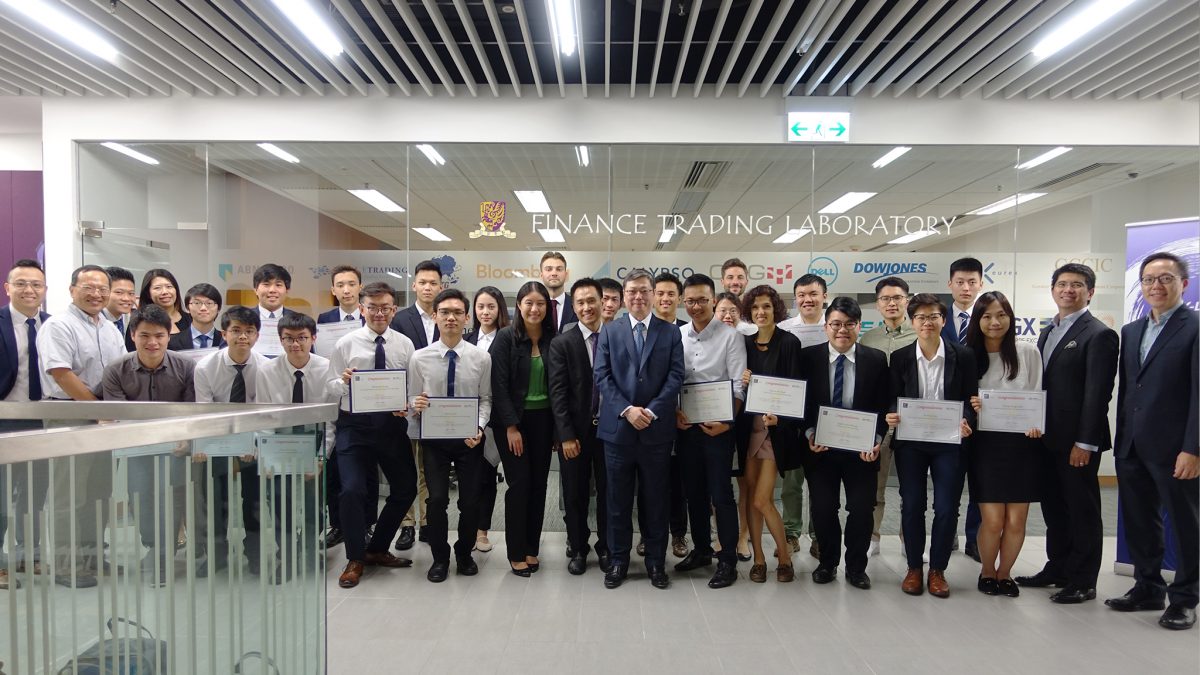 ---
1. Business Advancement through Collaborative Research and Training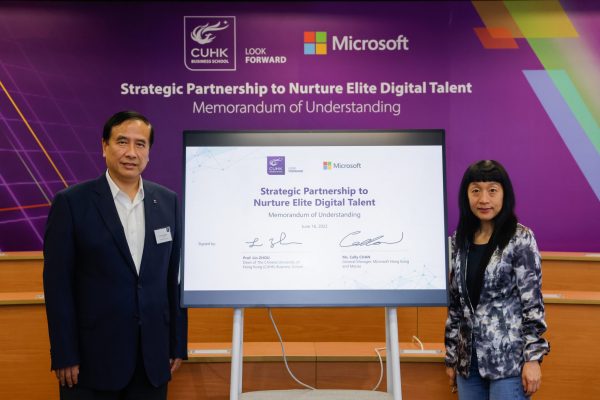 CUHK Business School is renowned for its high-quality research and breakthrough theories in a variety of academic areas. We invite companies to join forces with our faculty in generating knowledge, creating original solutions in the market, and driving business innovation through our bespoke sponsored research and training opportunities.
Learn more about our research through the China Business Knowledge platform.
2. Talent Development through Executive Education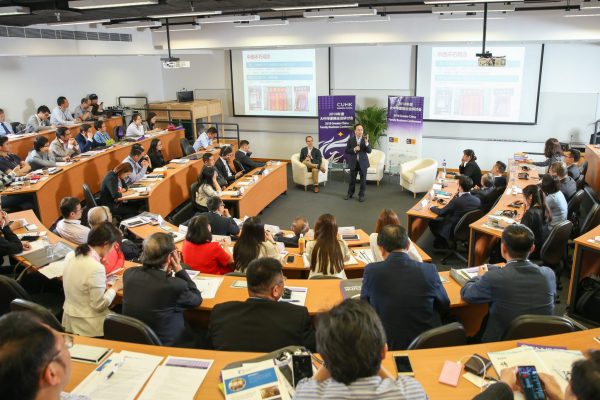 We help our corporate partners stay competitive through training and continuing education programmes for their employees, offered by CUHK Business School's executive education arm, Asia-Pacific Institute of Business (APIB).
Through APIB, we provide a wide range of executive training options, with customised classes and tailored programmes to meet the needs of our partners' talent development and retention strategies.
3. Thought Leadership through Event Collaboration and Speaking Engagements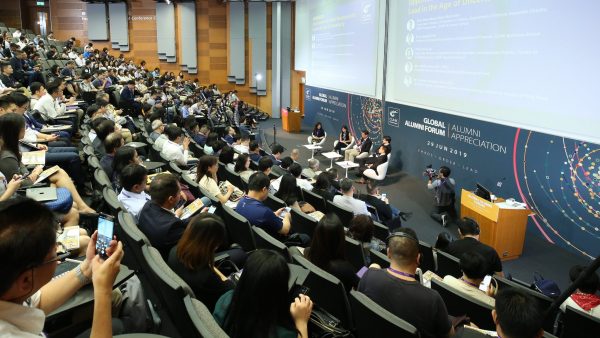 We engage the business community and build influence as a thought leader by co-organising or supporting impact-driven events. With our top-notch professors in diverse fields, we initiate courageous and thought-provoking dialogues to advance business innovation.
To explore collaboration opportunities with CUHK Business School, please contact us at strategic-partnership@cuhk.edu.hk or +852 3943 1918.
---