Global Talk Series – MBA Luncheon Talk (Hong Kong): The Collapse of Silicon Valley Bank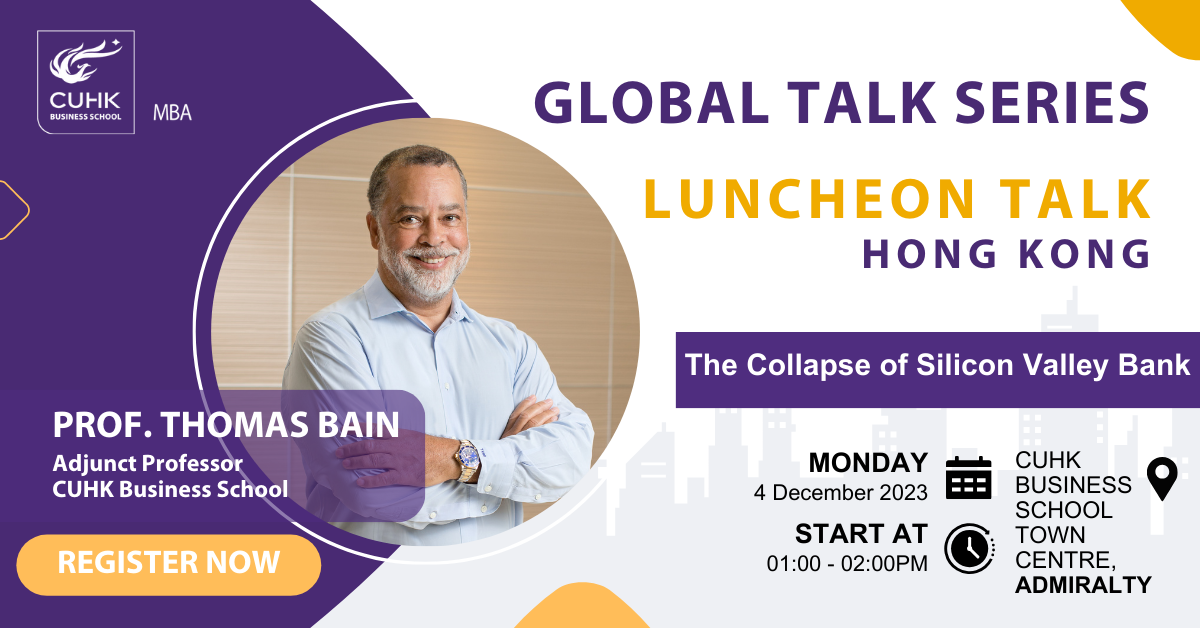 Join us in Hong Kong for a captivating luncheon talk on "The Collapse of Silicon Valley Bank" featuring Prof. Thomas Bain from CUHK Business School. Dive into the intriguing story behind one of Silicon Valley's notable financial institutions and gain valuable insights into the factors contributing to its downfall.
With over 25 years of experience in the banking and financial services sector, Prof. Bain brings a wealth of knowledge and expertise to shed light on this compelling topic.
Don't miss this opportunity to explore the lessons learned and engage in insightful discussions. Save the date and be part of this thought-provoking event.
Secure your spot today and be part of this enlightening and inspiring luncheon talk.
Reserve your spot now!
Speaker: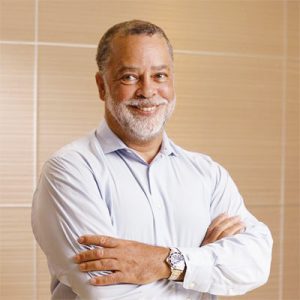 Prof. Thomas Bain has over 25 years of experience in the banking and financial services sector and was employed by the Central Bank of the Bahamas (4 years), JP Morgan (18 years), and Barclays Wealth (3 years). He has worked for a number of years in Nassau, New York, London, Tokyo and Hong Kong.
His experience at JP Morgan included U.S. Treasury Sales, Fixed Income Sales, Human Resources, Recruiting & Professional Development and Global/Emerging Markets Strategies. He also spent time as Global Head of Graduate Recruiting & Training. He was a managing director at JP Morgan for 12 years. At Barclays Wealth, he was Director of UK Private Bank and Head of Human Resources Transformation and LL&D.
Prof. Bain moved to Hong Kong in 2009, where he established Bain Leadership Advisors Ltd. to provide training, executive coaching and leadership consulting to many of the world's top financial institutions in the APAC region.
He has worked on leadership programmes and executive coaching for Senior Executives at UBS, Barclays, JP Morgan, Société Générale, BlackRock, Credit Suisse, Bank of America/Merrill Lynch, BNP Paribas, HSBC and Morgan Stanley.
Prof. Bain is an Adjunct Professor of The Chinese University of Hong Kong (CUHK) Business School, where he has been teaching in the MBA programmes. He is also an Adjunct Professor at CUHK-Shenzhen teaching the MSc in Finance programme. He has received CUHK Business School's Faculty Teaching Excellence Award in 2011, 2012, 2013 and 2014.
He holds a BSc (Hons.) from the University of London, and an MBA from Columbia University. He is also a Professional Certified Coach (PCC) by the International Coach Federation (ICF).
Click here to book your in-person consultation with our admission officer on the same day as the luncheon talk. Don't miss this opportunity to have a personalised discussion about the CUHK MBA Programmes.
Remarks: The event will be conducted in English. Seats are limited, please register your place ASAP to avoid disappointment.
---
CUHK Business School was the first in Hong Kong and in the region to offer BBA, MBA and EMBA programmes, with over 40,000 alumni worldwide. We are a global institution that embraces innovation, nurtures an entrepreneurial mindset and promotes social responsibility. Leveraging on our deep connections to mainland China, especially the Greater Bay Area, we actively contribute to the social and economic development of this region.
CUHK MBA Programme, one of the Global Top 50 MBAs and the longest-established MBA programme in Asia, has nurtured prominent global leaders for the Asian Century. Our curriculum builds essential Finance, Entrepreneurship, Digital & Management skills for the digital era. It comprises six optional concentrations – Business Analytics, Entrepreneurship & Innovation, Information and Technology Management, Finance, China Business and Marketing. We are also constantly seeking out and encouraging new ways of learning, thinking and engaging with the community, as a humanistic spirit has been one of CUHK's core values.