"Happy Hour Gathering" with Young CUHK Entrepreneurs of "The Forbes 30 Under 30 Asia"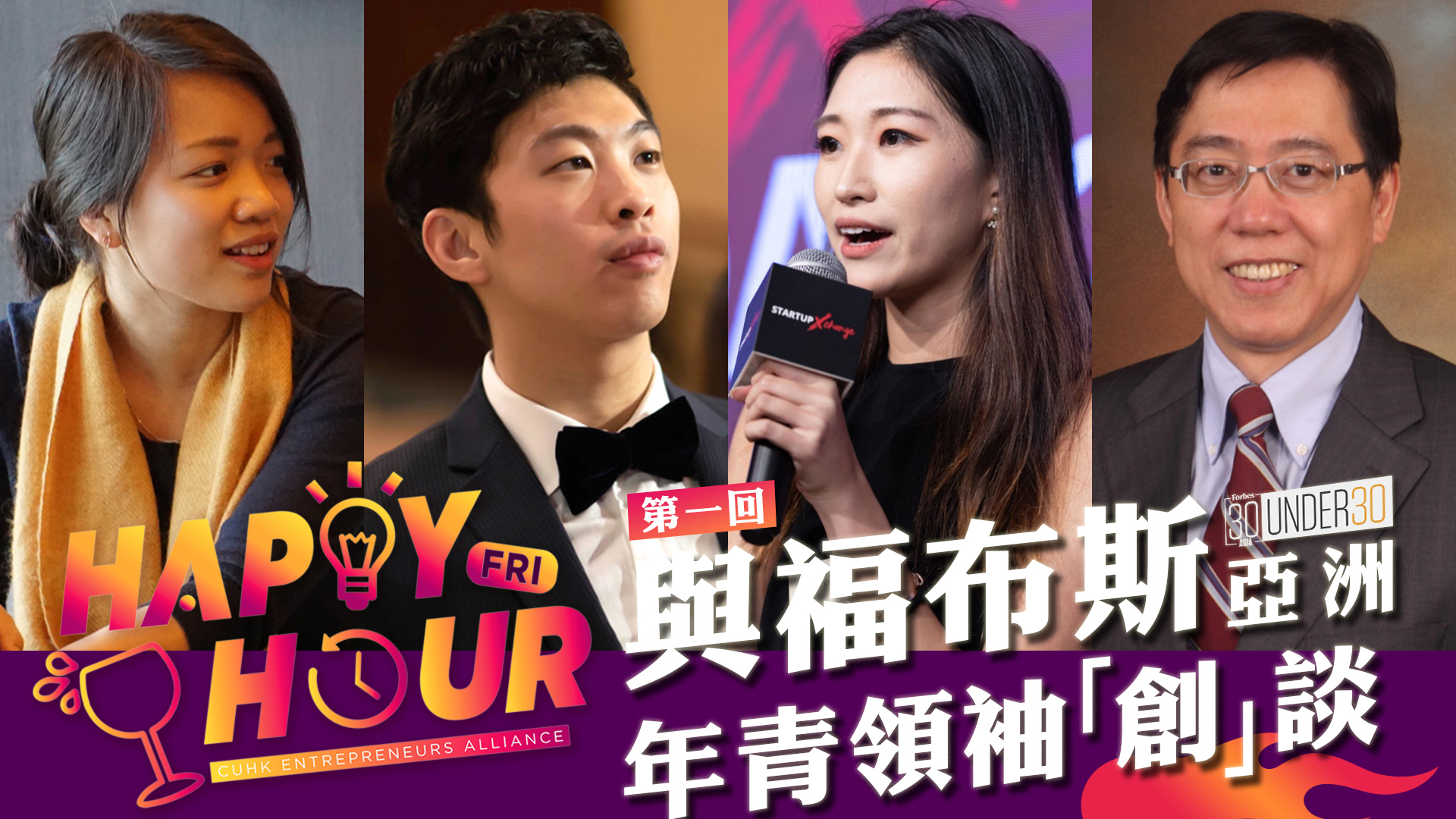 To further promote the entrepreneurial spirit among CUHK-ers, CUHK Alumni Torch Fund joined hands with relevant alumni associations and departments in CUHK, and launched the CUHK Entrepreneurs Alliance (CUEA), an alliance that aims to strengthen the network of CUHK alumni and faculty who are keen on the topic and share valuable resources through talks, meet-ups and interactions.
In view of the pandemic, the physical "Happy Hour Gathering" will be conducted in a virtual setting, as a 20-minute chit-chat session on 26 June 2020 (Friday) at 5pm.  We are honoured to have invited young entrepreneurial alumni from the BBA in International Business and Chinese Enterprise (IBCE) programme who were just named on the Forbes 30 Under 30 Asia 2020 List to be the speakers of the evening. They include:
The session will be moderated by senior alumnus Mr. Peter Hung (BBA 1980), President of Forbes Global Holdings.
The online event will be held in Cantonese only. Check out here to learn more and register now for a chance to engage yourself in the Q&A session with the speakers!
---
About the Speakers
Ms. Winnie Lee (IBBA  2016), Co-founder of Spread-it
An honoree in the Media, Marketing & Advertising category of Forbes 30 Under 30 Asia 2020, Winnie Lee (IBCE 2018) and her partner founded Spread-it in 2016. Today, Spread-it is a micro-influencer marketing platform in Hong Kong, Singapore and Thailand, matching companies with suitable social media personalities to help promote marketing campaigns. So far, the startup has worked with more than 500 brands, such as McDonald's, Clinique and H&M, to create over 500,000 Instagram posts that generated more than 10 million engagements in total. In 2018, Spread-it merged with Chinese mobile payments startup QFPay and is looking to expand in Asia.
Mr. Chester Szeen (IBBA  2016) and Ms. Teresa Chan (IBBA  2018), Co-founders of Mellow
Among the 43 honoree in the Finance & Venture Capital category of Forbes 30 Under 30 Asia 2020, Chester Szeen (IBCE 2016) and Teresa Chan (IBCE 2018) are the co-founders of Mellow. The Hong Kong-based startup operates a personal finance and digital payment app, which is connected to a Mastercard debit card, to help children learn about money management, such as saving toward a goal and keeping track of spending. In 2019, Mellow was one of 18 graduates from AppWorks, an AI and blockchain-focused accelerator in Taiwan, and it was named as one of the 12 top startups of Jumpstarter, a not-for-profit initiative curated by the Alibaba Entrepreneurs Fund in Hong Kong. Mellow is supported by Cyberport, Accenture, the Japanese government, Mizuho Bank and New World Development.
About the Moderator
Mr. Peter Hung is President and Chief Representative of Forbes Global Holdings. Mr. Hung oversees the global brand and licensing business and certain joint venture business for Forbes Media. Previously he was the Chief Operating Officer for China Motion Telecom International in Hong Kong and a micro financing business in China. Mr. Hung has extensive cross-cultural marketing experience having spent his earlier career at AT&T, DM&B and Johnson & Johnson in both US and Hong Kong. Mr. Hung received first class honours in BBA (Marketing) from The Chinese University of Hong Kong and MBA from the University of Chicago Booth School of Business.