Au Yeung, Anson C.K.(歐陽秋乾)
BBA, PhD (CityU)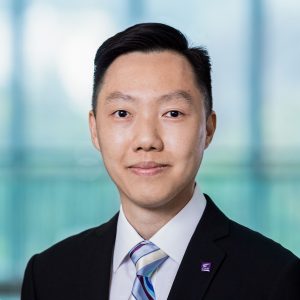 Senior Lecturer
Assistant Dean (Undergraduate Studies)
Director, Asian Business Studies Programme
Co-director, Integrated BBA Programme
Contact
Department of Finance
Room 856, 8/F
Cheng Yu Tung Building
12 Chak Cheung Street
Shatin, N.T., Hong Kong
+852 3943 3780

ansonauyeung@baf.cuhk.edu.hk


Biography
Dr. Anson Au Yeung is a Senior Lecturer in Finance and the Assistant Dean for Undergraduate Studies at The Chinese University of Hong Kong (CUHK) Business School. He currently serves as the Programme Director for two programmes: Asian Business Studies (ABS) and International Business & Chinese Enterprise (IBCE). Prior to joining CUHK, Dr. Au Yeung was a Visiting Assistant Professor at City University of Hong Kong and a Visiting Scholar at the Kellogg School of Management, Northwestern University.
Dr. Au Yeung's research interests focus on corporate finance, capital markets, and international finance. His work has been recognised, with his paper titled "Firm Growth Type and Capital Structure Persistence" receiving Best Paper Awards at the China International Conference and the NTU International Conference.
Dr. Au Yeung has a broad teaching spectrum, ranging from undergraduate to EMBA levels. In recognition of his dedication and excellence in teaching, he was awarded the Vice-Chancellor's Exemplary Teaching Award in 2018.
Teaching Areas
Corporate Finance
International Finance
Capital Markets
Research Interests
Corporate Finance
Capital Markets
Awards & Honours

Vice-Chancellor's Exemplary Teaching Award 2018, CUHK
The 2008 CICF Best Paper Award for the best papers at the China International Conference in Finance
The 2008 NTU Outstanding Paper Award for the best papers at the International Conference on Finance