Charm, Toa(湛家揚)
BSc, MBA, DBA, CBIP (TDWI), AI and Big Data Cert. (MIT), MHKCS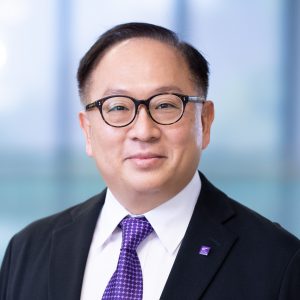 Associate Professor of Practice in Management
Director of Business Development, The Asia-Pacific Institute of Business

Contact
Room 846,
8/F, Cheng Yu Tung Building
12 Chak Cheung Street
Shatin, N.T., Hong Kong
+852 3943 7428

toacharm@cuhk.edu.hk


Biography
Prof. Toa Charm has been contributing to the innovation and technology industry for more than 30 years. He held senior management positions in leading multinational, Hong Kong and mainland enterprises including Cyberport, HSBC, IBM, Oracle, Kingdee and Jardine Pacific. Prof. Charm is currently an associate professor in The Chinese University of Hong Kong (CUHK) Business School where he cultivates the next generation of digital leaders and entrepreneurs. He also chairs and advises a few elite AI/Big Data and FinTech start-ups in Asia.
Prof. Charm specialises in AI/Big Data, FinTech, Innovation and Entrepreneurship, Digital Strategy, Leadership and Transformation. He has been empowering enterprises such as HSBC, Chow Tai Fook, Convoy, Hong Kong Airport Authority, Hong Kong TownGas, MTRC, Baidu, Lenovo, China Construction Bank, to transform to the digital economy in various ways. It includes advising senior management on digital transformation, bringing in innovations from start-ups to match corporate needs, co-organizing innovation labs, accelerators, competitions and hackathons with corporates, and delivering best practices training to corporates.
Prof. Charm has been actively cultivating the start-ups ecosystem in Hong Kong and Asia. While he was the Chief Public Mission Officer of Hong Kong Cyberport, Prof. Charm led his team to establish and cultivate a world-leading digital tech ecosystem in Hong Kong with 1,200+ digital tech companies from 30+ countries where 300+ are FinTech companies and at least 3 are unicorns now. At present, Prof. Charm continues playing an active role in Cyberport's Entrepreneurship Committee Advisory Group, HKSTP's Mentorship Programme, ASTRI's Technology Panel and FHKI's Startup Council. He was the Head Judge of 2020 and 2019 HK ICT Awards – FinTech Award and the final judges of the most influential start-ups competitions such as MIT Technology Review Innovators Under 35 APAC, Alibaba JumpStarter, HSBC x HKET Innovative Business Award, HKSTP Elevator Pitch, TechCrunch, BOCHK Hackathon, Citi Challenge, etc.
Prof. Charm serves the communities and industries in Asia through participating in professional and business associations. It includes Hong Kong Institute of Bankers, Hong Kong Retail Management Association, Hong Kong Consumer Council, Hong Kong GS1, Hong Kong Computer Society, Institute of Financial Technologists of Asia, Greater Bay Area Economic & Trade Association, Macau SAR Government Talents Development Committee, Macau University of Science and Technology, Dongguan High-Tech Industry Association, Taipei Foundation of Finance, Malaysia MDEC and more.
Academic/Professional Service

Former Senior Management of Cyberport, HSBC, IBM, Oracle and Kingdee
Founding Chairperson, Big Data & FinTech SIG, Hong Kong Computer Society