Ku, Fred Kei-tat(古紀達)
BBA, PhD (HKUST)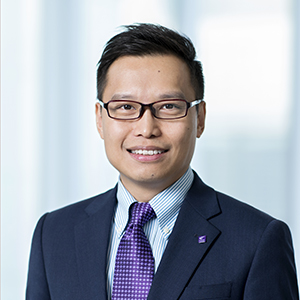 Senior Lecturer
Associate Dean (Undergraduate Studies)
Director of Studies in Undergraduate Studies in Business
Co-director, Integrated BBA Programme
Contact
Department of Decisions, Operations and Technology
Room 734, 7/F
Cheng Yu Tung Building
12 Chak Cheung Street
Shatin, N.T., Hong Kong
+852 3943 1686

fredku@baf.cuhk.edu.hk


Biography
Dr. Fred Ku, currently Associate Dean for undergraduate studies and Director of the Integrated BBA programme, has been with CUHK Business School since 2009. Prior to joining the Department of Decisions, Operations and Technology, CUHK Business School, he received his BBA and PhD degrees from the Hong Kong University of Science and Technology (HKUST).
With expertise in business economics, he teaches courses in microeconomics, macroeconomics, managerial economics, and business statistics for MBA, MAcc, MSc and UG programmes. Dr. Ku has written 7 teaching cases, published a book on economics, and has been an active case contributor to popular economics textbooks. As a pioneering educator, he has also produced more than 10 educational videos, and developed an interactive classroom game. His prominent contribution to teaching and learning has been recognised by the CUHK Vice-Chancellor's Exemplary Teaching Award 2013 and multiple teaching awards by CUHK Business School.
Since 2013, Dr. Ku has also served as Associate Director of Programme for Economic Education, Economic Research Centre, Hong Kong Institute of Asia-Pacific Studies. He has led and participated in various teaching and learning projects supported by CUHK and Education Bureau. He also provides consultancy services for Trade and Industry Department of Hong Kong. Dr. Ku contributes to the professional community by conducting professional seminars and training workshops for Education Bureau. He is also a regular speaker for a popular radio show.
Teaching Areas
Microeconomics
Macroeconomics
Managerial Economics
Business Statistics
Research Interests
Industrial Organisation
Business Strategy
Grants

"Firm Visit using Virtual Reality Technology", Courseware Development Grant Scheme (CDG), CUHK, 2018-19 (Principal Invetigator, HK$90,000)
"Flipping the Economics Classroom", Quality Education Fund, Education Bureau, HKSAR Government, 2018 – 21 (Co-Principal Investigator, HK$2,727,700)
"Provision of Services for Conducting Teacher Professional Development Programme on Promoting Self-Directed Learning in Economics", Education Bureau, HKSAR Government, 2017-18 (Co-investigator, HK$700,000)
"eLearning Community of Practice (eLCoP)", Teaching Development and Language Enhancement Grant (TDLEG) for 2016-19 Triennium (Co-investigator, HK$342,000)
"Using Flipped Learning to Understand Market Competition", Micro-Module Courseware Development Grant, CUHK, 2017-18 (Principal Investigator, HK$99,000)
"Developing Multidisciplinary and Multicultural Competences through Gamification and Challenge-based Collaborative Learning", Funding Scheme for Teaching and Learning Related Proposals 2016 – 19 Triennium, University Grants Committee, HKSAR Government (Co-investigator, HK$8,697,140)
"Promoting Case-based Teaching and Learning Using an Innovative e-Approach" Teaching Development and Language Enhancement Grant (TDLEG), CUHK, 2016 – 19 (Co-Principal Investigator, HK$500,000)
"Mobile App for Learning Basic Statistics", Micro-Module Courseware Development Grant, CUHK, 2015 – 16 (Co-investigator, HK$88,000)
"Flipped Classroom with Micro-modules for Macroeconomics in Business", Micro-Module Courseware Development Grant, CUHK, 2015 (Principal Investigator, HK$100,000)
"Mobile App on Learning Monetary Policy", Courseware Development Grant Scheme, 2015-16 (Co-investigator, HK$70,000)
"Provision of Services for Providing Course Content for EDB Web-based Learning Course in Humanities", Education Bureau (EDB), HKSAR Government, 2014 (Co-investigator, $600,000)
"e-Learning Platform for HKDSE Economics", Knowledge Transfer Project Fund (KPF), CUHK, 2014 (Co-investigator, HK$150,000)
"Provision of Services for Development of Learning and Teaching Resources on Relationship between Economic Development of the Mainland and Hong Kong Economy", Education Bureau (EDB), HKSAR Government, 2014 (Co-investigator, HK$98,900)
"Provision of Services for Developing Resource Pack on Policy Evaluation and Conducting Professional Development Programmes on Using the Resource Pack in the Learning and Teaching of Economics", Education Bureau (EDB), HKSAR Government, 2013 (Co-investigator, HK$500,000)
"An Online Platform for Multimedia Educational Resources (PMER)", Teaching Development Grant (TDG), CUHK, 2012-15 (Co-Principal Investigator, HK$298,000)
"Provision of Services for Developing Video Resource Pack and Conducting Training Programmes on the Use of Video in the Learning and Teaching of Economics", EDB, HKSAR Government, 2011-2012 (Co-investigator, HK$490,000)
Awards & Honours

Faculty Teaching Excellence Award, CUHK Business School, The Chinese University of Hong Kong, 2018-2019
Faculty Teaching Merit Award, CUHK Business School, The Chinese University of Hong Kong, 2014-2018
Vice-Chancellor's Exemplary Teaching Award, The Chinese University of Hong Kong, 2013
Teaching Excellence Ambassador, The Chinese University of Hong Kong, 2013-2015
Faculty Teaching Award, CUHK Business School, The Chinese University of Hong Kong, 2009-2014
Academic/Professional Services

Associate Director, Programme for Economic Education, Economic Research Centre, Hong Kong Institute of Asia-Pacific Studies, CUHK
Member, Asia-Pacific Economic Cooperation Study Centre, CUHK
Core Member, CUHK eLearning Community of Practice
Faculty Ambassador of various outreach activities