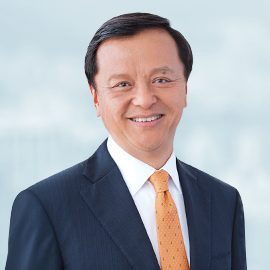 Adjunct Professor
Contact
Department of Finance
Room 1201, 12/F
Cheng Yu Tung Building
12 Chak Cheung Street
Shatin, N.T., Hong Kong
+852 3943 7805

fin@cuhk.edu.hk


Biography
Charles Li is the Chief Executive of HKEX with over 20 years of experience in the financial services sector. He has orchestrated some of the most significant strategic initiatives in HKEX's history, including the acquisition of the London Metal Exchange in 2012 and the launch of OTC Clear in 2013. He was also the architect of the groundbreaking Shanghai-Hong Kong Stock Connect cross-border trading scheme in 2014, which was expanded to include Shenzhen-Hong Kong Stock Connect in 2016 and Bond Connect in 2017. Mr. Li was also successful in leading the biggest reforms to Hong Kong's Listing Rules in a quarter century, opening the door to pre-revenue biotech companies and new economy companies with non-standard share structures for the first time.
Mr. Li has also been a member of the Chinese People's Political Consultative Conference since 2018 and is the co-chair of the World Economic Forum's Annual Meeting of New Champions in 2019.
Since 2012, Mr. Li has been appointed as an adjunct professor by CUHK Business School's Department of Finance.