Mok, Edwin K.M.(莫家明)
BBA (HKUST); MPhil (CUHK); PhD (CityU); CFA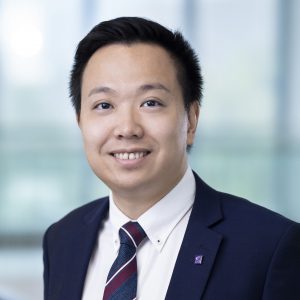 Lecturer
Co-director, Quantitative Finance Programme
Co-director, Interdisciplinary Major Programme in Quantitative Finance and Risk Management Science
Contact
Department of Finance
Room 852, 8/F
Cheng Yu Tung Building
12 Chak Cheung Street
Shatin, N.T. Hong Kong
+852 3943 7758

edwinmok@cuhk.edu.hk


Biography
Dr. Edwin Mok is a Lecturer in the Department of Finance at The Chinese University of Hong Kong (CUHK) Business School. He is teaching undergraduate courses including financial management, financial markets, investment analysis and portfolio management, options and futures, as well as financial analysis with Bloomberg and Excel. His main research interests include corporate finance, empirical asset pricing and IPO markets.
Dr. Mok has worked on several projects with Education Bureau of the Hong Kong Government, including the Gifted Education Fund Programme and development of learning and teaching resources for Life and Society (S1-3). He also worked with The Hong Kong Academy for Gifted Education to provide programmes for gifted students to nurture their entrepreneurial mindset.
Dr. Mok is passionate about teaching and won several teaching awards before. He applied for Courseware Development Grant Scheme to strengthen the course components, participated in teaching and learning conference, and is running YouTube channels to share personal finance knowledge with students and the public.
Dr. Mok's YouTube Channels:
Cantonese with Chinese Subtitle:
https://bit.ly/3x7S8Aq
English:
https://bit.ly/2U03qbO
Teaching Areas
Financial Management
Financial Markets
Investment Analysis and Portfolio Management
Options and Futures
Financial Analysis with Bloomberg and Excel
Research Interests
Corporate Finance
Empirical Asset Pricing
IPO markets
Publications & Working Papers

K. M. Mok, "Does price discreteness explain ex-dividend day behavior? New evidence from tick size reduction in Hong Kong"
K. M. Mok, "Do investors care about underwriter's reputation? Evidence from Hong Kong IPO market"
Awards & Honours

The Outstanding Teaching Awards for Teaching Assistants, The City University of Hong Kong, 2017-18