Ng, Sim-kheng(黃森琼)
BSc Hons, PhD (University of Melbourne); FIAA; FSA; FASHK; FASM; CPA Australia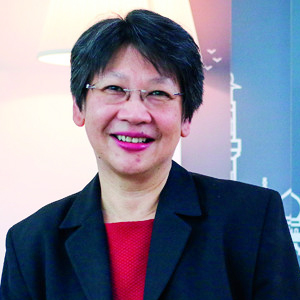 Adjunct Professor
Contact
Department of Finance
Room 1201, 12/F
Cheng Yu Tung Building
12 Chak Cheung Street
Shatin, N.T., Hong Kong
+852 3943 7805

fin@cuhk.edu.hk


Biography
Dr. Ng Sim-kheng is currently an Adjunct Professor with the Department of Finance. She is also currently the Chief Financial Officer for Prudential Assurance Malaysia Berhad, having joined Prudential in Hong Kong in 2010.
She has almost 30 years of commercial experience in Australia and Asia, of which over 15 years have been at senior management and strategic levels in the financial services and insurance industry across Hong Kong, China and ASEAN markets, both from the role of a regional head-office as well as managing the operating businesses.  Her experience has included roles such as Chief Financial Officer, Appointed Actuary, Board Supervisor and Board Director.
In addition, Sim has a broad spectrum of experience, including demutualisation and listing, M&A, finance and business transformation, implementation of new financial reporting standards, shareholder investment portfolio management, distribution remuneration and performance framework, joint venture negotiations and setup, and development of new business initiatives, new products and new distribution channels.
Academic/Professional Services

President, Actuarial Society of Hong Kong, 2007
Chairman, Advisory Committee for the BBA Programme in Insurance, Financial and Actuarial Analysis, Department of Finance, The Chinese University of Hong Kong, 2012-2018
Member, Advisory Committee for the BBA Programme in Insurance, Financial and Actuarial Analysis, Department of Finance, The Chinese University of Hong Kong, 2007-2012 and 2018 – Present