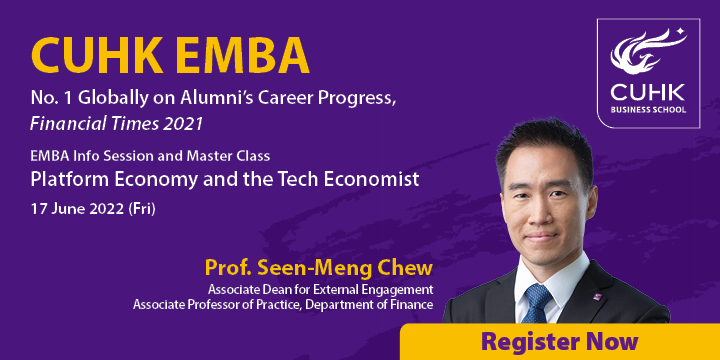 Many of the world's largest companies today are high technology companies that build platforms rather than physical goods. They are developing intangible assets that are sometimes more valuable than precious metals and properties.  They are also creating interesting new jobs in the digital economy which require more creativity and higher cognitive skills.  The 'tech economist' is one such job that is thriving and in great demand by the most prominent multinational corporations these days.
Join this Masterclass to learn about:
The emergence of the platform economy
Economic consequences of digital platforms
What do 'tech economists' do exactly?
In this session, you will:
Learn about the Programme Highlights
Experience an EMBA Master Class by our top-notch faculty Prof. Seen-Meng Chew
Hear from our Alumni about their unique learning experiences and career growth and transformation through EMBA study
Meet the Admissions Team and get personalised advice on your EMBA candidacy