EMBA Info Session & Master Class on "Stay Ahead of Your Competition: Treat Data as Your 2nd Business Language"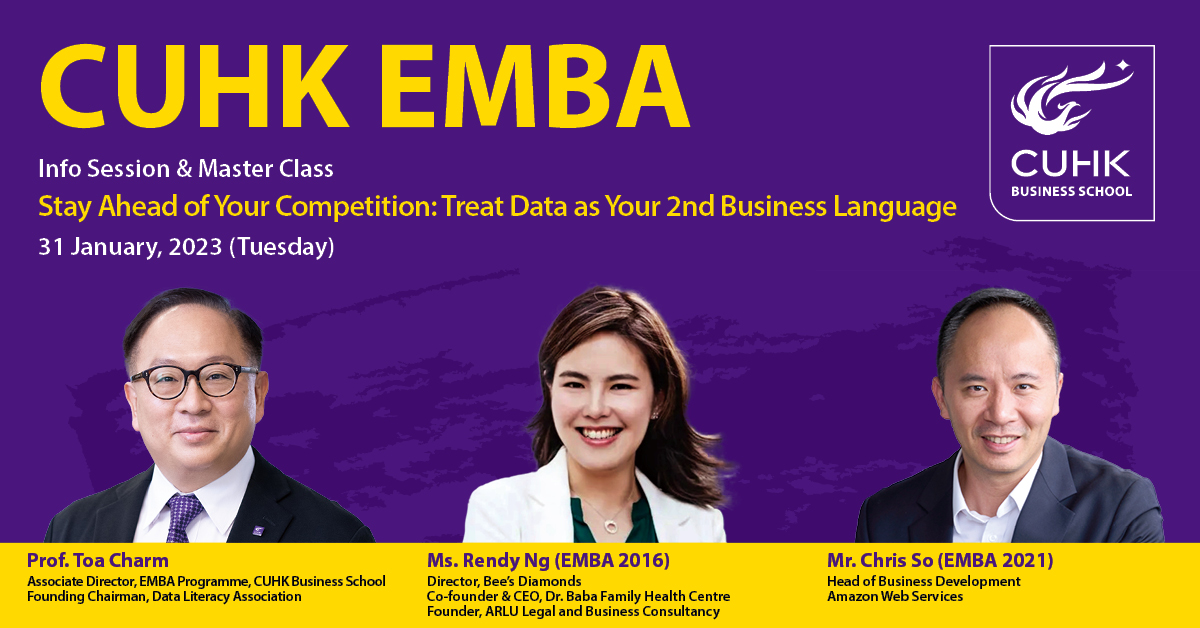 Synopsis
Today's leading companies, no matter tech giants or industry incumbents, are competing with data. What does it mean to you? Data is not about technology or even data science. It is about customers or to be exact customer centricity. How can we innovate new products, services and business models that can win the hearts of our customers? Data is the secret sauce. It's not just about if you have great data scientists but also if you have a strong data culture with data-savvy employees.
Airbnb's market capitalisation is over US$100 billion which is higher that of the world-leading hotel chains (including Marriott, Hilton, Intercontinental and Hyatt) combined. How did they make it? The answer is data. Airbnb is committed to democratising data literacy to every single employee of the company. They have built a strong data culture and are using data at all levels of business. Their belief is that data is the voice of their customer. If everyone cares about customers, everyone needs to speak data.
In this sample class, Professor Charm will share with the participants on how a company can leverage data to win customers, create new business models and monetise data asset. Apart from communicating with English and Chinese, today's leading enterprises have empowered every one of their employees to speak data. It means every employee can communicate, argue and win with data in every day's meeting with their customers, colleagues and partners. That is called Data Literacy. Professor Charm will demonstrate what Data Literacy is and explore with the participants the journey of Data Literacy Empowerment Programme.
About the Speaker
Prof. Charm has over 30 years of experience in the innovation and technology industry. He held senior management positions in leading multinational, Hong Kong and mainland enterprises including Cyberport, HSBC, IBM, Oracle, Kingdee and Jardine Pacific. Prof. Charm's expertise is in big data & AI, fintech, digital transformation, corporate innovation, intrapreneurship, and start-up incubation and acceleration.
Currently, Prof. Charm is the Associate Director of EMBA Programme and an associate professor of practice in management at CUHK Business School. He teaches EMBA, Chinese EMBA and MBA courses on digital transformation, corporate innovation, entrepreneurship, AI, FinTech and emerging technology subjects.
Master Class Outline
Analysing the New Competitive Landscape in the Digital Economy
Winning the Heart of Customers with Data
Exploring Data-driven Business Models and Ways to Monetise Data
Understanding Data Literacy: Speak, Think and Act with Data
Data Literacy Empowerment Programme – Upskilling Everyone on Data Literacy
In this info session, you will:
Learn about CUHK EMBA programme highlights
Get a taste of EMBA programme through the master class
Hear from our alumni about their unique EMBA experiences, career advancement and personal growth through EMBA study
Meet the admissions staff and receive personalised advice on your EMBA candidacy