Stephanie Hung (BBA 1991) has been working in the IT industry since graduating from CUHK. Over 20 years ago, she migrated to Singapore and has worked in a number of global tech giants since. She now holds a senior role in ST Engineering, a global technology, defence and engineering group specialising in the aerospace, electronics, land systems and marine sectors. Besides being familiar with innovation and technology development, she also has unique insights into the tech race between Singapore and Hong Kong.
Although Stephanie studied Business Administration with a major in Finance at CUHK, her interest has always been in computers and technology. She began to learn programming as a secondary school student and was inspired by Microsoft founder Bill Gates for changing people's lives with "A computer on every desk and in every home". She shares, "Every new technology makes an impact. I'm interested in integrating new technologies with our everyday lives and applying them to how we learn, work, play and live." This made her decide to choose a career in IT after graduation.
Making a Head Start at IBM
Her first job was at multinational technology company IBM in Hong Kong, responsible for helping corporations computerise their work. Her most memorable experience there was assisting Cathay Pacific with the relocation of its data centre from Hong Kong to Australia. When Stephanie got married and moved to Singapore with her husband, she joined IBM Singapore in 1996 to lead a team that helped Singapore Airlines develop an integrated Enterprise Resource Planning (ERP) system to streamline workflow and raise its productivity. After she left IBM, she also worked for other well-known technology companies such as HP and Microsoft, partaking in many key, unforgettable projects.
While at HP, she was leading the P&G Strategic Outsourcing team to focus on the largest Merger & Acquisition (M&A) business integration with Gillette and many consolidation and optimisation work streams. At Microsoft, she was responsible for the Public Sector Group, assisting the whole of government, education, healthcare, public safety and national security sectors in implementing the Collaboration and Productivity Platform to enhance the quality and efficiency of government services. Besides working for internationally renowned tech companies, Stephanie also co-founded a start-up called Skylab Holdings in Singapore, overseeing an Internet of Things (IoT) project to monitor the efficiency of solar systems across the island, the controllers and the network performance.
Stephanie (middle) received the Client Executive APAC Award at IBM
Stephanie (1st from right, front row) also had outstanding work performance at Microsoft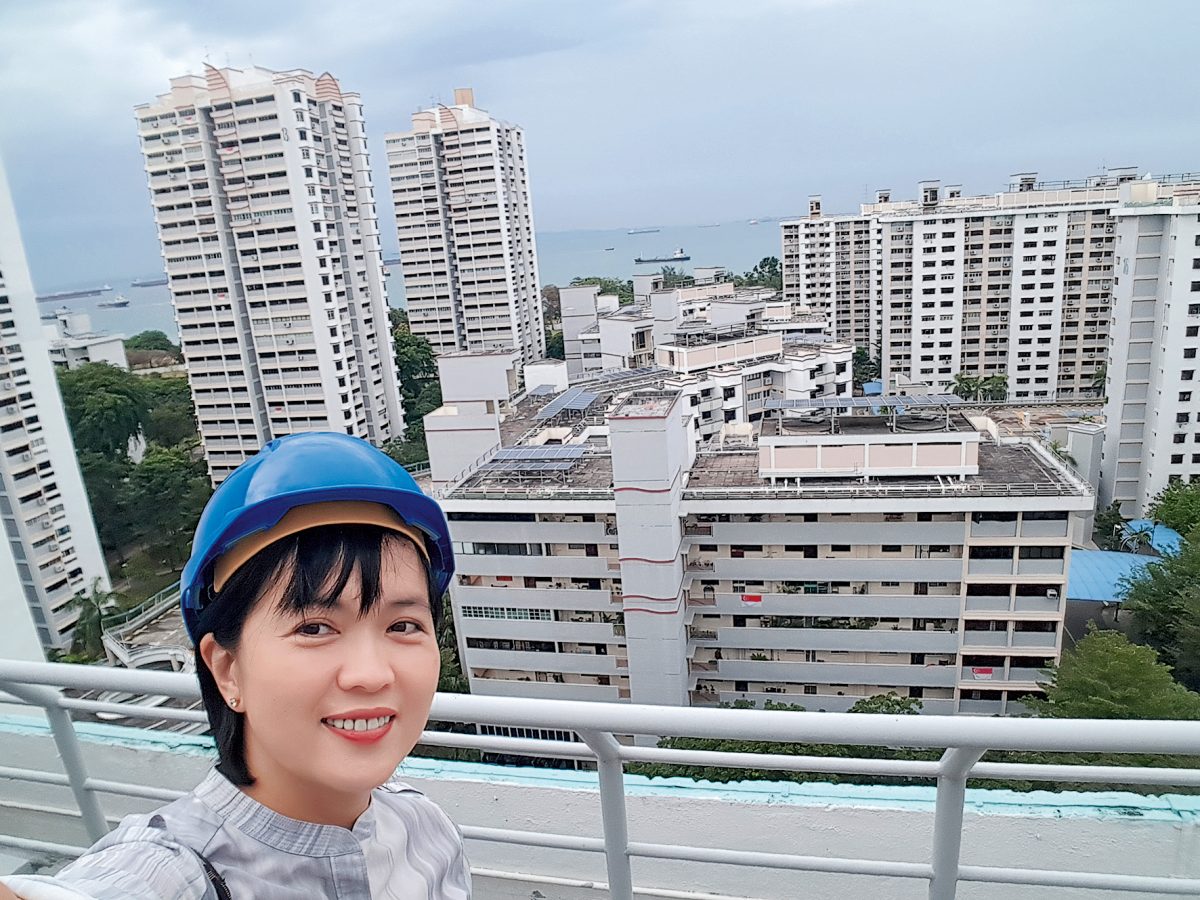 One of Stephanie's projects at Skylab Holdings was on the solar panels on the building behind Stephanie were
Working at the start-up Skylab Holdings gave Stephanie (third from left) an entirely different experience
Transforming Singapore into a Smart City
From Hong Kong to Singapore and from a global tech giant to an emerging start-up, Stephanie has been in the tech business for almost three decades and has accumulated a wealth of invaluable experience and insights. Her background caught the eye of Singapore's biggest national defence and engineering company, ST Engineering Ltd (STE). A panel of senior executives of the Group personally recruited her in 2018. Headquartered in Singapore, STE employs about 23,000 people across offices in Asia, US, Europe and the Middle East, serving customers in the defence, government and commercial segments in over 100 countries. With more than 700 smart city projects across 130 cities in its track record, the Group continues to help transform cities through its suite of Smart Mobility, Smart Security and Smart Environment solutions.

Stephanie is now the Senior Vice-President of STE, responsible for the Singapore business and new business development in cloud computing and platform business models. One of the key projects is to provide Singapore with a Smart Nation Sensor Platform (SNSP) and Lamppost as a Platform (LaaP). Besides illumination, there are multiple use cases including collecting environmental data such as temperature, humidity, rainfall, pollution, video surveillance for pedestrian safety, and situation awareness for relevant government agencies' analysis. This will in turn support the government in making better policies on city planning, crowd control, traffic, and environmental protection and ultimately turning Singapore into a smart city.
STE has recently expanded its business scope to commercial clients, and such change has created more possibilities for Stephanie. Since the advancement of technologies such as cloud computing and artificial intelligence have become increasingly rapid and their application has become ubiquitous, her role to tap into these opportunities has become vital to the organisation. Stephanie says her current job is even more challenging than at the well-established tech companies she has worked in the past. She is now involved in building organisation capabilities, and business development strategies, meaning her knowledge of business administration learned at CUHK is being put to good use.
The Lesson of a Lifetime
"A professor once shared this principle in doing business with us: 'Offer what others don't offer. Do better than what others do. Lower prices when others do better. Exit when others lower their price.' That means when we do business, we must understand the market and come up with innovative and unique products or services. When competitors have similar offerings, we must work on our quality and pricing. If we can foresee that the profit margin is too low, it is better to quit early," Stephanie recalls. This is a principle she takes to heart by committing thorough research before submitting a tender for a project. She studies what the client needs, analyses the market and the strengths and weaknesses of her competitors, runs forecasts on budgets and the expected returns before coming up with the best strategy.
Looking back at her time at CUHK, Stephanie says she enjoyed taking non-business electives to widen her breadth of knowledge. "Dr. Lee Tien Ming's 'Ways of Thinking' was one of my favourite courses. He taught me how to identify conscious and unconscious biases and fallacies, and guided me to develop my independent thinking." Stephanie thinks this independent thinking has enabled her to avoid her own blind spot and spot tactics used by opponents in business negotiations and to make the right decision. In an era of information overload and social media, one must think independently to tell right from wrong rather than just going with the flow.
Besides studying, Stephanie was also actively involved in extracurricular activities during university. She was an executive committee member of AIESEC's CUHK chapter. She organised internship exchange programmes for students to go overseas and to the mainland so that they could meet friends from all over the world and immerse in other cultures. Likewise, she also invited foreign exchange students to intern at Hong Kong companies. The frequent contact with the IBM Hong Kong office during that period aided her to land an internship and eventually a permanent position at IBM, and the rest was history.
Universities Pivotal in Promoting Innovation and Technology
In recent years, countries and regions around the world have been actively promoting innovation and technology development. Both Hong Kong and Singapore have spared no effort and are often seen as competitors. Stephanie thinks that as Asian financial centres, both cities benefit from advantages in financial liquidity, access to fund as well as frequent technology exchange and good business networking. This helps to stimulate new ideas and creativity, which put both cities in a good position in innovation and technology development. However, given the small market size, they must look beyond their domestic markets.
She thinks Hong Kong's strength lies in its geographical proximity to China and its massive market. The rapid growth of the Greater Bay Area, and Shenzhen in particular, and the similar language and cultural backgrounds give Hong Kong companies an edge when entering the Mainland market. Whilst Singapore also needs to set its eyes on neighbouring markets, it has to work harder to overcome language and cultural barriers.
To promote the development of innovation and technology, Stephanie thinks collaboration with universities is inevitable. Universities can form partnerships with the government and start-ups: Universities can conduct research, and the government can offer funding and encourage start-ups to commercialise the research and release it to the market through knowledge transfer. Through working with businesses, universities can understand market needs and pursue research that meet these needs. Universities can also place students at internships at businesses, or assign them to help companies conduct research so that their knowledge can be put into practice. This allows students to accumulate work experience while gaining market insights.
CUHK: Home of Entrepreneurship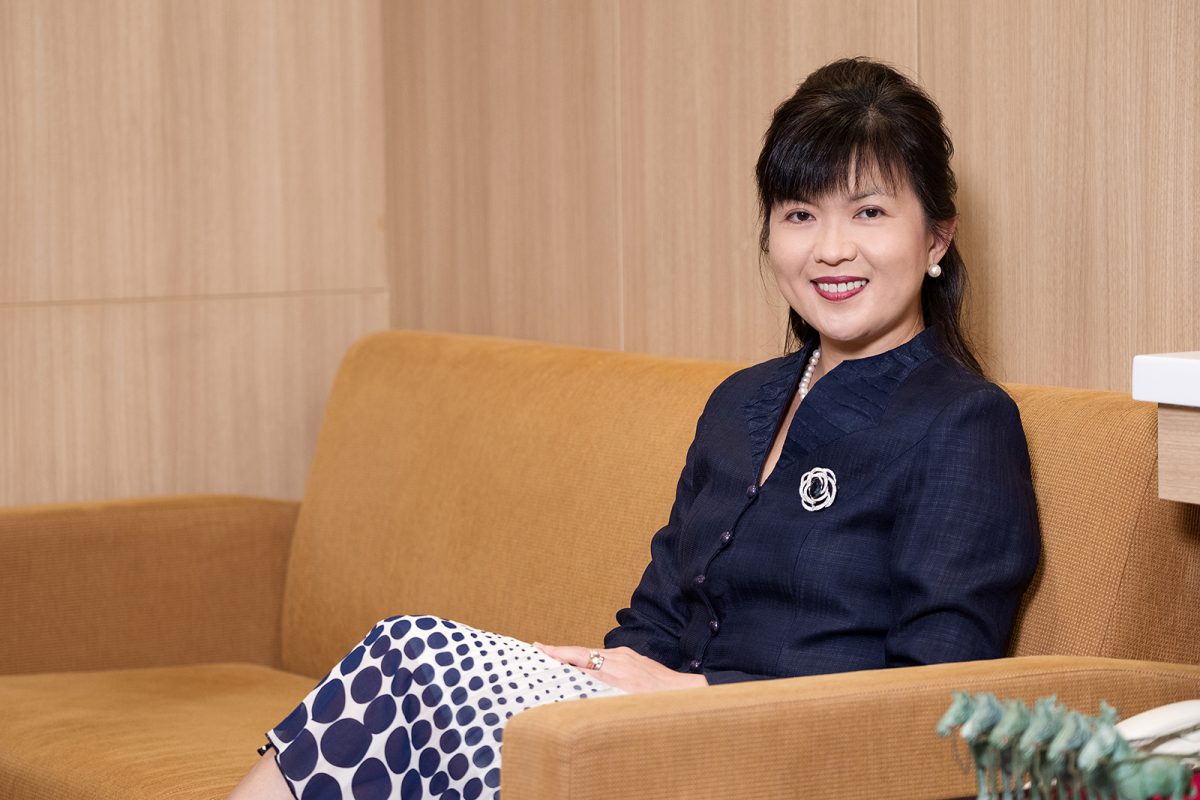 Although it has been years since Stephanie made Singapore home, she stays up-to-date with the development of her alma mater. CUHK continues to encourage student entrepreneurship and commercialisation of research output. In addition, every year the university holds an entrepreneur day and a competition where angel investors are invited to evaluate business plans with potential. Stephanie believes these events help to foster an atmosphere that inspires creativity, which is essential for promoting innovation and technology in the long run.
Having lived in Singapore for over twenty years, Stephanie thinks both Singapore and Hong Kong are cosmopolitan cities that are incredibly convenient in many aspects. The common use of Chinese and English makes Singapore an ideal place for CUHK alumni to relocate. She encourages CUHK students to seize the opportunity to go on overseas exchange to broaden their horizons, learn about different cultures and develop a global perspective. It will be beneficial for their careers whether they work in Hong Kong, Singapore or other countries in the future.
This article first appeared in CU Alumni Magazine (March 2020 Issue), republished and translated with permission from Alumni Affairs Office, CUHK.