Yuka Goto (IBBA, Year 3) is always looking for novel experiences in unusual places. She follows the motto: "If you are not different from who you were 12 months ago, you did not learn enough."
When the pandemic shut down physical classes and put a cap on social activities, this Japanese international student swiftly pivoted. She uncovered opportunities in diverse cultures, settings and geographies. And she continued to cultivate her abilities at full tilt to maintain her dash towards becoming a professional marketer.
Step Out to Step Up
Yuka has been hopping across cities and cultures since a young age. She attended primary school in mainland China, and secondary school in Macau. She was intrigued by Hong Kong, "the most important business centre in the world", and became fascinated by The Chinese University of Hong Kong (CUHK) after hearing the positive feedback from an alumnus of her secondary school.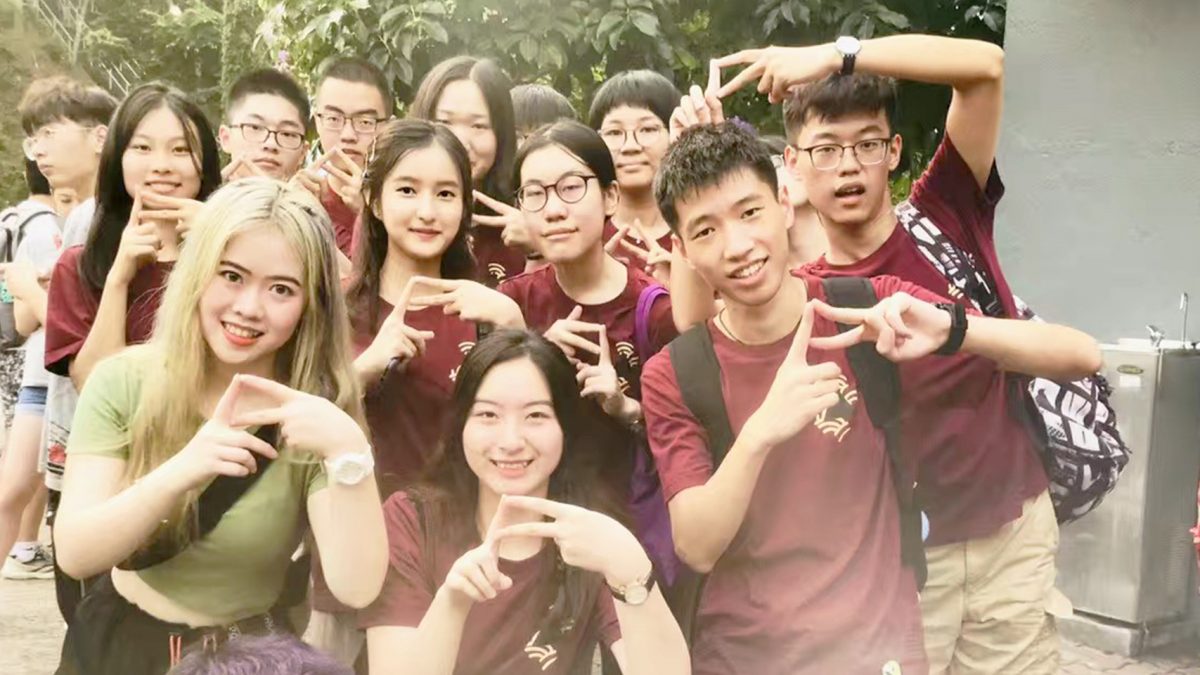 Yuka (2nd from left, 2nd row) took a group photo at the CUHK Orientation Camp in 2018.
Despite her love of new experiences and having spent a sojourn in Hong Kong, Yuka was apprehensive about coming alone for university. When she learnt that CUHK offers a weeklong summer incentive programme for high school students, she decided to give this amuse-bouche of CUHK a try. Almost immediately, Yuka was captivated by CUHK's family-oriented environment.
"Everyone was very caring. During orientation, our 'Jo Ba Jo Ma' (current students who help new students acclimatise to the university) showed us around and shared their experience with us."
"I also enjoyed the highly interactive and interesting classes that we had, which encouraged us to unleash our innovative energy. I could see myself enjoying this inclusive, practical and diverse environment." ── Yuka Goto (IBBA Year 3)
Sating an Appetite for the New
Coming from a family of businessmen, Yuka enrolled in the Integrated BBA (IBBA) Programme, which allows students to acquire a broad set of business knowledge during Year 1, such as finance, marketing, accounting and operations management, before choosing concentrations in Year 2. With her fascination with media and communication, Yuka picked marketing and journalism as her concentrations.
Studies aside, Yuka leapt on to the extracurricular activities that CUHK offered. She joined the softball team and took part in the Academic Cup Case Competition 2020 and the CLSA Investors' Forum 2020. Additionally, she participated in the IBBA's global experiential learning programmes, spending a month at Peking University to attend a summer exchange programme in journalism and partaking in a virtual cultural exchange with Waseda University in Japan.
Yuka also joined a study trip to Prague towards the end of 2019. "It was my first study trip and my first visit to Europe. I was very excited. Other than taking a class at the Prague University of Economics and Business, we had a few days to travel around different cities in the Czech Republic to learn about their cultures and history."
"I would say this has been my most unforgettable experience at CUHK to date." ── Yuka Goto (IBBA Year 3)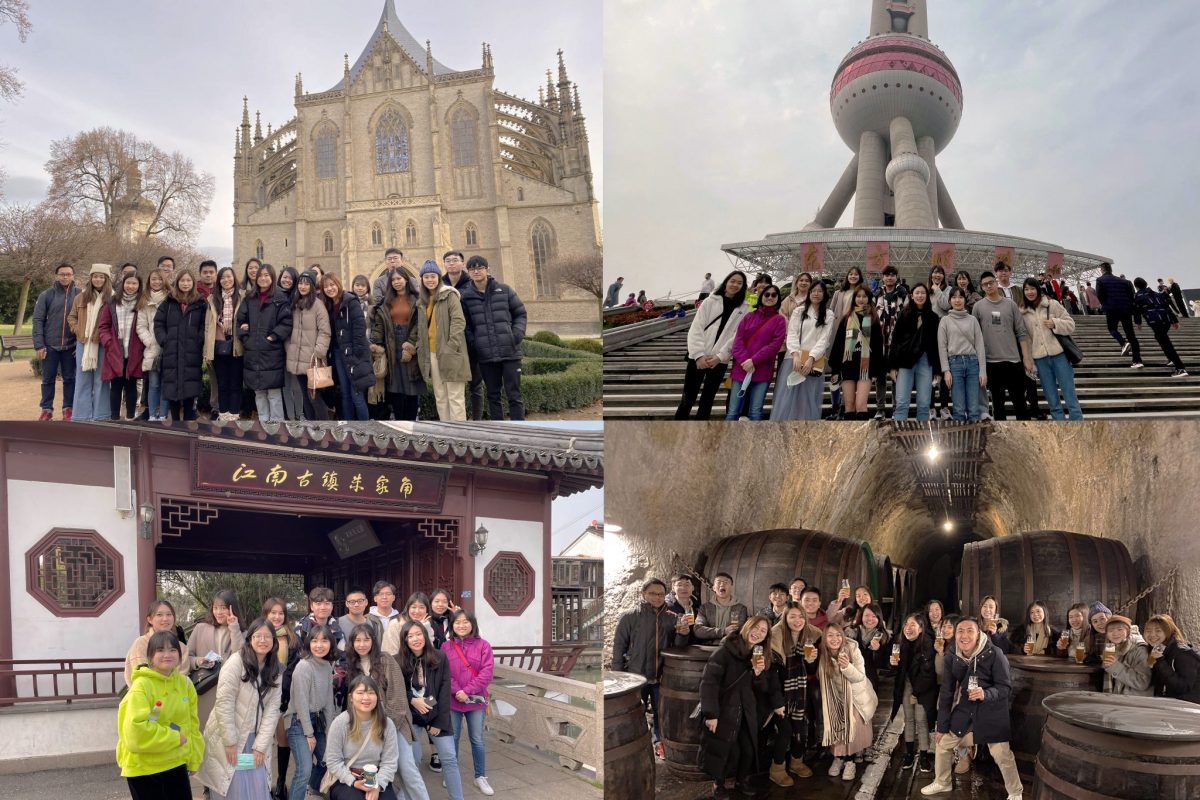 Yuka enjoyed her globetrotting study journey around Prague and Beijing and is now on a physical exchange at Fudan University in Shanghai.
When One World Shuts, Another Opens
Yuka's global and social adventures were soon interrupted by Covid, but she quickly adapted. "Given the uncertainty and the changes, I knew I had to spend my time wisely." She joined CUHK's mentorship programme to connect with professionals and learn about the industry. She also started cold-emailing on LinkedIn to build her network and seek opportunities.
Fortune favours the bold, and Yuka's proactiveness soon led her to mentors, industry connections and a string of internship opportunities. One of Yuka's cold emails reached Leo Wong, a CUHK Executive MBA (EMBA) alumnus who currently works in L'Oreal as a Marketing Director. Leo offered Yuka many suggestions on what she could do to improve herself, strengthen her network during the pandemic and differentiate herself from others.
"He understood that I wanted to do media-related and event management work, but he reckoned that I would be limiting myself if I focused only on these fields. Instead, he suggested I work in an advertising company so that I can gain exposure to other areas, such as copywriting, marketing research and customer behaviour analysis, and broaden my perspectives."
"Given the uncertainty and the changes, I knew I had to spend my time wisely." ── Yuka Goto (IBBA Year 3)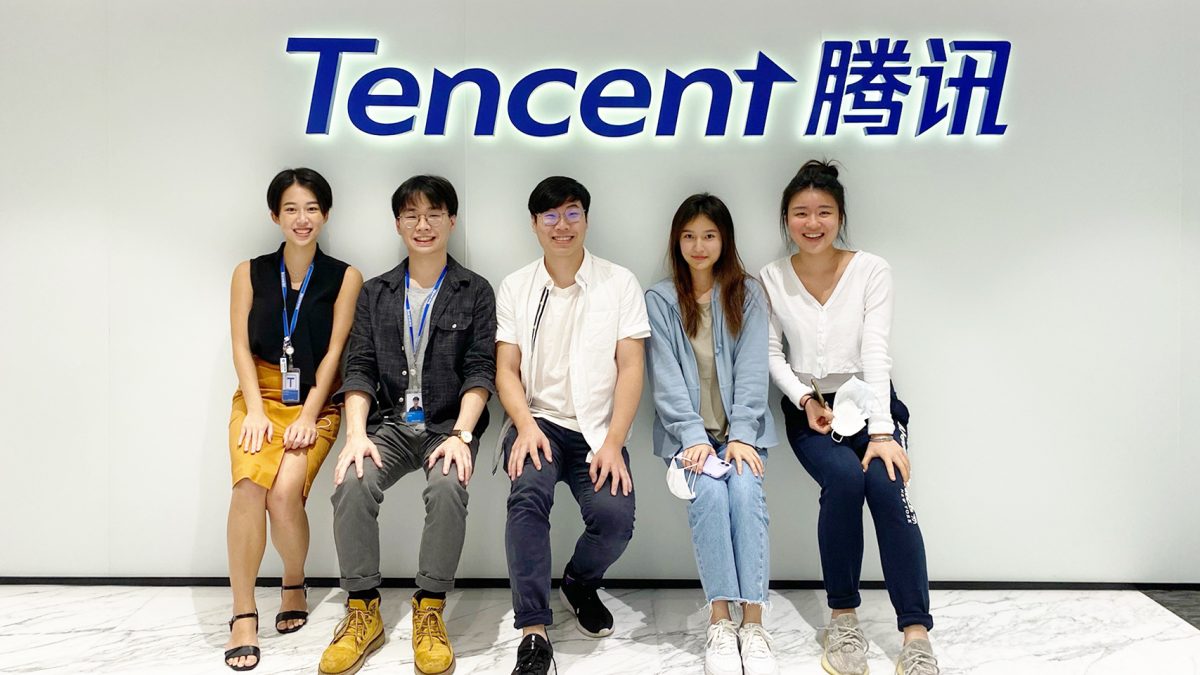 Yuka (2nd from the right) with the other interns at Tencent office. She met her mentor, also a CUHK alumnus Roy Ngan, during her internship with Fusion Bank.
Nothing Ventured, Nothing Gained
Yuka followed Leo's advice and took up an internship at Uth Creative, an advertising company where she helped publish advertisements and assisted in graphic designs. Following this, she cast her net even wider, taking up a business development internship at Tencent's Fusion Bank and later a marketing coordinator position at Candy Magic, a Japanese FMCG company.
In addition to gaining practical skills, such as communication, collaboration, critical thinking and situational awareness, Yuka honed some of the most critical technical skills for marketers today, including data visualisation, CRM applications and digital media.
The internship at Tencent was especially remarkable. "I joined the tech giant while they were launching their virtual bank, Fusion Bank, in Hong Kong. Part of my job was to come up with proposals for new services to help differentiate Fusion Bank from rivals. By talking to my mentor Roy Ngan, also a CUHK alumnus, and doing a lot of research, I developed a few proposals for new WeChat services. It was my first encounter with this area, a very complicated process, but I managed to get it done. My ideas even earned the seniors' appreciation." In fact, Tencent's patent team subsequently developed a patent application based on Yuka's proposals and received a patent from the Chinese Patent Office.
"If you are not different from who you were 12 months ago, you did not learn enough." ── Yuka Goto (IBBA Year 3)
Unfolding New Horizons
Yuka plans to explore more industries before graduation. She hopes maximise the opportunities available to students and identify the fields that interest her the most. Down the line, her sights are set on the Greater Bay Area and its panoply of opportunities. "I also want to be a mentor at CUHK to give back."
As she looked back at this unusual year, Yuka was happy to have lived up to her motto. "It kept me continually fighting for new opportunities to enhance myself, keep learning and find opportunities."
Yuka is now on a physical exchange at Fudan University and has just started interning at ByteDance, the company behind TikTok/Douyin, in Shanghai. By soaking up more experience from the vanguards of media and technology, by embracing opportunities wherever she finds them, Yuka is setting herself up to succeed not only in the new age of marketing, but in the new age of this dynamic world.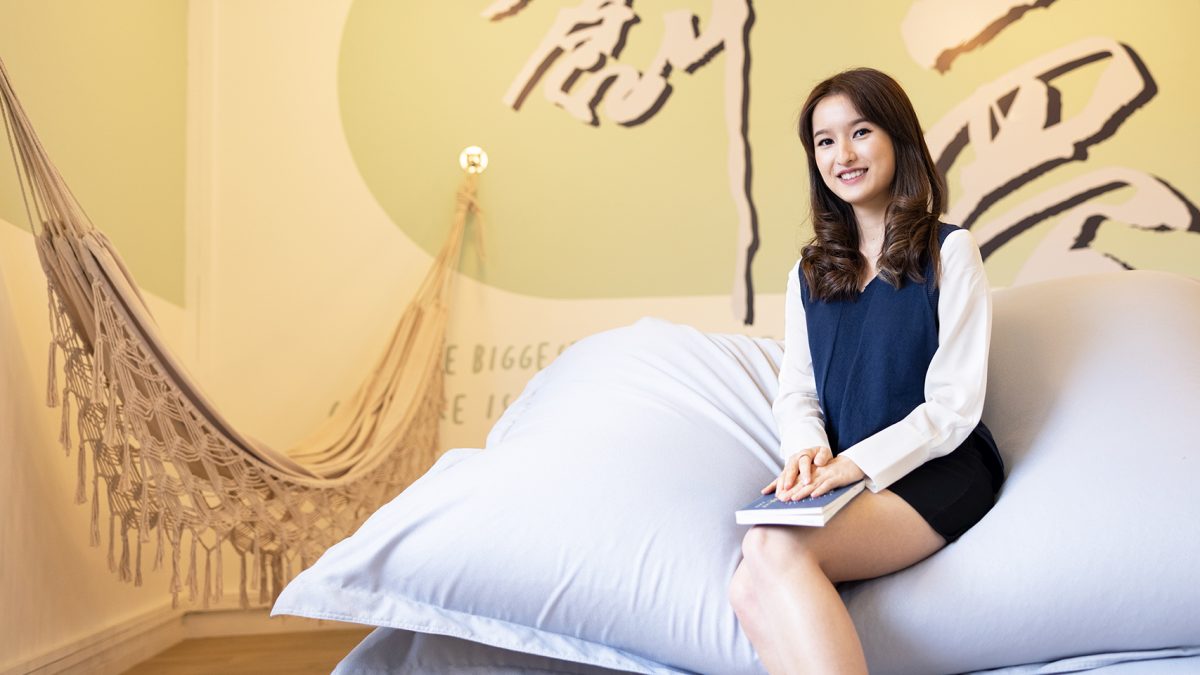 Thinking of advancing yourself in the new normal? Explore what's in your future with CUHK Business School's programmes.