Without a safe and stable banking system, Hong Kong's economy would not have been as prosperous and resilient as it is today. As the third Chief Executive of the Hong Kong Monetary Authority (HKMA), Eddie Yue (BBA 1986) undertook the responsibility of maintaining Hong Kong's financial stability.
He revealed that he was actively involved in social services during his time at the university, and always wanted to cultivate a people-oriented career after his graduation. Drawing an analogy between a fortuitous life and driftwood in a river, he remarked that a simple decision could change one's course in life. Eventually, Eddie took an opportunity to join the government and built his career with the HKMA, serving the public by steering Hong Kong's financial industry.
Eddie Yue, who took his post on 1 October 2019, emphasised that the HKMA's top priority is maintaining Hong Kong's financial stability.
Born into a humble family, Eddie grew up with seven siblings in a few-hundred-square-feet unit at Tai Hang Tung Estate. Later, the family moved to Lek Yuen Estate in Sha Tin and faced pragmatic schooling choices. "Sha Tin was a new town with limited choices for school. I searched along the railway line. In the end, I applied for the Diocesan Boys' School (DBS), given its decent reputation and proximity to a train station." Back then, most DBS students set their sights on entering the University of Hong Kong. Serendipitously, Eddie chose the Chinese University of Hong Kong (CUHK). "DBS had always given us plenty of freedom—we could study an A-Level, or self-study a Higher-Level. I gave the latter a go. With surprisingly good results, I was admitted to the Department of Biochemistry at CUHK. At that time, a senior told me it was easy to transfer from biochemistry to medicine and I had aspired to become a doctor. Besides, living in Sha Tin, I often wandered around the CUHK campus and was captivated by its natural scenery. Its strong humanistic culture and the sincerity of its students led me to study at CUHK in the end."
Broadening Horizons at CUHK
Life is defined by unpredictable events. Soon after Eddie embarked on his journey at CUHK, its policy changed and no longer allowed students to transfer their major from biochemistry to medicine, leaving Eddie at a crossroads. "If I chose to continue with the Biochemistry Programme, my career options after graduation would be very limited as biotechnology wasn't popular back then. I had only two options. First, I could retake the A-Level exam. However, I was only left with a few months before the exam, being December at the time, so I thought the grades would not be up to the right standard. Alternatively, I could change my major and that's what I did."
Setting his heart on changing his major, Eddie considered the Social Work Programme given his experience in the CUHK's Social Service Team. "The team was divided into two groups according to personal interests: one focused on social policy research and the other on practical work. I chose the latter and volunteered at St. Christopher's Home. This had a huge impact on me. We often say, 'It is more blessed to give than to receive.' Serving as a volunteer helped me to profoundly understand the meaning of this. Regardless of their position, people can bring hope to the receivers and even change lives."
Although highly interested in social work, Eddie understood that his introvert personality might not fit for frontline work. Besides, he had practical concerns. "I came from a low-income family. I had the chance to attend university only because I was the youngest and my siblings were supporting the family. Employment prospects were key to my decision." Considering the heavy burden of family and the wider career options offered by studying business, he decided to pursue an interview with the Business Administration Programme.
Eventually, he was admitted into the BBA Programme. His four years at CUHK, as Eddie explained, left an indelible mark on his personal growth. "The most prominent gain was my intellectual curiosity, which broadened my horizons. In addition, CUHK provided a unique General Education Programme which allowed me to make full use of the credits for studying the subjects I was most passionate about and gain insight into multiple fields. I still remember that there were many cultural magazines placed outside the room of Student Union in the Benjamin Franklin Centre, such as City Magazine and City Entertainment Magazine, which nourished my curiosity away from the selection at the university library. These experiences at CUHK had a lasting impact on my life."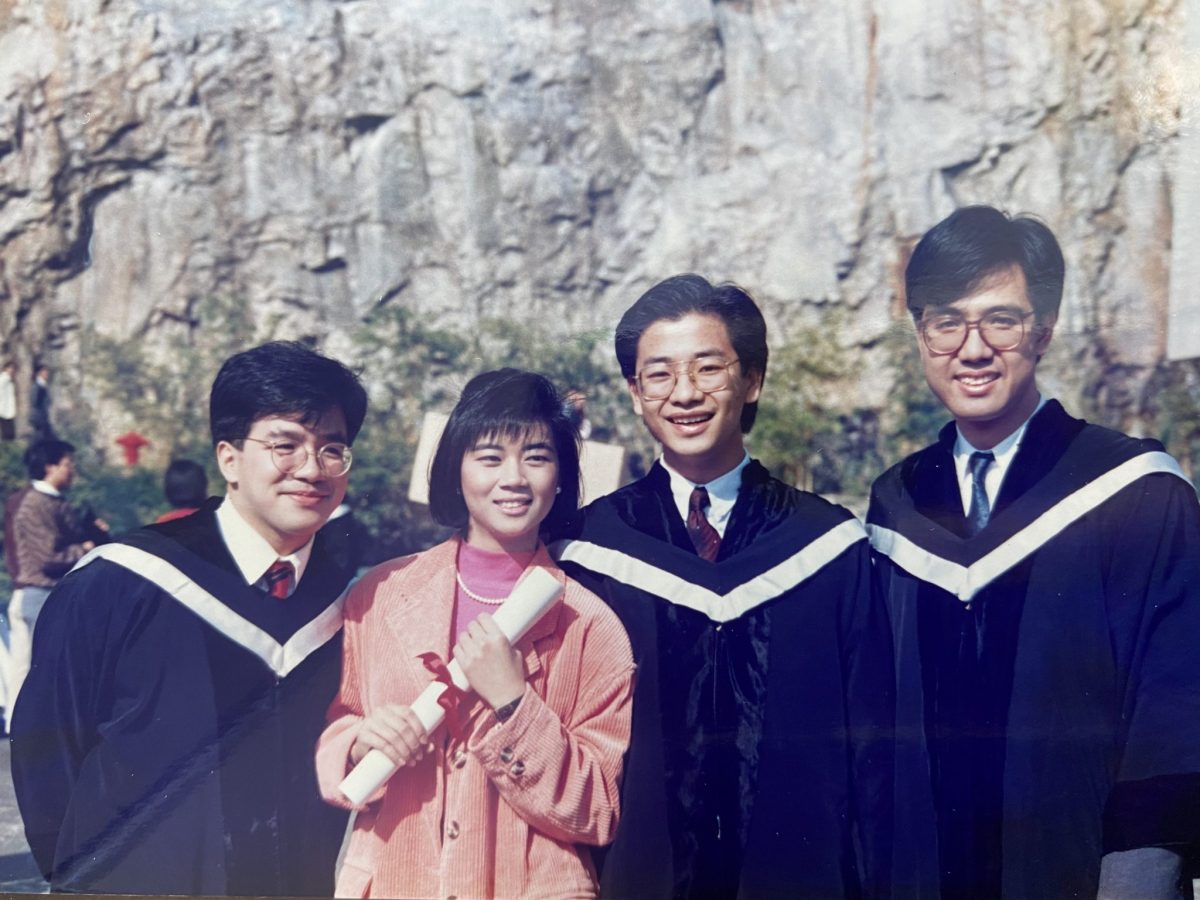 Graduation photo of Eddie (second from the right) and fellow CUHK students.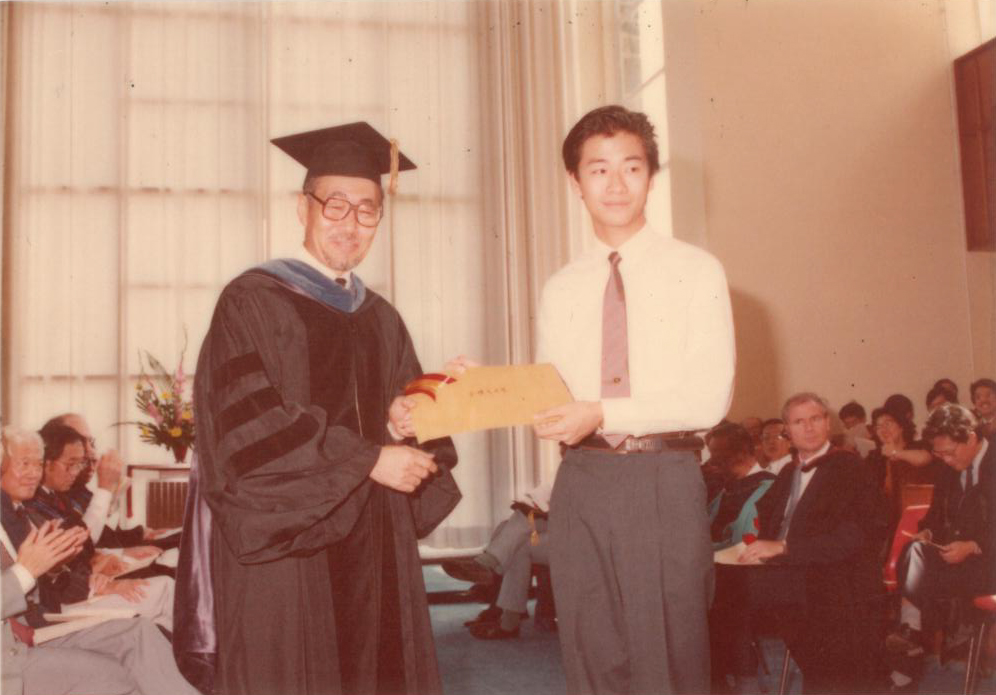 Eddie (right) receiving the Bang How Memorial Scholarships from the Chung Chi College.
Giving His All for Tasks, Big or Small
After graduation, Eddie became a trainee manager at a British bank. After two to three months of training, he was assigned as a teller of the branch in Pak Tin Estate, Shek Kip Mei. He was full of confidence, until he was confronted with the difficulties that all the frontline staff had to face. Neighbouring a street market, they had to deal with cash in all kinds of conditions, including those that were wet. "During the training, I thought I had mastered cash counting, only to discover that my skills were far from adequate on the frontline. I recall a time in the first week of work when we failed to reconcile the bank balance at the end of the day, so everyone had to stay behind to conduct a recount. In the end, it was me that had counted a hundred dollars less! My mistake led to the 'detention' of all my colleagues. That was the moment I realised that for whatever task, big or small, I must be highly attentive and give it my all."
As time went by at the bank, Eddie began to notice that his fellow graduates in other organisations would work late every night, while he always got off work on time. "It was comfortable at first, but with time, it occurred to me that I should stretch myself while I'm still young." With this in mind and the timely opportunity of becoming an administrative officer in the government, he embarked on a new journey of challenges. The first one and a half years in the Kwun Tong District Office were truly rewarding. "The government was tearing down squatter structures in Cha Kwo Ling Village. The standard procedure for squatter control units started with removing the rooves. However, there was a household that could not afford to move at all, so they had to stay home even when rain was pouring down indoors. Witnessing this, I negotiated with the Housing Department until we found the family temporary residence. Being able to help others at work was deeply gratifying. That's the beauty of life—who would have thought, that someone who hadn't opted for social work study ended up being a 'social worker' in the District Office."
Stepping into the Financial World
Administrative officers are often rotated around different posts. In 1991, Eddie was assigned to the Office of the Exchange Fund, although—as he shared—he knew little about finance at the time. He struggled with grasping complex financial terminology and even note-taking. The only thing he could do was to learn on the job and supplement this with a master's degree in economics. When the HKMA was established in 1993, Eddie joined it as a founding member and has been working there ever since.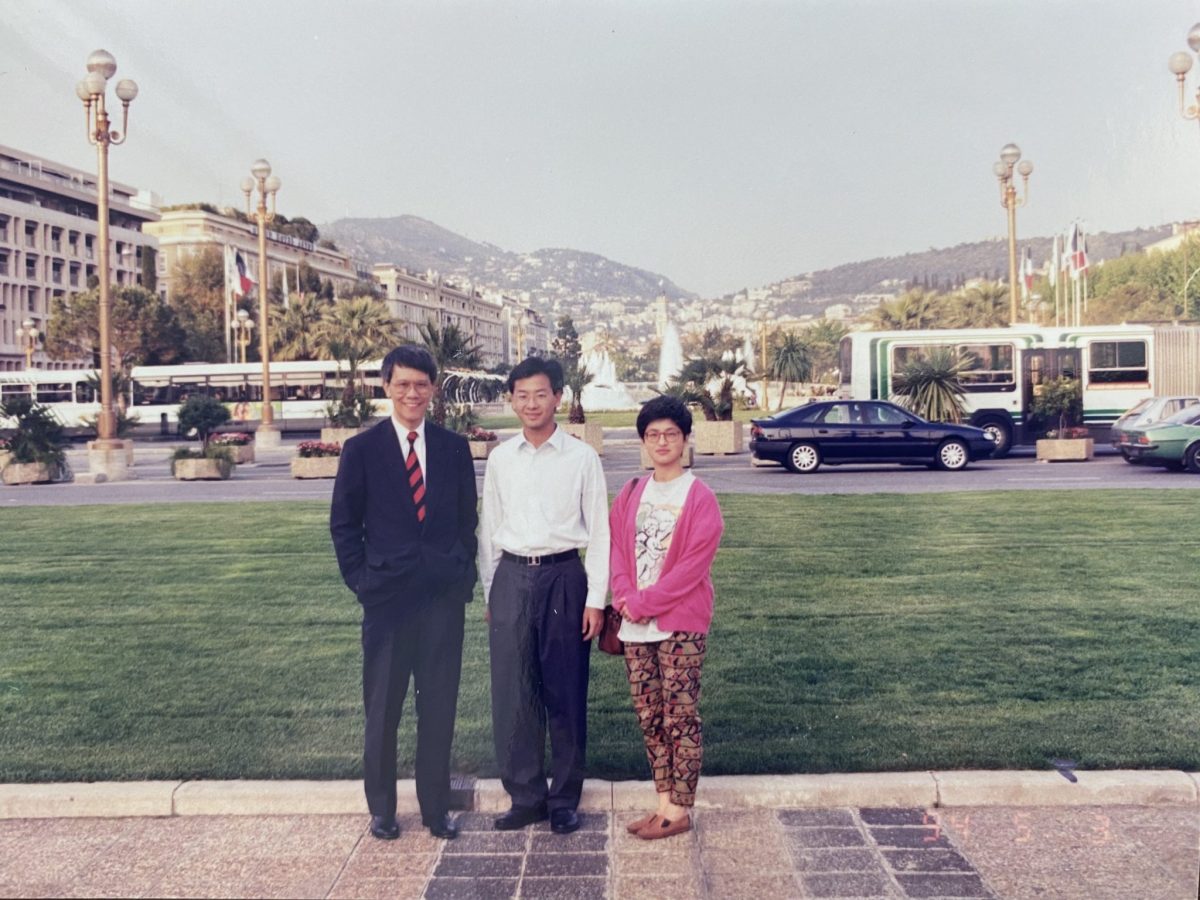 Eddie (middle) accompanying Mr. Joseph Yam (left), the incumbent Chief Executive of the HKMA in 1994, on an overseas business trip for the first time.
When asked if he would remain permanently at the HKMA, Eddie disclosed that there was a time he had had second thoughts. Even as a student, he had never really planned his future or career. Rather, he "drifted along with the flow". In 1995, he decided to take a break and reflect on his life. He ended up applying to the MBA Programme at Harvard University to fulfil his dream of studying abroad. "I got to know friends from all over the world. It broadened my horizons and revealed the boundless potential I could have in my career." After graduation, Eddie decided to return to the HKMA. This puzzled his friends, as he had embarked on this journey, just to return to where he started. "In fact, the two years away provided me with endless possibilities. After gaining new perspectives and reviewing my options, I made the well-considered decision to stay at the HKMA, convinced it was a job I could undertake for the rest of my life."
Being Prepared and Decisive
Eddie returned to the HKMA as the administrative assistant to its then Chief Executive, Mr. Joseph Yam. It was 1998 when the Asian financial crisis hit, and the Hong Kong dollar was under heavy speculative attack. Severe market disorder prompted the government to intervene. He recalled that he learnt a lot from Yam at that time. "Mr. Yam often said, 'Urgent matters should be dealt with slowly.' The tenser one feels, the easier it is to lose control. Even on the last day of the intervention, when a significant amount of foreign reserves had to be used to counter speculators, Mr. Yam stayed perfectly calm the entire day. Later, at the financial crisis of 2008, I stood firm on the principle 'preparing for danger in times of safety', and my colleagues and I had full sets of plans ready for all possible scenarios well before the crisis hit."
Having worked with the first two chief executives of the HKMA, Mr. Joseph Yam and Mr. Norman Chan, and witnessing how they devised strategies and commanded, Eddie learnt that maintaining Hong Kong's financial stability was – and is – the top priority of the HKMA. These first-hand experiences also made him more determined to always be prepared and vigilant for any eventuality.
After successfully tackling the two financial crises, Eddie was appointed Chief Executive of the HKMA on 1 October 2019. He faced a serious challenge from week one: an Emergency Regulations Ordinance was invoked in Hong Kong on 4 October, which led to a flood of rumours on social media, claiming that the Linked Exchange Rate System would collapse and calling upon people to withdraw their bank savings. "Recognising how influential social media can be in spreading fear, we needed to counter the rumours as quickly and accurately as possible, to prevent further speculation that may harm people's confidence in the financial system. We set up an instant messaging group among the HKMA executives and colleagues from the Communications Division where we worked out strategic responses to the rumours. In two or three hours, the rumours were quelled. We had also asked younger colleagues for advice on making the posts more relevant. The decisiveness and teamwork spirit of the HKMA shone throughout the operation."
Equipping Oneself with Soft Skills
Eddie believes soft skills hold more importance than specific knowledge. For students wishing to enter the finance industry, he has three pieces of advice to impart: "Firstly, you must be interested in your potential job, and not just let the salaries be the deciding factor. Out of passion for finance, even after 20 years at the HKMA, I still feel refreshed and excited about work every day. Secondly, the finance industry today is not limited to professional knowledge in accounting, financial analysis and so on. Instead, it has expanded to new fields such as fintech, big data and green finance. Thus, one should expand their knowledge base before entering the industry to gain a competitive edge. Lastly, as a people-oriented industry, finance requires its practitioners to show empathy when interacting with other people, instead of only thinking from one's own perspective. These skills might not be learnt from books, but can be acquired through experimenting, experiencing, and practicing."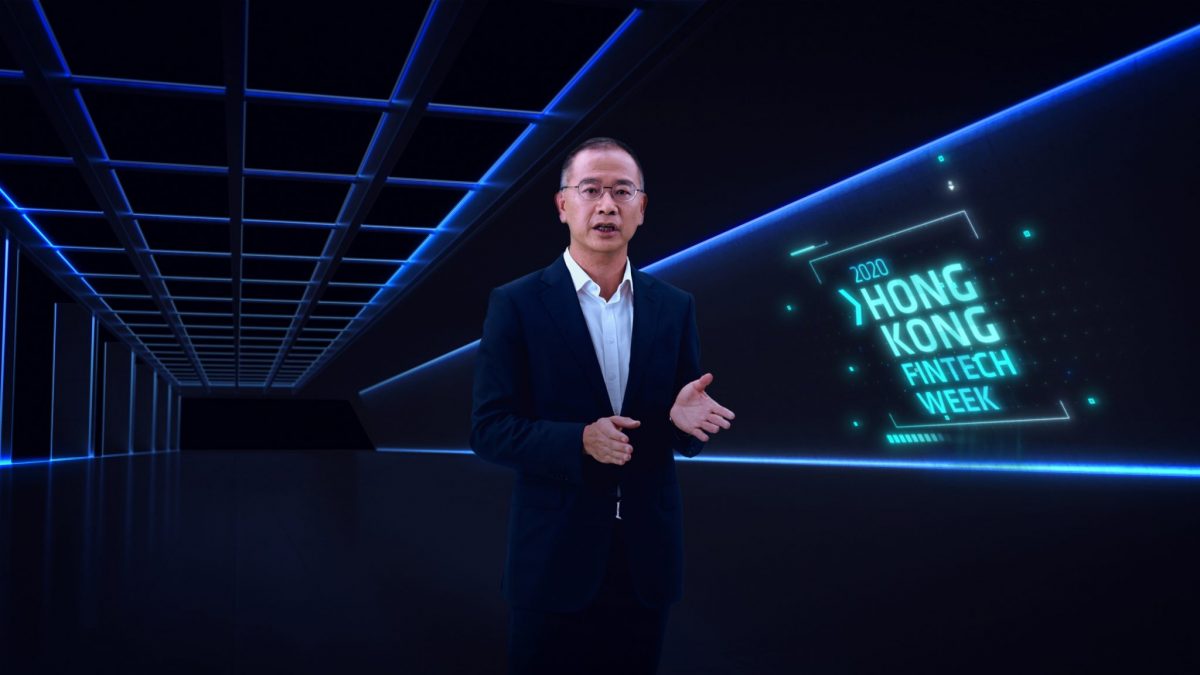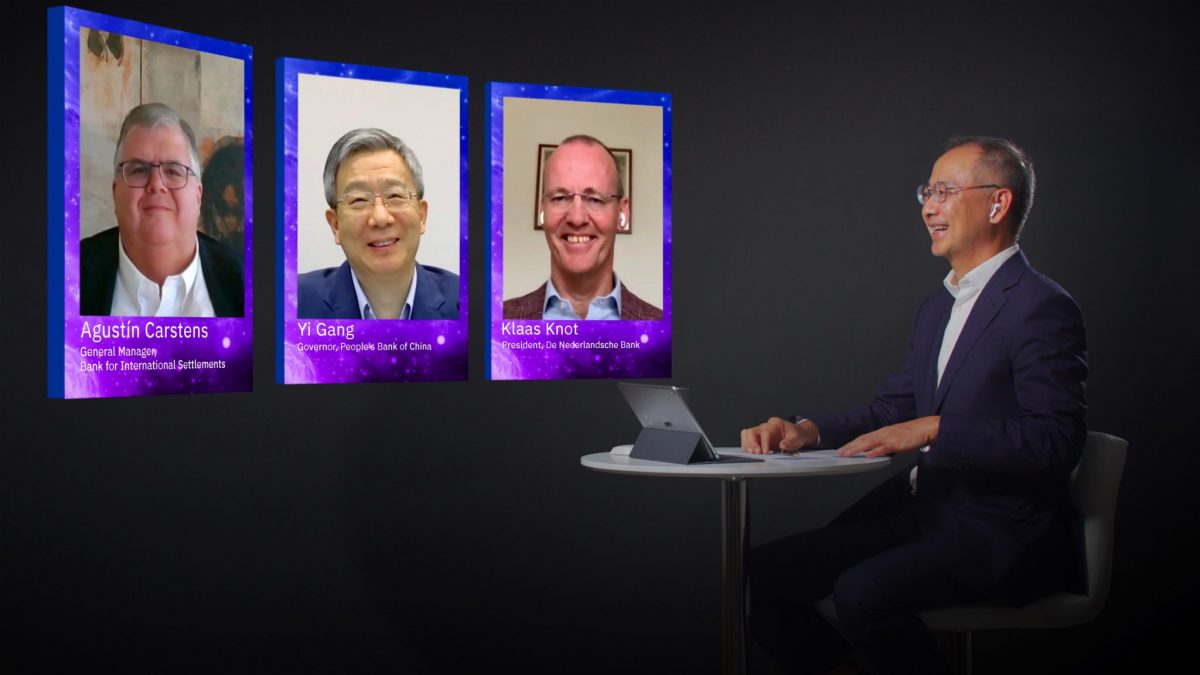 Eddie Yue delivering the opening keynotes at the Hong Kong FinTech Week 2020, held online. He announced the new fintech strategy for Hong Kong (photo 1), and moderated the online panel discussion between central bankers, exploring the roles of central banks in leveraging economic benefits and managing risks in the digital economy (photo 2). (In photo 2, the panellists from left to right are Mr. Agustín Carstens, General Manager of the Bank for International Settlements; Mr. Yi Gang, Governor of the People's Bank of China; and Mr. Klaas Knot, President of De Nederlandsche Bank, and Chair (then-Vice Chair) of the Financial Stability Board.)
</>

</>
This article first appeared in CU Alumni Magazine (March 2021 Issue), republished and translated with permission from Alumni Affairs Office, CUHK.