Winnie Lee (IBCE 2016) founded Spread-it in 2016 to capitalise on the budding micro-influencer trend. By engaging social media savvy youth to promote brands to their followers, Spread-it helps brands gain exposure in difficult-to-reach segments.
Winnie Lee started her business before graduating from the Chinese University of Hong Kong (CUHK) Business School. She founded the Spread-it platform to bring together university students who are active on social media to become "micro-influencers" and help brands gain exposure. Although people start up for all sorts of reasons, Winnie's main goal was to demonstrate the power of "ordinary" people. Through Spread-it, she wants to show that anyone can be influential—that even an ordinary girl like her can achieve great success through hard work and ingenuity. She often encourages those around her to try, saying: "Embrace the ignorance of youth. It has enabled me to be fearless of failure in whatever I do. It has also given me the strength to make various attempts and discover fresh possibilities."
With a major in International Business and Chinese Enterprise, Winnie said entrepreneurship has always been a part of her life. At CUHK Business School, she was frequently required to submit business proposals for class and compete in case competitions. Inspired by a plethora of business ideas, she has experimented with a postcard-sending platform, a service that helps students express their love on their behalf, and a food delivery service that engaged with those returning to campus to bring food. Although none of these ventures were successful, Winnie was unfazed, and she doubled down on her entrepreneurial pursuit with Spread-it. "I believe that even ordinary people have power and that anyone can be a micro-influencer. When you post something on social media, you're already spreading information and influencing family and friends."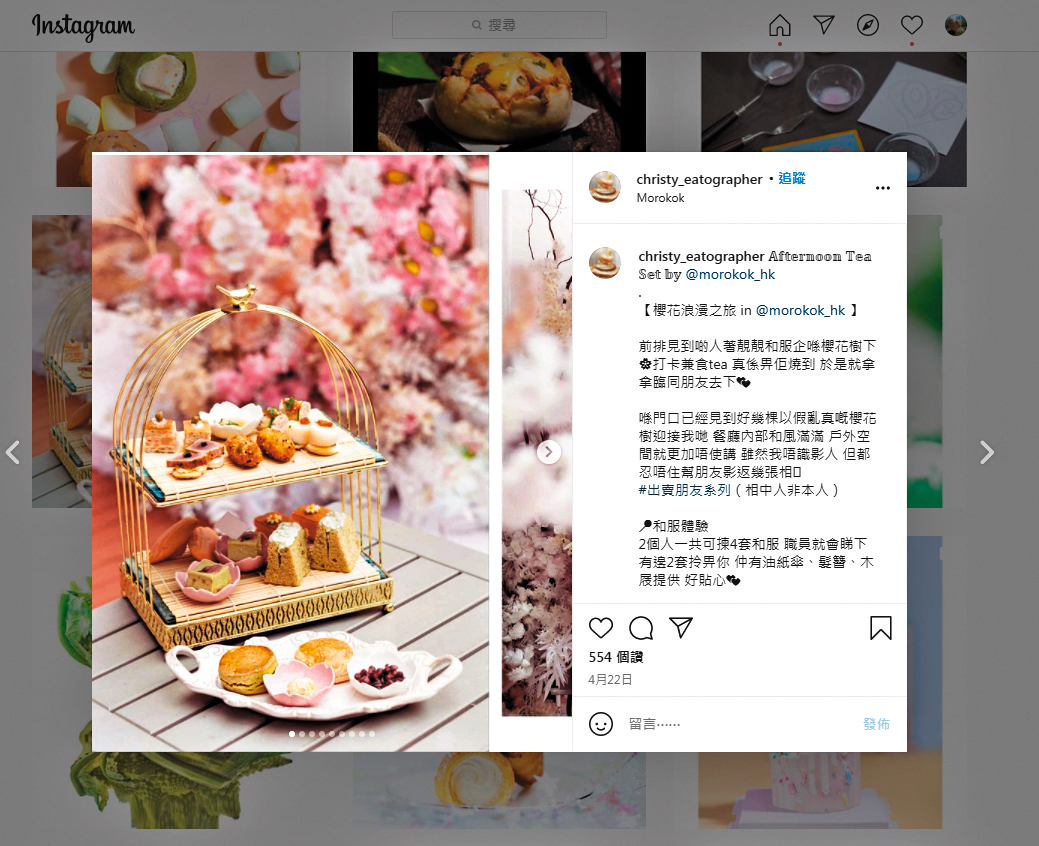 Each micro-influencer may only have dozens or hundreds of followers. However, because they have a closer relationship with their followers, the product information they share carries greater credibility.
Helping Brands Gain Access to University Students
Winnie's numerous start-up attempts led her to a multitude of brands. She observed that brands were having difficulty in reaching university students. "If brands want to set up kiosks on campus to promote themselves to the students, they have to follow a lot of rules. However, social media makes this simpler and easier. Since brands spend money to promote themselves to the younger generation, and university students like to work part-time jobs to earn pocket money, I decided to launch a platform to connect the two."
The Spread-it platform is open to anyone who has 500 to 1,000 followers and their photo posts have an average of 50 likes or more. When these micro-influencers see promotion campaigns on Spread-it that they are interested in, they can apply to take part. They will be vetted by the brands, and those who are chosen will be able to "share" the product information on social media and get paid. "Unlike celebrities or KOLs, these micro-influencers aren't demanding and don't impose a lot of constraints. They only promote the products that they genuinely like. Even though micro-influencers don't have the same level of popularity as KOLs, their influence aggregates and amplifies."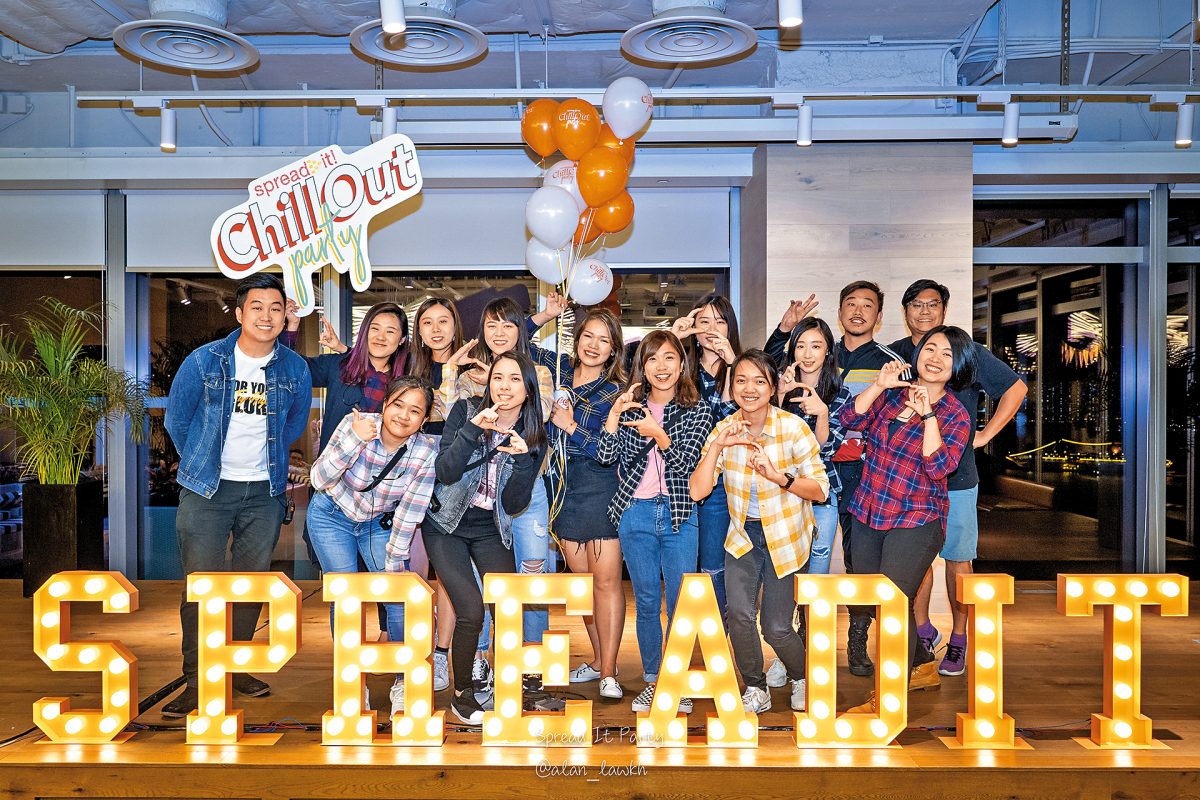 The start-up organises regular Spreadian Club activities for its members to foster bonding and help members expand their social networks.
After years of development, Spread-it now has more than 20,000 micro-influencers and has collaborated with hundreds of brands. Winnie was even named a Forbes 30 Under 30 Asia honouree in 2020. Despite her success, Winnie admitted that she had considered quitting several times. "However, every time I wanted to give up, a new twist would appear. It could be a new client, a new team member or a new idea that would help the company grow in the fast-changing market.
Indeed, no matter whether you're a colossal enterprise or a fledgling start-up, no one can tell you whether your next step is right or wrong. You must continue to try new things and take risks. Only by pressing on will you be able to discover new opportunities. Otherwise, you'll be stuck in your comfort zone. Because of this, entrepreneurs must have an exploratory spirit. They must also be emotionally mature and grounded in order to calmly deal with the anxiety, hesitation and anger brought on by the unexpected twists and turns along their entrepreneurial journeys."
Putting Her Name in Google's Hat and Succeeding on the First Try
Winnie runs to keep herself from falling back into her comfort zone. "I don't particularly enjoy jogging. Just that whenever I felt too exhausted to carry on, I'd wonder how I could accomplish anything if I couldn't even persevere in such a simple task. This has helped me build up my tenacity. Before the pandemic, I would travel to or volunteer in places such as India, Nepal and Cambodia every year. I would always remind myself not to become too complacent, or I would slow down or stop growing entirely."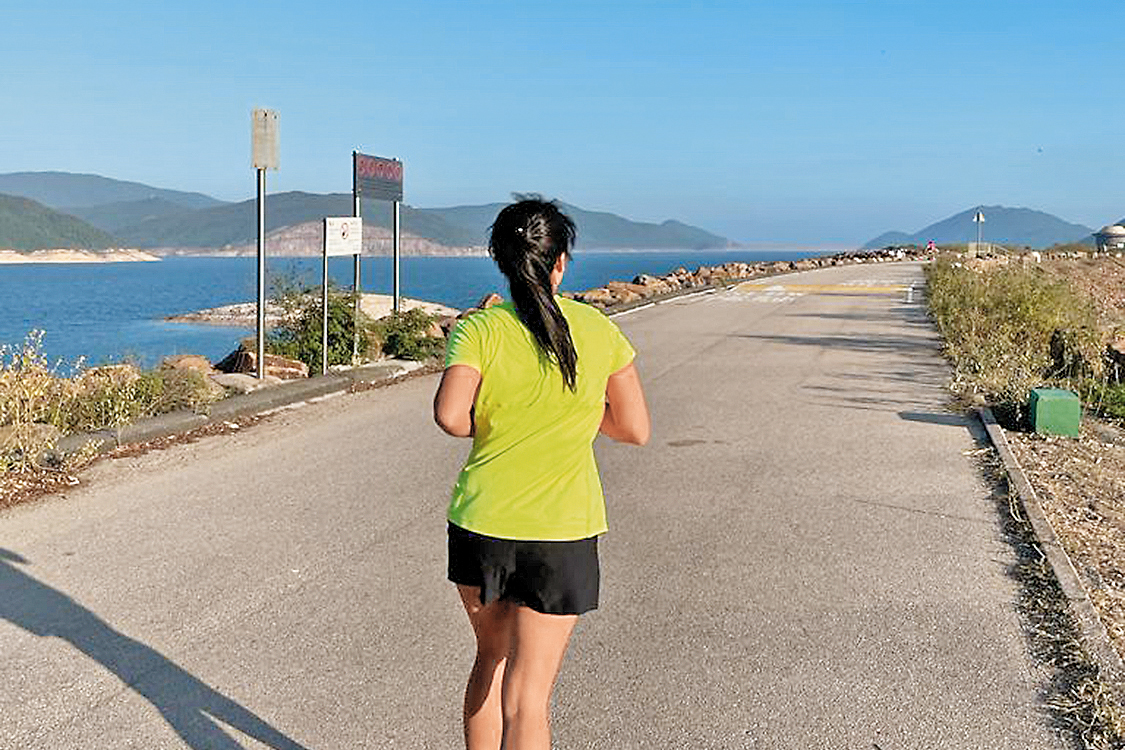 Jogging is more than just a sport for Winnie; it is a way for her to hone her perseverance.

While perseverance and hard work are essential, it is also critical to know how to capitalise on opportunities. Before she started her own business, Winnie had fancied working at Google. She took the courage to write a letter to Google to recommend herself, and was able to secure an internship opportunity during the summer of Year 1. Even though she later discovered that Google's Hong Kong office was focused on marketing and sales rather than the innovation and technology projects that she aspired to join, she learnt about Google's corporate culture and working style and applied them at Spread-it. Another opportunity she seized was CUHK Entrepreneur Day, "Back then, Spread-it was still in its infancy, and we knew little about anything. Nonetheless, we had the opportunity to set up an exhibition to introduce our company. In addition to pitching training, Entrepreneur Day connected me to seasoned entrepreneurs and investors. They gave me a lot of advice and guidance that opened my eyes. Although I later competed in a number of other start-up competitions, few provided the same level of entrepreneurial knowledge as CUHK Entrepreneur Day."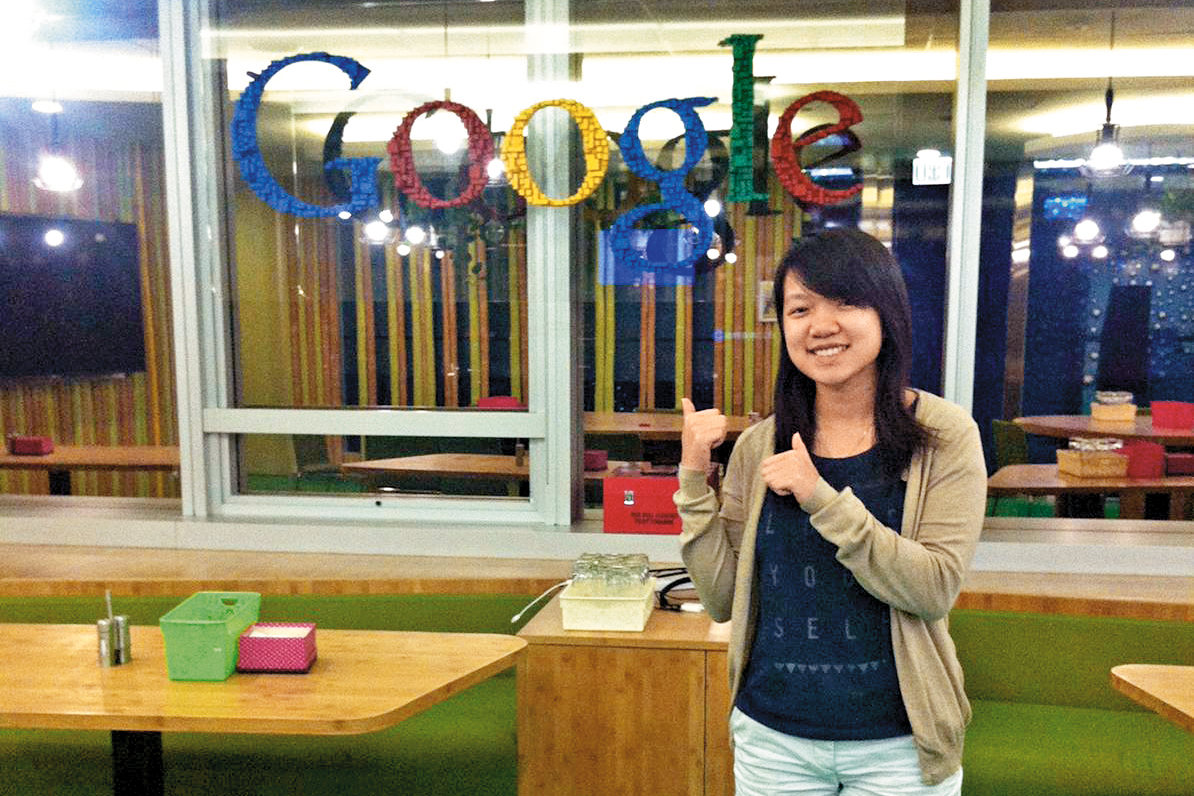 During the summer of Year 1, Winnie landed an internship at Google, where she learnt about the company's corporate culture and working style.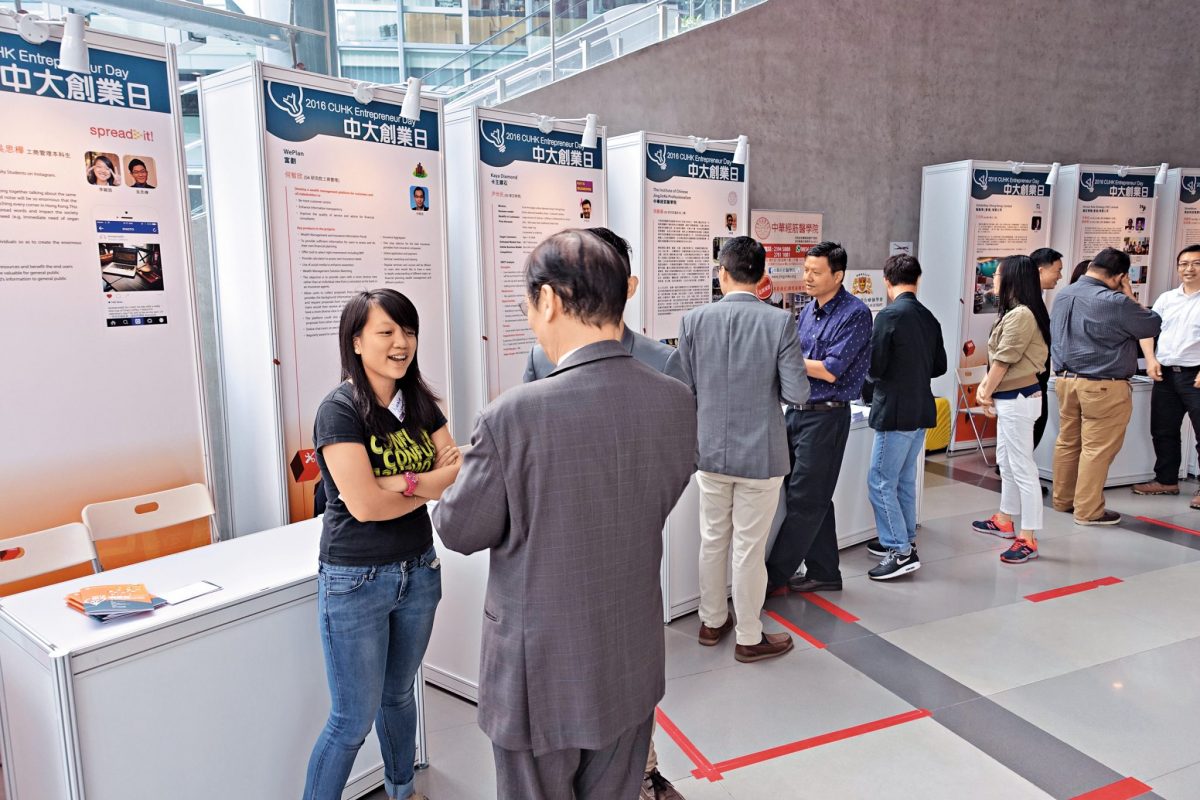 Winnie met many seasoned entrepreneurs and investors at CUHK Entrepreneur Day, laying a good foundation for Spread-it's subsequent development.
Starting Up Is More than a Contest of Abilities
In addition to providing a platform for ordinary people to become micro-influencers, Winnie wanted to demonstrate the power of ordinary people through her persistence in entrepreneurship. "I want to prove to my many highly capable friends that someone as average as me can achieve great things. Through my experience, I hope to inspire others not to underestimate their abilities and help them realise that anyone who takes the first step and keeps going will achieve their goals. Dreams aren't always as far away as they appear."
Citing her favourite Harry Potter as an example, Winnie said the sorting hat initially wants to assign Harry to the house of Slytherin. It is only after Harry's vehement objection that he is assigned to Gryffindor. "At the end of the day, entrepreneurship is all about you. Nobody can change what you decide to do. What matters most are not the details of execution but your mindset, values and principles as an entrepreneur."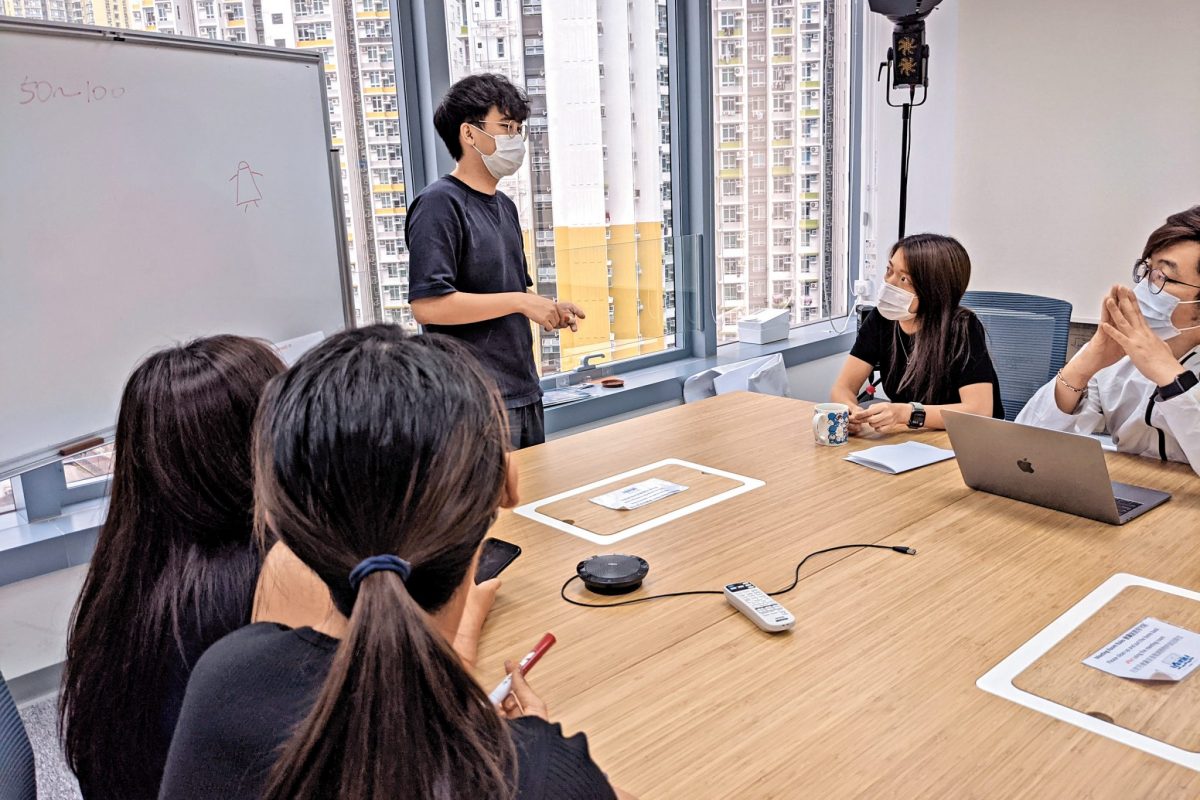 The majority of Spread-it's employees are under the age of 30, and they exude an abundance of vitality and creativity.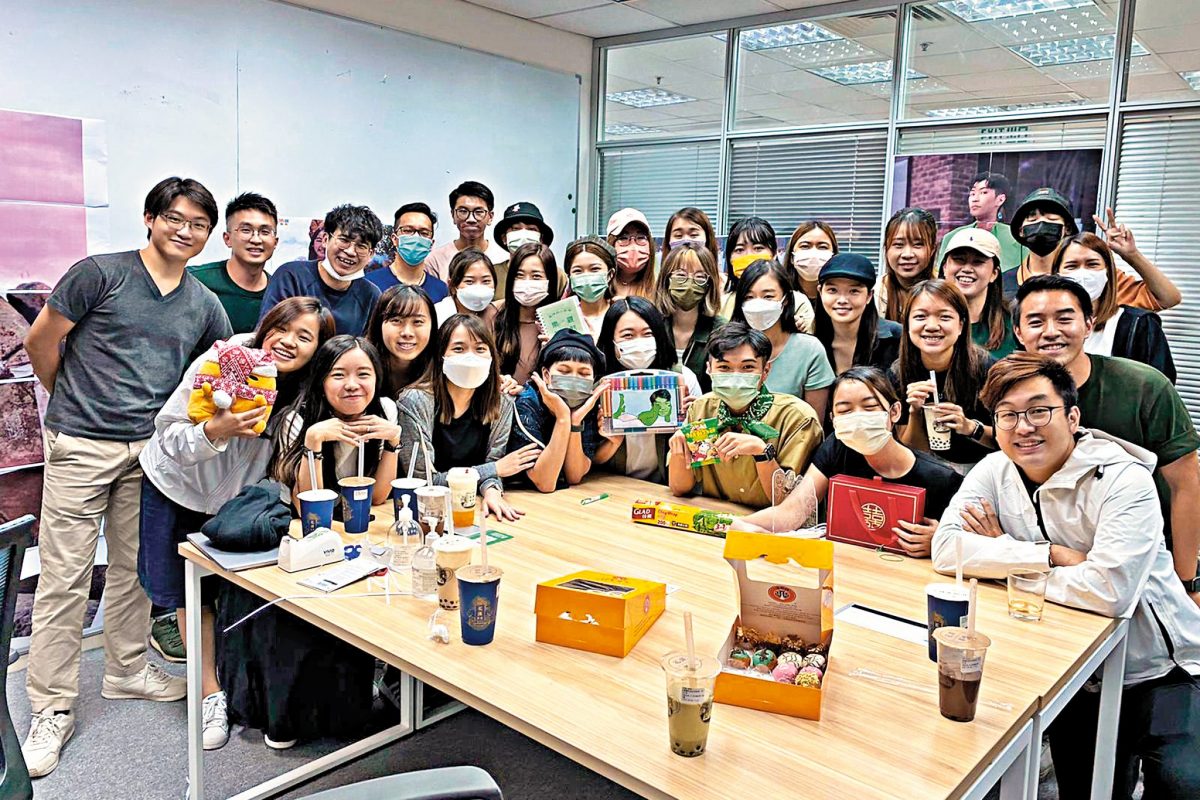 Winnie lives by the mottos "walk the extra mile" and Jack Ma's "wanyi chenggong" ("what if you succeed"). She is widely recognised by her peers.
Winnie advises other students who want to start up to do so as soon as possible. "If you really want to start your own business, it's best to do so when you're young, because you have time and can try fast and fail fast. Even if you fail, you have little to lose. At worst, you can go look for work. However, if you miss the opportunity and the timing to start up, it may be hard for it to come by again. Being young also provides you with one distinct advantage: ignorance. When you're young, you don't give up easily, even if the road ahead is a cul-de-sac. Your thinking will change as you grow older and gain more experience, and you will lose that tenacious desire to pursue your dream. It would be much more difficult to start up then."


This article first appeared in CU Alumni Magazine (September 2021 Issue), republished and translated with permission from Alumni Affairs Office, CUHK.