Over 250 guests gathered on the evening of 8 March to celebrate the Year of the Dog at the Spring Cocktail organised by the Alumni and Corporate Affairs Office.
Over 250 guests gathered at the Island Shangri-La Hong Kong on the evening of 8 March 2018 to celebrate the Year of the Dog at the Spring Cocktail, which was organised by the Alumni and Corporate Affairs Office. The event served as an opportunity for CUHK Business School to acknowledge our staff, alumni and corporate partners, as well as distinguished guests from academia, government and the business community.
We were pleased to welcome CUHK's new Vice-Chancellor, Prof. Rocky Tuan, as the guest of honour. In his welcoming remarks, Prof. Tuan addressed his vision of promoting sustainability in Hong Kong and mentioned two new initiatives recently brought into play: the establishment of the Global Alumni Advisory Board and the Distinguished Alumni-in-Residence Programme. Prof. Tuan expressed hopes of realising CUHK's mission by capitalising on its strong alumni network and engaging alumni from diverse sectors and locales.
Business School Dean Prof. Kalok Chan expressed his sincere gratitude to the attendees for their tremendous support. Over the last year, the Business School focused on engaging alumni by holding activities in Hong Kong and abroad and strengthening connections with the business community. To further this aim, Prof. Chan announced the establishment of the Corporate Partnership Scheme, which was designed to enhance the working relationship between the Business School and its corporate partners. Prof. Tuan and Prof. Chan presented gifts to representatives from eight corporate partners, including AIA Group Limited, Baidu International Advertising Unit, Citi Hong Kong, EY, Hong Kong Science and Technology Parks Corporation, IBM China/Hong Kong Limited, New World Development Company Limited and Sun Hung Kai Properties Limited, as a token of appreciation for their enduring support. Before finishing his remarks, Prof. Chan stressed, "We need the help of all our stakeholders to support the Business School's sustainable development. Assistance of any kind, such as a donation or sponsorship, is highly appreciated and will help us fulfill our vision of developing global business leaders for the Asian Century."
Guests spent a wonderful evening mingling and enjoying the delicious food and beverages as they connected with each other. On behalf of the Business School, the Alumni and Corporate Affairs Office would like to thank our alumni and business partners for their generous support and wish them all the best in the years to come.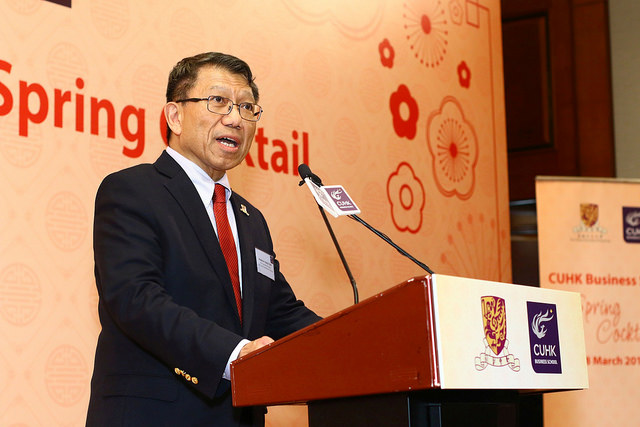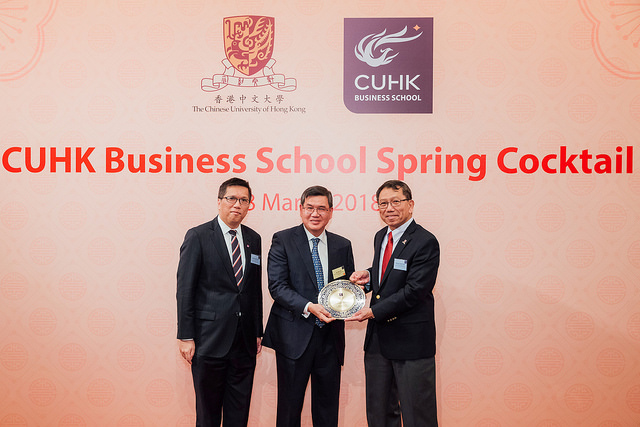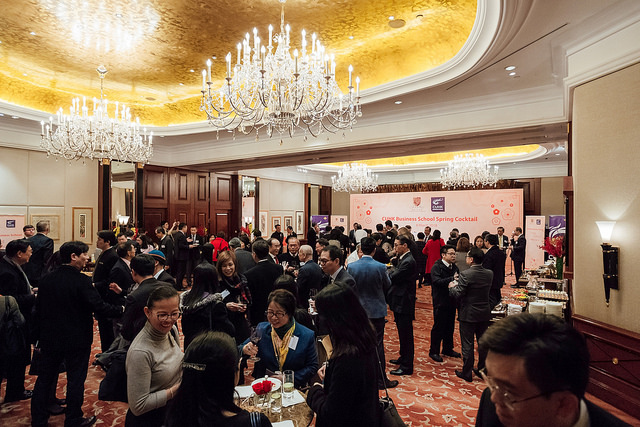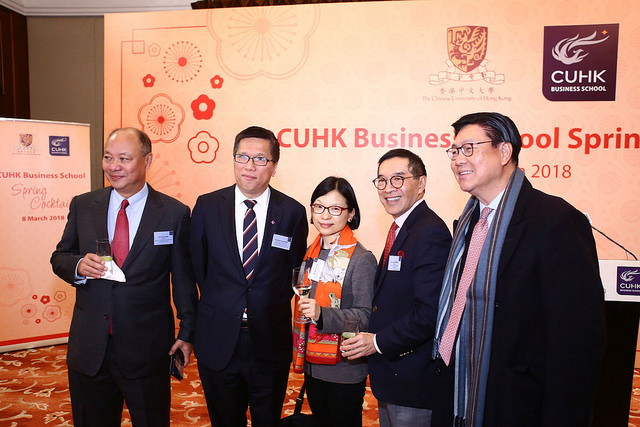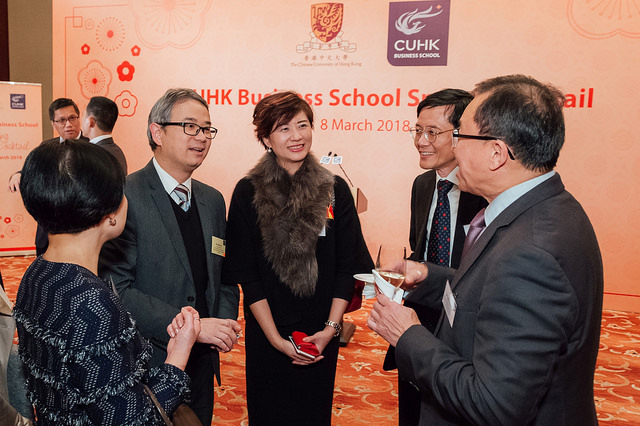 This article was first published in the website of Alumni and Corporate Affairs Office, CUHK Business School on 19 March 2018.