At CUHK Business School, a special group of faculty member shares a common identity with their students. They are the 26 CUHK Business School alumni who returned to their alma mater to pass on the knowledge and life lessons learned. Transforming from a student to a teaching staff, what are their stories and what motivated them to return?
Alumni Faculty At A Glance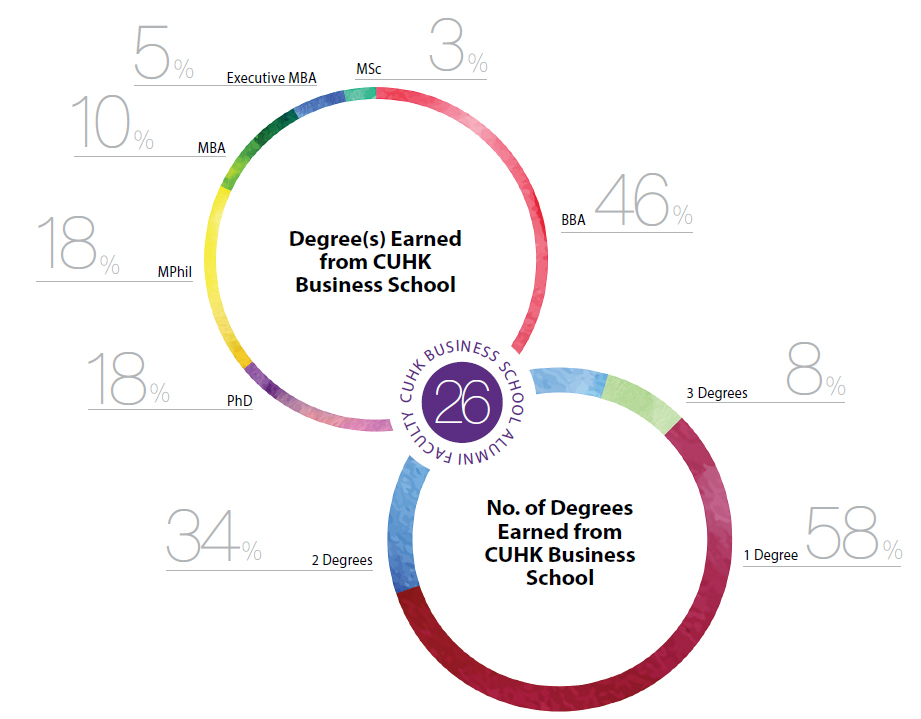 What motivated our alumni to pursue their academic careers?
Transfer and Creation of Knowledge
For some alumni, they enjoy teaching and conceptualising ideas. They like to develop frameworks and theories to explain phenomena, and transfer their knowledge and experience to others.
Impacting People's Lives
Education comes in small steps, and these meaningful steps contribute to a big leap in one's life. Our alumni want to enhance the well-being of a person and collectively, the world.
Encouragement and Inspiration by Faculty Members
A meaningful conversation may enable you to see yourself in a new light. Some alumni were inspired by CUHK Business School faculty members, and want to pay it forward by nurturing the next generation and passing on the tradition.
If our alumni could go back in time, what advice would they give to their 20-year-old self?
Stay positive
Tough times will eventually get better, so always look on the bright side of life and be grateful.
Stay healthy
Maintaining a regular exercise routine keeps your body young and in balance. It builds not only your physique but also your willpower.
Stay curious and hungry
Get out of your comfort zone to discover the little adventures and joys of youth. Continue to learn and resist complacency during your journey.
Stay true to yourself
A lucky person is one who can identify his/her passions in life and pursue work of interest. Your future self will thank you for who you become and the process of doing so.
Read about our alumni faculty's highlights as CUHK students or faculty members here.