CUHK Business School Students Outshine 800 Contestants at Global Markets Competition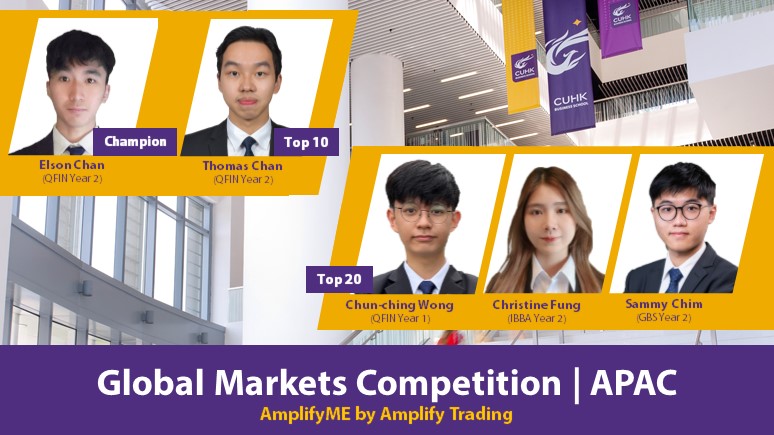 Five undergraduate students took home the championship and were ranked Top 10 and 20 at 2022 Global Markets Competition | APAC, a virtual competition organised by Amplify Trading, a financial education company providing simulation technology to institutions and students around the world.
This year, a total of 864 undergraduate and postgraduate students across the globe teamed up and constructed investment pitches to compete in the preliminary simulation. 82 finalists then took on an advanced sales and trading simulation to compete on an individual basis.
Out of 15 CUHK students who made it to the Grand Final, Elson Chan (QFIN Year 2) won the overall championship, receiving a cash prize and a fully sponsored placement in Amplify Trading's Summer Training Programme. Adding to the list of outstanding performers, Thomas Chan (QFIN Year 2) was ranked Top 10, while Chun-ching Wong (QFIN Year 1), Christine Fung (IBBA Year 2) and Sammy Chim (GBS Year 2) were ranked Top 20.
Students' sharing:
Elson Chan (QFIN Year 2):
"I am honoured to receive the grand prize in this competition. It was a remarkable experience to conduct global macro research and construct a sell-side pitch to potential investors. The competition not only allowed me to apply my financial knowledge, but also experience the role of sales trader and hedge fund manager. The simulation was intense, and I could feel the pressure of making every trading decision. CUHK has greatly supported us to explore our talents outside the classroom, so we are able to get a good grasp of the financial world. "
Thomas Chan (QFIN Year 2):
"It was a great experience for me and my teammate to conduct a detailed analysis and formulate our investment strategy. Simulating the role of a market maker allowed me to leverage my financial knowledge and make calculated decisions to maximise commission and return. This experience enabled me to develop a comprehensive understanding of the financial market and has imbued me with practical market sense."
Chun-ching Wong (QFIN Year 1):
"Through the competition, I have learnt how to facilitate client orders and manage portfolio risks. I have gained first-hand experience and an overview of the job duties of a trader, which helped me to discover my interest in pursuing a career in sales and trading."
Christine Fung (IBBA Year 2):
"This competition has enriched my understanding of the financial market and the various roles in an investment bank and buy-side in the financial market. This experience helps me put my textbook knowledge into practice in the ever-changing market. I am now confident to devote myself to the financial world after graduation."
Sammy Chim (GBS Year 2):
"During the competition, I composed a sell-side pitch of S&P 500 Index-related trade ideas specialised in the technology industry and ESG theme. It was a valuable opportunity to connect what I learnt from lessons to the real world. As a student passionate about investment, this excellent result gives me more confidence and courage to pursue a career in finance."