A group of undergraduate students from The Chinese University of Hong Kong (CUHK) Business School worked together to bring about social change through a series of social innovation-related events in April and May 2018.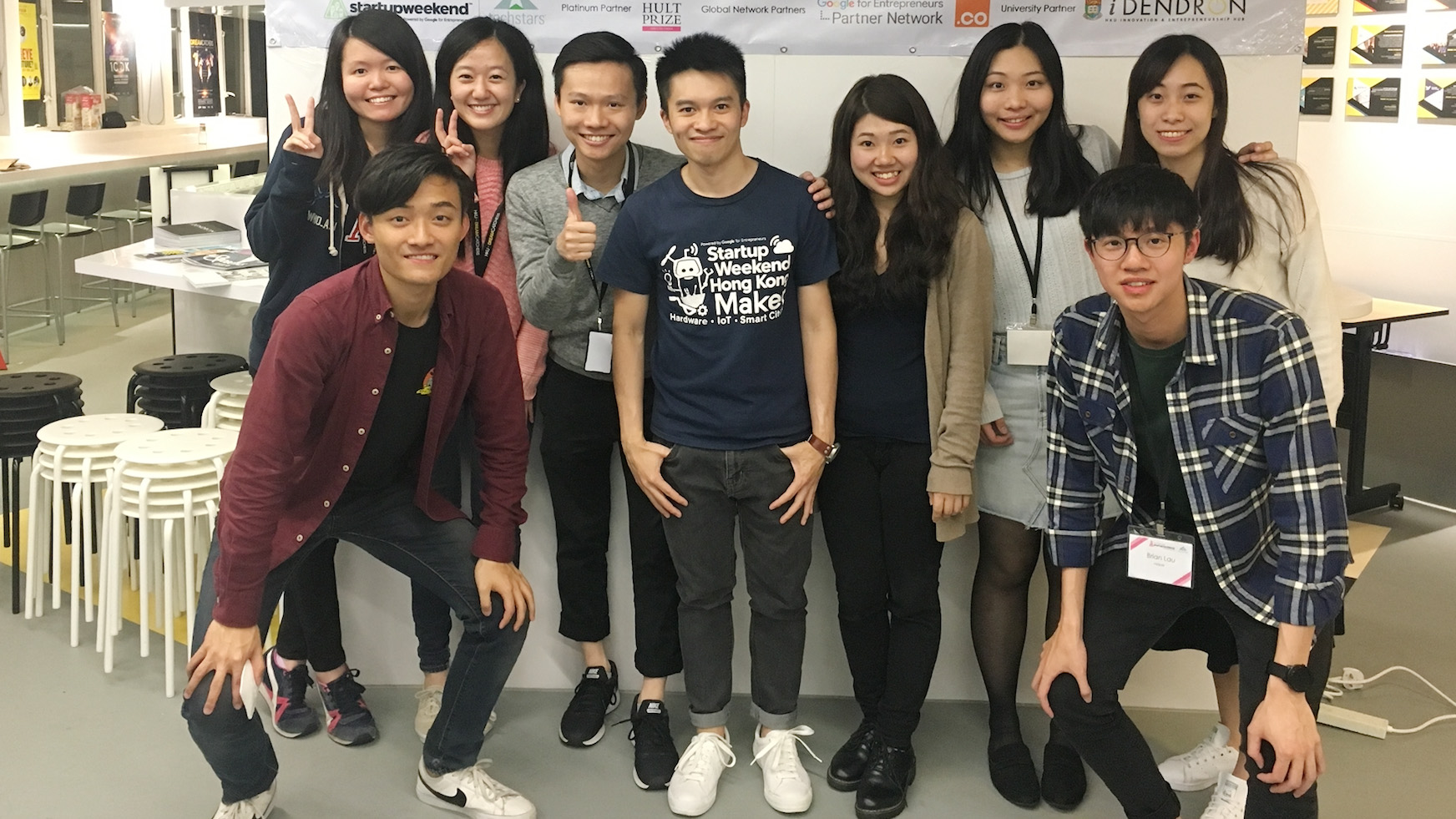 From left to right in the back row excluding the gentleman in the middle are: Helen Chow, Yannie Mak, Christopher Wong, Jenny Ou, Elaine Kwok and Anny So; and in the front row are Calvin Au (left) and Brian Lau.
Localised by International Business and Chinese Enterprise (IBCE) programme alumnus Christopher Wong (IBCE 2013) and two IBCE Year 4 students, Calvin Au and Yannie Mak; and run by ten CUHK Business School students, including Anny So (IBCE, Year 2), Helen Chow (IBCE, Year 2), Justin Ho (Integrated BBA [IBBA], Year 5), Alysa Li (IBBA, Year 5), Jenny Ou (IBBA, Year 4), Elaine Kwok (IBCE, Year 2) and Brian Lau (Professional Accountancy, Year 2), the newly established Hult Prize Hong Kong partnered with Enactus Hong Kong to organise the Social Innovation Forum 2018 at Dream Impact on 21 April 2018. The Greater Bay Area (GBA) Innovation Challenge, co-organised with The Chinese University of Hong Kong, Shenzhen, will be held at the CUHK-Shenzhen campus from 25 to 27 May 2018.
In the Social Innovation Forum, students learned about the social enterprise landscape through sharing sessions, and experience being a one-day consultant for Accenture and Teach4HK, a social enterprise founded by CUHK Business School alumnus Arnold Chan (Global Business Studies 2010) in developing a social-oriented business model.
The GBA Innovation Challenge will invite over 100 students from the Greater Bay Area to undergo a startup journey in 2.5 days around the topics of Education, Environment and Health. Students' horizons shall be broadened through interaction with mentors, and a panel discussion by the Global Shapers Community of the World Economic Forum.
Hult Prize is a startup accelerator for budding young social entrepreneurs emerging from universities around the world, awarding US$1 million in seed capital. In partnership with the United Nations, Hult Prize was named as a "Top 5 Idea Changing the World" by TIME magazine, and 14 Hult Prize finalists were honoured Forbes "30 under 30" in 2016. With a strong focus towards the Greater Bay Area, Hult Prize Greater China is a new addition to the global map this year, empowering young people on "business for good".
By Yannie Mak
Mak is a current student from the IBCE programme of CUHK Business School.