PACC Students Come Second at the North Asia Regional Final of CGMA Global Business Challenge 2018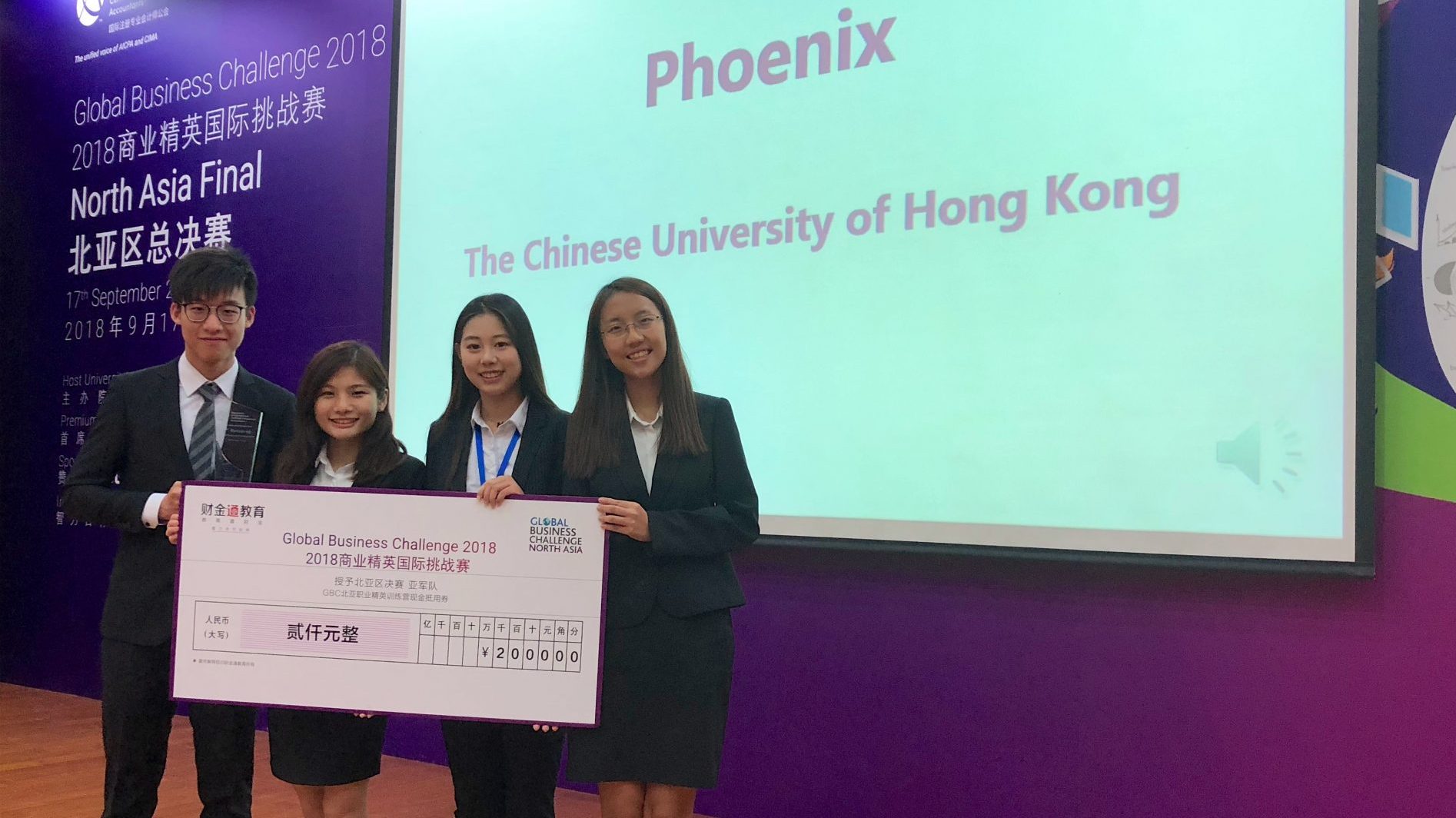 Four Professional Accountancy students won the 1st runner-up and Best Future Business Leader Award at the North Asia Regional Final of CGMA (Chartered Global Management Accountant) Global Business Challenge held in Beijing on 17 September 2018.
This year, a student team from The Chinese University of Hong Kong (CUHK) Business School represented Hong Kong at the North Asia Final of CGMA Global Business Challenge. Together with the eight shortlisted teams of elite university students from Macau, Taiwan, Mainland China and Japan, they competed for the championship by showcasing their business knowledge, integrated thinking and communications skills.
CGMA Global Business Challenge adopts the case format of the CIMA Professional Qualification, focusing on students' ability to combine skills, knowledge and experience needed for organisational success. In this edition, participating teams acted as professional management accountants for a luxury sports car manufacturer, which they had to provide analysis and suggestions on its sustainable development. They were given a fixed amount of time to identify the business issues, analyse its cost and financial data, and develop a business plan covering the aspects of human resources, marketing and corporate social responsibility.
After a full day of competition, the team from CUHK Business School took home the 1st runner-up. The winning team comprised four students from the Global Accounting Stream of the Professional Accountancy Programme: Mary Dongyan Yuan (Year 4), Hinson Ka-hin Wong (Year 3), Michelle Tsui-ling Tsang (Year 3) and Anthea Ong Cheng (Year 3). Mary also won the Best Future Business Leader Award, the only individual prize in the competition, with her outstanding leadership attributes.
Organised by The Association of International Certified Professional Accountants (AICPA|CIMA), the CGMA Global Business Challenge is an international business competition designed to bring out the best in the young business leaders of tomorrow. By working together as a team of four to present a business case study, participants get the opportunity to showcase their talents in business management, and learn how to become future business leaders.