The world is experiencing an unprecedented industrial revolution driven by big data and financial technology. While practitioners are facing a large number of new problems that cannot be solved by existing methods and frameworks, researchers are constrained by their publication goals and have not yet been fully exposed to these unsolved problems arising from practice.
The Summit of Unsolved Problems (The SOUP Summit) is the first of its kind in Asia where researchers and practitioners share a platform to have in-depth, secure and confidential/private sessions to jointly address challenging business issues. It allows original ideas and academic expertise of researchers to meet unsolved problems in industries, with an ultimate goal to help firms solve business problems and researchers generate real social impact.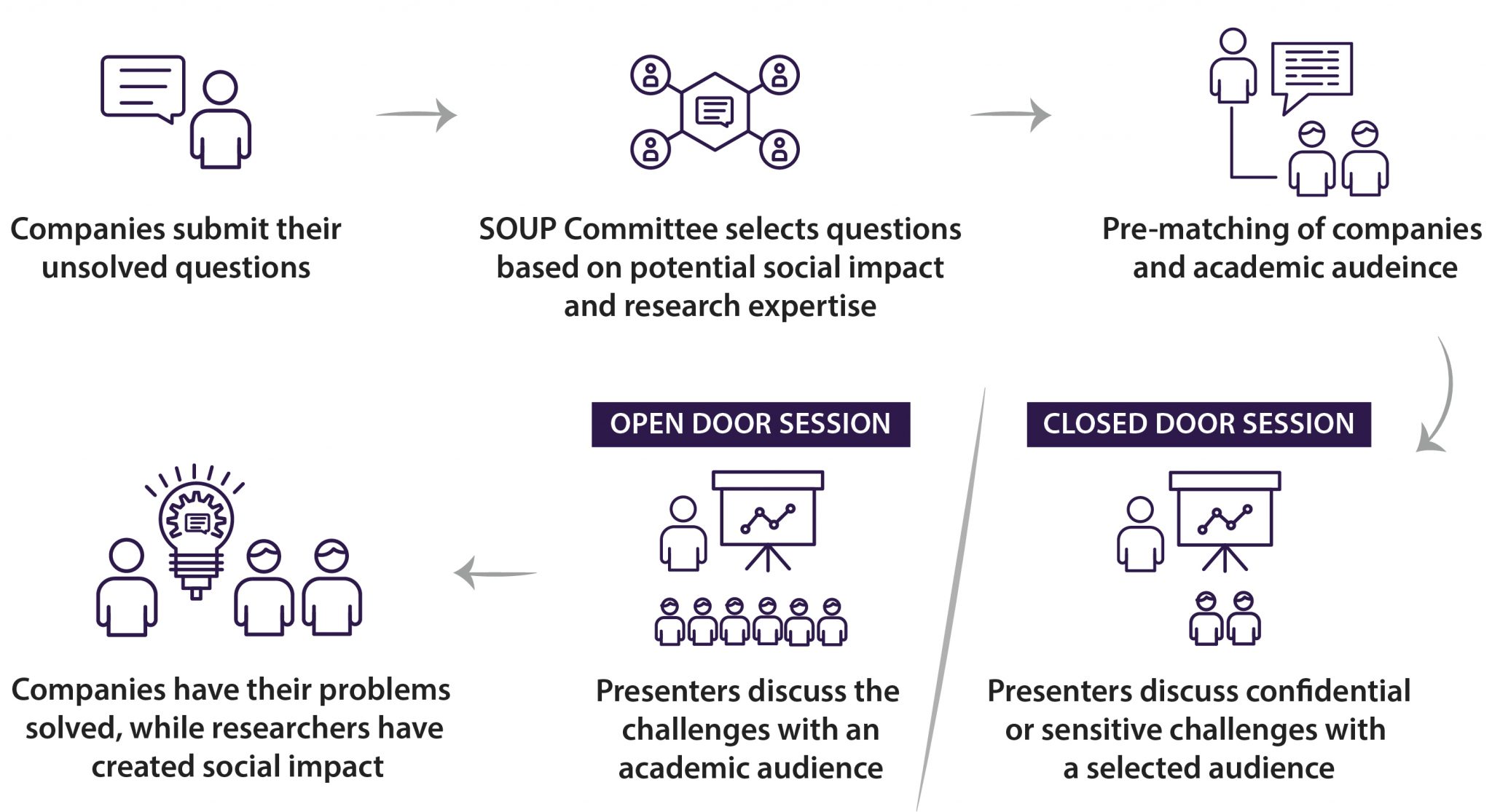 ---
Soup Summit Details
---
Q&A
---
Enquiries
---
Organiser
Hong Kong-Shenzhen Finance Research Centre, co-founded by CUHK Business School and the Shenzhen Finance Institute (SFI) of CUHK-Shenzhen, conducts and applies cutting-edge finance research with a focus on the Greater Bay Area. The Centre provides interdisciplinary platforms for collaboration among researchers of different backgrounds and between academia and practitioners, and tackles challenges arising from different social, political, legal and financial systems adopted in the area.
The SOUP Committee
---
Privacy Statement
1. The personal data provided for SOUP Summit will be used by Hong Kong-Shenzhen Finance Research Centre (HSFRC) for purposes related to communication and research matching only.
2. The personal data provided will be used by HSFRC staff for delivering information including links to articles, videos and comments. This personal data will not be transferred to other external parties.
3. When you visit this website, HSFRC staff will have record of your Domain Name Server address and the pages you have visited. This information may be used by us for statistical purpose only.
Disclaimer 
1. The contents of this website is subject to change without notice.
2. HSFRC accepts no liability for any loss or damage howsoever arising from any use or misuse of or reliance on any information in this website.5