It is by no means a fluke that Associate Professor of Practice in Finance from the Department of Finance Seen Meng Chew had been commissioned to be The Chinese University of Hong Kong (CUHK) Business School´s new Associate Director of the MBA programmes last year.
He is not just a respected professor, but an experienced economist and an Honorary Research Advisor for Hong Kong-based financial technology solutions provider FinFabrik. We delve into his past achievements and discover how he finds time to fit in all of his teaching and work commitments, not to mention his favourite hobby, Chinese calligraphy.
A Good Education Creates Opportunities
Coming from a humble family background, Prof. Chew had to work very hard to earn scholarships for all his education after high school. He left Malaysia when he was 18 to pursue his A-level studies in Singapore under the ASEAN scholarship. From there he went on to complete Bachelor, Master and PhD degrees in the UK and the US. His higher education journey started when he was offered a scholarship to study for a BSc degree in economics at the London School of Economics and Political Science. Living and studying in the UK turned out to be a life-changing experience. "I later pursued my PhD at University of Chicago where I had the privilege of having the late Prof. Gary Becker, 1992 Nobel laureate in economics, to be one of my thesis advisors," he said.
It was a pivotal moment that had opened many doors subsequently. — Prof. Seen Meng Chew
Having studied for nine years straight in the UK and the US, Prof. Chew was looking for a change. He decided to take a break from university life and immersed himself in the corporate world, as he believed that gaining real life experiences in the corporate sector was as important as good academic training.
He spent three years as a consultant at NERA Economic Consulting in Chicago, where he worked with corporate clients on their international pricing strategy.  He later moved to Singapore and Hong Kong, where he worked as an economist for Morgan Stanley, the International Monetary Fund and J.P. Morgan, and learnt a great deal about the key economic and political issues of major Asian countries within a business context.  Ask him what was one of the best elements about working at these world class institutions and he will tell you enthusiastically about the opportunities he had in meeting and learning from prominent luminaries, such as Mr. Tony Blair ─ former UK Prime Minister, Ms. Madeleine Albright ─ former US Secretary of State, and Dr. Zeti Akhtar Aziz ─ former Governor of the Malaysian Central Bank.
After working for about 10 years in a variety of sectors, he decided to return to academia, bringing his expertise to students and relishing the opportunity to share real life case studies.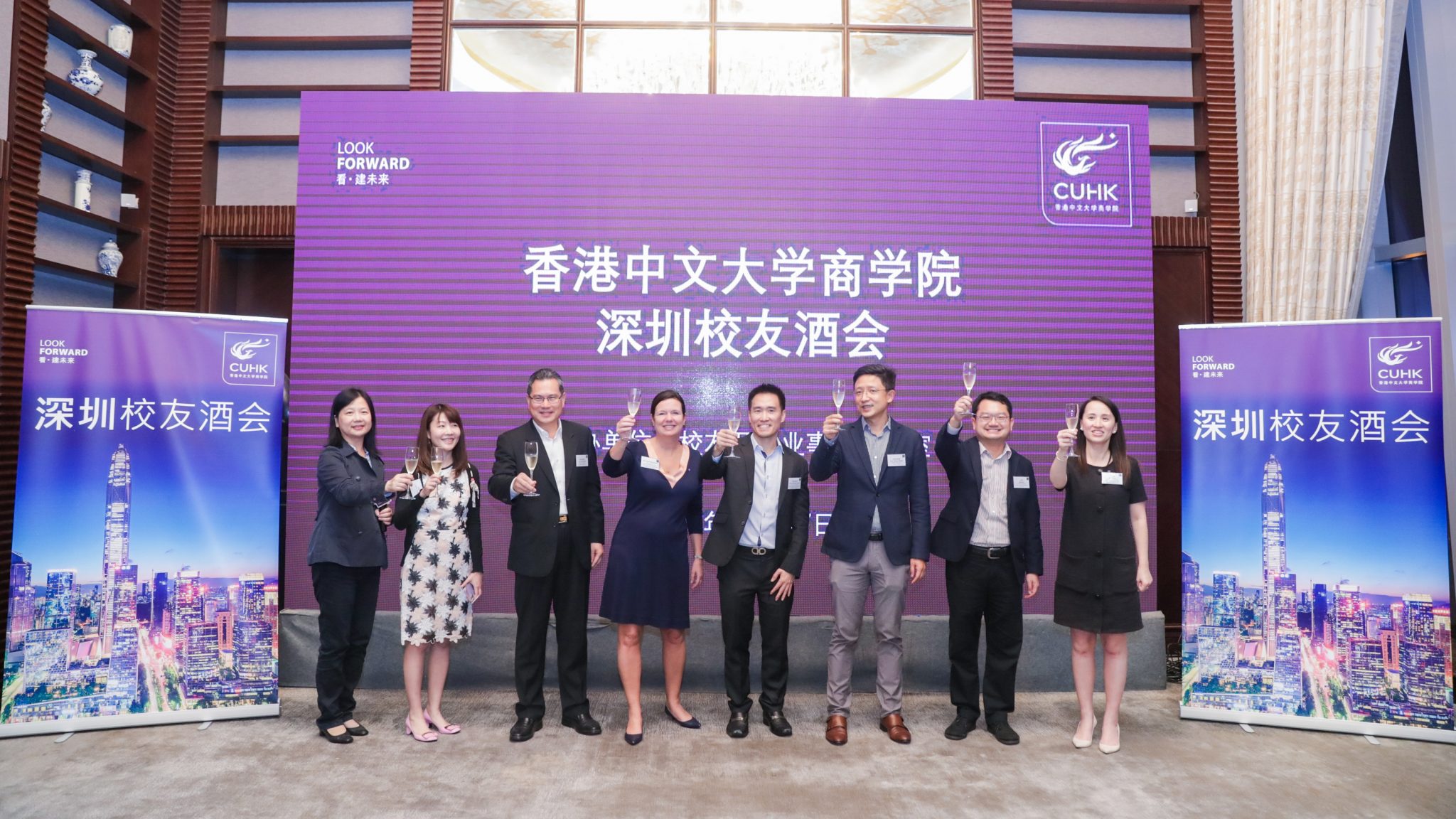 Prof. Seen Meng Chew (4th from right) toasts with fellow faculty and staff at CUHK Business School Alumni Cocktail in Shenzhen in October 2019.
CUHK Business School The Place to Be
Prof. Chew decided to join CUHK because in his words, "it has a great reputation in Asia, excellent resources and emphasises the highest quality of teaching". Another key reason was because the University has a collegiate system with nine different colleges, a very unique feature for an Asian university. He believes that being part of a college is essential to students' life, as it provides them a sense of belonging, and helps to shape their character. It also reminds him of his fond time at Trinity Hall college, University of Cambridge, where he read MPhil in economics in the early 2000s.
However, CUHK Business School is not the first tertiary institution where he has taught. Before arriving at CUHK, he had clocked a fair amount of teaching hours at universities in the US, Singapore and Hong Kong. So what attracted him to the teaching profession?
Being a professor means that you have to keep learning and accumulating knowledge, so that you can be an effective teacher. — Prof. Seen Meng Chew
"First and foremost, a professor is given the luxury of immense freedom and flexibility in work schedules, allowing me to develop creativity which in turn helps me to design interesting courses." He continues, "Moreover, it is a deeply fulfilling and satisfying profession as you gain respect from students and the public."
Having just been commissioned as an Associate Director of CUHK MBA last year, Prof. Chew was excited about bringing new ideas and initiatives to the MBA programmes. For the classes that he teaches at the School, he would be using case studies and the most current industry examples. He would share his experience in finance and consulting and make good use of his industry connections developed over the years. "I will strive to collaborate with select companies to source guest speakers, practicum projects and internship opportunities for students, and will also work closely with key industry partners to organise a trading competition at our business school's Finance Trading Laboratory." he says.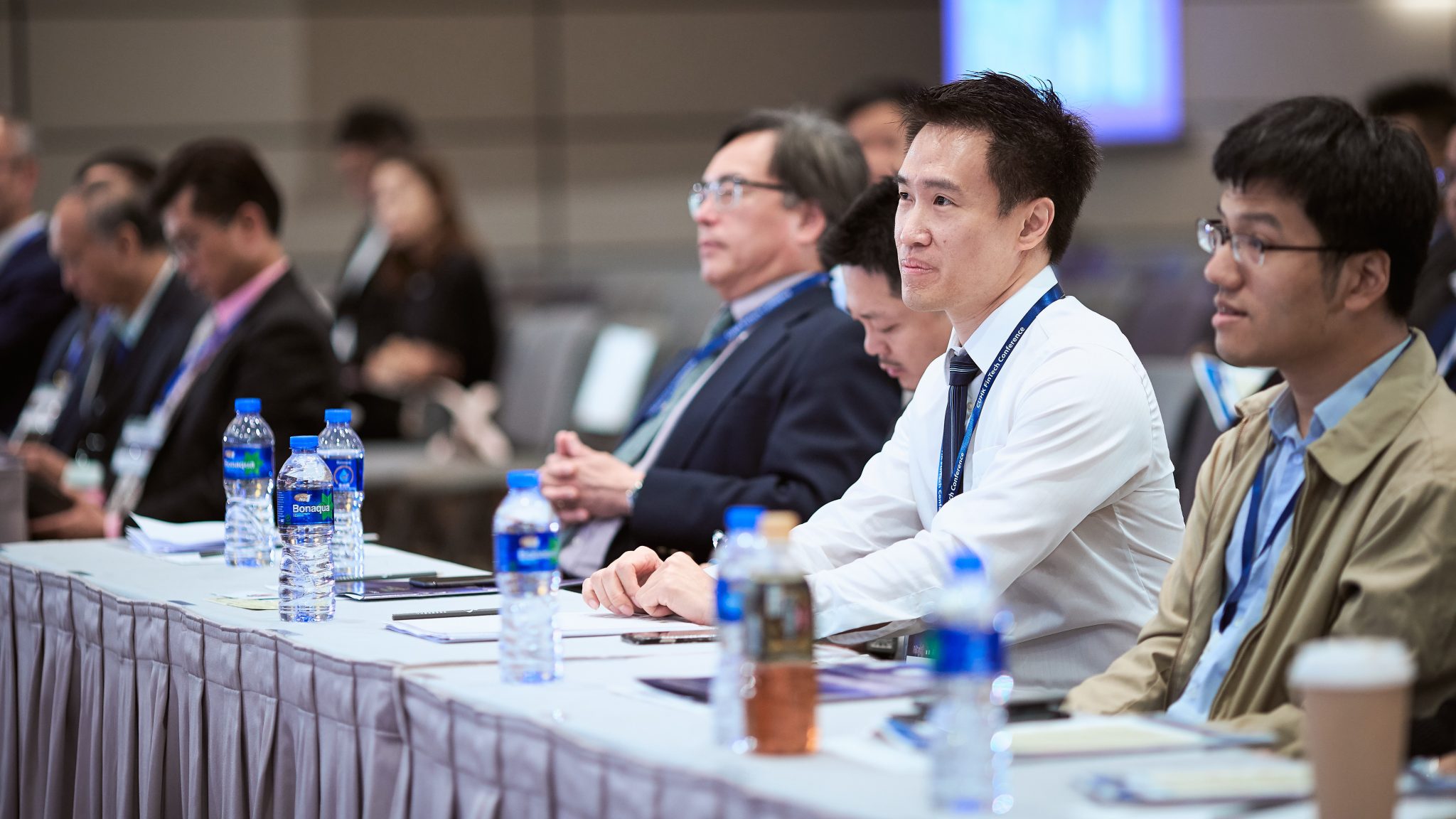 Prof. Seen Meng Chew sits in the panel at 2019 CUHK Conference on Financial Technology in November 2019.
Life as an Educator, Innovator and Artist
In addition to his role at CUHK Business School, he also serves as an Honorary Research Advisor for FinFabrik, a Hong Kong-based financial technology solutions provider that specialises in capital markets. So, what does the future hold for Fintech in our city? "Hong Kong is a hot spot for the Fintech industry in Asia, due to its highly developed soft and hard infrastructure, and ease of doing business. Moreover, the granting of eight virtual banking licenses by Hong Kong Monetary Authority last year shows the government's commitment in developing this new important sector."
With the ever-changing trends in the digital economy, how does he plan to teach the MBA course: Fintech 101?
As Fintech is a very dynamic subject, I think the best way to teach it is through case studies and industry examples. — Prof. Seen Meng Chew
"Moreover, students should also be given opportunities to partner up with Fintech companies in Hong Kong to work on projects that involve solving real business problems. This could help them to come up with new business ideas or strategies to succeed in a Fintech venture." Prof. Chew says.
Although Prof. Chew admits he often gives people the impression that he is a very serious person, he wants to emphasise that he also has a fun side, especially when it comes to his passion: Chinese calligraphy. For the last 30 years, he has developed this hobby to as far as taking part in numerous international competitions and exhibitions. You could say his love for Chinese calligraphy is part accidental and part personal, as the practice can be traced back to his grandfather and father, who were both calligraphers and had a strong influence on him.
Finally, Prof. Chew offers his words of inspiration for our students when moving into the working world: "Embrace changes as we are living in a world where the only constant is change.  Working professionals need to continue to learn and educate themselves throughout their lives in order to stay relevant."
It´s fair to say that CUHK Business School is extremely lucky and excited to have Prof. Chew with us.