Leong Cheung (BBA in Integrated BBA 1994) has taken on various roles in the business world and acquired a wealth of experience in corporate consulting, textile apparel, and private equity upon graduating from The Chinese University of Hong Kong (CUHK) Business School.
A few years ago, he turned to the NGO sector and became the Executive Director of Charities and Community at The Hong Kong Jockey Club (HKJC). Through managing the Club's Charities Trust and applying his business wisdom, he sets to find the solutions to many social issues. He has also founded the social enterprise RunOurCity to help the youth foster a positive outlook in life through running.
Debating Improves Language and Critical Thinking Skills
Looking back at his time at CUHK, besides studying and hall life, Leong Cheung remembers his time on debate teams fondly. As a member of both the Mandarin and Cantonese teams, he trained at 6am with the former, while practicing at night with the latter. Training took place once or twice in a normal week, but during competition seasons he practiced almost every day. The cycle of debate, then class, followed by debate again strengthened his language proficiency in Cantonese, Putonghua and English. "I'm a Fujian native who came to Hong Kong at seven. My Cantonese sounded native, but I used to speak Putonghua with a Fujian accent. I was only able to perfect it thanks to all the practice."
Being on the debate teams also gifted him life-long friendships. Through contesting different subjects, teammates formed a deep understanding of each other. "We didn't always win, but we made a lot of friends along the way. I'm still good friends with many of the people I met through debating."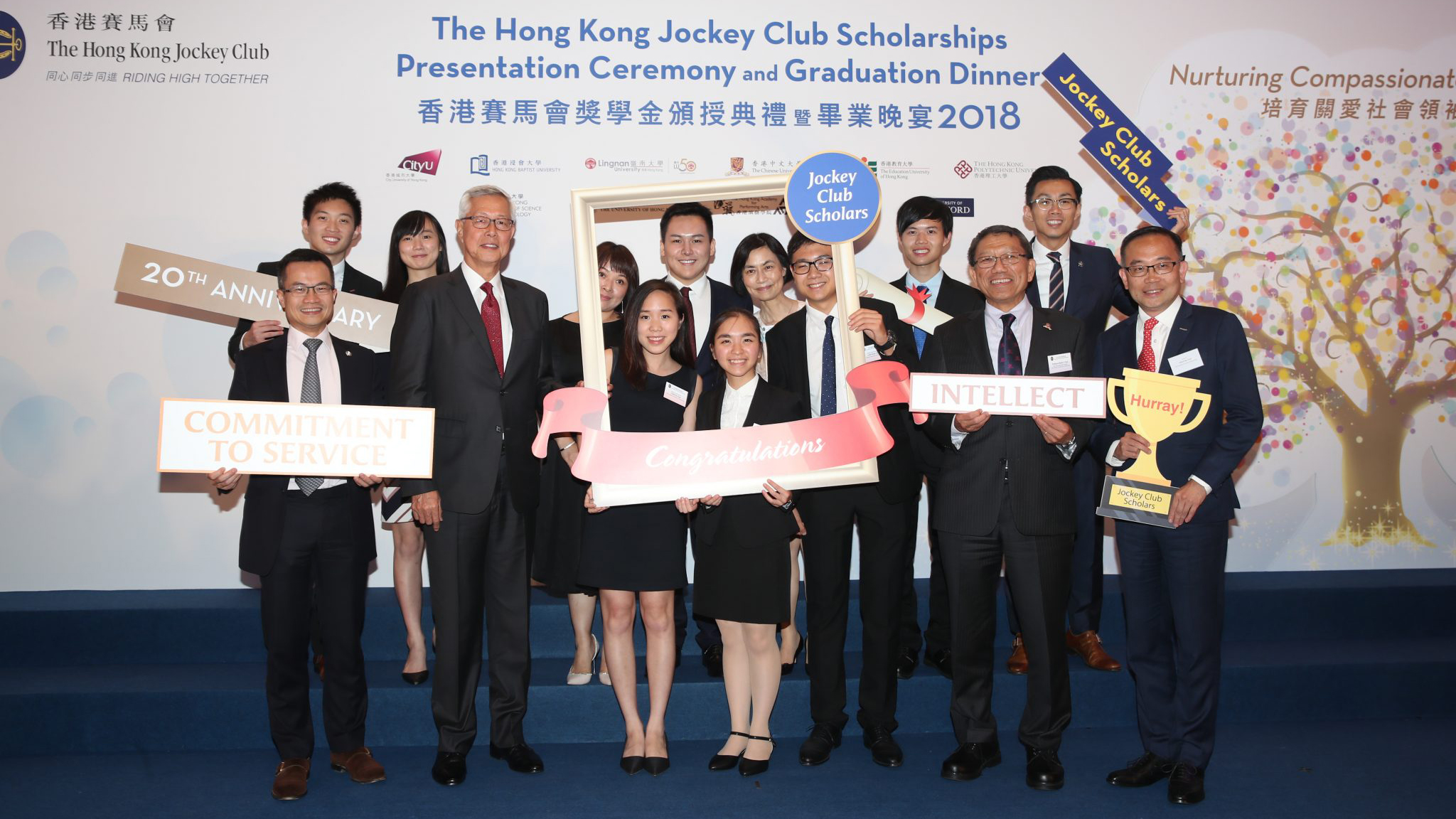 Leong Cheung (front row, 1st from left) poses with the recipients of The Hong Kong Jockey Club Scholarships at the 2018 presentation ceremony and graduation dinner
Donating to Education to Boost Corporate Social Responsibility
After graduation, Leong Cheung worked at a number of companies across different sectors. The most memorable role was Managing Director of Global Sourcing and Supply Chain at Esquel Group. The company is one of the largest shirt manufacturers in the world, with more than 50,000 employees in nine countries and export markets around the globe. "The production procedure was very complicated and involved people from various locations and cultures. I learnt a great deal about supply chain and human resources management, which benefited me."
He was introduced to the field of philanthropy when he assisted the company in setting up a foundation to promote basic education. After witnessing the lack of teachers and learning resources on a field trip to remote areas in Xinjiang, he came up with two resolutions: The first was to train more teachers. The company sponsored local primary and secondary school teachers to attend professional training in the capital Ürümqi during summer break. The second was a book donation scheme to stimulate students' interest in reading, which covered 1,000 primary schools. "The experience made me realise a corporation's responsibility lies in more than paying taxes but also giving back to the local community."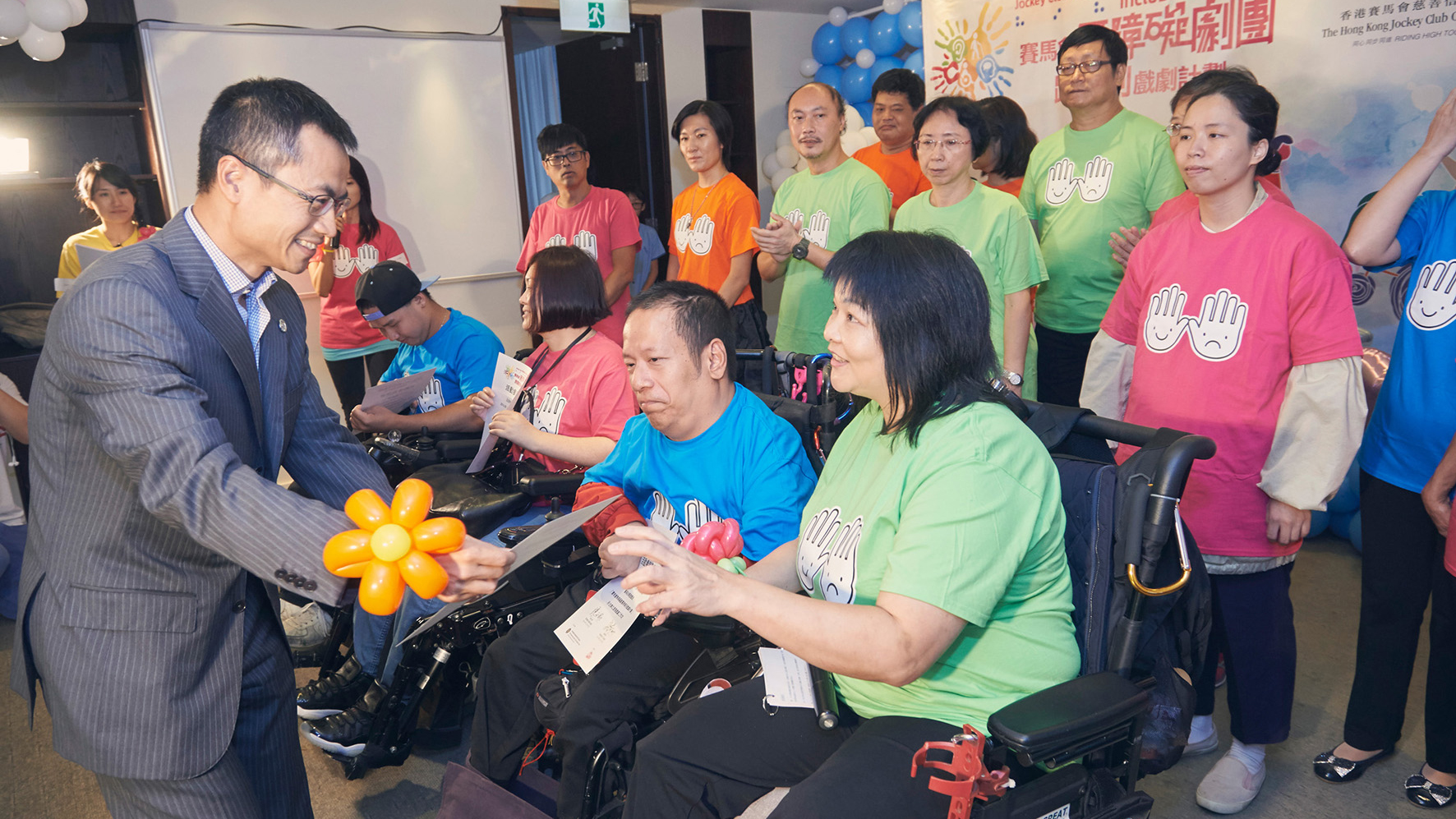 Leong Cheung (left) says people with disabilities can showcase their talent and inspire others through the Jockey Club Hand in Hand Capable Theatre IncluDrama Project.
Traveling Off the Beaten Path
Marathon running was the catalyst that prompted Leong Cheung to enter the philanthropic world. He took on running for health in 2012. He later progressed to competing in a marathon and ran 250km across the Gobi Desert in seven days with a group of friends. On the fourth day of the race, he broke down in tears while he was climbing up and down Kunlun Mountains in full gear. Perhaps he was too exhausted or moved by the stunning scenery before him, but it was an epiphany that inspired him to reflect on his life and to devote himself to more meaningful causes. After two years of contemplation, he set up social enterprise RunOurCity and then joined HKJC to manage its Charities Trust.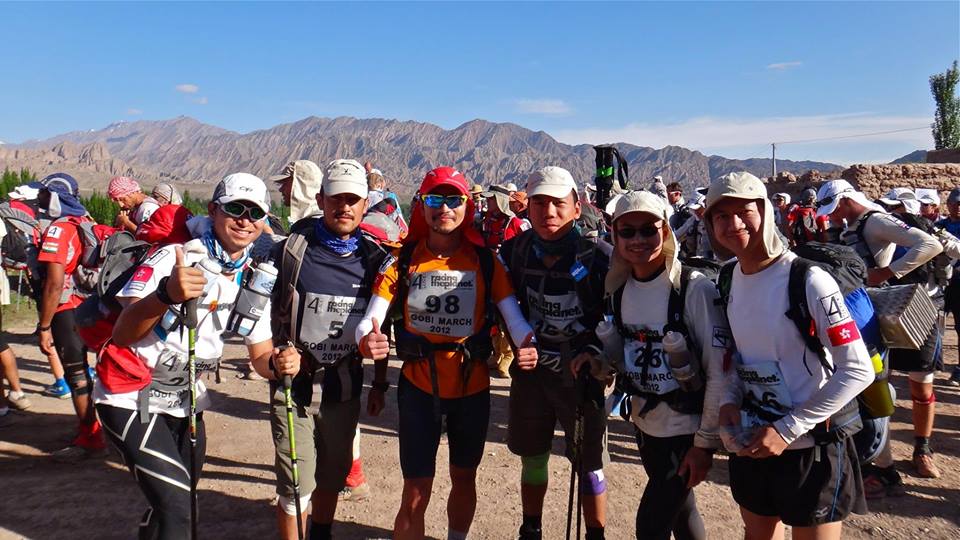 Leong Cheung (2nd from right) overcomes the harsh and erratic weather of the Gobi Desert and completes a 7-day marathon
Every year the HKJC Charities Trust makes huge donations to institutes and non-government organisations averaging more than HK$4 billion annually. It is Leong Cheung and his team's duty to effectively manage this vast sum and maximise its social impact.
Business and charity may seem worlds apart, but Leong Cheung says the skills required are not that different to investing in private equity. Research and analysis, planning and development, due diligence, and number crunching are all essential to making sure donations are well spent. "The only difference is that businesses are after financial return and charities seek social impact."
He cited an example. One of the applicants was an organisation that had received subsidies to lease a shop in Sham Shui Po to offer free meals to the poor. It sought funding from HKJC Charities Trust for renovation and buying equipment. Leong Cheung and his team analysed the case and found that there was another organisation offering the same service in that district. They offered additional funding to the applicant to purchase mini vans and hire drivers so that it could serve a neighbouring district with more people in need.
To synergise and brainstorm better ways to manage charities, the HKJC Charities Trust will be convening the Philanthropy for Better Cities Forum in September 2018. It will gather philanthropists, industry leaders, social entrepreneurs, policy makers, academics and NGO representatives from around the world, particularly those from the Asia-Pacific and Greater China regions, to exchange ideas and form multilateral partnerships. Leong Cheung and his team will be busy spearheading the event.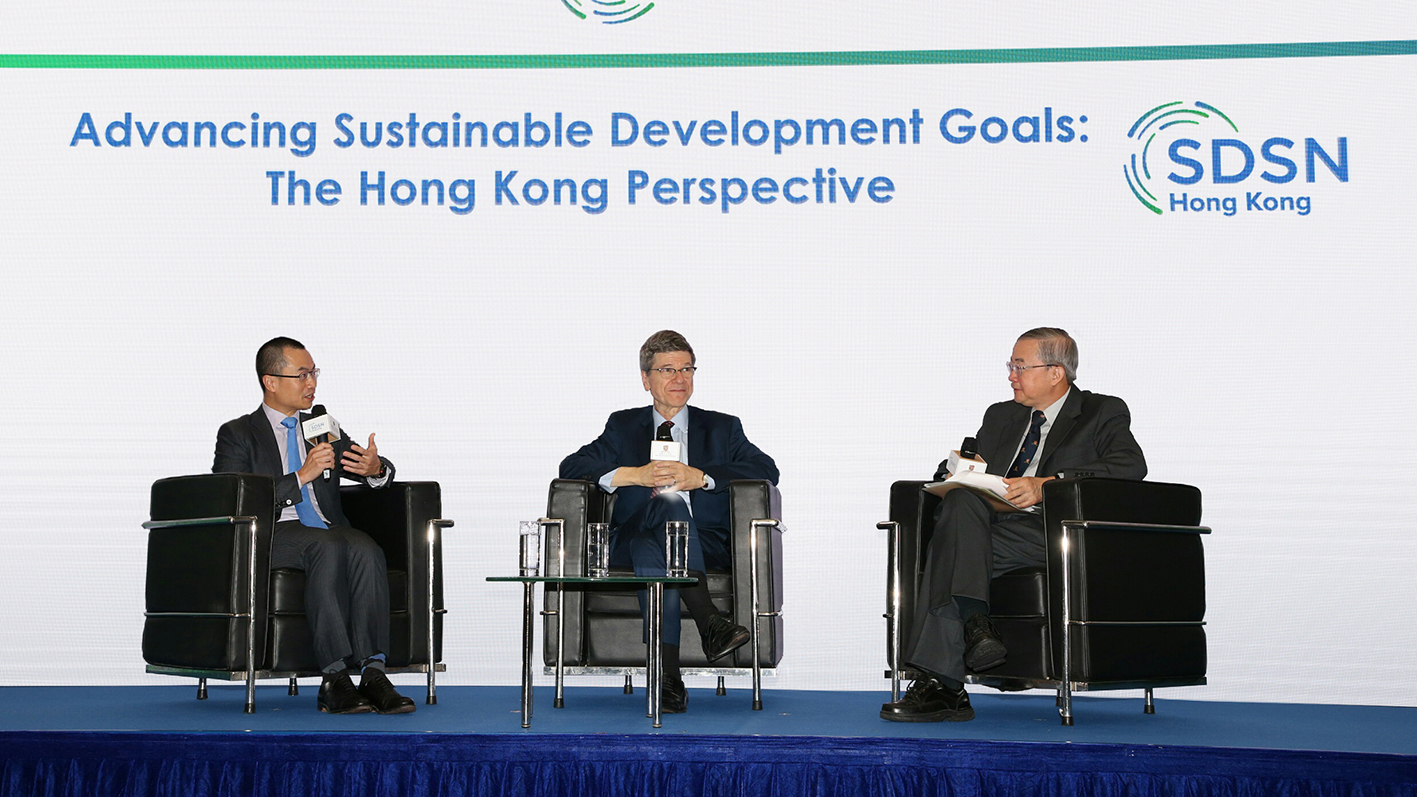 Leong Cheung (left) shares ways to promote local sustainable development at the launch ceremony of Sustainable Development Solutions Network Hong Kong Chapter.
Sowing the Seeds of Positivity through RunOurCity
Outside of work, Leong Cheung is equally passionate about community service. He founded social enterprise RunOurCity long before joining HKJC. It offers professional training to prepare young people for a 10K run in eight weeks. Using amusing approaches such as group games, it helps young people gradually meet their goals. Leong Cheung hopes that through blood, sweat and tears, these young souls will realise their potential. "If they can run 10K, they can achieve so much more in life."
RunOurCity also organises a marathon in the busy urban heart of Hong Kong to draw young people and spectators. Besides raising money, it is looking for partnerships with other NGOs to promote social harmony.
"Every generation has its fair share of challenges and opportunities. Young people should equip themselves to forge a generation they can call their own."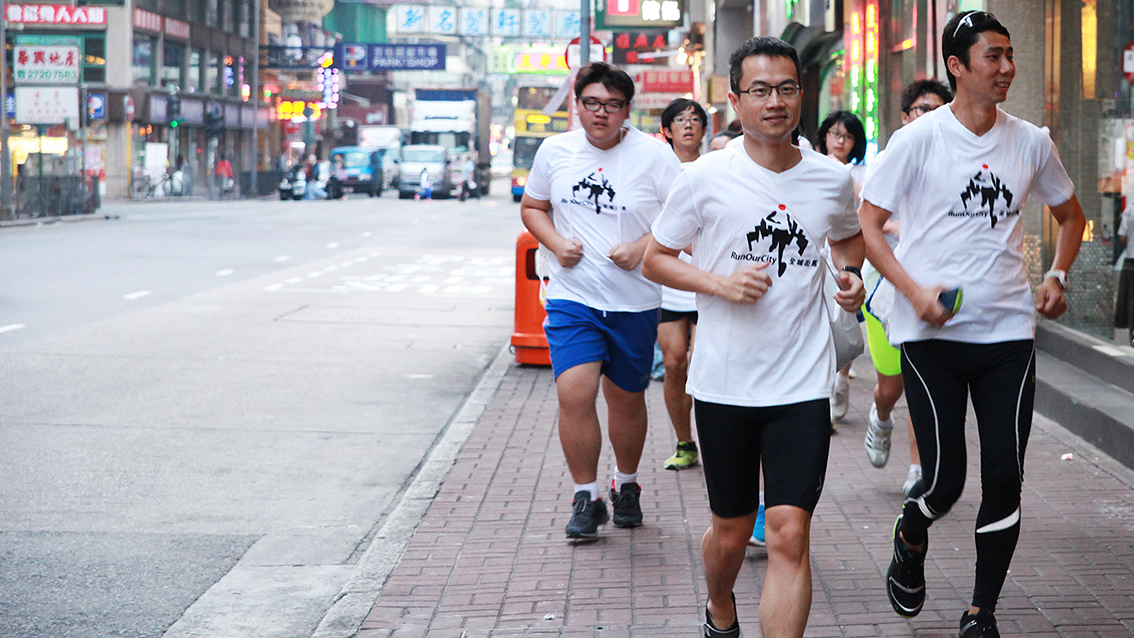 Leong Cheung (front) establishes social enterprise RunOurCity to promote youth and community development through running.