As an integral part of Hong Kong's social fabric for 46 years, McDonald's has always been one of the most beloved fast food brands. Randy Lai (EMBA 2005), CEO of McDonald's Hong Kong, took the reins in 2011 and continued the vision of Mr Daniel Ng, "Father of McDonald's Hong Kong", to integrate Western fast food into the Hong Kong culture and evolve the business with innovation.
Meeting Customers' Evolving Needs through Innovation
Randy is constantly coming up with something new in food, service and the dining environment. She does not do this simply for the sake of doing it. More importantly, she is reimagining different aspects of the business to meet the latest customer needs: "Customer behaviour is continually shifting. That's why we introduced 24-hour McDelivery, Engagement Kiosks and the McDonald's app over the past decade to provide greater convenience and options to customers." By taking the lead in transforming its business digitally, McDonald's is demonstrating a new operating model to the broader industry.
To Randy, innovation does not need to be completely out of this world. All that it takes is to find inspiration from customers' daily dining preferences: "Customers love our new products such as the Angus Burger, the exclusive twisty pasta breakfast and the New Luncheon Meat series because they're in line with our brand positioning and meet the customers' expectation for fast food."
Indeed, no matter whether it is McDonald's restaurant at the Peak or in Shatin, customers can always enjoy high-quality and reasonably priced food. "This is because we follow the 'Golden Triangle' principle when we conduct R&D for our products. Everything we put out must meet our standards in three aspects: customer needs, brand image and feasibility." Randy added that it was because they needed to consider McDonald's brand image that they could not take the internet's call for a "McBeef Chow Fun".
With rice being a staple of the Chinese diet, customers from time to time indicated that they hoped to see rice in the menu of McDonald's. Of course, McDonald's could not just roll out a regular dish of rice. Instead, it launched the "Fan-Tastic" series of rice burgers in 2006. The name of the series also sent a positive vibe into the community. At the time, Randy was in charge of the promotional campaign, and the work earned her the HKMA Marketer of the Year award.
Yet after two years, Randy called the series off herself: "Many people are emotionally tied to their 'masterpieces', but I called it off as it was not perfect enough." Concluding from the experience, she thinks that putting system first and ego aside are the keys to success.
Adding New Elements to the Classic Big Mac
Speaking of her favourite signature work, Randy was most proud of the recent, hugely popular "Keung B Meal": "The Big Mac has been around for 46 years and I'm happy that the product has maintained popularity and kept up with the times." She added: "We designed a chant for the Big Mac in 1984 and we're running it again, 37 years later. Last time, customers had to perform the Big Mac Chant at our restaurants. This time, they're asked to share their performance on social media. We also invited Keung To, the millennial icon, to promote our latest Big Mac Bacon, and gave the classic Big Mac Chant a new rhythm and some new rules. We received more than 680 short videos including some created by children. The campaign has successfully passed on the Big Mac Chant and extended the love of this product to a new generation."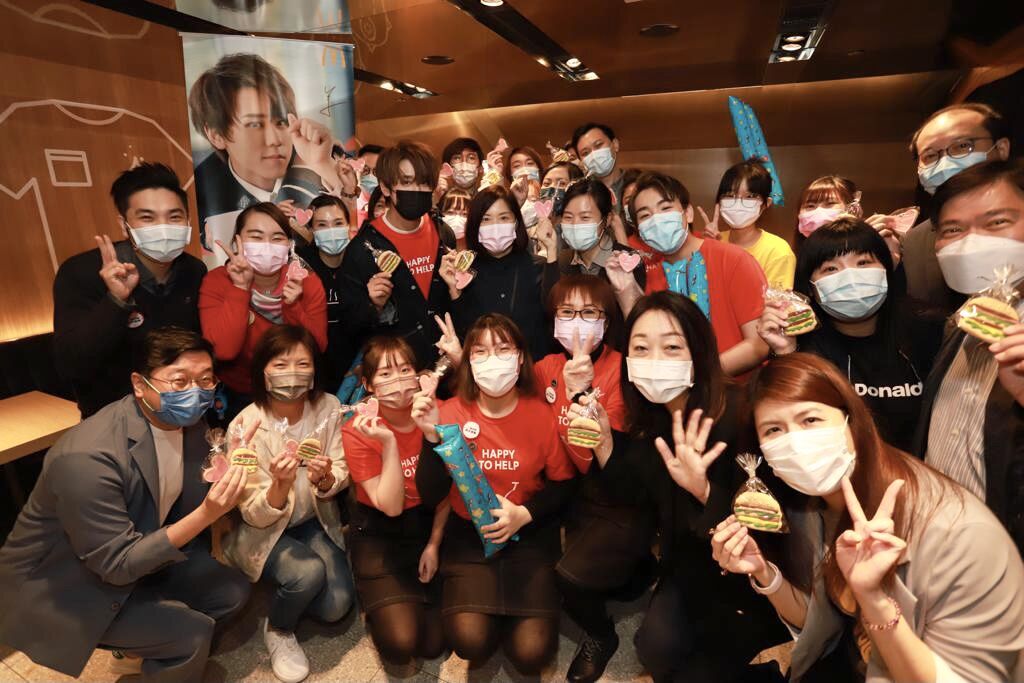 McDonald's launched a new Big Mac Bacon in collaboration with millennial icon, Keung To. The product has been immensely popular and has become Randy's favourite project.
One of the most prominent changes to the F&B business model has been the emergence of online food ordering platforms; they have become an integral part of daily life. McDonald's has been offering 24-hour McDelivery since 2009 and the service has given the brand a competitive edge during the pandemic. However, Randy does not consider online food ordering platforms to be McDonald's competitors or mere "suppliers". Rather, she thinks of them as partners: "We firmly believe that food delivery will become a new dining culture. That's why we are actively collaborating with online food ordering platforms and launching different promotional activities to expand the food delivery market. Our goal is to create a positive-sum outcome for all, guided by customer needs."
From Workaholic to Work-Life Balance
Randy conceded that she was once a hard-core workaholic. She used to think that leaving work after midnight was just normal business practice. That was until 2010 when she was appointed Managing Director of McDonald's Singapore and came to recognise the importance of work-life balance: "On my first day at the Singapore office, I was shocked to find that they'd switch off the lights at 5:30 pm sharp. I discovered that it was customary for the local staff to go home for dinner and not to check emails at weekends." Randy also learnt to leave work before nightfall herself and to wait and send out emails only on Monday. Now, unless there is something urgent, Randy will try not to send out emails outside of office hours and will leave work on time: "As a senior executive, I must leave the office on time. Otherwise, my colleagues will have to stay behind until even later." She has gradually embraced the adage of "trusting those you hire or not hiring those you don't trust". She realises she has a capable team working alongside her and they are capable of carrying their own weight. That allows her to lead through empowerment and delegation.
Keeping an Ear to the Ground
2021 marks Randy's 10th anniversary as the MD/CEO of McDonald's Hong Kong. Looking into the next decade, Randy said: "I grew up with McDonald's and I hope the brand will continue to be a part of the Hong Kong community for another 10 years and more. Presently, we have nearly 15,000 staff in Hong Kong and nearly 8,000 of them are under the age of 24. This means that McDonald's has one of the youngest staff profiles of any Hong Kong employer. In fact, for many young people, we're their first employer."
"Our company has a Hamburger University that teaches young people how to manage a business and helps them live out their potential through our world-class training system. The average age of our store managers is 32, and every one of them manages over a hundred colleagues and a large sales volume. This is both an invaluable opportunity and a challenge to many young people. Meanwhile, we are in the process of setting up a Youth Advisory Board to seek the opinions and insights of our young generation. We also hope to learn the latest knowledge from them through Reverse Mentoring. This will enable us to combine the talents of different generations to give our company a greater competitive edge. Young people these days consider a company's corporate social responsibility record when they choose a job. For this reason, our ESG policies now place greater emphasis on youth development."
Looking back at her EMBA studies at The Chinese University of Hong Kong (CUHK), Randy said apart from learning all kinds of theory, she cherished the friendships she built with her classmates: "Although we graduated 16 years ago, we're still very close and we still keep in touch and meet regularly." Randy joked that their relationship had even risen to a different level. Even when she misses gatherings or comes late and leaves early, her classmates are very understanding. They are just glad she is well.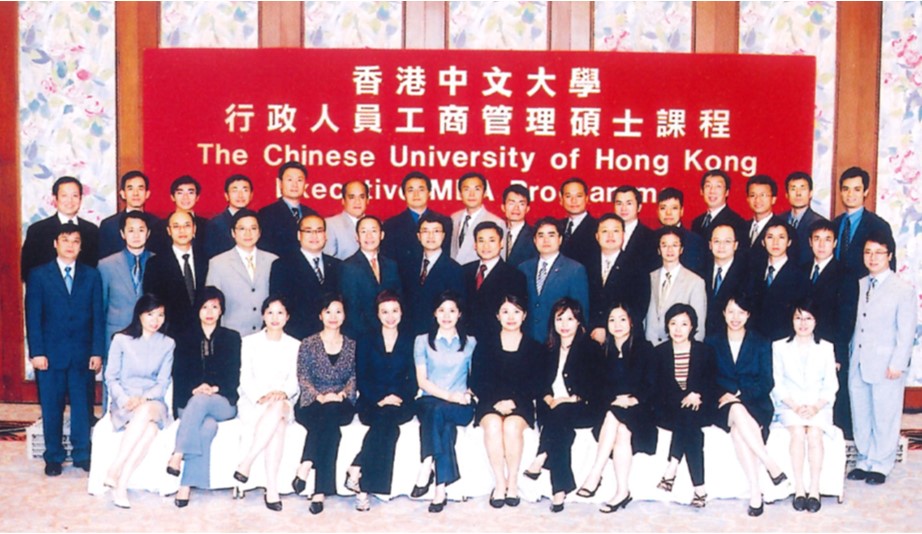 Randy (first row, sixth from left) established close bonds with her CUHK EMBA classmates.
Randy says her favourite motto is something she got from Steve Jobs: "If you are working on something that you really care about, you don't have to be pushed. The vision pulls you." She explained: "I really love McDonald's. Each day, it's not work that I come back to; I come back to do something I enjoy and make a contribution to the Hong Kong community." With her entrepreneurial and innovative spirit, Randy will surely lead McDonald's to even greater heights in the years and decades to come.
This article will be published in the iMoney magazine on 12 June 2021.