CUHK Business School Undergraduates Crowned Champion at TIHK Tax Debate Competition 2022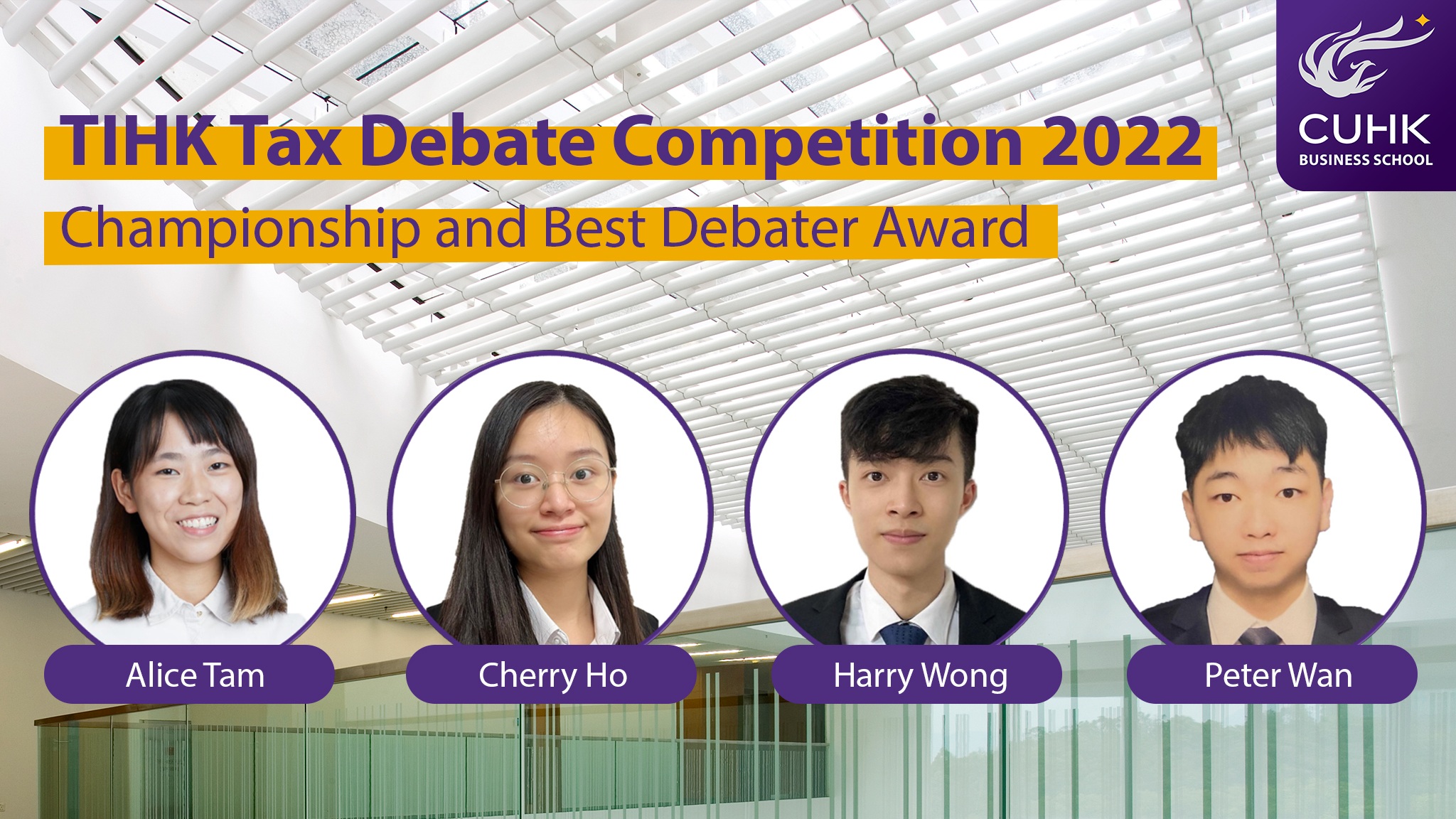 A team of four CUHK Business School undergraduate students won the championship and Best Debater Award at the Taxation Institute of Hong Kong (TIHK) Tax Debate Competition held virtually on 28-29 May and 5 June 2022.
Since its induction in 2015, TIHK Tax Debate Competition provides a platform for students to bring their perspectives from the lens of tax professionals to the latest and emerging trends in taxation. This year, students were tasked to discuss the impact of an array of taxation policies on the sustainability and long-term development of Hong Kong.
The winning team comprised Alice Wing-man Tam (IBBA Year 4), Cherry Cheuk-yiu Ho (HRE Year 2), Harry Yat-hei Wong (PACC Year 1) and Peter Pui-lung Wan (PACC Year 4). Harry Wong was also awarded the Best Debater Award. Each team member is awarded with internship placements at "Big 4" (the largest accounting and professional services firms, i.e. EY, Deloitte, KPMG and PwC), a cash prize and fee exemption of Chartered Tax Adviser Examination.
Let us hear what the team members would like to say about their experience:
Alice Wing-man Tam (IBBA Year 4):
"Never have I ever been through an exciting experience like this. The debate topics were thought-provoking and highly relevant."
Cherry Cheuk-yiu Ho (HRE Year 2):
"Thanks to the effort of my wonderful teammates – it was really exciting to win the championship. Special thanks to Dr. Butt, who relentlessly inspired us with his compelling ideas and professional knowledge."
Harry Yat-hei Wong (PACC Year 1):
"I would like to express our sincere gratitude for all the support given by the School of Accountancy of CUHK Business School, especially Dr. Butt. The opportunity to scrutinise different tax issues and the insights shared by the judges after every debate definitely benefited us all round."
Peter Pui-lung Wan (PACC Year 4):
"This competition was a valuable opportunity to sharpen my public speaking and communications skill, which is vital for me as a professional-accountant-to-be."
The team's coach, Dr. YY Butt, Associate Director of the Professional Accountancy (PACC) Programme, commented, "The team members were very passionate. They spent numerous hours in research on various tax policy proposals and rigorously analysed the imperatives and implications. Their brilliant execution during the competition was well rewarded."