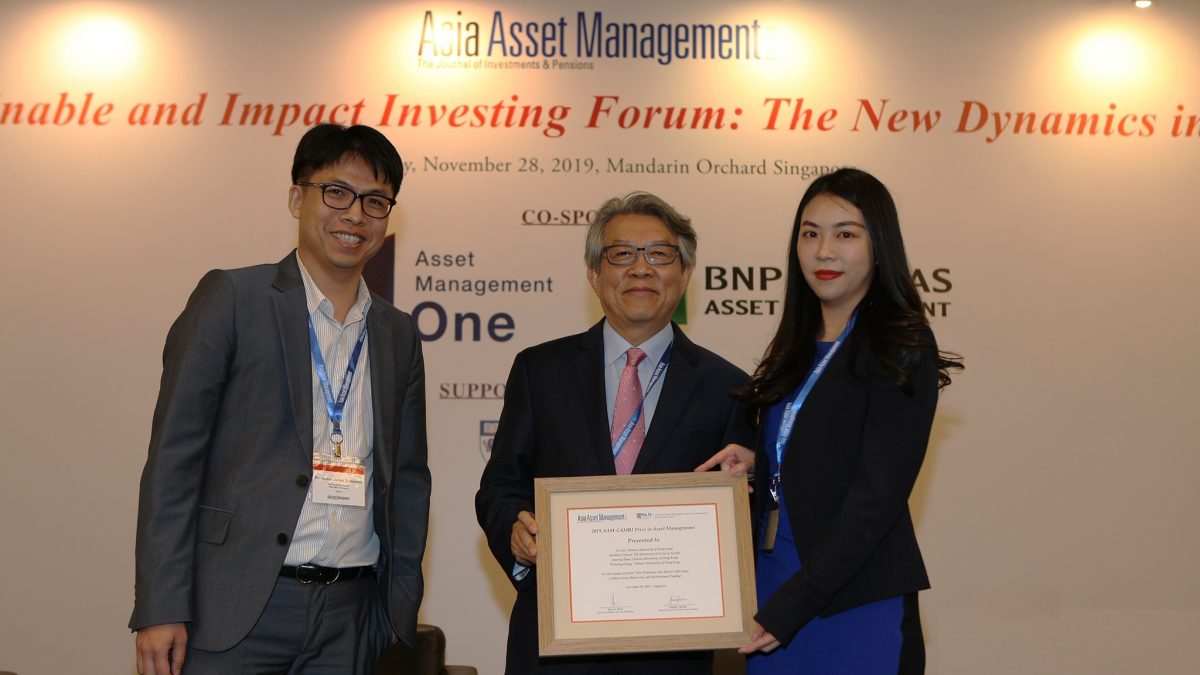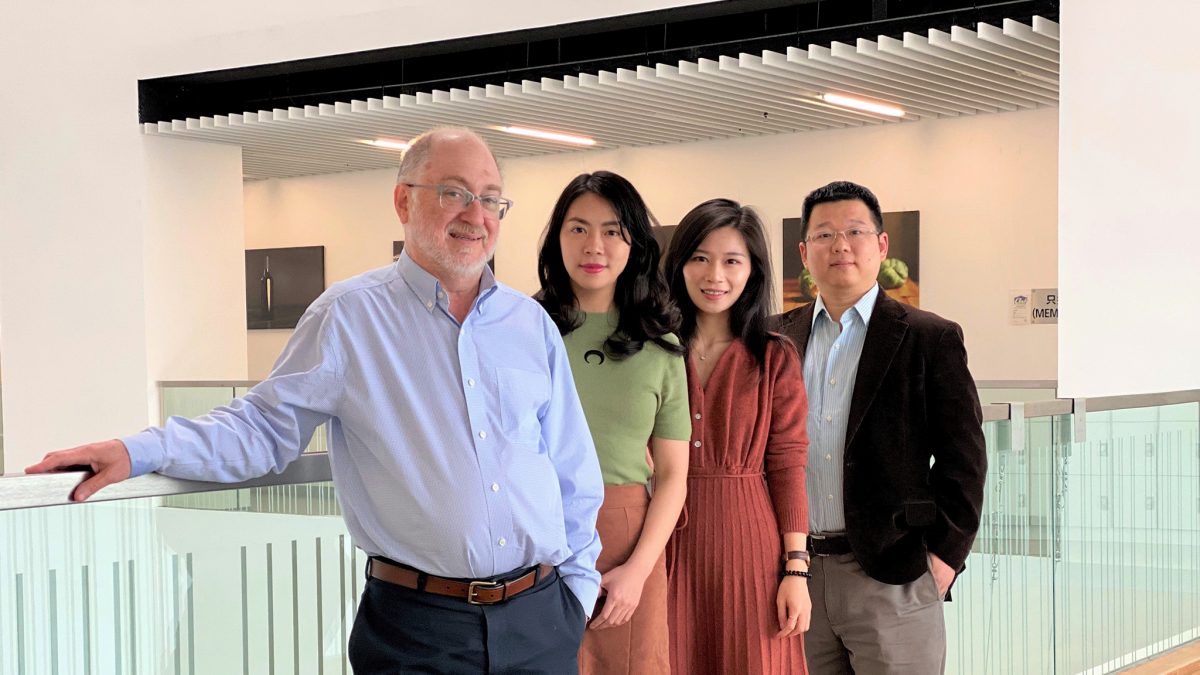 The author team (from left to right): Prof. Sheridan Titman, Prof. Xintong Zhan, Ms. Elaine Zhang and Prof. Jie Cao
The winning paper beat the rest of the contestants through a rigorous judging process and was hailed as the most original and ground-breaking paper in the thinking, practice, policies and issues affecting the Asian asset management industry among the approximately 80 other submissions this year. The Prize, which is worth US$15,000, is presented to only one submission every year.
The winning paper entitled ESG Preference and Market Efficiency: Evidence from Mispricing and Institutional Trading explores how the trend towards socially responsible investing affects the informational efficiency of stock prices. It shows that the return predictability of mispricing signals is much stronger among firms held by more socially responsible (SR) institutions.
The results are driven by the divergence of trading implications from ESG performance and mispricing signals. SR institutions are less likely to buy underpriced stocks with poor ESG scores or sell overpriced stocks with high ESG scores. Alternatives, such as known limits to arbitrage, were ruled out. The inefficiency only emerges in recent years with the rise of ESG investing, and is not fully offset by ESG-neutral arbitrageurs due to funding liquidity constraints.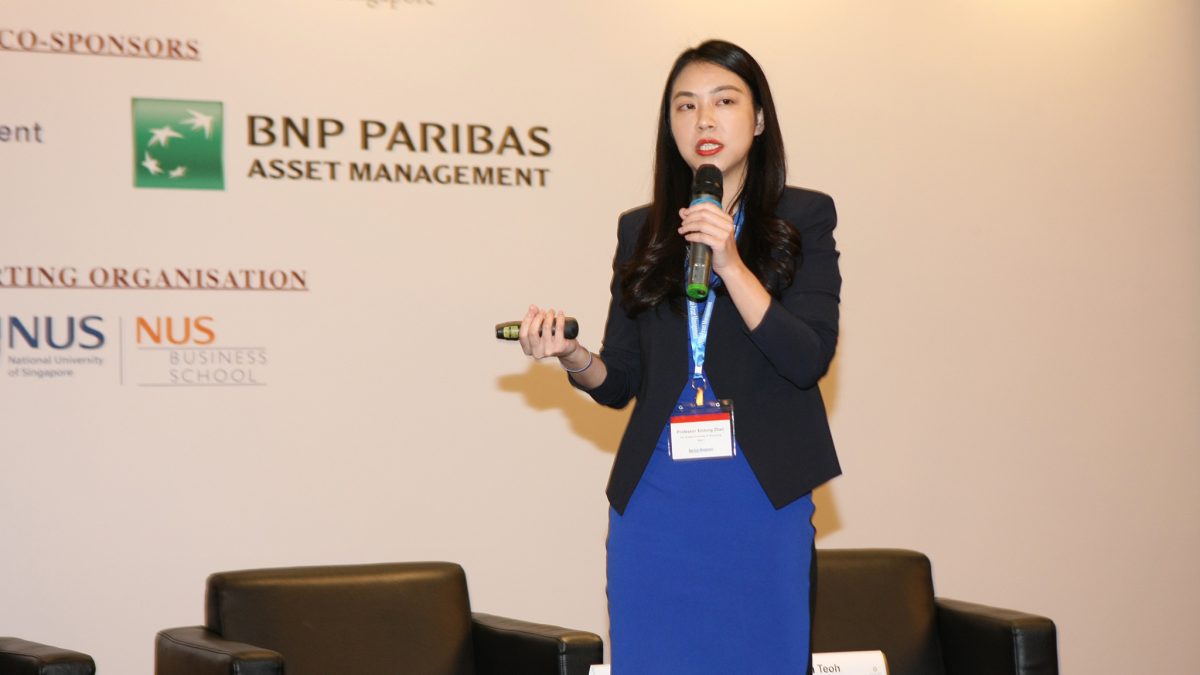 Prof. Xintong Zhan, one of the authors, delivered a presentation based on the award-winning research at the "Sustainable and Impact Investing Forum: The New Dynamics in Asia" at Mandarin Orchard Singapore on 28 November 2019. The 2019 AAM-CAMRI Prize in Asset Management were also presented in front of an audience of academics and senior practitioners during the forum.
"It is more than a great honour to win the prize on sustainability finance research in this global academic competition," said Prof. Zhan. "I am proud that we stood out among all the competitors from top universities all over the world. Sustainability is a step we must take towards the future and CUHK has been taking the lead in promoting such research. I am grateful to the support from the University, Faculty, and the Department."
Prof. Michael Zhang, Associate Dean (Innovation and Impact) and Professor of Department of Decision Sciences and Managerial Economics at CUHK Business School, added, "My heartfelt congratulations to Xintong, Jay and Elaine for winning the 2019 AAM-CAMRI Prize in Asset Management. I am impressed by not only the quality of the research, but also their focus on this highly meaningful topic of socially responsible investing. If a fundamental function of the financial market is to channel resources, then socially responsible investing channels such resources to the right destination. At CUHK Business School, we strive to generate meaningful research that are recognised by the society. This is a wonderful example."
About The AAM-CAMRI Prize in Asset Management:
The AAM-CAMRI Prize in Asset Management was launched in 2015 by Asia Asset Management (AAM), in collaboration with the Centre for Asset Management Research & Investments (CAMRI) to celebrate excellence in regional applied research.