CUHK Professional Accountancy Students Awarded Champion at TIHK Online Tax Competition 2021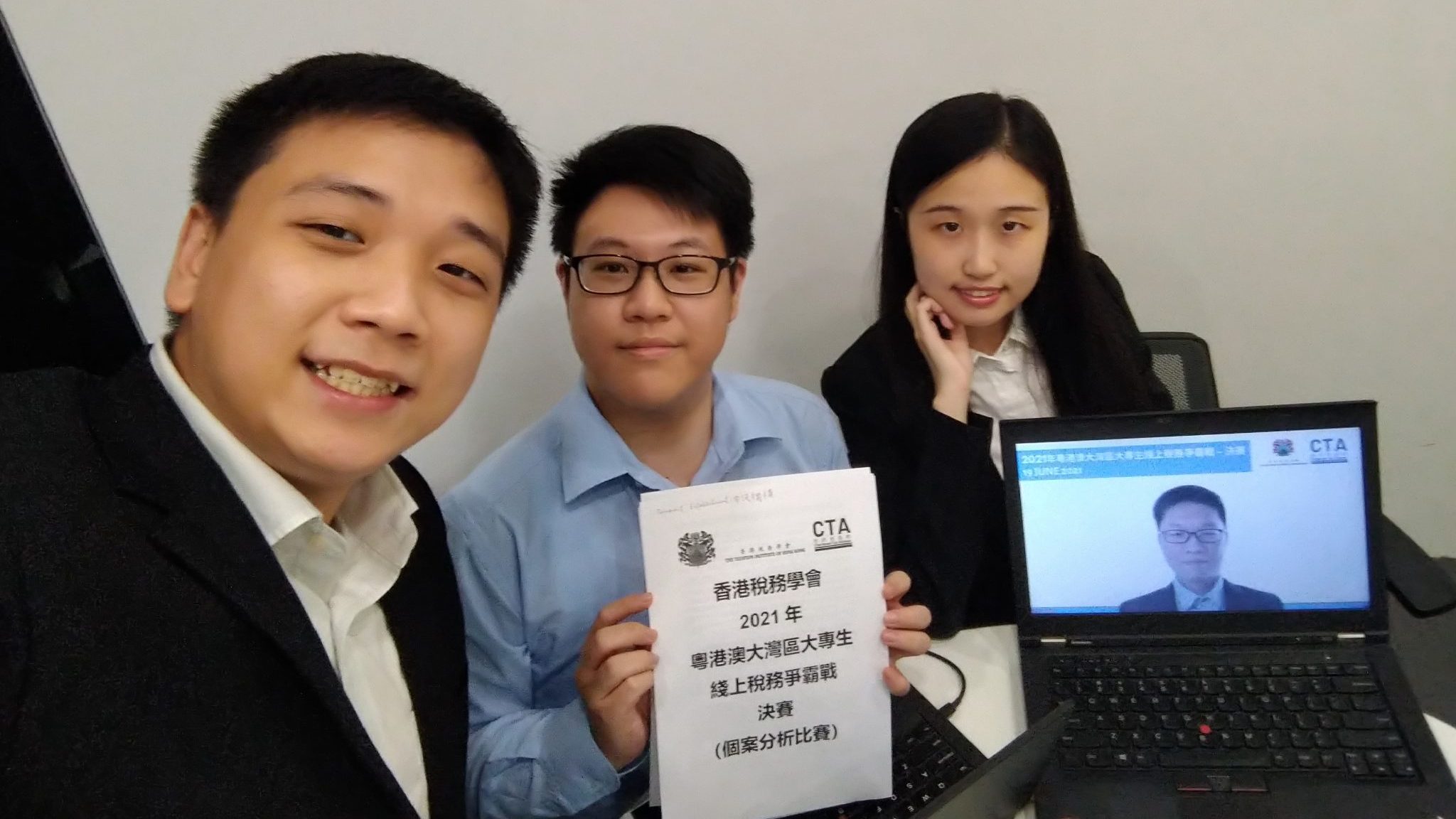 Four Professional Accountancy (PACC) students from The Chinese University of Hong Kong (CUHK) Business School came first at the TIHK Tax Competition 2021 on 19 June. The team was the top scorer during the semi-final, and emerged as the champion at the final competition.
Organised by the Taxation Institute of Hong Kong (TIHK), the TIHK Online Tax Competition 2021 had attracted eight representing teams from universities in Hong Kong, Guangdong and Macau to compete in the semi-final. The participants had to conduct thorough research and case analyses before presenting on the corporate tax policies of operating in the Guangdong-Hong Kong-Macao Greater Bay Area (Greater Bay Area).
The winning team was formed by four Year 4 BBA in Professional Accountancy students – namely Chun-yu Tse, Tongyi Wang, Ching-kwan Wong and Chenxi Zhu – and coached by Dr. YY Butt, Lecturer of School of Accountancy at CUHK Business School. They were awarded with internships at top accounting firms, cash price of HKD 9,000, fee exemption of Chartered Tax Adviser exanimation and a certificate of appreciation. Their acceptance speeches are as follows:
Chun-yu Tse : "The competition enabled us to practise what we have learnt in the classroom. It also showcased how cross-border business operations are common in Hong Kong, and hence international tax considerations such as transfer pricing."
Tongyi Wang: "June was a busy month. We had to allocate our time carefully to make sure everything went smoothly. Multitasking could be the most challenging point for us. And I am proud that we did it."
Ching-kwan Wong: "Through the competition, we experienced how complex cross border transactions could be. Also, referencing research from both the company and the tax authority's perspective has enriched our insight regarding transfer pricing."
Chenxi Zhu: "The competition polished my understanding of tax compliance risks arising from related-party transactions. I would like to express my heartfelt gratitude to Dr. YY Butt for his time and patience in coaching us. His guidance opened my horizons to the new stages of opportunities and challenges in the realm of tax. And I would also like to express my sincere thanks to Melissa Tian , a Master of Accountancy (MACC) alumna, for sharing with us her practical experience in transfer pricing in the Greater Bay Area."
Dr. YY Butt: "The comprehension of tax rules and the underlying accounting methods to arrive at the tax consequences is important in its own rights. Indeed, tax profoundly affects companies' profit margins and constitutes a secured guide for possible expansion plans. Our students disentangled the given complicated tax cases, and deployed remarkable tax accounting strategies during the competition, which were highly rated by the panels of judges."
TIHK's Annual Tax Competition aims to facilitate undergraduate students from different business backgrounds to exchange ideas on how to strengthen the cooperation within the Greater Bay Area, as well as to enhance the understanding of taxation systems in the region. It hopes that through participating in the competition, students can draw awareness to the tax profession and expand their career path options upon graduation.