Deric Stephane Toche Foka (MSc in ITM, 2021) is constantly stepping out of his comfort zone to become "existentially flexible" in a rapidly changing world.
Born in Cameroon, Deric grew up between his native home and Thailand and received his bachelor's degree in Bangkok. Apart from gaining global exposure by working in Bangkok, Singapore, Manila, Shanghai and Hong Kong, he enrolled in CUHK's Master of Science (MSc) in Information Technology Management (ITM) to hone the technical and managerial capabilities essential to any manager in this IT-driven age – completing the programme with a place on the Dean's List.
"I firmly believe in the popular saying by Dhaval Gaudier, 'The only thing stopping you from where you are to where you want to go is your comfort zone'. So, I try to step out and better myself the best I can."
Following an Adventurous Heart
Even at a young age, Deric knew that adventure is in his DNA: "I realised that being in a new place and surrounding myself with people of different values would allow me to better understand myself and the world I'm a part of. I'm always striving to find new experiences to learn and grow." To accomplish this benevolent goal, Deric has continuously been picking up new languages to augment his global explorations. He speaks French, English, Thai and Chinese, opining that every language opens a door to a new culture. "Being a polyglot has unlocked new friendships and connections, no matter where I am."
After moving to Thailand with his family and graduating with first class honours from Bachelor of Arts in International Business at the Rajamangala University of Technology, Krungthep, Deric worked briefly in Bangkok. However, he soon began his regional career. Joining Rhenus Logistics Asia Pacific in Singapore as a corporate management trainee, he had the opportunity to work in Manila, Shanghai and eventually Hong Kong, where he has stayed after falling head over heels for the city.
"Like so many expats in Hong Kong, I only intended to live here for a year, but inevitably fell in love with every single thing about the place. I've never felt safer than I do when I am in Hong Kong. The city provides such a convenient ecosystem and a panoply of lifestyle options. I can easily connect with the people here who are very open and respectful. Not to mention the fantastic eateries and restaurants that serve up a plethora of cuisines. I'm in love with Hong Kong milk tea!"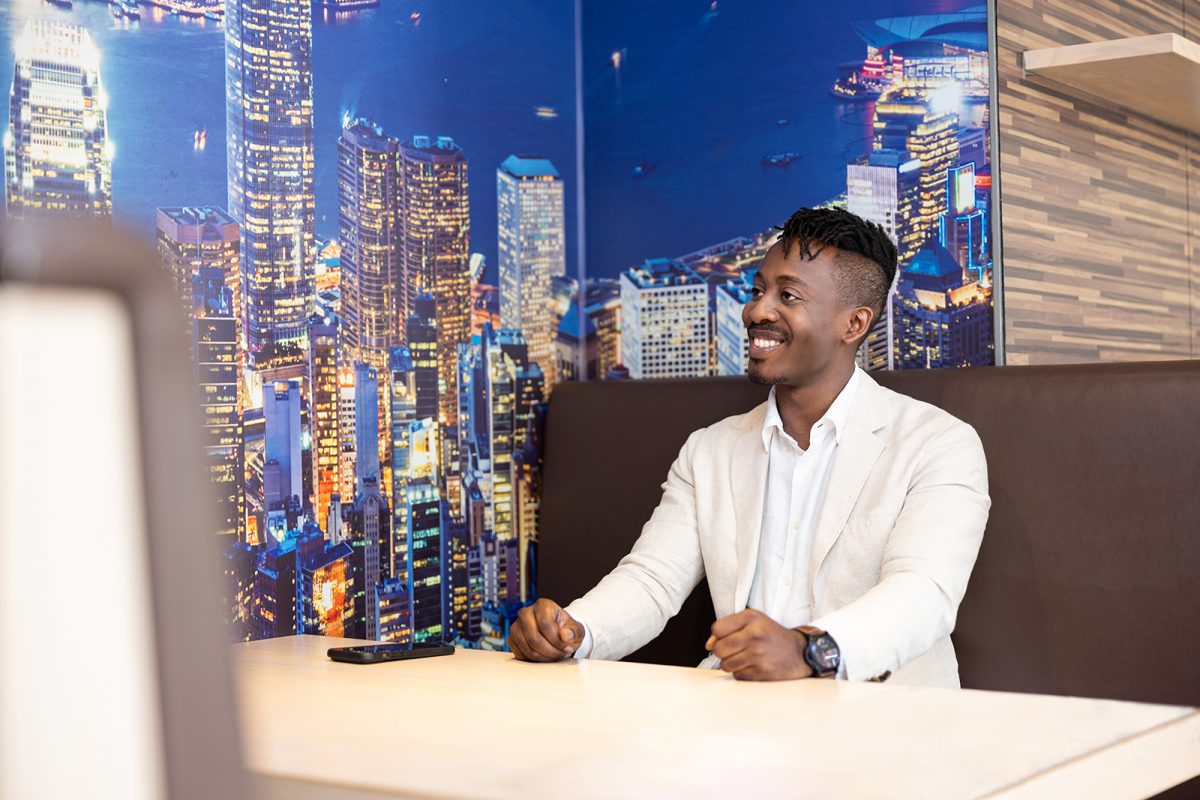 Satisfying a Desire for IT Management Prowess
Driven by a passion for innovation, digitalisation and information technology (IT), Deric recognises the need for digital transformation in the logistics industry. He decided to pursue a master's degree in IT to enhance his competitiveness and augment his worth for the field.
"I wanted to find a programme that could not only give me a foundational understanding of disruptive technologies such as AI, machine learning and business intelligence, but also teach me practical skills to implement digital transformation strategies. CUHK Business School's MSc in ITM offered exactly that, and I decided to go for it."
An Enlightening, Rewarding and Exciting Experience
The MSc in ITM programme allowed me to access so many opportunities I never knew existed.
— Deric Stephane
Enrolling in the programme as a part-time student in 2019, Deric found the journey with CUHK to be "enlightening, rewarding and exciting". He explained, "The programme allowed me to access so many opportunities I never knew existed. I really enjoyed how practical the programme was, and I really appreciate how the industry experts in the programme shared their experiences with real-world examples from various domains."
Deric also revelled in learning with classmates from different backgrounds: "We were assigned group projects with members from various industries. We would have a marketing expert, an internal strategy consultant from a bank and a financial regulatory manager – a team that would never have come together otherwise. Somehow, this arrangement proved to be effective. We were able to understand how others operate, and could learn to work with diverse talents and capabilities. The experience also helped in my professional work at Rhenus, informing me how to build and lead innovative, multicultural teams, even from thousands of kilometres away. This was exactly what I did when I was assigned to lead my company's first fully-automated warehouse project in Hong Kong, worked on IT projects in Singapore and Mainland China, and is what I am doing now in the Greater Bay Area."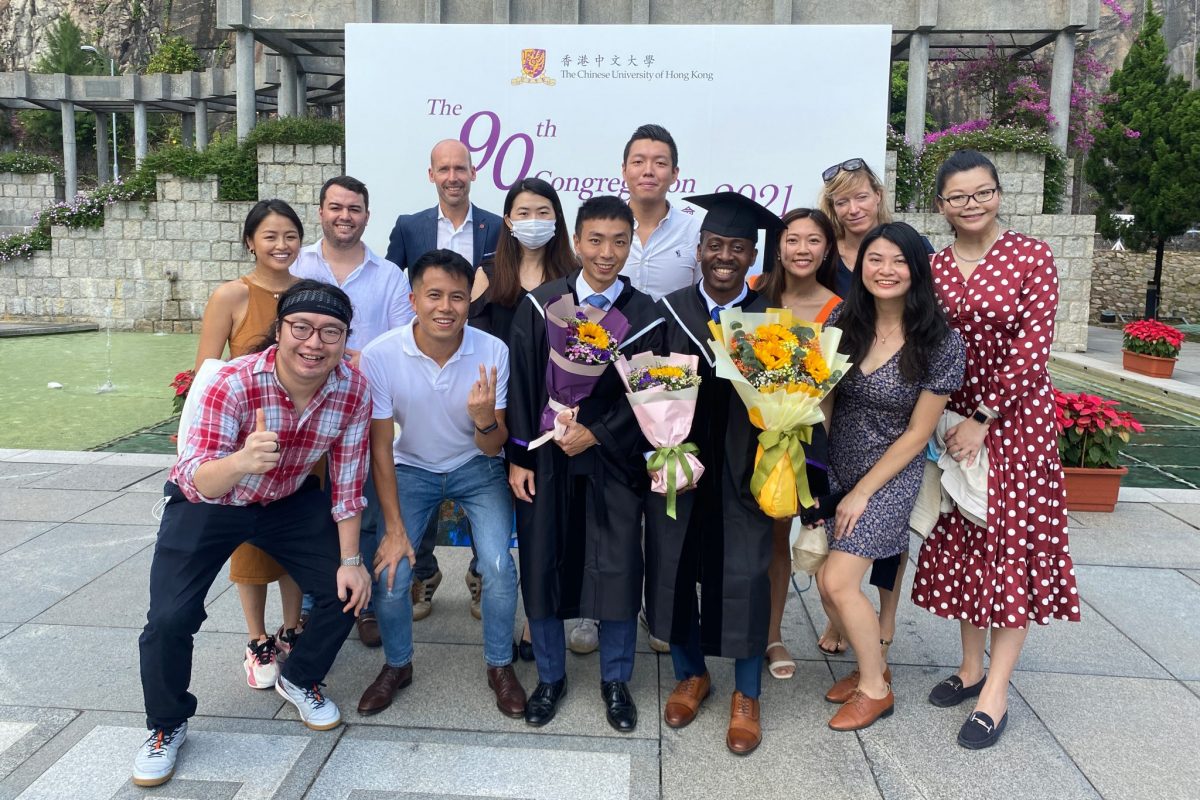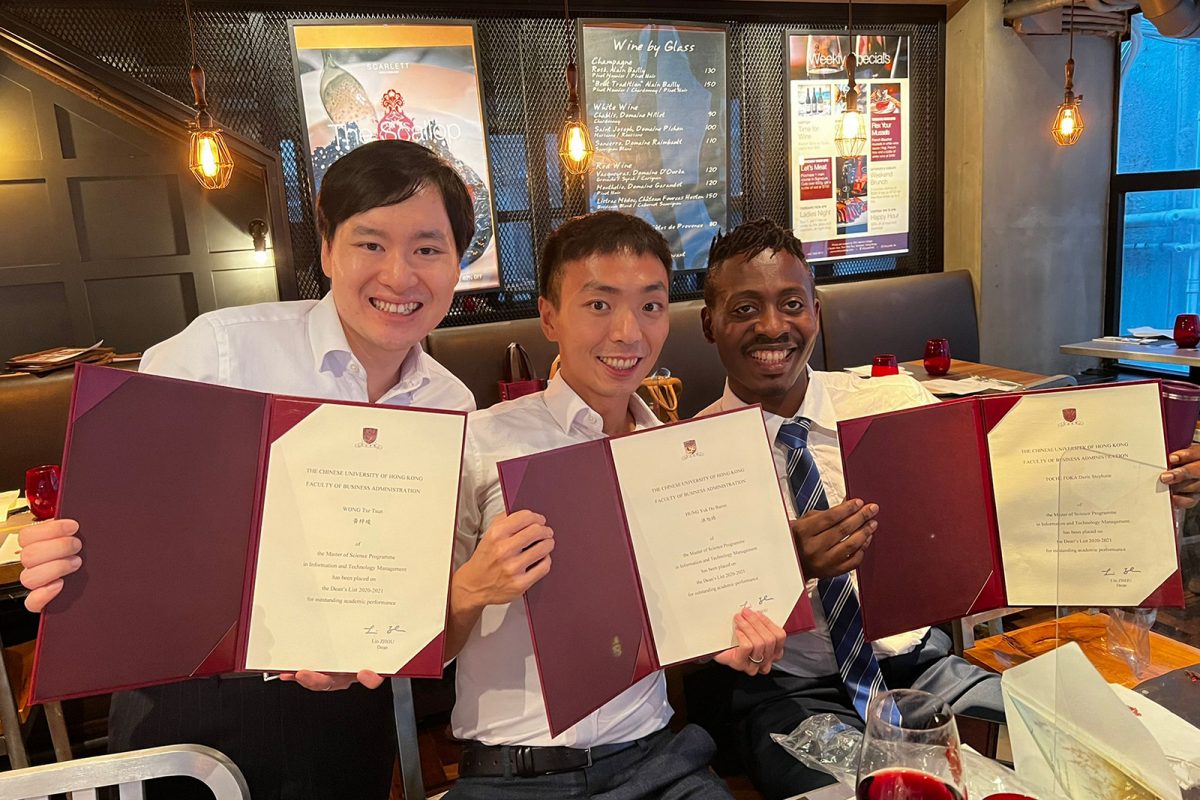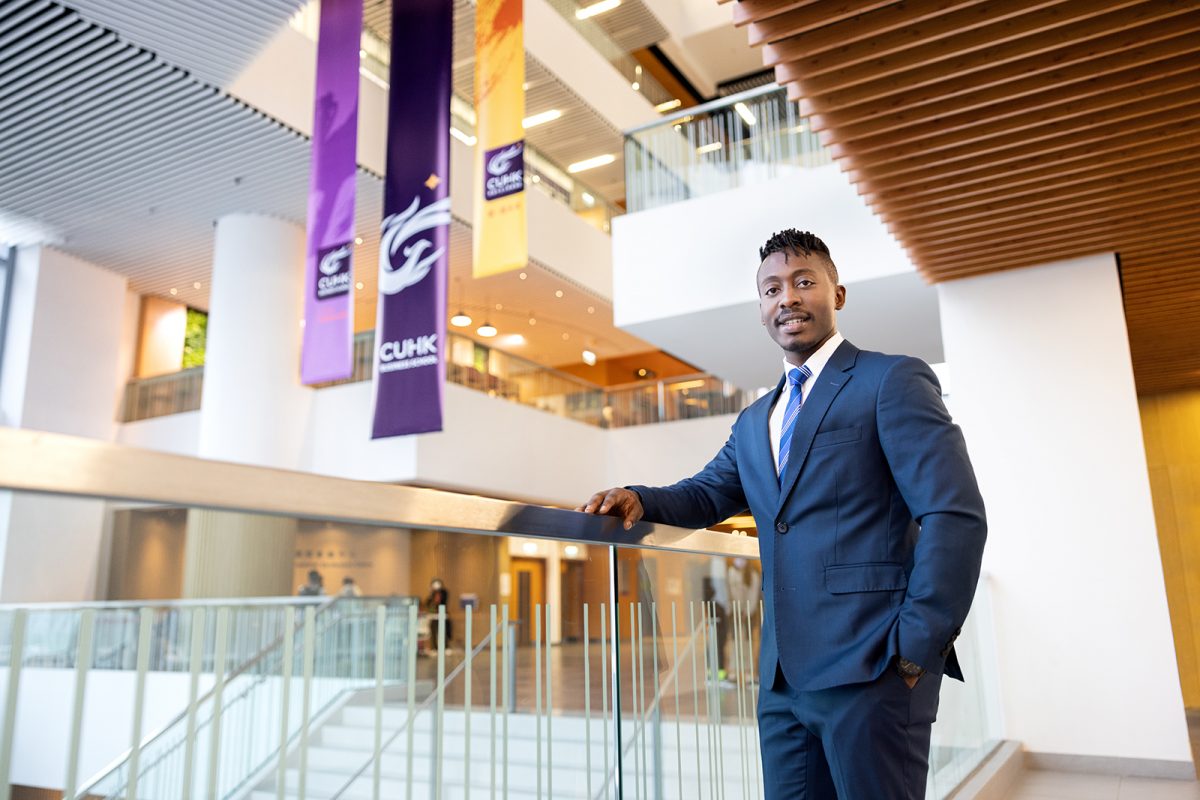 He observes that the knowledge he gained from CUHK has enabled him to harness the power of disruptive technologies and create effective business strategies to manage digital transformation. This booster of competencies has come at the right time. Just as Deric was completing his master's degree, he was promoted from Business Application Manager to Head of Innovation and Business Application in Greater China at Rhenus, with the dual role of "Regional Financial Controller".
"I can apply what I learnt at CUHK to motivate others to tackle innovative IT projects. It has become easier for me to drive things forward within my line of responsibility at Rhenus, promote digital innovation and adoption, enhance customer experience with technology and help my organisation become a sustainability-focused, tech-savvy logistics company."
The Social Purpose of Innovation
Deric's enthusiasm for IT does not blind him to the people technological innovations are developed for. Aside from applying innovation as a force for the betterment of his company's customers and staff, he served as a freelance copywriter for Unique Access Medical in Singapore to give back to society with his knowledge of IT. Deric wanted to help cancer patients explore alternate treatment options, such as revolutionary stem cell treatments, that are safer than traditional radioactive treatments such as chemotherapy. Someday in the future, he also hopes to invest in developing opportunities for his peers in Africa, Middle East, Thailand and beyond.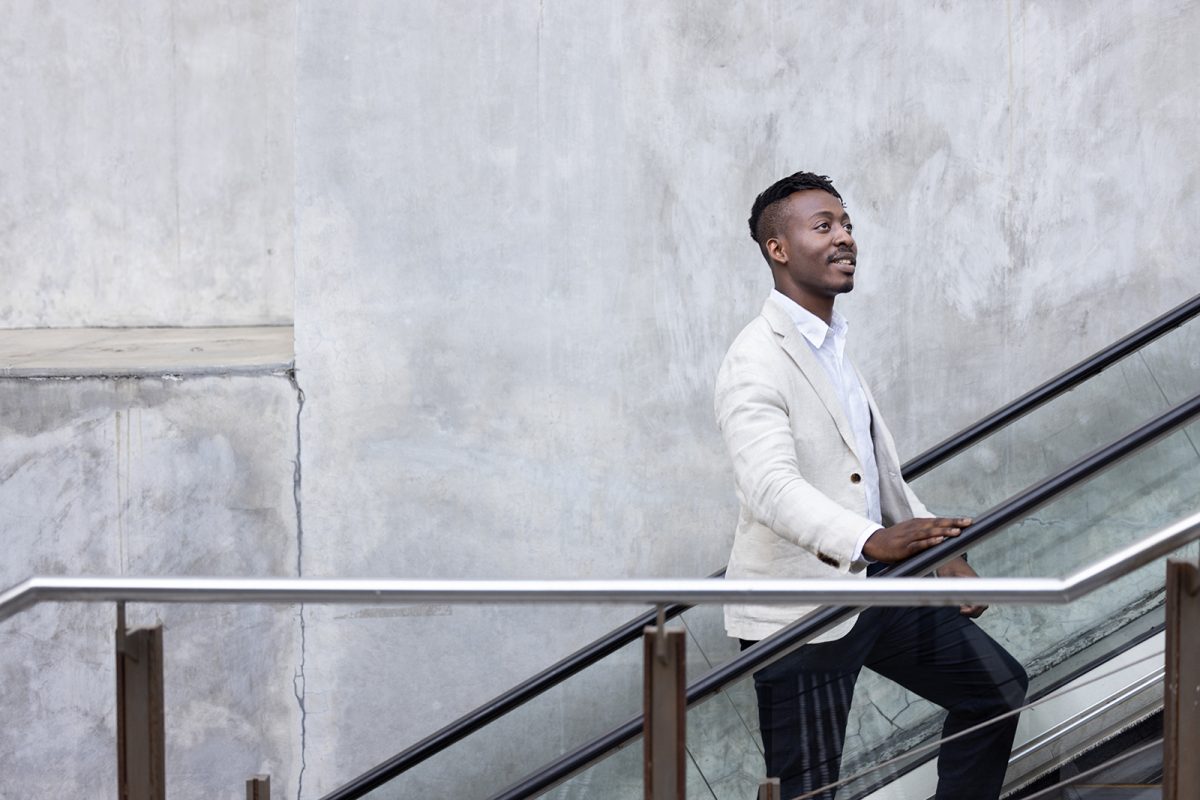 Living Life in Ways That Are Meaningful
I want to be able to look in the mirror each morning and feel proud of what I see – a better person every day.
— Deric Stephane
With the world rapidly evolving every minute, it is no longer possible to predict what jobs will be the most sought after in the future. Deric encourages the students of CUHK to embrace a growth mindset so that they can adapt to and learn from any circumstance they may encounter. He added that maintaining a digital mindset is also vital, as a core understanding of data can help make better and faster decisions. He believes that it will soon become a key skill for any leader.
Deric himself continues to embrace new possibilities by learning voraciously throughout his career. While he was hunkering down for COVID, he signed up for Python programming courses as part of a personal quest to equip himself with the tools required to compete in a technology-driven business world.
"I'm guided by one core life principle, 'To be authentic to yourself and make conscious decisions to live life in ways that are meaningful'. I want to be able to look in the mirror each morning and feel proud of what I see – a better person every day. At the end of the day, I also want to encourage more people to help make our world a better place by creating an atmosphere of inclusion and opportunity for all."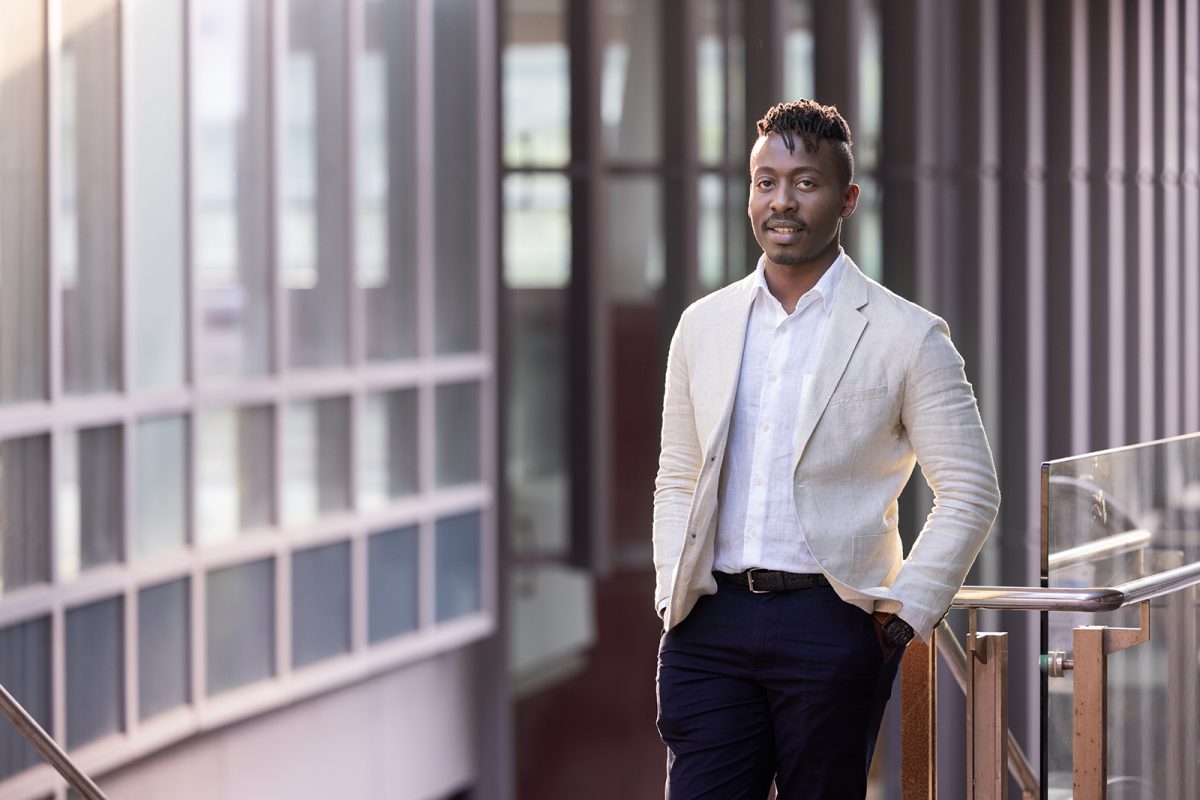 Thinking of advancing yourself in the new normal? Explore what's in your future with CUHK Business School's programmes.