CUHK Business School Develops a Corporate Innovation Index to Empower Hong Kong's Economy through Innovation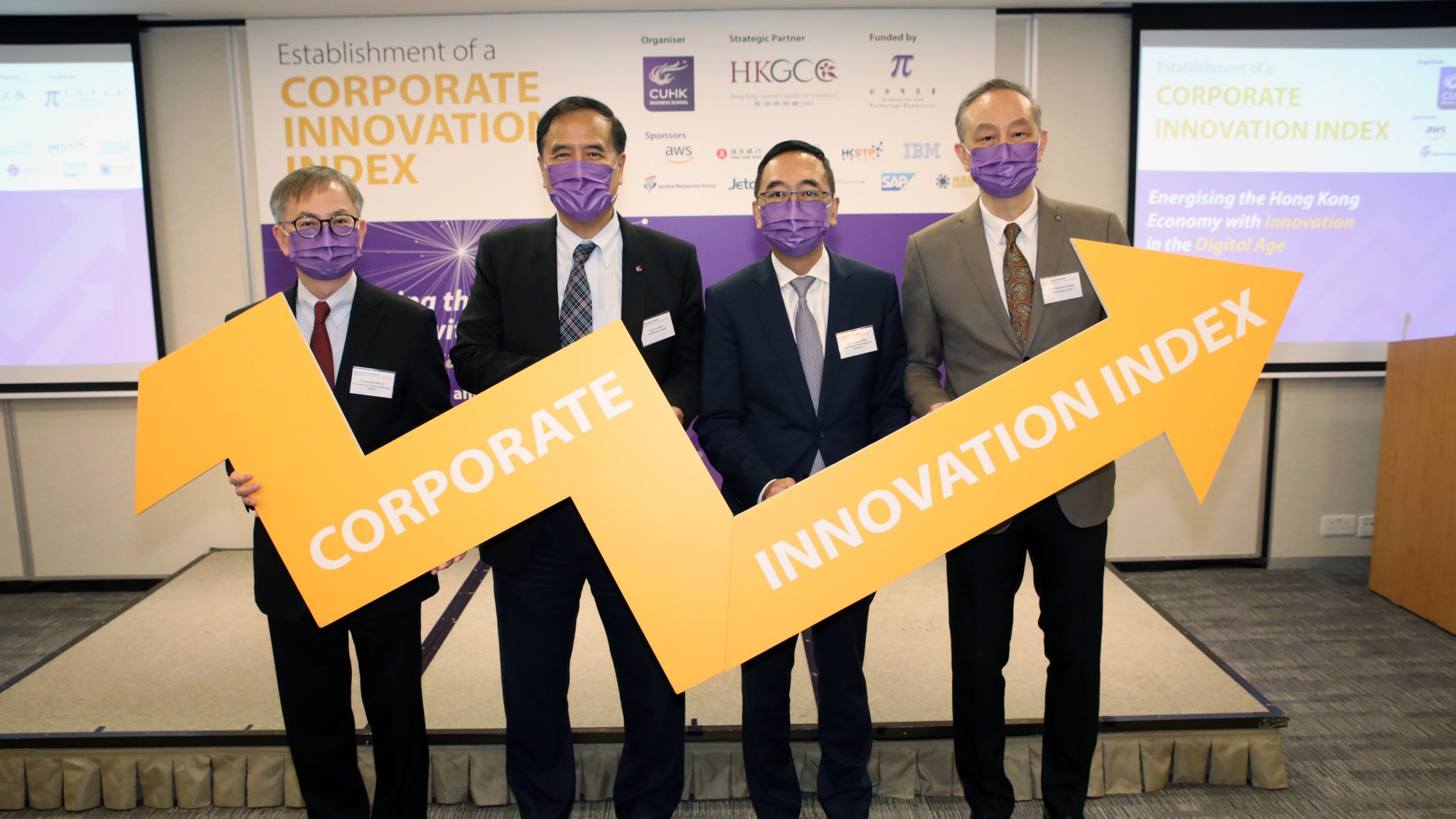 The Chinese University of Hong Kong (CUHK) Business School today announces the development of a Corporate Innovation Index (CII) that will serve as a management and assessment tool to cultivate an innovation culture and to enhance capabilities and achievements in technology adoption among large corporations and SMEs in Hong Kong.
Funded by Innovation and Technology Commission of the Hong Kong Government under the General Support Programme, CUHK Business School's Asia-Pacific Institute of Business (APIB) will take charge of the CII project. It plans to establish a conceptual framework of corporate innovation that best fits the Hong Kong business community under the digital age, as well as to develop a set of measurement matrices. CUHK APIB will work together with The Hong Kong General Chamber of Commerce (HKGCC), the project's strategic partner, to invite around 100 corporations and 200 SMEs from six categories – including trading, manufacturing, distribution, services, franchising and investment – for a survey. Online assessment tools, guidebooks and a series of seminars/workshops will also be available to help companies rev up their technology innovation. Details of the inaugural CII will be announced in the second quarter of 2022.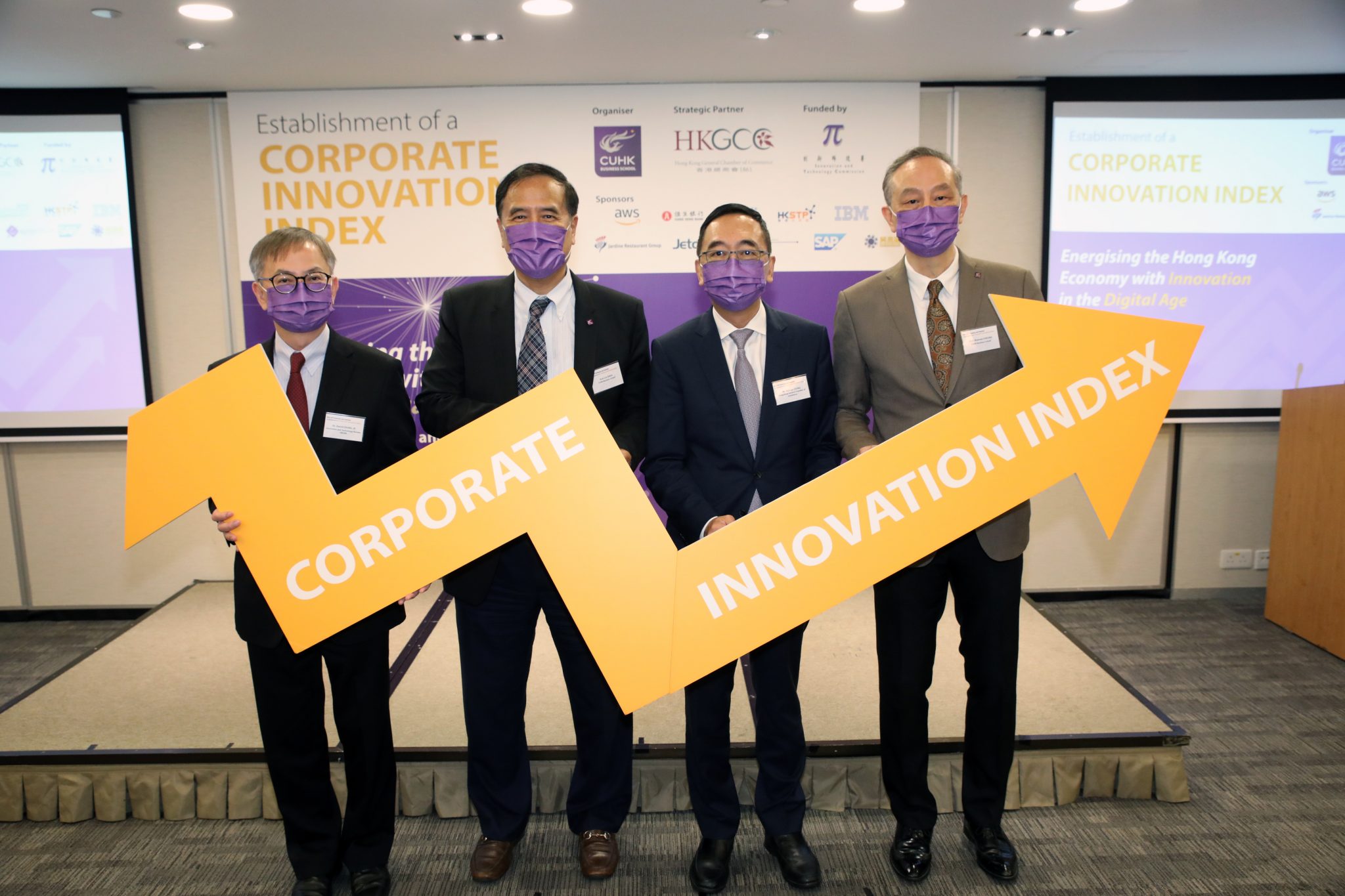 (From left to right) Dr. David Chung, the Under Secretary for Innovation and Technology of the HKSAR Government; Prof. Lin Zhou, Dean of CUHK Business School; Mr. George Leung, CEO of HKGCC; and Prof. Waiman Cheung, Associate Dean (Graduate Studies) and Co-Executive Director of APIB at CUHK Business School
Dr. David Chung, the Under Secretary for Innovation and Technology of the Government of the Hong Kong SAR, said: "This research project, supported by Innovation and Technology Fund, dovetails well with the Government's efforts to address the upcoming challenges facing the business community by means of a conceptual framework constructed from literature review, industrial consultations and communication forum. Other than the most commonly used measures of corporate innovation such as R&D expenditure, patent counts, patent citations and new product announcements, I am sure the Corporate Innovation Index will serve as a reliable tool for the public and business sectors to measure the innovation competence in a scientific and data-driven manner. I would like to thank the Chinese University and the Hong Kong General Chamber of Commerce for their devotion in making Hong Kong an innovative city."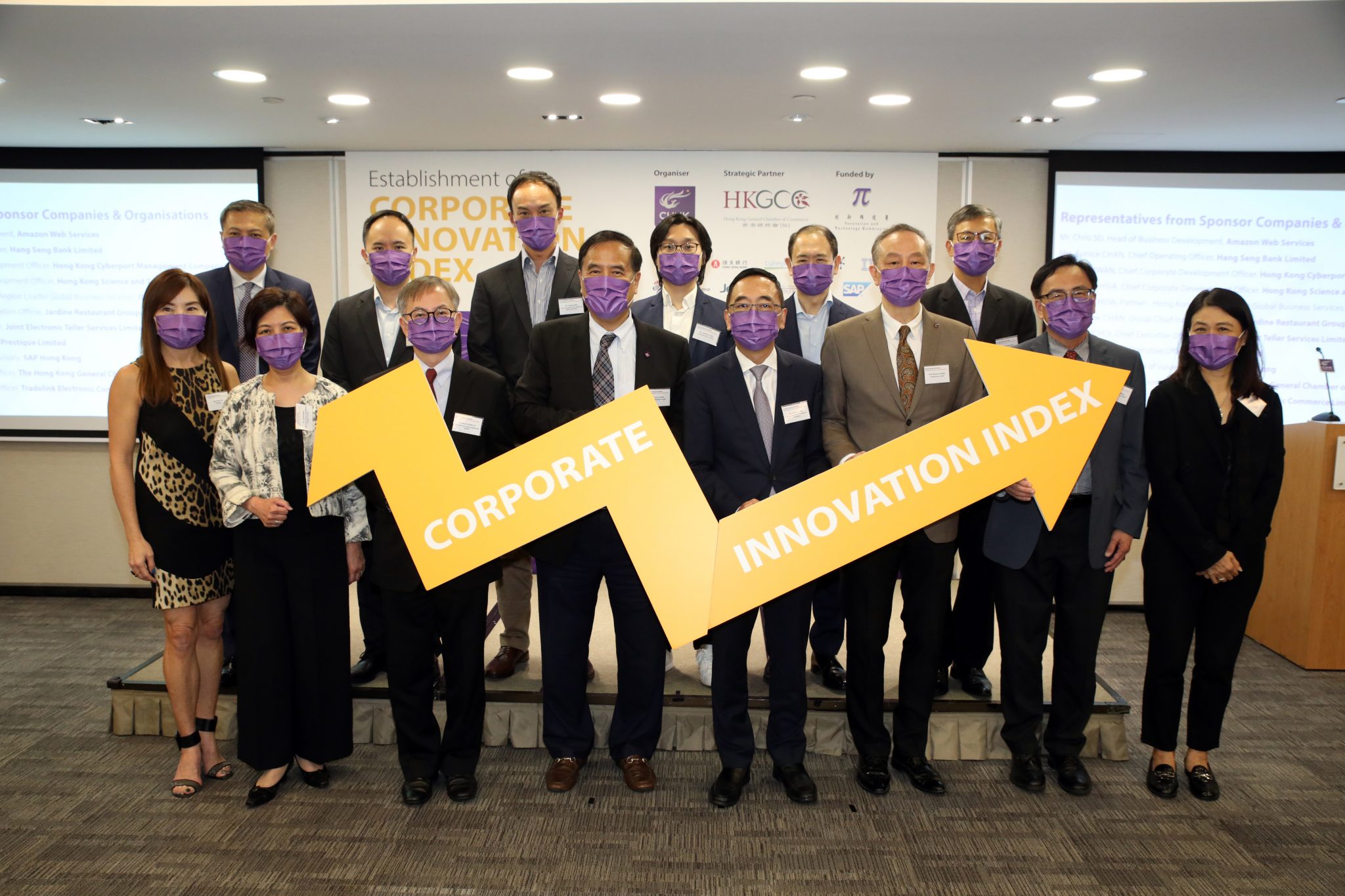 Dr. David Chung, Dean Zhou, Mr. George Leung, Prof. Waiman Cheung and representatives from the sponsoring organisations posed for a group photo in the kickoff ceremony of Corporate Innovation Index.
Prof. Waiman Cheung, Associate Dean (Graduate Studies) and Co-Executive Director of APIB at CUHK Business School, added: "In response to the Government's call for developing Hong Kong into a knowledge-based economy and a regional innovation hub, CII will raise awareness about the applications of advanced technologies and foster an innovative mindset among corporations and SMEs in Hong Kong. Emerging technologies such as artificial intelligence, biomedical science, the Internet of Things (IoT) and 5G are changing the Hong Kong economy at warp speed and scale."
Mr. George Leung, CEO of HKGCC, said: "Many companies are aware of the importance of innovation, which drives their competitiveness and ultimate success. However, knowing how to upgrade their capabilities or benchmarking their innovation until now has been very challenging. We hope that with the success of the Corporate Innovation Index, not just businesses, but the whole Hong Kong economy and society will be able to benefit and build from this index. This is precisely why we feel it is important to give it our utmost support."