CUHK Alumni and Friends Meetup | CUHK Business School
CUHK Alumni reconnect at year's start in Singapore
CUHK Alumni in Singapore participated in a learn-and-network event on Understanding China's Business Institutions and Government. It was a delightful evening for CUHK Alumni to exchange insights and ideas.
Early this year, CUHK Alumni gathered in Singapore at the Alumni and Friends Meetup. More than 50 CUHK Alumni listened to talks, met old friends, and made new ones. The goal of the event was to enrich and expand networks.
Learning from CUHK professors
The CUHK Alumni meetup was scheduled with talks about relevant topics in business today. Two of the universities professors, Prof. Zhaoyang Gu and Prof. Tianyu Xhang shared the findings of their research studies to the CUHK Alumni. Interstingly enough, Prof. Tianyu Zhang talked about the influence that the media has on the emerging economy of China. His studies indicate the roles that traditional media and social media play as well as how the stock market is influenced by the competition between politicians.
Prof. Zhaoyang Gu took the stage and talked about investments and what influence financial analysts in giving their professional advice when it comes to trading stocks.
Both topics were well received by the CUHK Alumni and was further discussed in an open forum with participation from the members of the audience.
Innovation at the core
The Chinese University of Hong Kong strives to innovate at every possible opportunity with the goal of producing CUHK alumni that become business leaders in Asia and in the world. Although the CUHK Alumni have already earned their degrees and carved out their own paths, the university never ceases in its efforts to bring its graduates together in the hopes of expanding networks that will build a better tomorrow for all of society. By encouraging CUHK alumni to meet, the university builds bridges that not only result in win-win situations for the individuals involved but also for everyone their efforts affect. By reconnecting and building new connections, CUHK alumni are able to do more for more people. CUHK Alumni gain access to a network of equally well verse professionals and business leaders to further their own ventures.
Reconnecting to revolutionize
When great minds come together, even greater things are expected to come after. The CUHK Alumni and Friends Meetup definitely encourages the enriching and expanding of networks. With CUHK Alumni working all over the world, it is easy to lose connections with fellow CUHK graduates that could quite possibly lead to the completion of a project or research study at hand.
As CUHK Alumni gather to rekindle old connections, new relationships are also formed. The more connections that are made at the CUHK Alumni gatherings, the more future projects and studies will come to realization with the right people, allowing for innovation and in turn, revolutionizing the way business is done in the country and possibly, across the globe.
The butterfly effect
It may seem as though a CUHK Alumni gathering is an event one doesn't need to attend as there will be more to come. Although that may be true, missing out on a CUHK Alumni gathering could mean giving up so much more than just a few hours of your day.
The butterfly effect is a phenomenon that likens the tiny movements of a butterfly's wings to a seemingly meaningless event in one's life that becomes a turning point for the rest of their lives. Attending a CUHK Alumni meet up is exactly that.
Setting a bright future in motion
Unbeknownst to you, the answer to your pressing problems may be an old schoolmate at CUHK or a friend of a friend who is also a CUHK Alumni. Going to the CUHK Alumni and Friends Meetup would have been the day you meet the right people to work with to bring your vision into a reality.
Over 50 alumni and students attended the CUHK Business School Alumni and Friends Meetup in Singapore on 23 January 2019. It was great time of learning on the topic of Understanding China's Business Institutions and Government, as well as an opportunity for networking especially for MBA students who were visiting Singapore during a week-long career trek.
The evening opened up with the sharing of two pieces of abridged research Business School faculty from Prof. Zhaoyang Gu and Prof. Tianyu Zhang, both from the School of Accountancy. Prof. Tianyu Zhang kicked off by sharing about his research that utilizes textual analysis to investigate the role of institutional knowledge in enhancing information advantage of local financial analysts. Prof. Tianyu Zhang investigates the role of media in China's emerging economy. His research shows how the media reform shapes the media industry, the difference in the information delivered by official and non-official newspapers, and the role of social media in correcting the bias in traditional media. His research also provides evidence on how competitions among politicians influence the movement in stock prices.
Prof. Zhaoyang Gu then dived into the specific role of fund managers and discussed how institutional investors can play a role in analysts' biased behavior, based on patterns of allocation of commission fees and personal social connections. Stock recommendations of financial analysts are often overly optimistic with the majority of them being 'Strong Buy' or 'Buy'. This is true everywhere but especially in China. A number of explanations have been proposed, such as cultivating relationships with management or obtaining investment banking businesses from the firms. Based on his research, Prof. Zhaoyang Gu discussed how institutional investors can play a role in analysts' biased behaviours. His study shows evidence that through the allocation of commission fees and personal social connections, mutual fund managers can unduly influence financial analysts in recommending favourably the stocks that the funds have invested in.
The evening ended with a good round of questions from the audience followed by catching-up of old friends and mingling of new ones.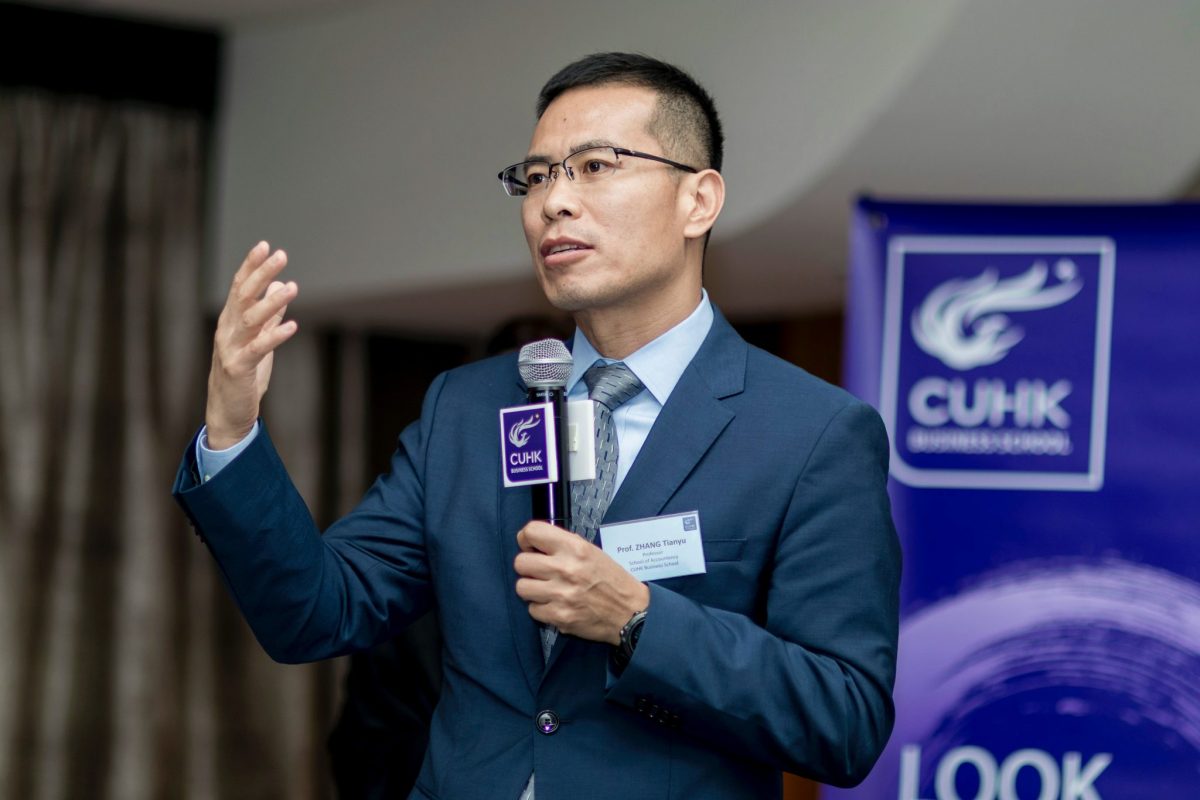 Prof. Tianyu Zhang speaking on the topic of "Understanding China Institutions through Textual Evidence"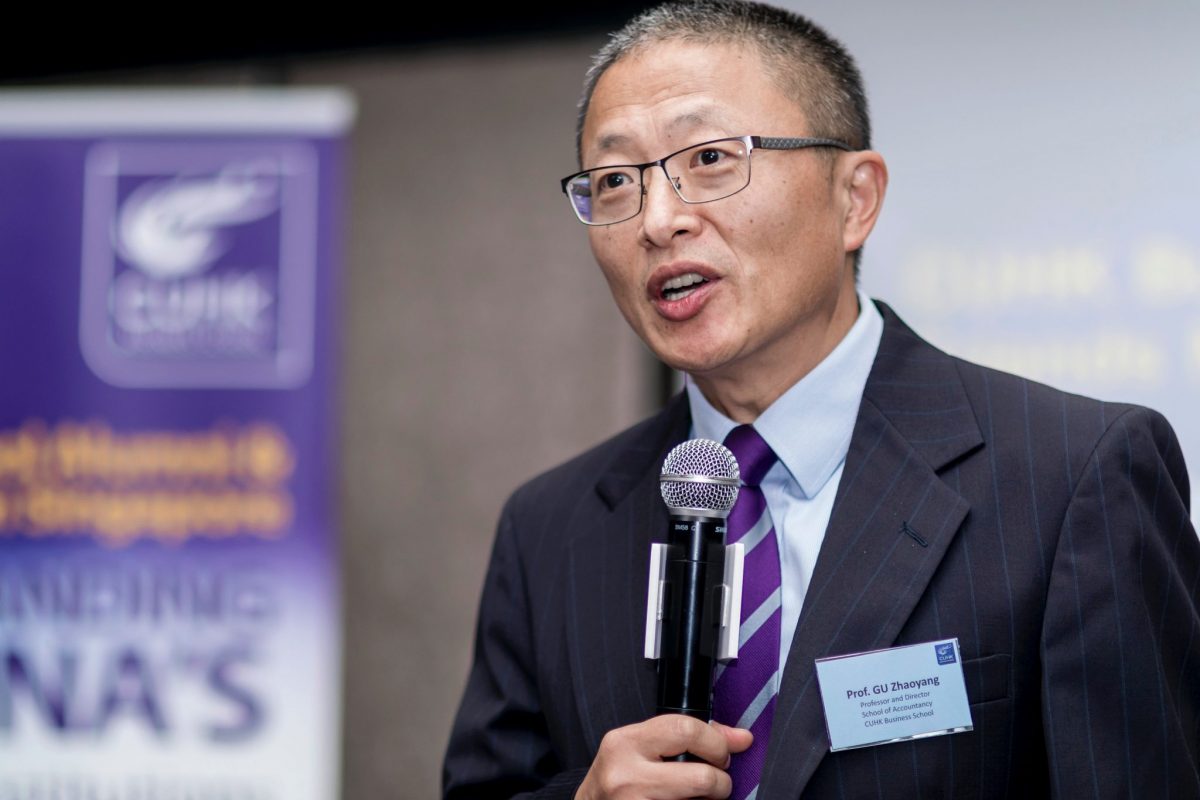 Prof. Zhaoyang Gu speaking on the topic "Why Stock Recommendations of Analysts in China are Distorted: the role of Fund Managers"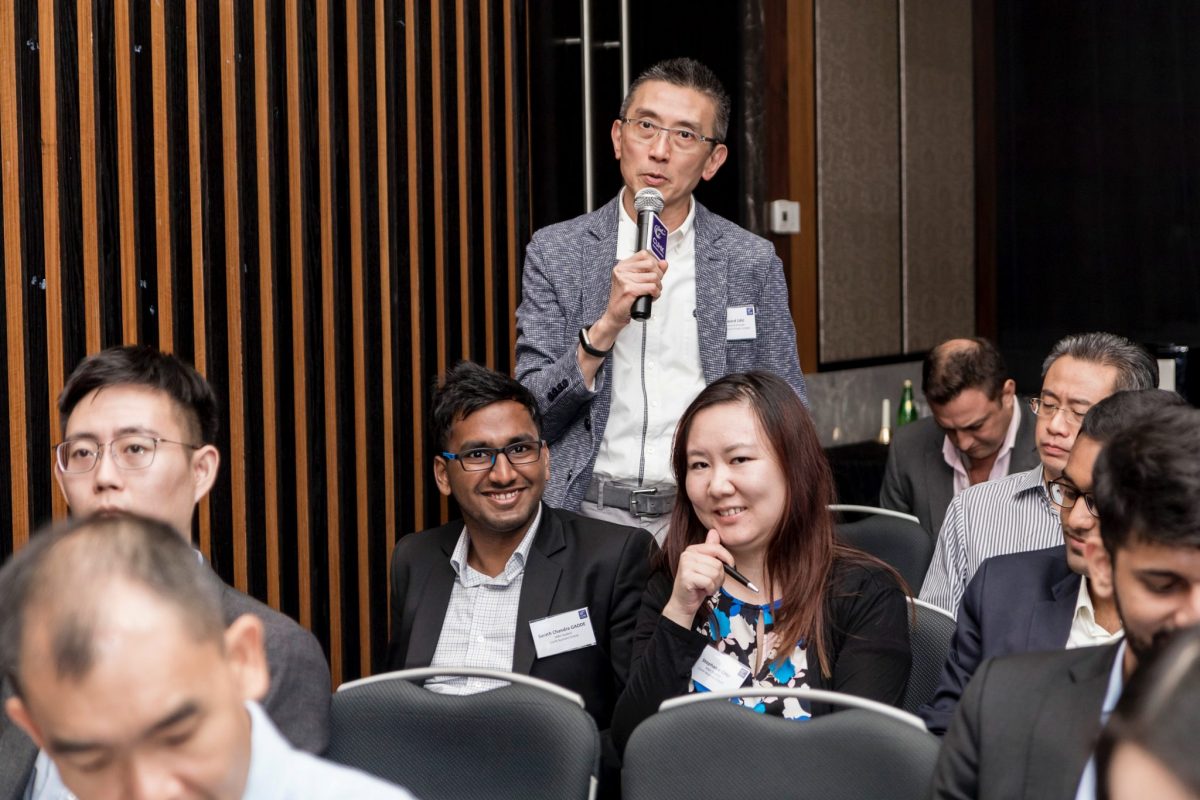 Audience raising questions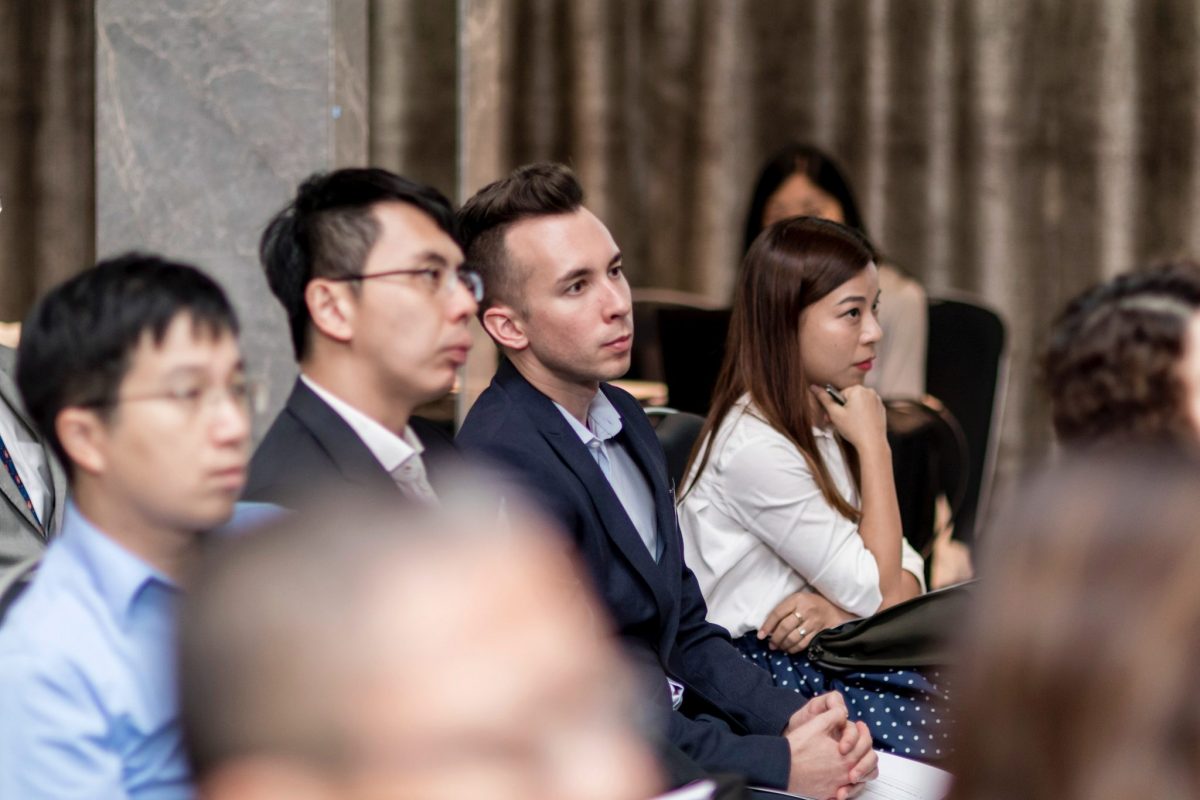 Over 50 alumni and students in attendance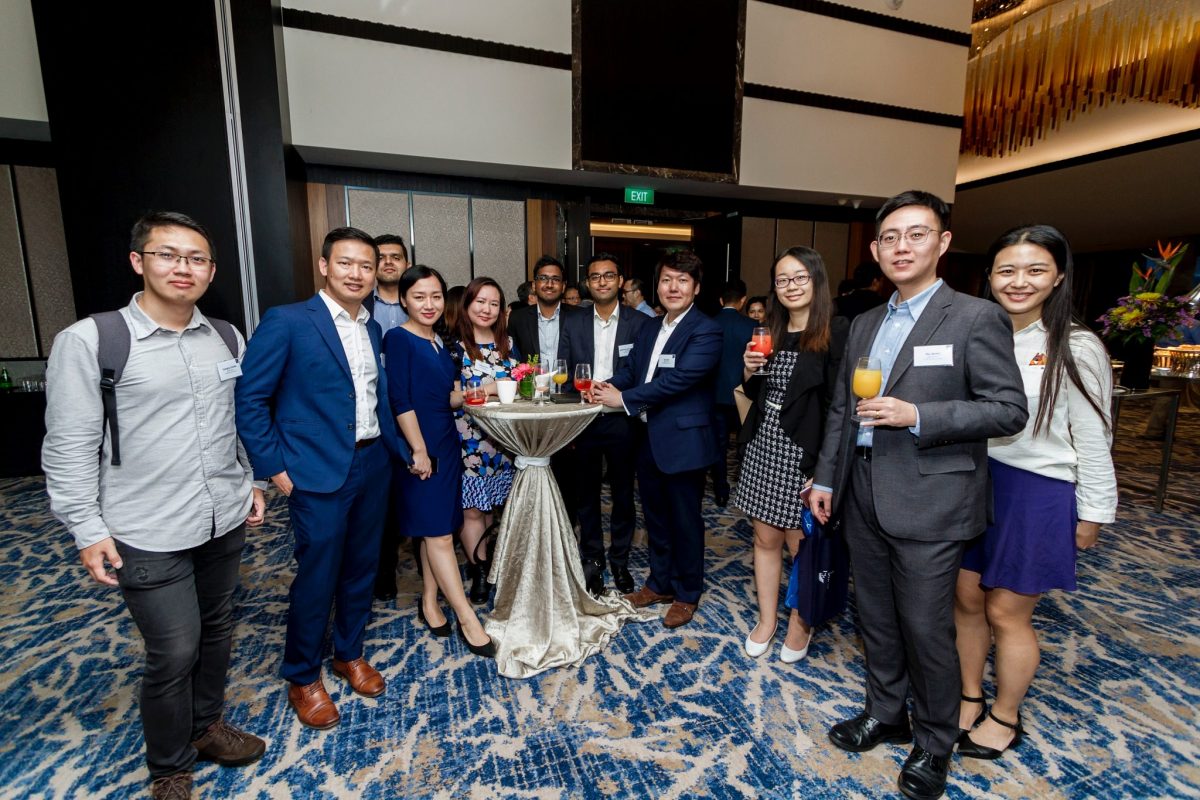 Old friends and new friends mingling
Old friends and new friends mingling