Prof. Kalok Chan, Dean of The Chinese University of Hong Kong (CUHK) Business School, hosted the annual Business School Spring Cocktail on 27 February, 2019. Over 250 guests including university and faculty members, alumni and corporate partners attended the event.
During the evening occasion, both Prof. Benjamin Wah, Provost of CUHK, and Prof. Chan addressed guests. The Provost provided an overarching picture of Hong Kong's development over the past year, both with and as part of the Greater Bay Area city cluster, recounting establishments including the CUHK Shenzhen Research Institute (SRI), as well as the InnoHub at the CUHK SRI. The University has also set out to offer new programmes to answer the demand for well-trained talents in AI and data analytics, as well as established partnerships with ETH Zurich, Imperial College London and Johns Hopkins University to deepen ties on transdisciplinary medical robotics research.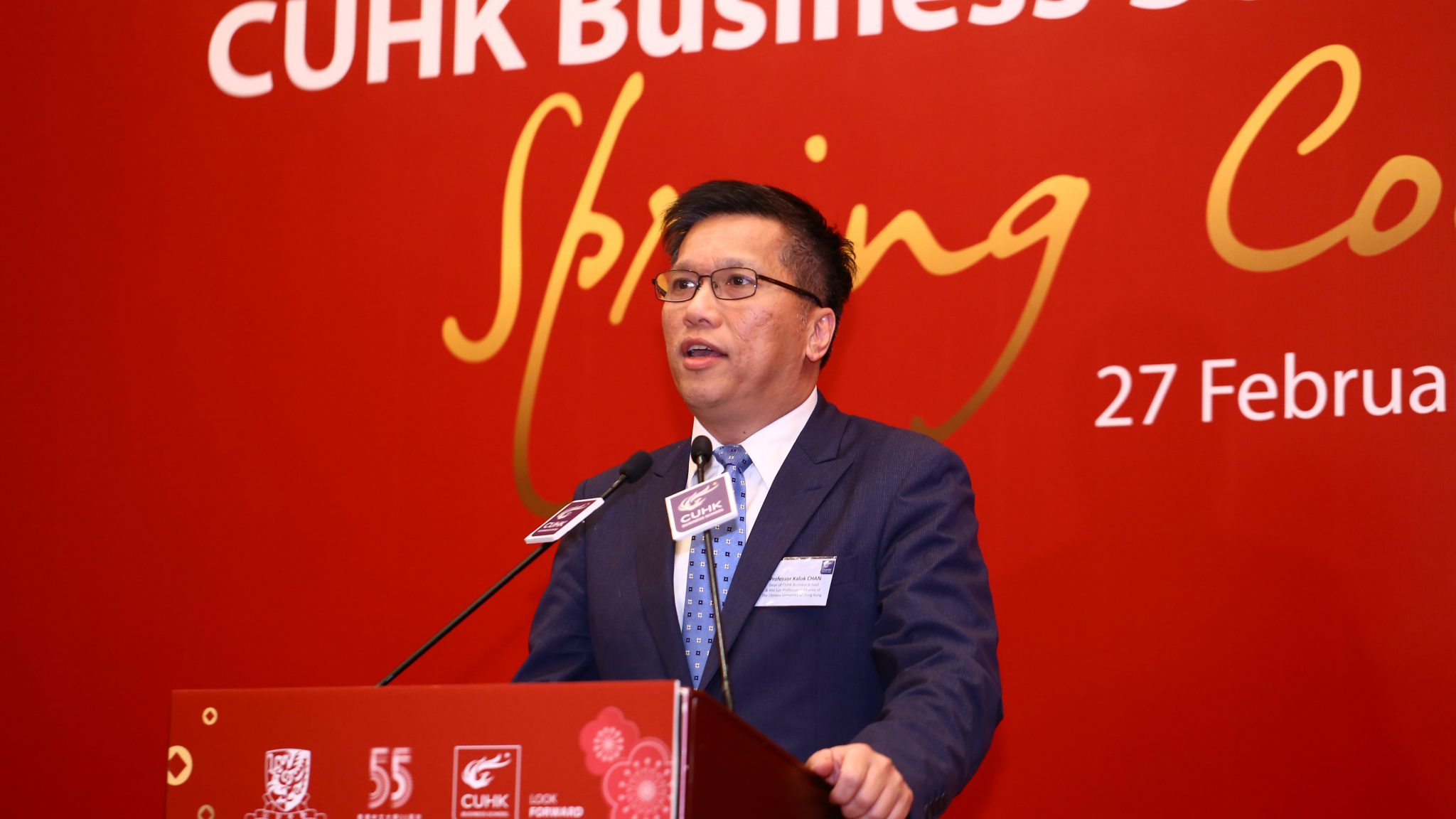 Prof. Kalok Chan, Dean of CUHK Business School
Prof. Chan updated guests about recent developments within the Business School, including the establishment of The Hong Kong-Shenzhen Finance Research Centre in a joint effort with the Shenzhen Finance Institute of CUHK-Shenzhen, and closer at home, the Centre for Business Sustainability in collaboration with Department of Government and Public Administration.
2018 marked a significant milestone for some programmes that celebrated the 20th anniversary of our School of Hotel and Tourism Management, as well as BSc in Quantitative Finance and MSc in IT Management programmes. In order to answer the growing demand for talent in a globalized economy, the Business School is also collaborating with IE Business School in Madrid to offer a dual-bachelor programme in the upcoming academic year.
2019 opened on a high note for CUHK Business School – having undergone the Continuous Improvement Review exercise by The AACSB Peer Review Team which ended with very positive comments on the School's Continuous Improvement Review (CIR) for the 2014-18 review cycle.
The Dean closed by providing a preview of an alumni homecoming event this summer, an opportunity for Business School alumni from all corners of the world to visit Hong Kong and return to campus.