A team of four CUHK international undergraduates got the 1st runner-up in the CGMA Global Business Challenge (GBC) 2021 (Hong Kong) initiated by The Chartered Institute of Management Accountants (CIMA).
CIMA is the world's largest professional body of management accountants. Every year, participants of the GBC are required to provide recommendations to solve problems faced by an organisation. In this edition, the problems spanned from such business issues as risk management, information technology and financial reporting issues. Participants needed to submit an analysis report of the specific case through integrating theories into practical application.
The winning team comprised four Year 2 CUHK students, including Wan-chi Aw (Professional Accountancy [PACC]), Kai-ni Choi (Quantitative Finance), Jiun-wei Tan (Risk Management Science) and Li-huey Tan (PACC). Li-huey shared, "This competition not only sharpened our problem-solving and analytical skills, but also polished our skills on how to structure and present ideas effectively and creatively." Wan-chi added, "The competition has prepared us to become an accounting and finance professional and provided a platform for us to put the knowledge learnt into practice. By having team members from different backgrounds, it is easier for us to tackle the tasks from multiple perspectives and add values to each other's ideas."
Mr. Eric Leung, Associate Director of the PACC Programme and Senior Lecturer of the School of Accountancy, is delighted with the outstanding performance of the diversified team. He commented, "The accounting practice has changed. It is no longer focusing on number crunching. Accounting has become more interdisciplinary in practice and accountants are expected to serve as business partners to create values for organisations. This is why our programme has established four streams for students to specialise in – Global Accounting, Global Tax and Governance, Finance for Accountants and Accounting Analytics – so that they can have a taste of other disciplines in the context of accounting."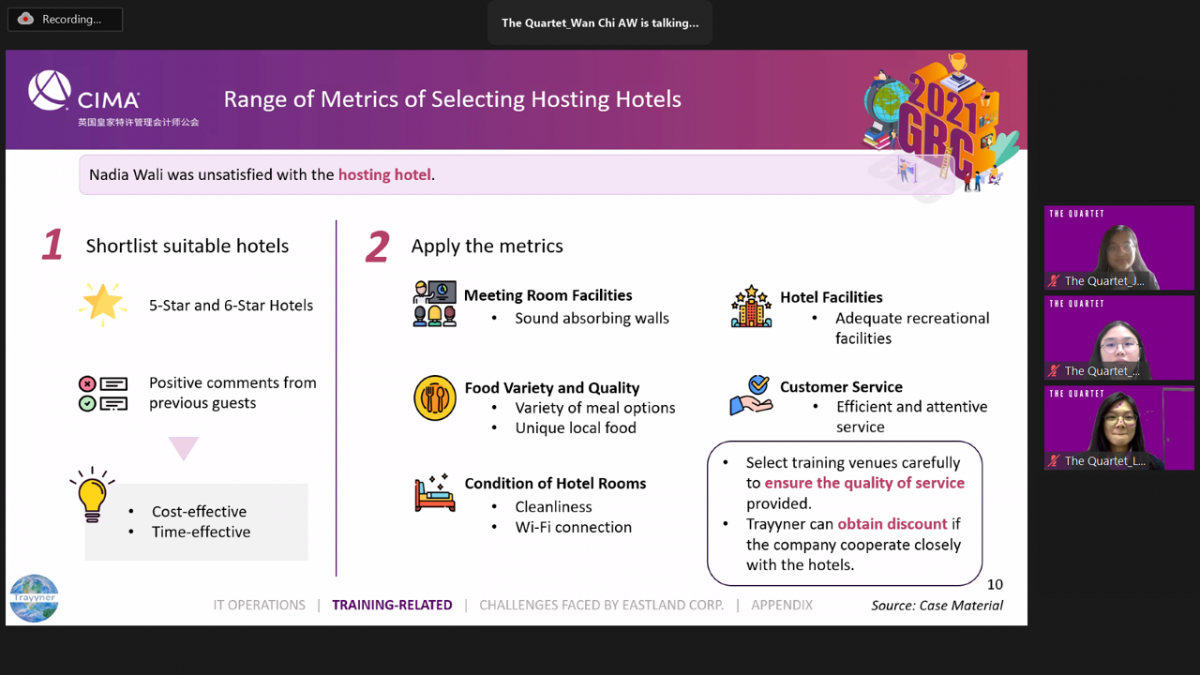 Li-huey concluded her GBC experience: "Even though we were all in different locations with personal commitments, we managed to utilise our time efficiently to propose our ideas and apply business knowledge learnt in this case study. I would like to thank my supportive team members and the helpful advisors for making this GBC 2021 fruitful and rewarding!"
The CGMA Global Business Challenge is an international business competition for undergraduates around the world, designed to bring out the best in the young business leaders of tomorrow. The competition adopts the actual case scenario under the CIMA professional qualification. By focusing on the capabilities of solving practical problems with business knowledge, it reflects the combination of theoretical knowledge and practical application.
In addition to the CGMA Global Business Challenge, the School's undergraduate students also took home top awards from two other major case competitions of the key accounting professional bodies. They were awarded the Champion and Best Presenter Awards in the Hong Kong Institute of Certified Public Accountants (HKICPA) Business Case Competition, as well as the Champion, 1st runner up and four other awards in ACCA Business Competition.