Half-way into her one-year MSc Programme in Finance, Alex Wang suddenly had to contend with a new reality. With classes, projects, exams and even job searches all being moved online due to COVID-19, the Chengdu-native, who made it a mission to seize every opportunity to pursue personal and professional growth, needed to quickly adapt. She had every intention of staying the course, whether it be online or off.
When Alex picked Hong Kong and The Chinese University of Hong Kong (CUHK) Business School to pursue her postgraduate studies, she had a clear plan in mind: "I have always been fascinated by this charismatic, fast-moving financial hub and I really want to work here." She was particularly attracted to the programme's practical and hands-on curriculum and its tremendous career support. The extensive alumni network—built upon five decades of graduates now occupying every corner of the industry—was also a draw.
Alex is no stranger to living, studying and working away from home. In fact, Hong Kong is just the latest port of call in her sprawling escapades. While studying for her Bachelor of Economics at Chengdu's Southwestern University of Finance and Economics, she had already spent a semester at Singapore Management University and took up an internship at an equity research firm in Shanghai.
"I always believe you get what you put into it. That is why I am always pushing myself to do more and to experience more." ─ Alex Wang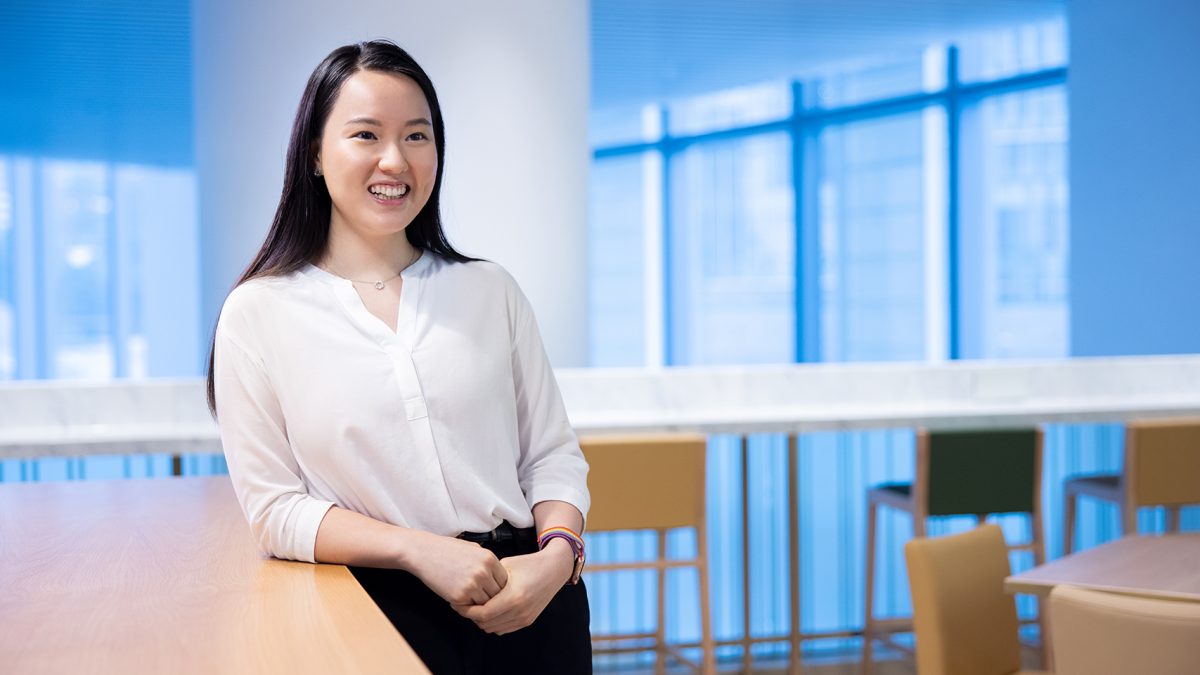 Eager to make the most of her year at CUHK Business School and prepare for a working life, Alex had adopted a "vastly different" mindset and attitude for Hong Kong. "I always believe you get what you put into it. Before I came, I pledged that I would make the most of the opportunities and resources offered to us. That is why I am always pushing myself to do more and to experience more. Essay writing competition? I will be a part of that. Outward bound training? Performing for the orientation dinner? I will do that too."
This outgoing and energetic student not only went after the experiences, but she also went for the results. Shortly after school started, she already clinched an Admission Scholarship of 2019, won a Pre-term Courses Scholarship and claimed the Fifth Prize in the Pre-term Essay Writing Scholarship.
A Quest for Personal and Professional Development
Alex knew it would be a busy year from the get-go. When she met the programme director, Professor Joseph Cheng, she was given an honest and unvarnished portrayal of what she could expect. She remembers the professor telling her how very intense, very demanding and very challenging the programme would be. "It turned out to be true! But as long as you put in the work, you can definitely learn a lot of things and then some."
Alex particularly relished the real-world relevance of the curriculum, and she derived great pleasure from guest speakers giving speeches and trading simulations. In one of the courses, conducted by the managing director and vice president of a bank and a representative of the Asian Development Bank, she was awestruck by the speakers' eye-opening perspectives of the credit market and even the Indian market.
The camaraderie of her peers was also a source of delight. "I got to be surrounded by a lot of brilliant, talented people with grit who are driven, hardworking and determined." She became friends with many of them, who continue to motivate her and push her to do better and achieve greater things.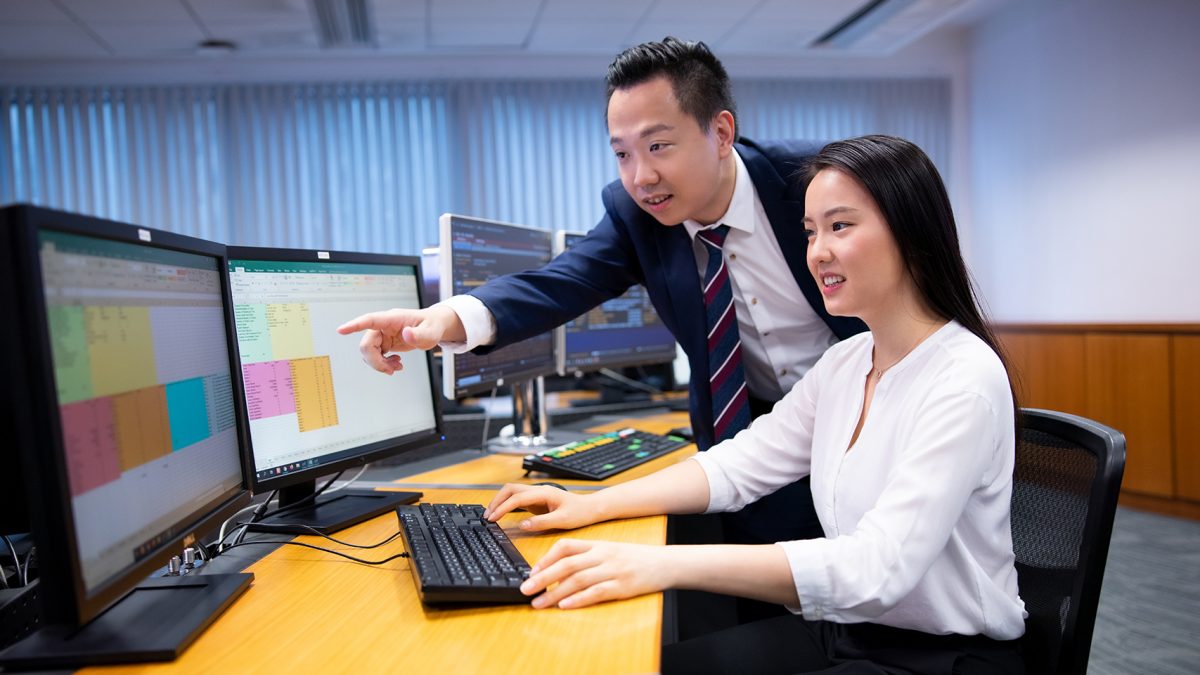 Adapting to a New Learning Environment
The outbreak of COVID-19 early this year turned this diverse learning environment upside down. With the programme's trimester model and classes continuing online without skipping a beat, Alex's transition to a new learning model was not without strain.
"From February to April, I had five classes and sometimes I would have six, seven hours of lectures a day. There were also group projects, presentations and take-home exams that we had to complete within 12 hours. It was intense."
Alex's key to managing this change was self-discipline. "When you take classes, you can easily leave your laptop on for three hours and not actively listen. Or when it comes to job applications, you can get lazy when you are not in a competitive environment. You must really manage yourself."
"Work hard, be proactive and be open-minded. Make the best of what you have. The programme is a fabulous place to maximise your learning and experience, and to invest in yourself." ─ Alex Wang
But going all-digital also brought new benefits, particularly to student collaboration. Although meeting face to face is easier, Alex said being able to meet through Zoom or WeChat offered students greater flexibility given their packed schedules. "We could have meetings at 10 pm as long as I am not asleep. That was not possible before."
Pursuing a Career in Credit
Alex has since completed her final trimester and—despite the tough job market—has landed a job as a Credit Solutions Trading trainee at Natixis, a French financial firm in Hong Kong. She will be working in her favourite area of credit, focusing on credit derivatives including credit default swaps and credit-linked notes, and looking into the fundamentals of the Chinese high-yield market. She will also be researching the creditworthiness of mainland Chinese companies.
"I find the bond market hugely interesting and I thoroughly enjoy researching the credibility and creditworthiness of a company. I can spend hours on it." ─ Alex Wang
She believes the MSc Programme in Finance and her internships have helped her establish a good foundation in credit analysis and research, and she trusts that she would be a good fit for this line of work across the board.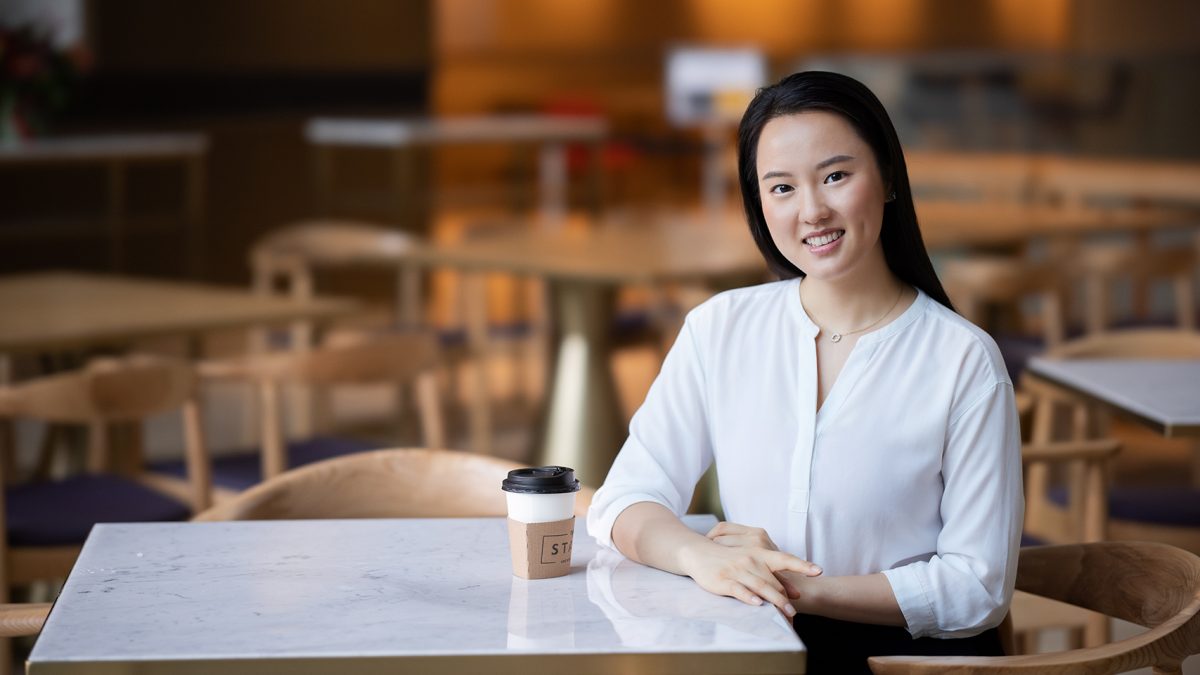 Advice to Those Seeking an Intensive and Rewarding Journey
Having successfully steered through three rollercoaster trimesters, does Alex have any advice for students considering following in her footsteps?
"My roommate is actually in the next batch. My advice to her was to work hard, be proactive and be open-minded; make the best of what you have. The programme is a fabulous place to maximise your learning and experience, and to invest in yourself. #BeYourSpark!"
For Alex, she was especially grateful for the myriad resources on campus and online that supported her personal and professional growth. "It has definitely been an intensive, challenging and rewarding journey of personal and professional enrichment and self-discovery."