The "ABC" rule of life: Ambition, balance, and change.
Cally Chan (EMBA 2007) was the first woman appointed as Managing Director of HP Hong Kong. Her contributions have been widely recognised and celebrated during her 20 years of service. She is also the Founder of Hong Kong's first women only ICT (information and communications technology) association, FACE Club, which stands for "Female", "Attract", "Connect" and "Engage". Last year she joined Microsoft as General Manager of Hong Kong and Macau. She hopes to help people achieve their goals through promoting AI (artificial intelligence) and other advanced new technologies.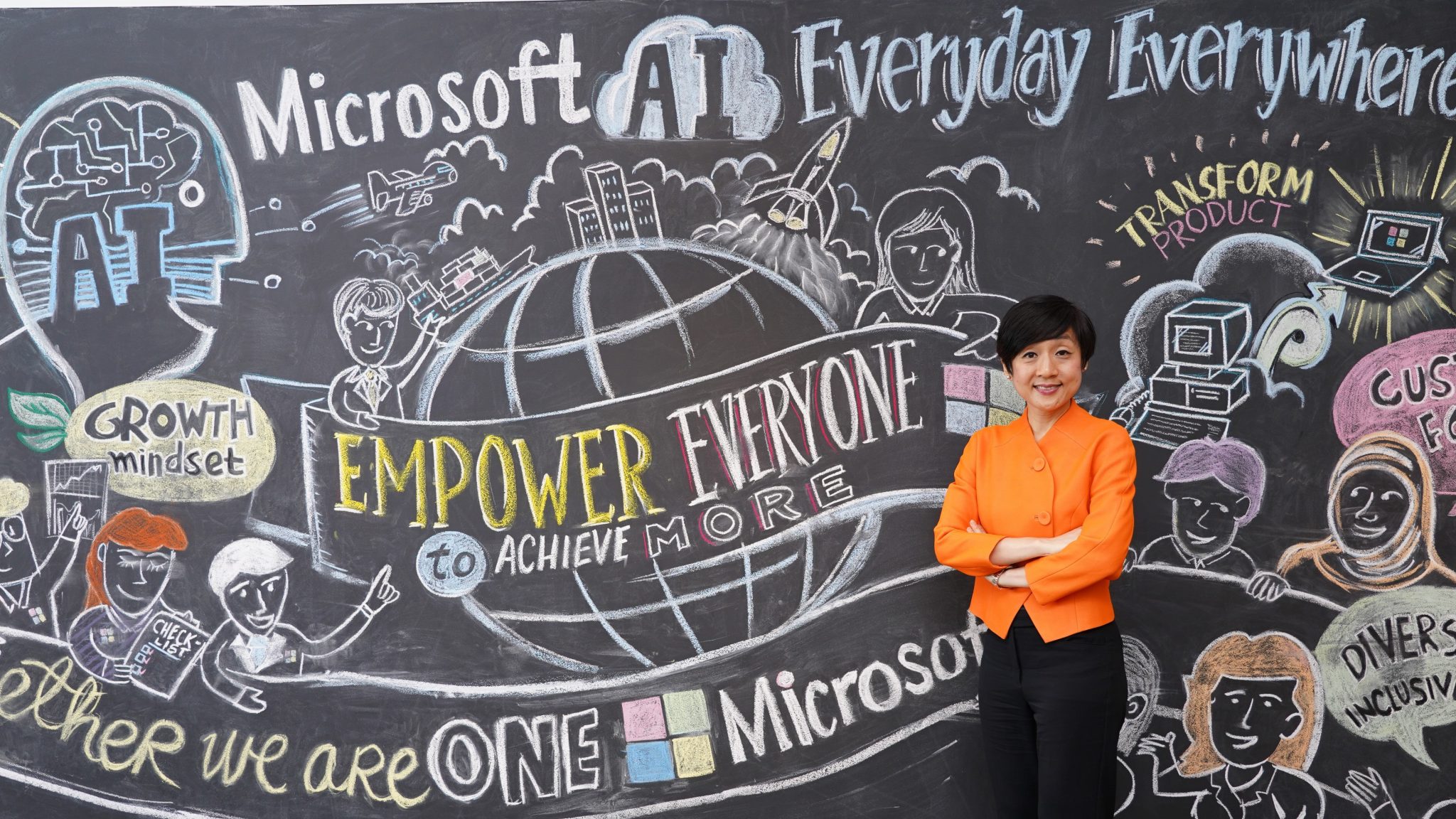 Reinventing a 2.0 Version of Self through EMBA Studies
Not long after graduating with a bachelor's degree in computing studies, Cally started at HP and worked in different areas including computer engineering, pre-sales support, as well as marketing and sales. Her career had been smooth sailing until she was promoted to general manager of her department, when she came to realise that her perspective differed drastically from her superior's. She began to wonder if her background in engineering put her in a disadvantage in running and managing the company. Following the advice from a mentor, she decided to enrol in the CUHK EMBA programme.
Cally's primary focus was learning and getting along with classmates from all walks of life. Two years later, she noticed improvements in her leadership and strategic thinking. She also gained valuable insights into the thought process of professionals from other industries. The superior, whom she had not been on friendly terms with, began to see her in a new light. When the company subsequently went through a restructure and transferred her to another department, her superior made a strong case to try to keep her. "The EMBA programme could be considered a milestone in my life. It helped me reinvent myself."
Cally also took the advice from CUHK EMBA Programme Director Prof. Andrew Chan to heart. "He often reminded us, 'Monetary rewards are the consequence not the cause. If you do the right thing, it'll lead to the right consequence. As long as you create value for others, rewards will follow.' This has become my motto in doing business and treating customers."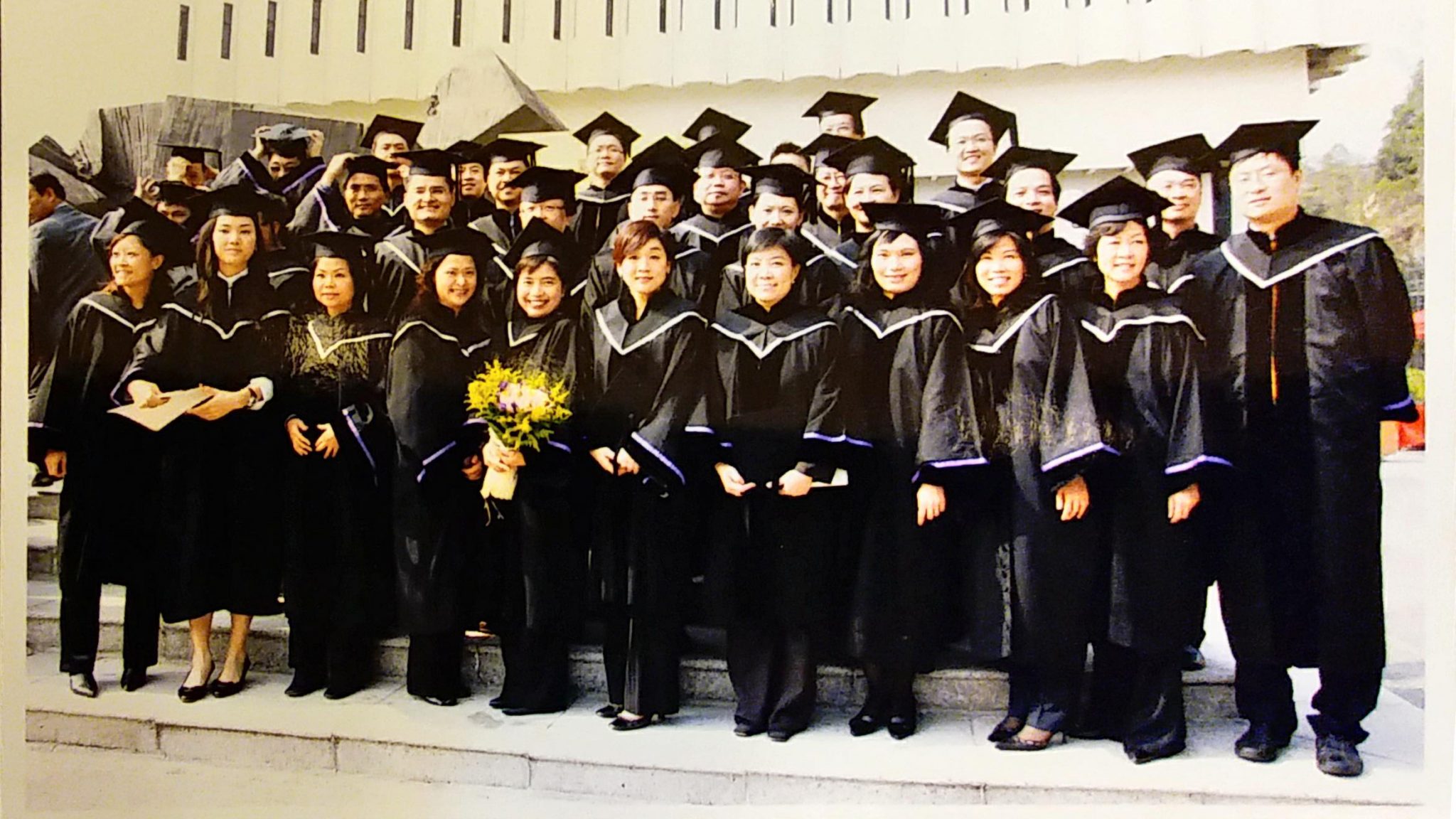 Cally (front row, 6th from left) poses with her EMBA classmates at their graduation.
Uniting Women to Play a Bigger Role in ICT
ICT is a male-dominated industry. Cally considers herself lucky that she has not been treated unfairly because of prejudice. On the contrary, she thinks women should develop the right attitude. "When I was a computer engineer, every time I hosted a training course for clients I had to move a very heavy computer to the training room. I thought to myself that chivalry was dead because my male colleagues didn't offer to help. Looking back, it meant they recognised the ability of women. If women don't want to be discriminated against, they shouldn't expect special treatment."
Change is constant. With the ability to create value at any time, one can embrace any change that may come. — Cally Chan
An interlude took place in 2010, the year before Cally become the first woman to be appointed Managing Director of HP Hong Kong. The company believed she was fit for the job but worried that she might not be able to blend into the male dominated CIO (chief information officer) circle. Cally requested that the company nominate her to industry organisations, to expand her network and build trust with industry professionals. A year later, she was duly given the promotion.
Cally thinks it is now the perfect time for women to enter ICT because every industry is going through digital transformation. Many ICT companies are recruiting women to cater to different client needs. To unite women, Cally and the Hong Kong Computer Society established the FACE Club, chaired by Cally herself since its start a few years ago. The club serves as a platform to celebrate distinguished women in the industry, encourage more women to enter the sector and offer support to each other. Since its establishment, the club has organised many events, including the Outstanding ICT Women Awards and a walkathon to raise money to recruit underprivileged women to go into ICT.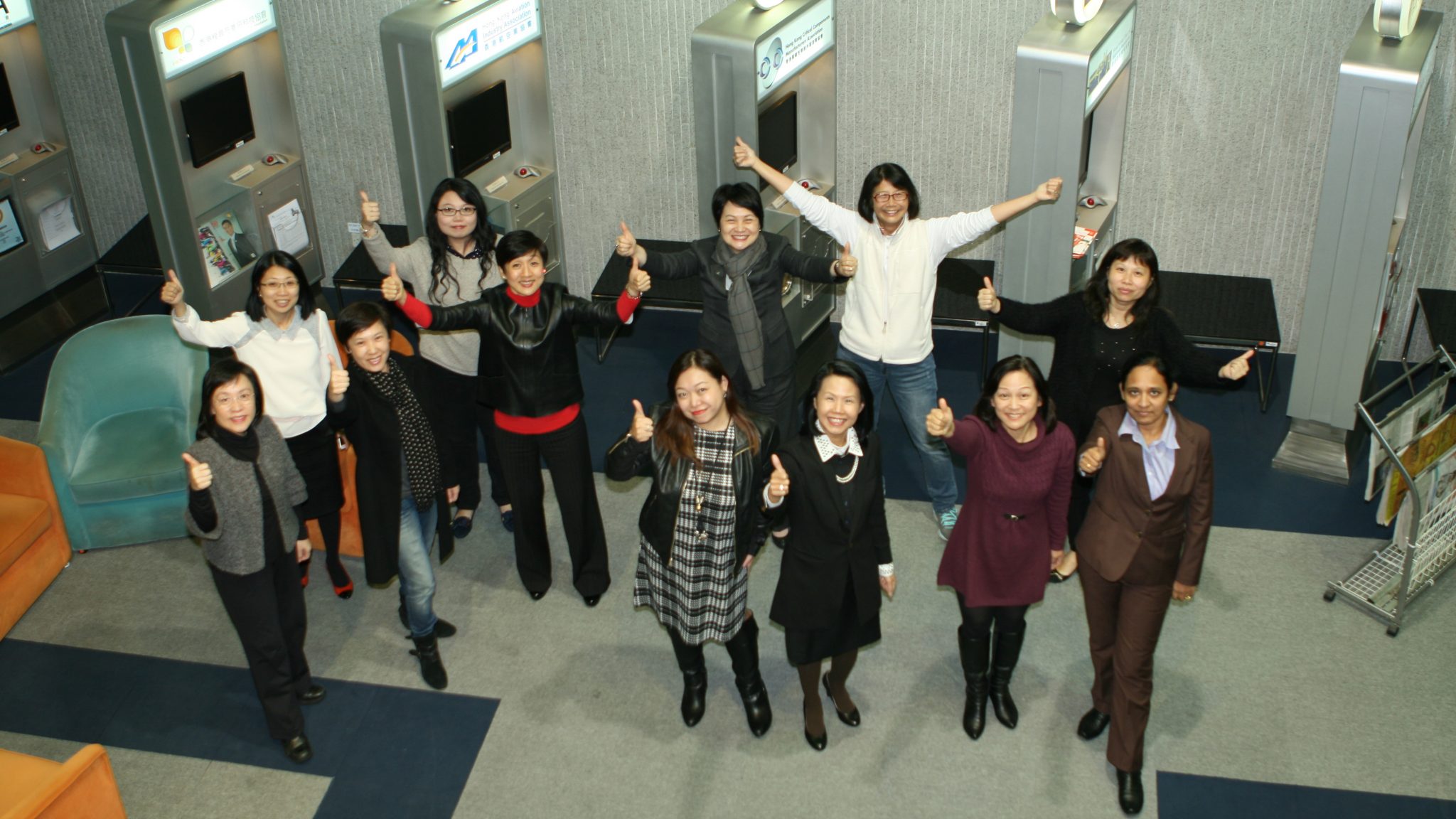 As Chairwoman of FACE Club, Cally (5th from left) strives to unite and empower women in the ICT industry.
Technology Is a Tool Empower Yourself through Empowering Others
Cally made a significant decision last year to leave HP, a company she has served for two decades, to assume the role of General Manager of Microsoft Hong Kong and Macau. She thinks digital transformation is a critical issue facing businesses of all sizes. Fortunate enough to be thriving in this golden age, she takes it upon herself to take humanity another step forward and do something she can be proud of. Limited by the business model of her former company, which focuses on hardware and infrastructure, she decided to flex her muscles at Microsoft, a major platform that specialises in digital transformation.
As the head of an entire region, Cally thinks her most important duty is to find ways to enable people to use AI so that they can achieve their goals. "Internally, I hope to foster my employees, enhance their productivity and develop their strength with new technologies. Externally, I hope to assist our clients in digital transformation in order to facilitate their business expansion and create value. When our employees and clients grow, our company will naturally grow as well."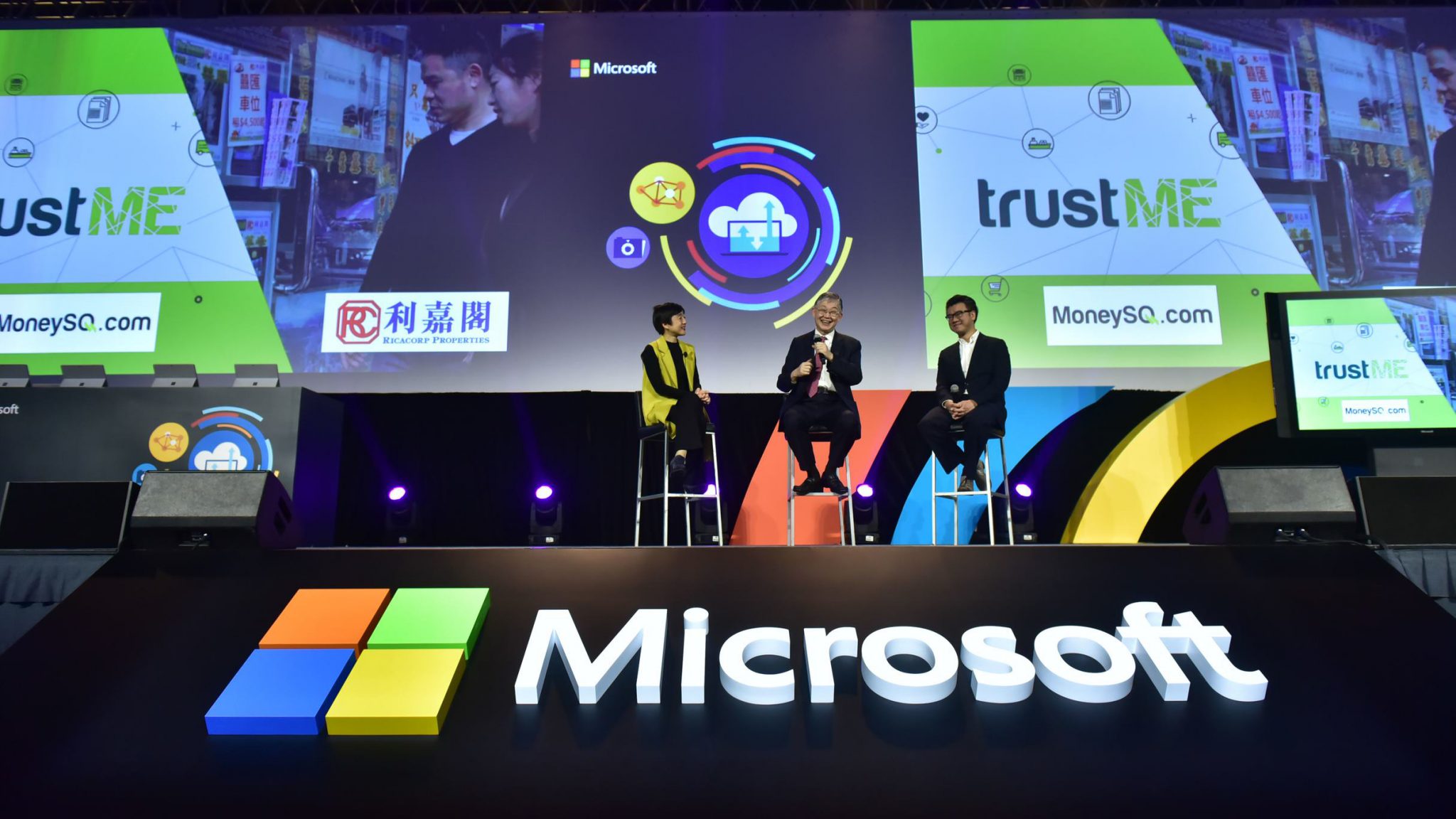 (From left) Cally discusses how to use AI to promote corporate development with Centaline Property Agency Limited Founder and Ricacorp Properties Limited CEO Shih Wing-ching, and MoneySQ Founder and CEO Steven Lee at Microsoft Tech Summit 2018 – Hong Kong.
Prepare Yourself to Embrace the Golden Age of ICT
To embrace the golden age of ICT, Cally encourages young people to prepare themselves in three ways: First, develop better digital skills including AI, big data and cloud computing. Second, cultivate soft skills such as empathy and critical thinking. One must put themselves in others' shoes to create value for others, and empathy is essential. Humans also need to exercise critical thinking to make the right judgments after AI computes the outcomes with big data. Third, develop maturity. Do not take anything for granted. Try stepping out of your comfort zone and broadening your scope.
Change is constant. With the ability to create value at any time, one can embrace any change that may come.
Cally (front, 8th from left) with her teammates at Microsoft Hong Kong Annual Meeting, discussing business performance and corporate development.