Believe in yourself, and keep on bouncing back from adversity. It is something that Nicholas Poon (BBA in Integrated BBA Year 2) does on a daily basis. A winner of the 2018 CUHK Outstanding Student Awards needs little introduction in the university, and he complements this by being a part-time athlete competing for Hong Kong in sprint and rugby.
"There are no traffic jams along the extra mile." This warrior's cry is a mantra that Nicholas Poon lives by every day and it is easy to see why. The achievements just keep accumulating for Nicholas, who is part of the Hong Kong Athletics Team, as well as the Hong Kong Rugby Union Podium Programme. Aside from his athletic prowess, Nicholas has also demonstrated his academic chops by being admitted to The Chinese University of Hong Kong (CUHK) Business School via the Joint University Programmes Admissions System (JUPAS) School Principal's Nominations, which is no mean feat. When you meet Nicholas, you know that this determined young man means business.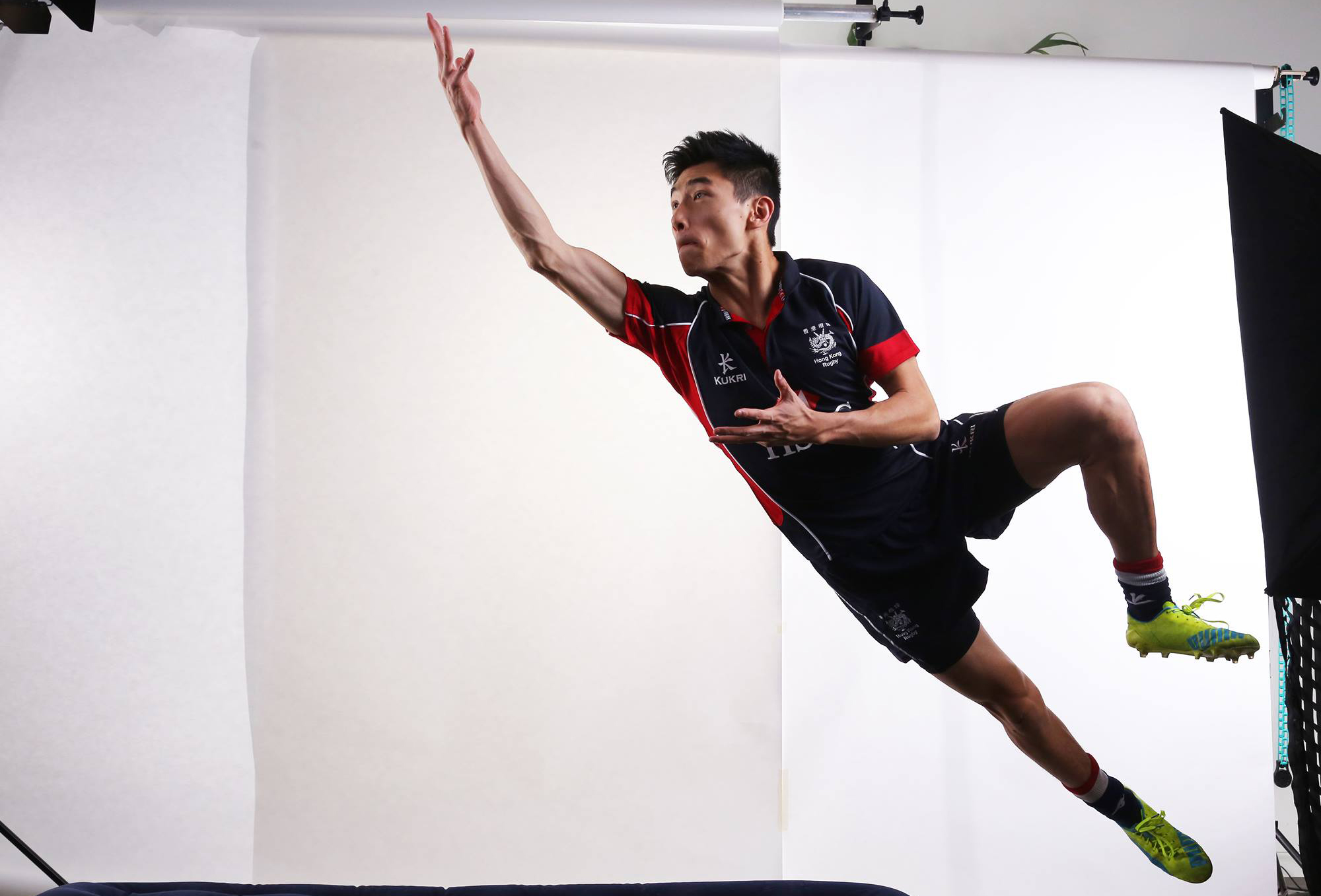 Nicholas was among the 12 outstanding student awardees invited for a photo-shoot. His photo was featured in the CUHK calendar 2019. (Photo by CUHK Communications and Public Relations Office)
Being Well-rounded is Essential for Business
We often think of academics as studying hard, but all around excellence is what builds the character to triumph through adversity and remember that putting in the effort is what counts. "No one will tell you what to do to get better and how to improve. You have to be self-motivated and put in your hard work. No one can stop you from improving," says Nicholas.
Nicholas knows first-hand about the struggles that can occur in life. Whatever we experience, there will always be the good and the bad. Nicholas has worked hard and found himself with offers from institutions of varying specialisations.
It was a tough choice between CUHK Business School and the Hong Kong Sports Institute, but you get the feeling Nicholas' infectious personality and inquisitive nature would eventually lead him to business studies. He chose to study at CUHK as he finds business: "fun and dynamic, and you have to be very aggressive to get the knowledge of what is going on around you." Another consideration was CUHK's academic rankings which are among the world's best, particularly in business studies.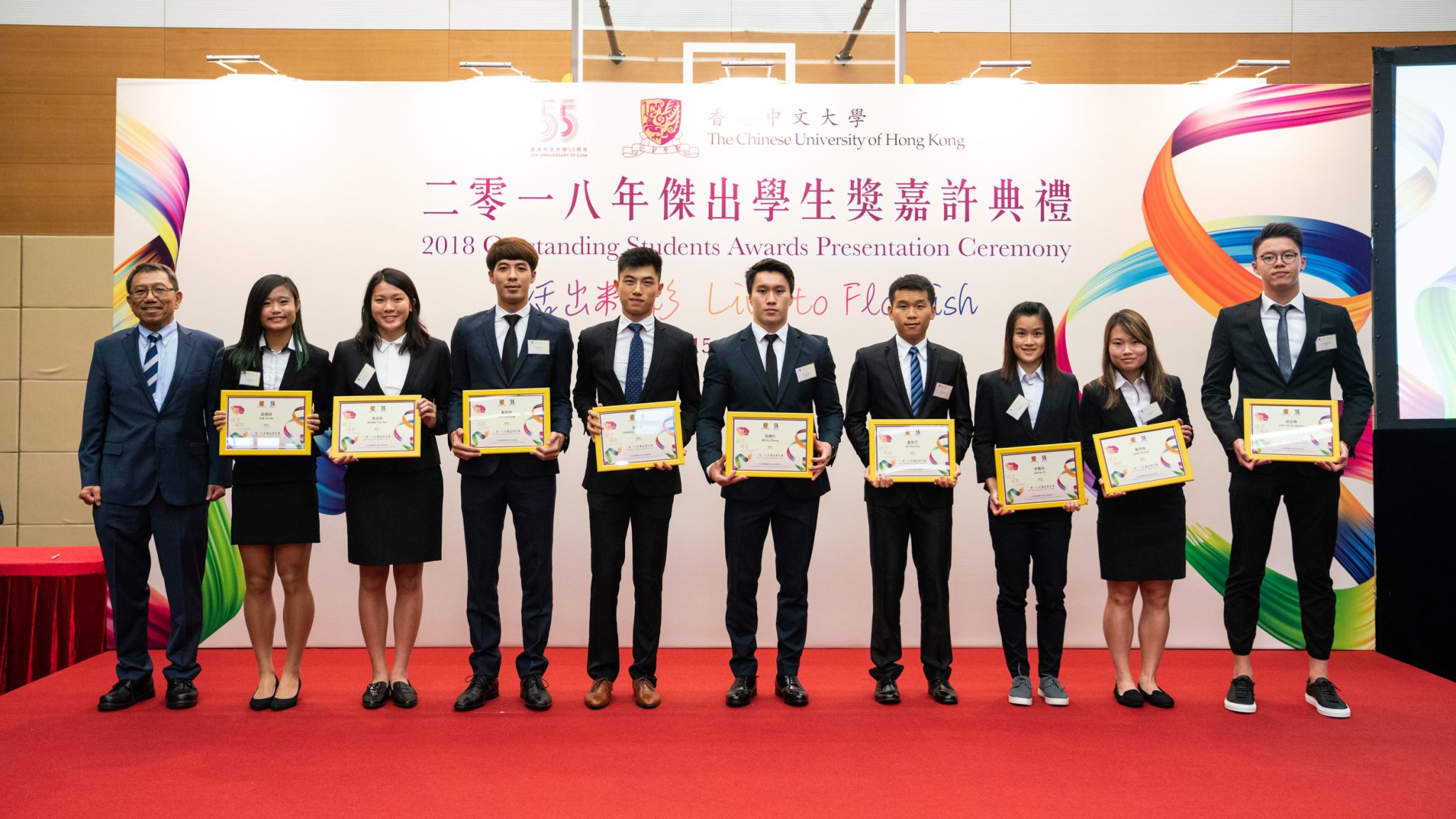 Nicholas (5th from left) was presented with a certificate on stage at 2018 Outstanding Students Awards Presentation Ceremony.
A bubbly and enthusiastic person, it is little wonder that marketing and international management are of particular interest to Nicholas. He has already worked as a summer intern in Baidu, conducting search volume data analytics for provincial markets in mainland China and designed search engine keyword packages for Search Engine Marketing (SEM) advertising campaigns. Doesn't sound like something an athlete would do, does it?
Aside from technicalities, Nicholas also has an entrepreneurial streak. A wonderful memory for Nicholas was his participation in start-up competition "JUMPSTARTER IdeaPOP 2018" which aims to nurture a pool of business elite with an entrepreneurial mindset.
Nicholas and his team of CUHK classmates pitched a solution to check the legitimacy of sneakers being resold on the C2C market. With sneaker values reaching up to thousands of US dollars per pair, and resell a common activity in mainland China, the team proposed a platform for trading and verification, with Nicholas calling it "an experiential learning journey I will remember for life."
"No one will tell you what to do to get better and how to improve. You have to be self-motivated and put in your hard work. No one can stop you from improving." —— Nicholas Poon
Sports Offers the Skills Needed to Succeed
Nicholas was honoured with an Outstanding Student Award 2018 from CUHK in recognition of outstanding achievement in sports. Nominated by an instructor in the Physical Education unit and Chung Chi College at CUHK, he calls the award "an honour and accomplishment, especially as I was with several Olympians, who are always a motivation for me to achieve more."
In both sports and academia, determination, discipline and resilience are some of the key attributes of success. Whether it is rugby or running the 100 and 200 metres in athletics, Nicholas has harnessed the trials of life and turned them into the pursuit of excellence. Rugby training started at the age of six after his father enrolled him in DeA Tigers Rugby Football Club (now USRC Tigers Rugby Football Club), while he began to get into sprinting in Form Four when his school was looking to recruit a sprinter.
Success soon followed for Nicholas, who made the Hong Kong athletics team in 2014, competing at the Asian Junior Athletics Championships 2018. But the CUHK Business School student was almost spoiled for choice when he was also invited by a coach to join the U19 Hong Kong Rugby Union Podium Programme, serving as a development player for the Hong Kong Men's Rugby Sevens Team.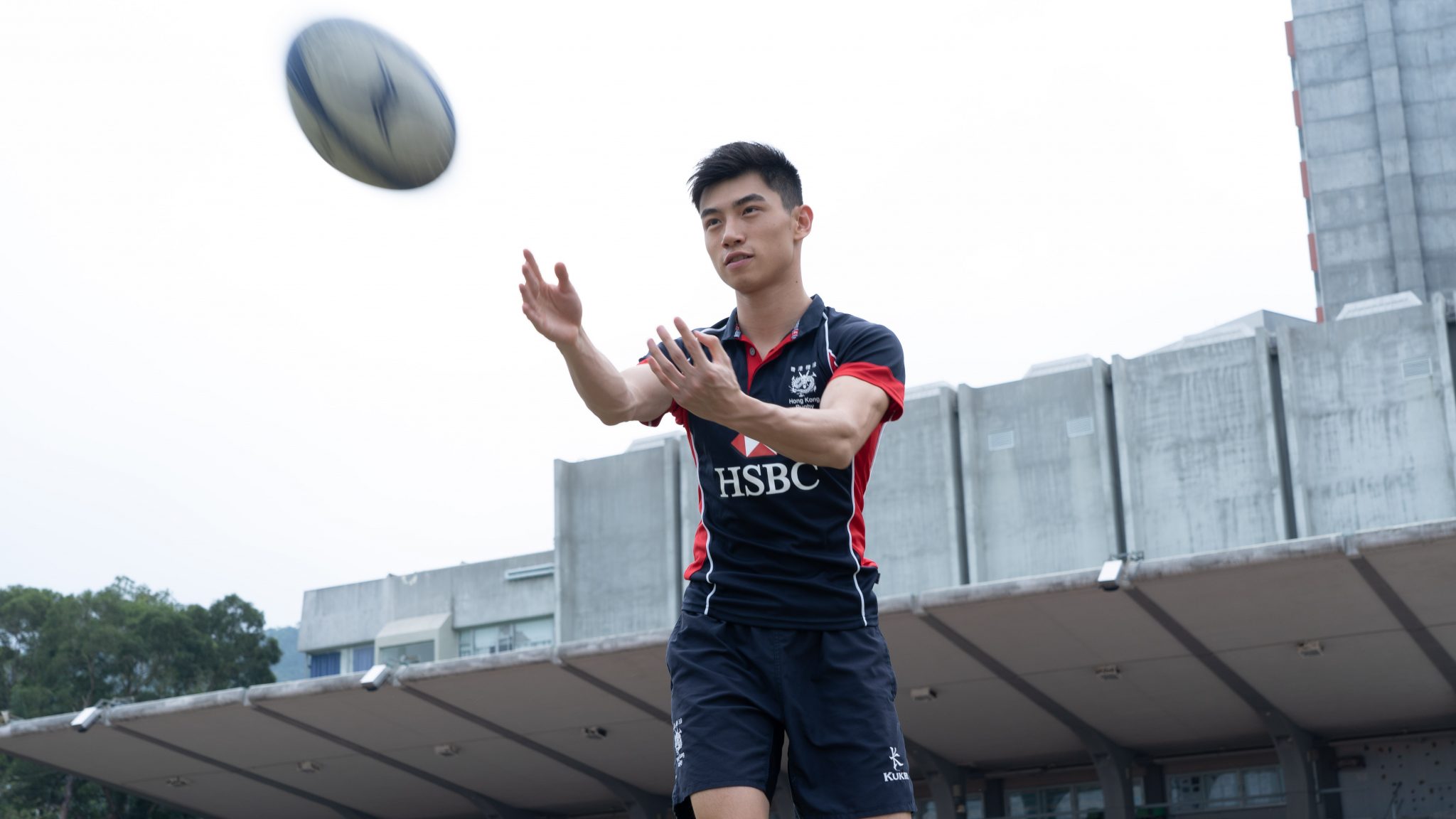 With training taking up to 20 hours per week, how does he balance the time? "You have to study and plan in advance, talk to professors and see if things clash and arrange appropriately." This also applies to examinations, which sometimes need to be rescheduled and taken earlier if there is an upcoming competition. "It is challenging because I still need to train when I am tired, but I always push myself," he says. The process can be exhausting, yet Nicholas has learnt from rugby in particular to "get back up – you will hit the ground, but always tackle your opponent and do your best to get the win."
Injuries can also leave doubt, particularly in athletics, which he has described as a "rollercoaster". Nicholas references several hamstring injuries (common among sprinters), which left him "not able to walk or jog and it was a harsh impact." Instead of giving up, the experience allowed him to learn and understand "how to be resilient and bounce back up from injuries and have the strong mindset to continue."
After winning the Outstanding Student Award 2018 from CUHK, Nicholas started to adopt: "there are no traffic jams along the extra mile" as a motto for his life. "No one is here to tell you what to do, everyone works hard in life and it just depends on who is putting in more. This motto is driving me to be a better athlete and student."
"Get back up – you will hit the ground, but always tackle your opponent and do your best to get the win." —— Nicholas Poon
Don't Stop Believing in Yourself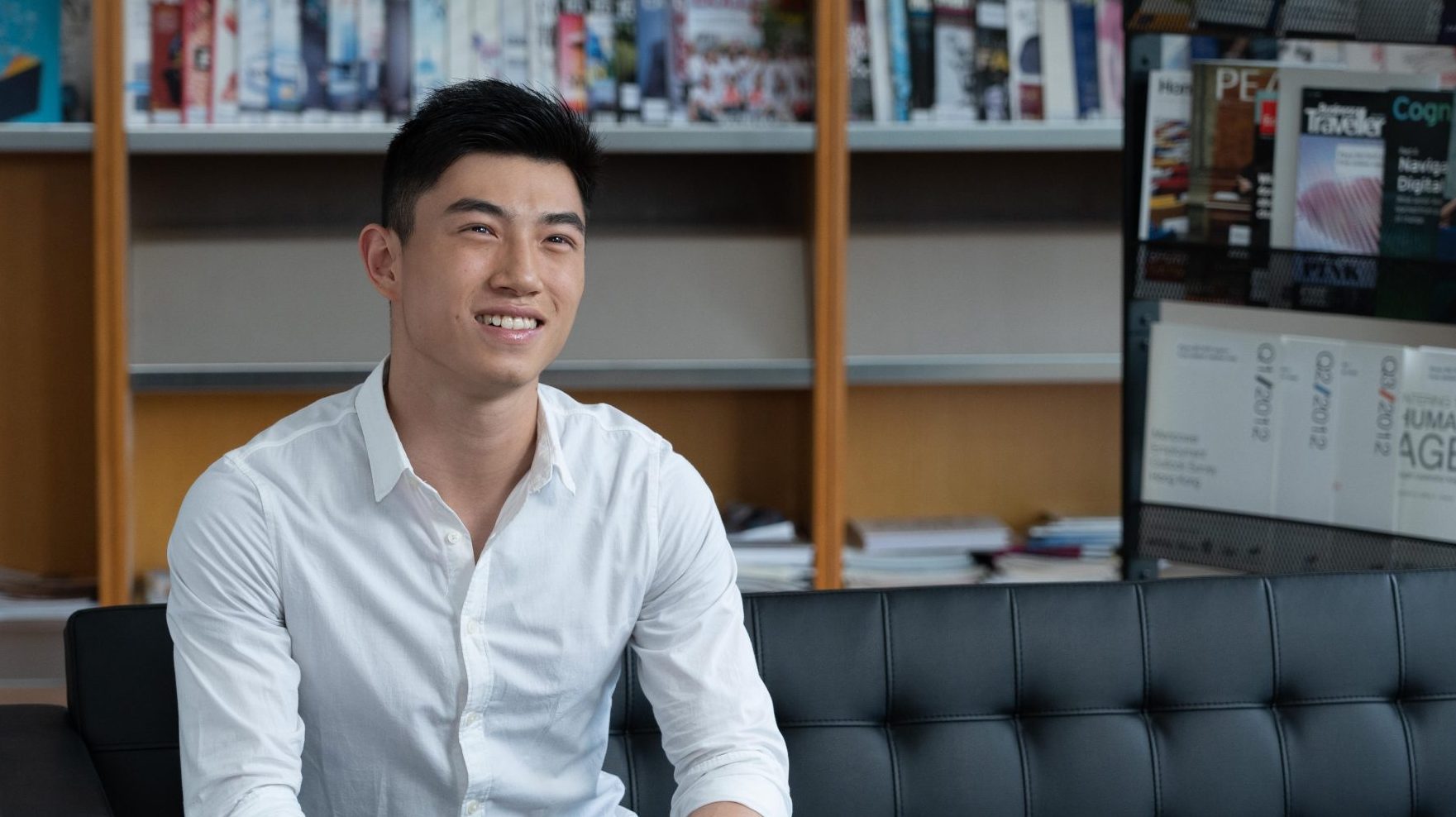 Being a multi-talented individual means business is entirely suited to Nicholas. "There are no boundaries, and I like to explore and I enjoy adventures. Business is after all a subject that you can keep learning for life because the business world is constantly evolving." The athlete and student is ever seeking for more, and on this journey he has been inspired by many, most notably the US Rugby Sevens speedster Carlin Isles.
Isles is notable for growing up in adversity as a foster child struggling to get enough to eat, resorting even to dog food to survive. He grew up to become a superstar in both sprinting and rugby, establishing himself as an all-time US Rugby Sevens legend. In an interview with The New York Times, Isles asked: "Who puts limits on themselves?"
It is something that Nicholas takes with him every day on the field and in the classroom. "Carlin Isles inspired me to always be a better version of myself." Always in the limelight, it is easy for people to forget that Nicholas is a community man at heart: "I care about my friends a lot, I'm grateful for their support especially during my injuries when I was down."
Inspiring to greatness, but keeping a humble heart and focused mind, Nicholas surely has what it takes on the fast track to success.