Opportunities only come to those who are prepared.
Clearence Cheung (BBA in Integrated BBA 2013) has expressed a keen interest in video games from a young age. He joined Google after finishing university and worked in advertising and YouTube content management. A few years later, he left the tech giant to start a digital marketing company with a partner. He subsequently ventured into the eSports business and established an all-women professional eSports team. It did not take long for the team to be acquired by Emperor Esports Stars, and he was recruited as the company's Head of Business. Clearence attributes his passion and career success to his strong foundations, which help him seize opportunities that knock on his door.
Undergraduate Studies as a Time to Accumulate Experience Points
A business major, Clearence has shown a great deal of business acumen since the age of ten. As a keen online gamer, he did not just play to entertain himself but made money too. By obtaining sought-after weapons and reselling them to other players he was able to earn at least a thousand dollars a month.
Clearence had a fulfilling campus life at The Chinese University of Hong Kong (CUHK). Besides learning, he completed five internships in areas including event management, digital marketing and market research, starting from Year 2. He thinks the combination of theory and practical experience gave him comprehensive understanding of the business world, and his extensive internship experience gave him an edge over his peers. One of the things that impressed Google and landed him a job there despite strong competition was his work experience.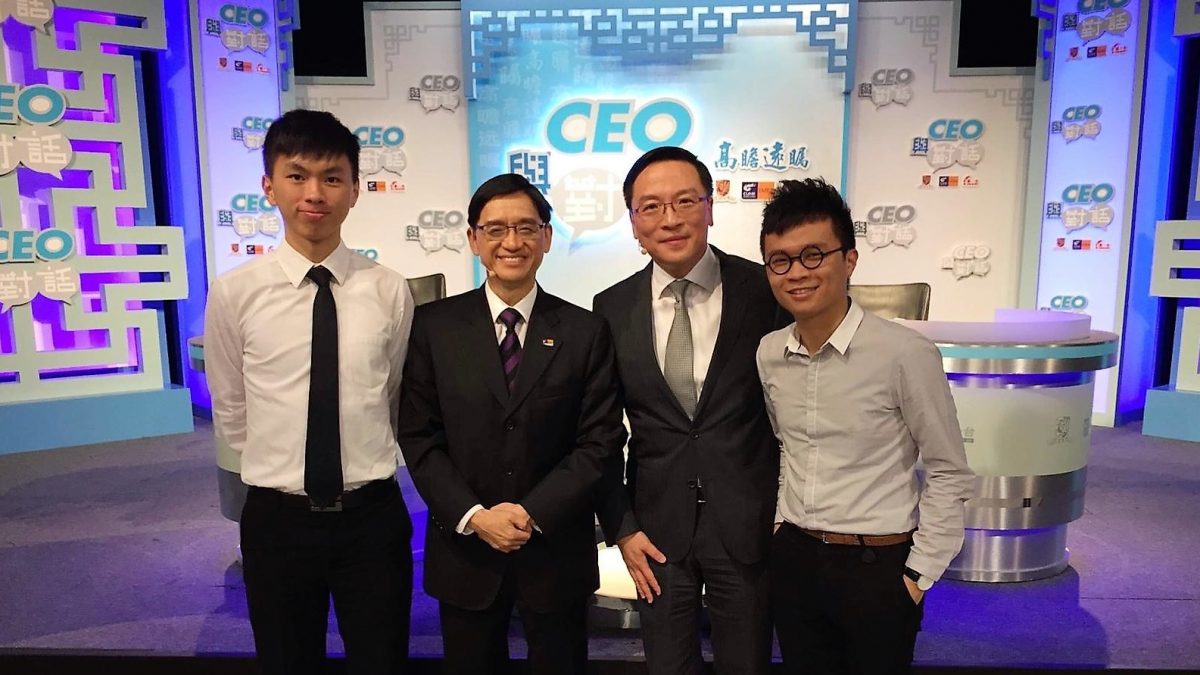 Clearence (far right) joined a mentorship programme and worked under Prof. Andrew Chan (2nd from left), Director of EMBA Programme at CUHK Business School. Clearence has met many business leaders through Prof. Chan.
"Levelling up" with Foresight and Network
Clearence led a remarkable career at Google and took on many different roles, including working with advertisers and advertising agencies. He was later appointed as the Hong Kong Partnership Manager of YouTube, responsible for the growth of YouTubers, assisting brokering partnerships between brands and YouTubers. However, he did not want to become complacent and work only one job in his entire life. As social media became more integrated into our daily lives and KOLs (key opinion leaders) played a more influential role in affecting consumers' purchasing decisions, Clearence saw a business opportunity. He left Google after four years and founded digital marketing company Jengah Limited with his partner Elton Kwan (BBA in Integrated BBA 2013), who is also a graduate from CUHK Business School.
Jengah specialised in tailor-making digital marketing strategies for clients. While Clearence leveraged his professional network to negotiate partnerships between clients and KOLs, Elton focused on video content creation. Little did they think a two-person company with an extremely low set-up cost could manage to pull in HK$3 million revenue in the first few months. They even won the champion in the startup team category at the Hong Kong selection round of the 2017 Qianhai Shenzhen-Hong Kong-Macao Youth Innovation and Entrepreneurship Competition.
Clearence (right) partnered his university classmate Elton to establish digital marketing company Jengah. They won the champion in the Start-up Team Category in the Hong Kong selection round of the 2017 Qianhai Shenzhen-Hong Kong-Macao Youth Innovation and Entrepreneurship Competition.
The Ultimate Key to Success: Keep the Fire Going
An idea struck Clearence one day: Rather than making deals for other KOLs, why not mentor his own? Because of his passion for video gaming, he was very up-to-date with eSports trends. He noticed the lack of major eSports KOLs at that time, so he put together an all-women professional eSports team, Stinga. In less than two months, Stinga was acquired by Emperor Esports Stars, and Clearence joined the company as Head of Business.
Like physical sports such as football and basketball, eSports is not held back by language barriers. It has quickly become one of the most watched forms of sports globally. Reports indicate that the global viewership of online game League of Legends has surpassed that of the NBA. Besides revenue from ticketing and broadcast rights, eSports also simulates growth in other components along the industry chain such as gaming devices and tourism and contributes to massive economic yield. The global revenue of eSports was estimated at US$700 million last year, and it is expected to grow exponentially.
Besides expanding eSports business within his company through advertising and sponsorship, media promotion, partnership with brands, Clearence also offers the government insights into local eSports development and manages an eSports diploma programme co-organised by Emperor Esports Stars and academic partners. The programme covers topics such as business ecosystem, financing strategies, team management, and game commentary, and Clearence also gives lectures on event management. The programme was full as soon as enrolment began.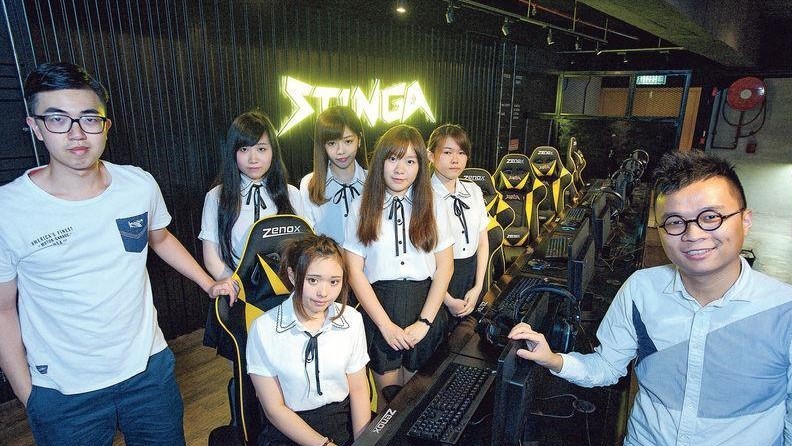 Clearence's (far right) digital marketing company Jengah founded an all-women professional eSports team Stinga
Final Boss: Hongkongers' Misconception of eSports
The future of the eSports industry in Hong Kong is full of challenges. "Take a look at eSports overseas. In mainland China, it's backed by video gaming giants like Tencent; in Taiwan, it's supported by the semiconductor industry; In Korea and even the US and Europe, they're championed by their governments. Development in Hong Kong is lagging behind because it doesn't enjoy any of these advantages. We don't even have an eSports venue." Clearence thinks the misconception about eSports is the biggest of all the obstacles. "eSports is such a massive global industry, but people think eSports is merely video games. An average video gamer isn't on a par with an eSports player. The latter spends up to 16 hours a day training. It requires every ounce of perseverance. I hope to play a part in helping eSports gain the recognition it deserves from Hongkongers one day."
Although the market is small, our homegrown players have been thriving in this niche environment. "They're remarkably quick on their feet and resilient. In the 2018 Asian Games that has just wrapped up, Hong Kong qualified for four of the six events and even proved our worth by winning a gold medal in the Hearthstone tournament!"
Clearence has a piece of advice to those who want to enter the eSports business: First, they must perform well academically instead of using it as an excuse to skip school. Second, they need to know whether they have the passion it takes to be an eSports player or if they are just an avid gamer. "Only those with passion can devote this much energy to a cause, like me and my colleagues."
If one can apply this much passion for video games, how hard would it be to win in the game of life?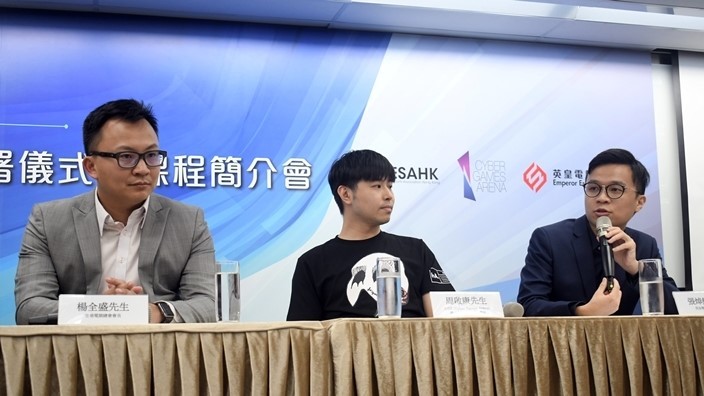 Clearence (right), Head of Business for Emperor eSports Star, with Mr. Ryan Chow (centre), Founder and CEO of the Cyber Games Arena, and Mr. Eric Yeung (left), President of the E-sports Association Hong Kong, launch the first eSports diploma programme accredited by the government.
This article first appeared in CUHK Business School Alumni Portal, republished with permission from Alumni and Corporate Affairs Office, CUHK Business School