Governments and politics affect the economic developments of countries and companies should be open to policy changes and seize the opportunities brought by them.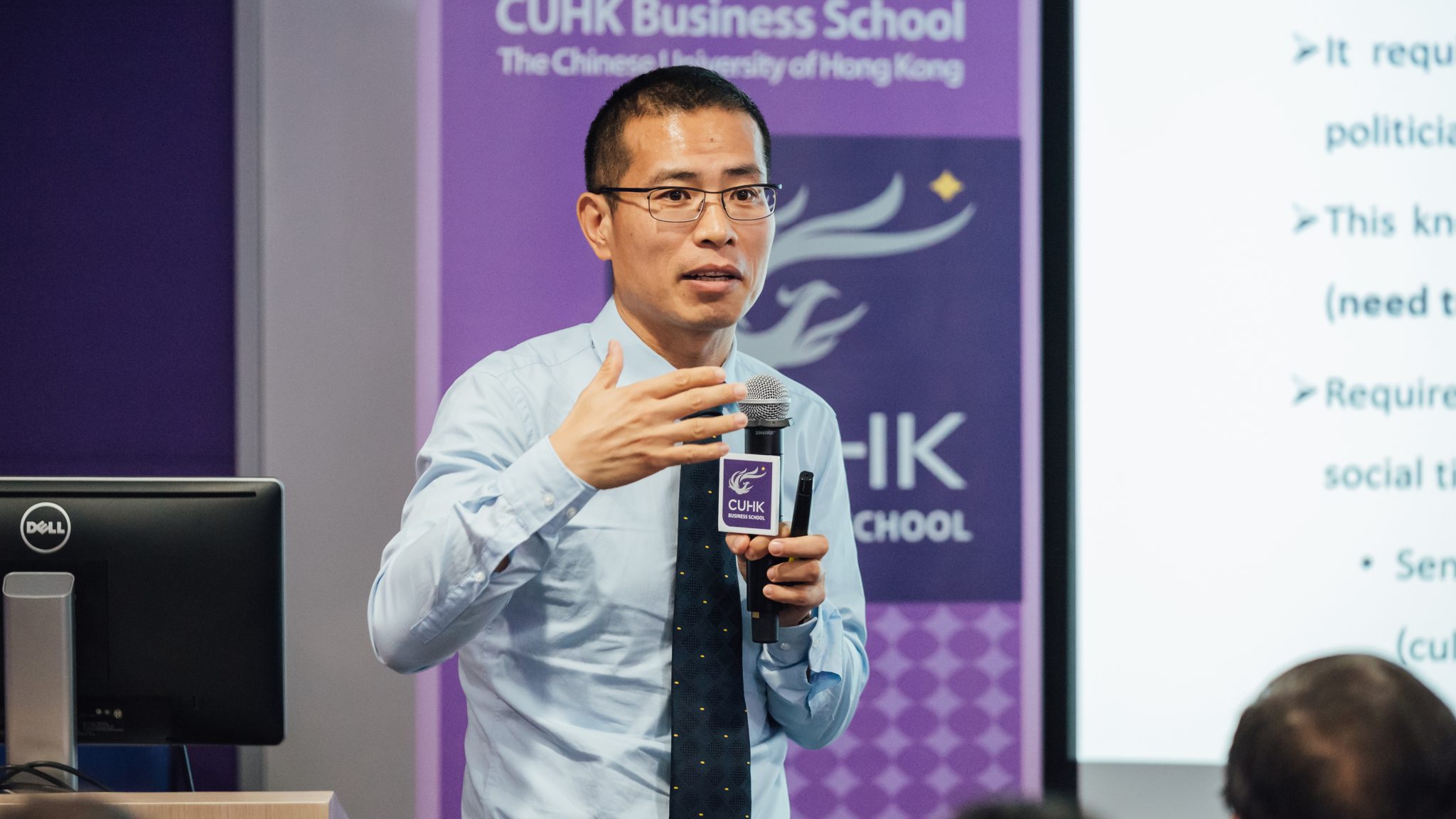 "Institutions of a country, whether explicit or implicit, matter for its economic development. However, how the institutions shape the behavior of market participants are hard to be tracked," explains Tianyu Zhang, Professor of School of Accountancy and Director of Centre for Institutions and Governance at The Chinese University of Hong Kong (CUHK) Business School.
For the purpose of his research entitled "Does Institutional Knowledge Drive the Information Wedge in Emerging Markets? Evidence from Analysts of Local and Foreign Brokerage Firms in China," Prof. Zhang and his collaborators have developed a mega political data platform by collecting a huge amount of data from the Chinese media and social network, as well as close to 200,000 analyst reports and annual reports from Chinese firms. This allows his research to understand the role of institutional knowledge in enhancing the information advantage of local financial analysts in China.
Institutions are important to a country's development. A lot of people in China know this: To succeed in China, entrepreneurs need to understand and cooperate with politics. — Prof. Tianyu Zhang
Using an advanced computer programme, the data is generated and categorised into two broad topics: political (e.g. government's economic planning) and financial (e.g. profit and loss).
Through running textual analysis on this data, he then compares the performances between foreign firms and local firms in China and found that local analysts have better understanding of the political landscape over foreign firms, and this information advantage have allowed them to perform better in market forecasts.
"These local analysts put more effort in covering the firms from a political perspective are shown to exhibit significantly higher forecast accuracy over the earnings of their target firms," he says, commenting that this kind of political information is very unique and costly to acquire.
"How well do you know the politicians? How do you interpret their behaviour? This knowledge is more likely to be obtained through private networks and based on real connections – you need to know someone and also who has influence in which policy," he adds.
Cultural and communication barriers also make it harder for foreign analysts to gain the same level of trust, and that's why Prof. Zhang believes that "politicians have more trust in local analysts than in foreign analysts."
His textual analysis enables him to further gain insights into the "political communities" or "factions" with which firms are affiliated, and reveal evidence showing how coordination or competition among politicians under the Chinese political hierarchy has spilled over to the affiliated firms.
CUHK Business School alumnus Mr. Albert Ng, Chairman, China and Managing Partner, Greater China of EY, holds a similar view that the role of government and its policies are crucial to businesses in any economy, not just in China. "When talking about China, some people still have certain stereotypes: China is mysterious and there'd be a higher chance of corruption and irregularities [as compared to other countries], but what I'd like to emphasis is that government policies are important for companies doing business in any country, and in particular, in China," Mr. Ng stressed.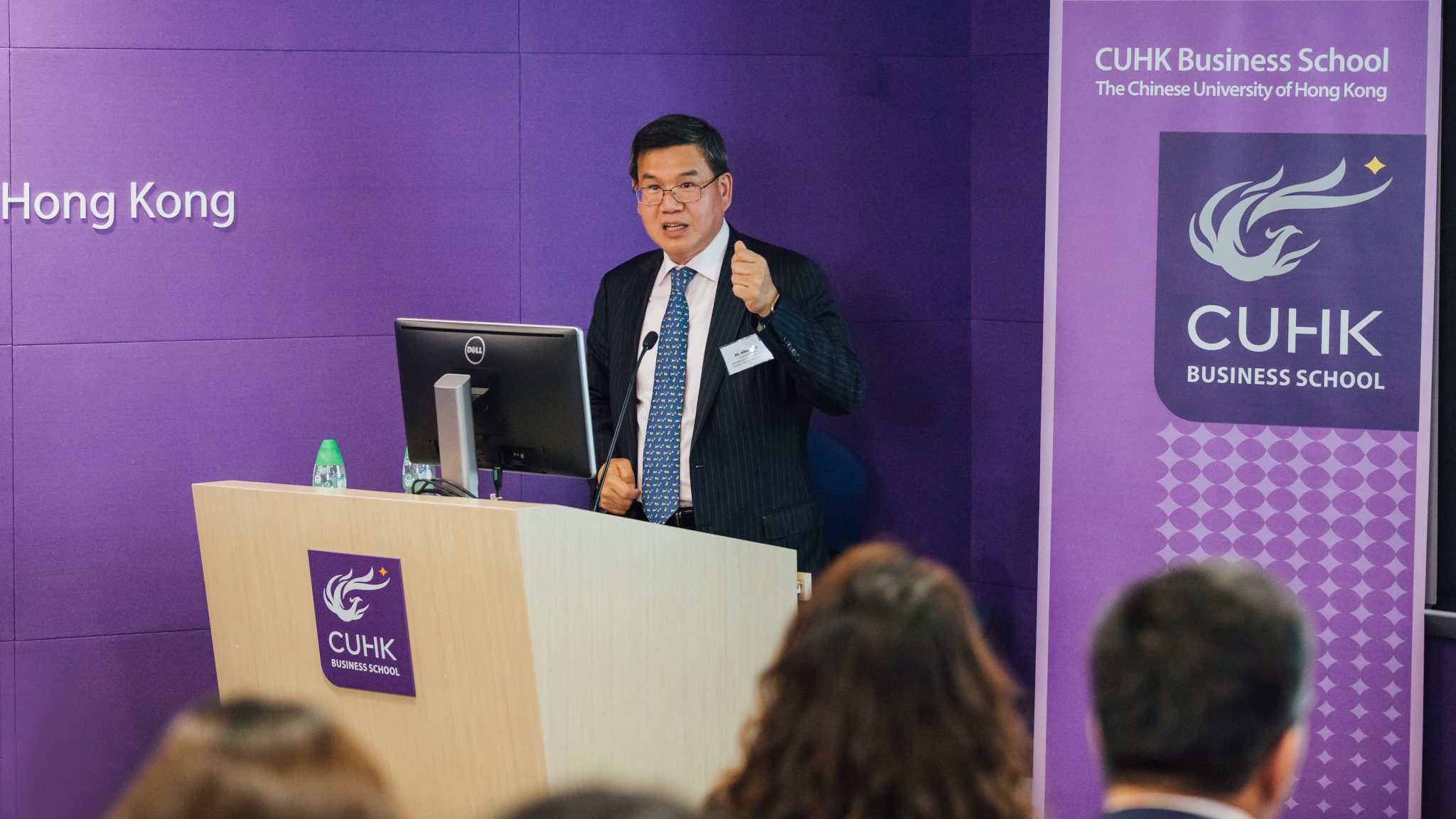 For example, the fast and successful developments of Shenzhen and Pudong of Shanghai are outcomes of the far-sighted government policies. Mr. Ng further points out the importance of keeping abreast of policy changes. Companies have to be aware of the changes, so that they can plan for their businesses in the years to come.
In terms of some important changes in China's economic strategies, Mr. Ng shared that the country's growth model has shifted from focusing on speed in the past to focusing on sustainability and quality. What's more, China eased restrictions and simplified procedures for foreign investments and outbound investments have also entered an adjustment period.
In light of this, Mr. Ng suggested that companies should adapt to policy changes and seize new opportunities brought by these changes.
To manage the impact of the ever-changing political and policy changes, we should always keep an open, and rational mind, and maintain a friendly and long-term relationship with the government. — Mr. Albert Ng
For Hong Kong, he emphasised on the current significant government's initiatives such as the Belt and Road initiative and the Greater Bay Area development, and suggested companies should look into ways to collaborate and create synergy within the region.
The is a post-event report of the fifth talk of China Business Knowledge @ CUHK Luncheon Series held on 19 April 2018 by CUHK Business School. Themed "Understanding China's Institutions and the Role of Government in the Business World," Prof. Tianyu Zhang shared with the audience his recent research on the role of institutional knowledge in enhancing the information advantage of local financial analysts in China.
To find out more about Prof. Zhang's research, please click here to read the feature article "Local Knowledge Pays Off for Analysts in China" published on China Business Knowledge.