PACC Students Claim Victory at Guangdong-Hong Kong-Macao Universities Accounting Business Knowledge Contest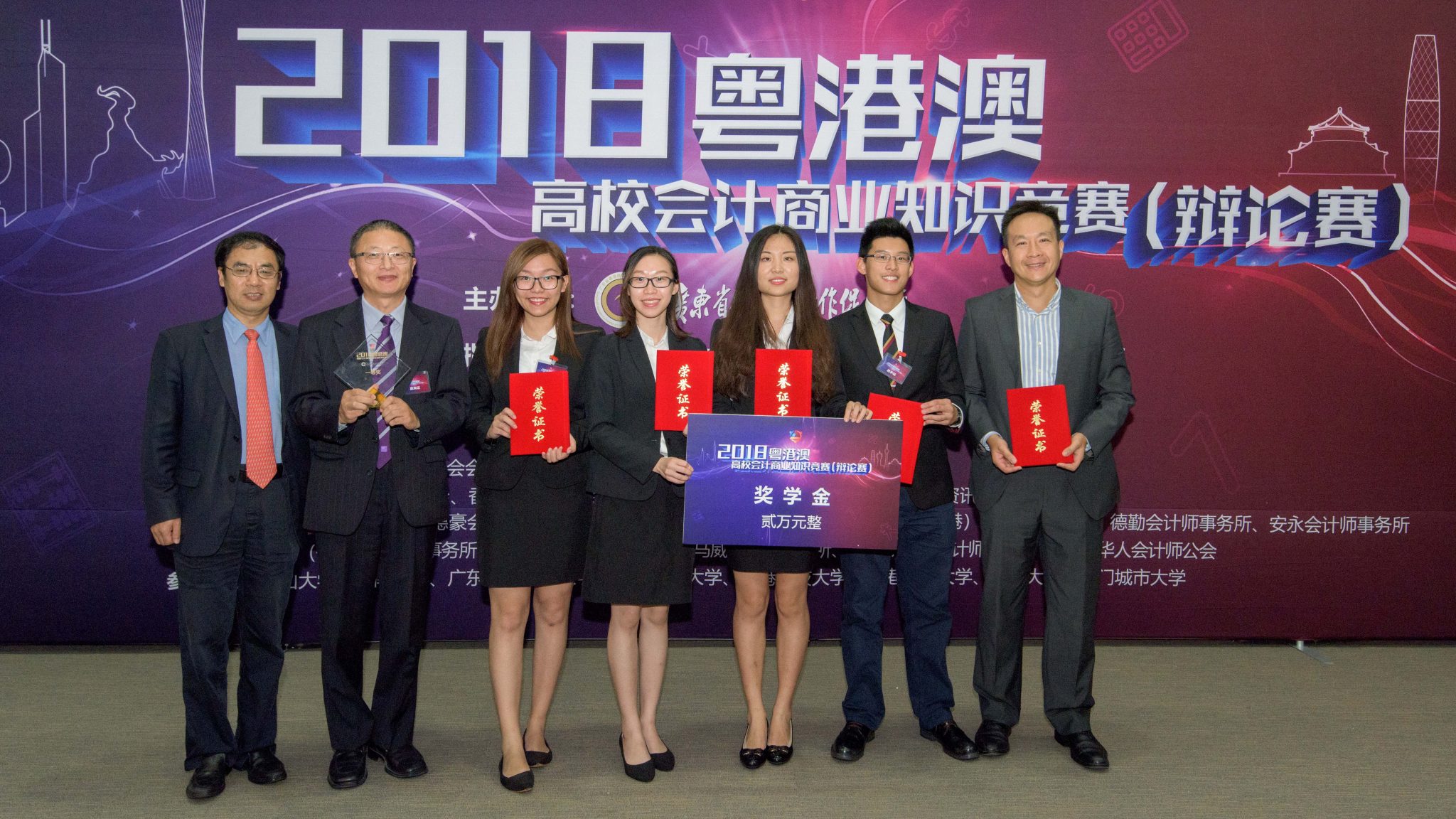 A team of four CUHK Business School Professional Accountancy students took home the championship at the Guangdong-Hong Kong-Macao Universities Accounting Business Knowledge Contest held on 27 September 2018 in CUHK. The contest brought together over 200 students, professionals from the accounting, technology, corporate and academic fields in the three regions.
In its second year, the competition attracted eight teams from universities in Guangdong, Macau and Hong Kong. They went through a preliminary round in the morning before entering the semi-finals and final round in the afternoon. The teams debated on accounting and business topics such as tax incentives, enterprise innovation, research and development, artificial intelligence and talent admission, exchanging thoughts on the professional services developed around the Belt and Road and Greater Bay Area initiatives. The judging panel of seasoned professionals assessed the teams on a series of criteria including clarity, strength and logic of arguments, as well as the thoroughness of their analyses.
After three rounds of competition, the team from CUHK Business School outperformed other teams to take home the championship title. The team was formed by four Professional Accountancy students, namely Fan Bailan (Year 2), Chan Lap-wun (Year 2), So Man-men (Global Accounting [GA] stream, Year 3), and Kwok Sze-nga (GA stream, Year 3). Prof. Gu Zhaoyang, Director of School of Accountancy, and Dr. Edmund Wong, PACC Programme Director also attended the contest to support the students.
The Guangdong-Hong Kong-Macao Universities Accounting Business Knowledge Contest is directed by the Liaison Office of the Central People's Government in HKSAR and Hong Kong and Macao Affairs Office, The People's Government of Guangdong Province, and organised by the Council for the Promotion of Guangdong-Hongkong-Macao Cooperation. It aims to help students learn more about the economy, business environment as well as the law and governance in China, Macau and Hong Kong. By bringing together students from the three regions, the contest gives participants the opportunity to share experiences with people from different backgrounds and cultures.