On 4 October 2019, distinguished alumnus Prof. Norman Chan (BSSc in Sociology, 1976), former Chief Executive of the Hong Kong Monetary Authority (HKMA) and the newly appointed Honorary Professor of The Chinese University of Hong Kong (CUHK) Business School, was invited to share his insight with fellow undergraduate students, alumni and faculty at CUHK Business School's Business Lecture Series (IBBA 3040). The lecture was part of The Distinguished Alumni-in-Residence Programme (DARP) organised by the University and attracted a full house of over 200 participants.
In his welcome remarks, Prof. Kalok Chan, Dean of CUHK Business School and Wei Lun Professor of Finance, said, "It's our pleasure to have Norman back on campus and host this thought-provoking business lecture. The Business School has incorporated this lecture as part of its Integrated BBA (IBBA) programme for our undergraduate students. Through in-person sharing, I believe it is a great opportunity for our students to interact and gain inspiration from notable business leaders in society."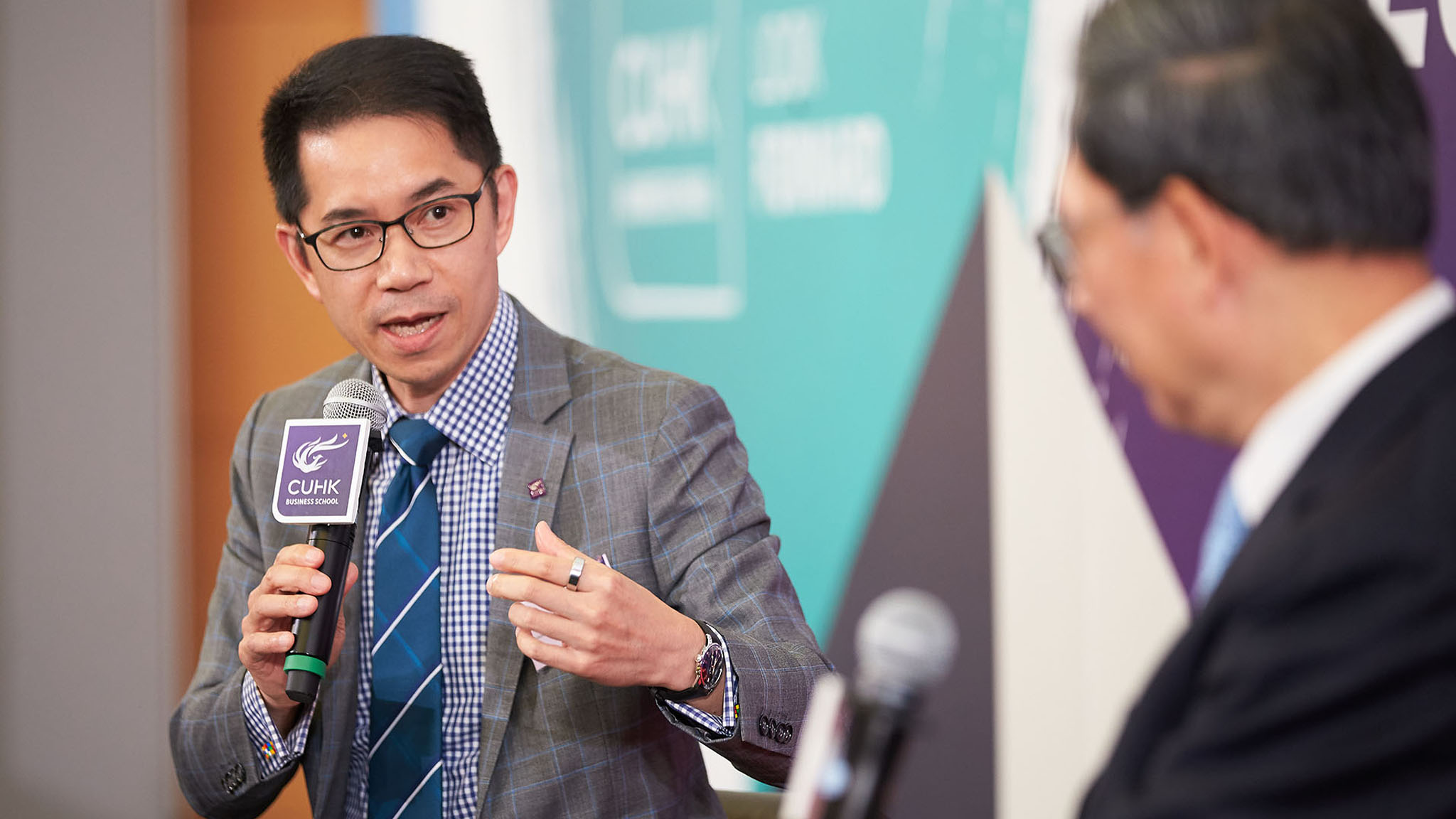 Prof. Andy Wong, Associate Dean (Undergraduate Studies) and Associate Professor of Practice in Marketing at CUHK Business School
The topic of the talk was "It Works for Me: Life Lessons from Norman Chan". The lecture was in a discussion format, moderated by Prof. Andy Wong, Associate Dean (Undergraduate Studies) and Associate Professor of Practice in Marketing at CUHK Business School. Norman shared the rich lessons he accumulated during his studies in Philosophy and Economics at CUHK. He admitted that his choice to study at CUHK was part accidental, but no doubt came to appreciate it as he acquired the critical and analytical mindset to comprehend the logic behind theories. These learnings have been useful and instrumental to his career and beyond.
Through Norman's sharing, the audience came to know more about how Norman set his success parameters in leading the HKMA to maintain Hong Kong's currency stability, promote the integrity of the financial and banking system, and strengthen the city's status as an international financial centre. Norman added that everyone should aspire to succeed according to his or her own definition. Once students set their goals and work towards accomplishing it, even the process of attaining it should be counted as a success.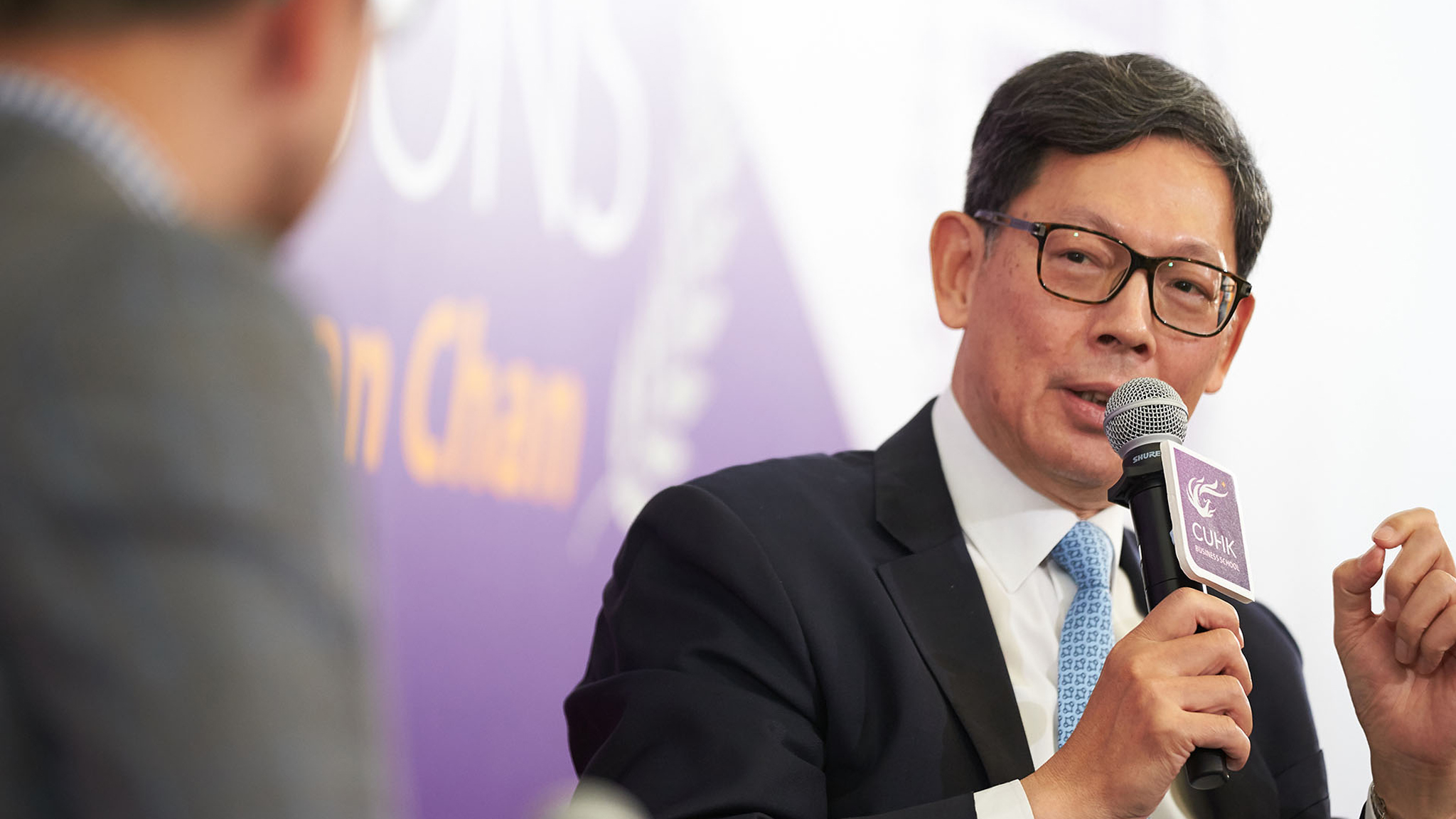 Mr. Norman Chan, former Chief Executive of HKMA and Honorary Professor of CUHK Business School
Before the discussion ended, Norman humbly told the audience that he actually had no secret recipe of success to share. The principles that had guided him well throughout his life were simply some cardinal habits. "Hold onto your principles when dealing with tough issues, appreciate lifelong learning as you ascend your career ladder, and be analytical when making decisions," Norman said.
Prof. Wong left time for questions after the open discussion with Norman, and students seized the golden opportunity. "I hope that each of you managed to pick up something from Norman's rich life lessons. These lessons work for him and might do so for you as well. As Norman mentioned, you might be up against storms and headwinds in life but always remember that preparation is the key. Opportunities will come for those who are well prepared," Prof. Andy Wong concluded.