The MiM Forum, a yearly signature event of The Chinese University of Hong Kong (CUHK) Business School's MSc in Management (MiM) programme, was held on 12 March 2021 to provide a remarkable platform for students and alumni to meet and learn from prominent industry leaders. Participating students were inspired by speakers' thought-provoking messages, particularly in this turbulent time of pandemic.
Themed "Achieving Success in Challenging Times," the Forum was attended by 95 guests. They included current MiM students, alumni and faculty members. Four business leaders were invited to share their insights, including Ms. Cally Chan, General Manager, Microsoft Hong Kong and Macau; Ms. Rosa Cheung, Head of Partnerships, Asia, The Associated Press; Mr. Gilbert Lee, Head of Strategy & Planning and Chief of Staff to Chief Executive, Hang Seng Bank; and Mr. Joe Wan, Chief Executive Officer, Tricor Hong Kong.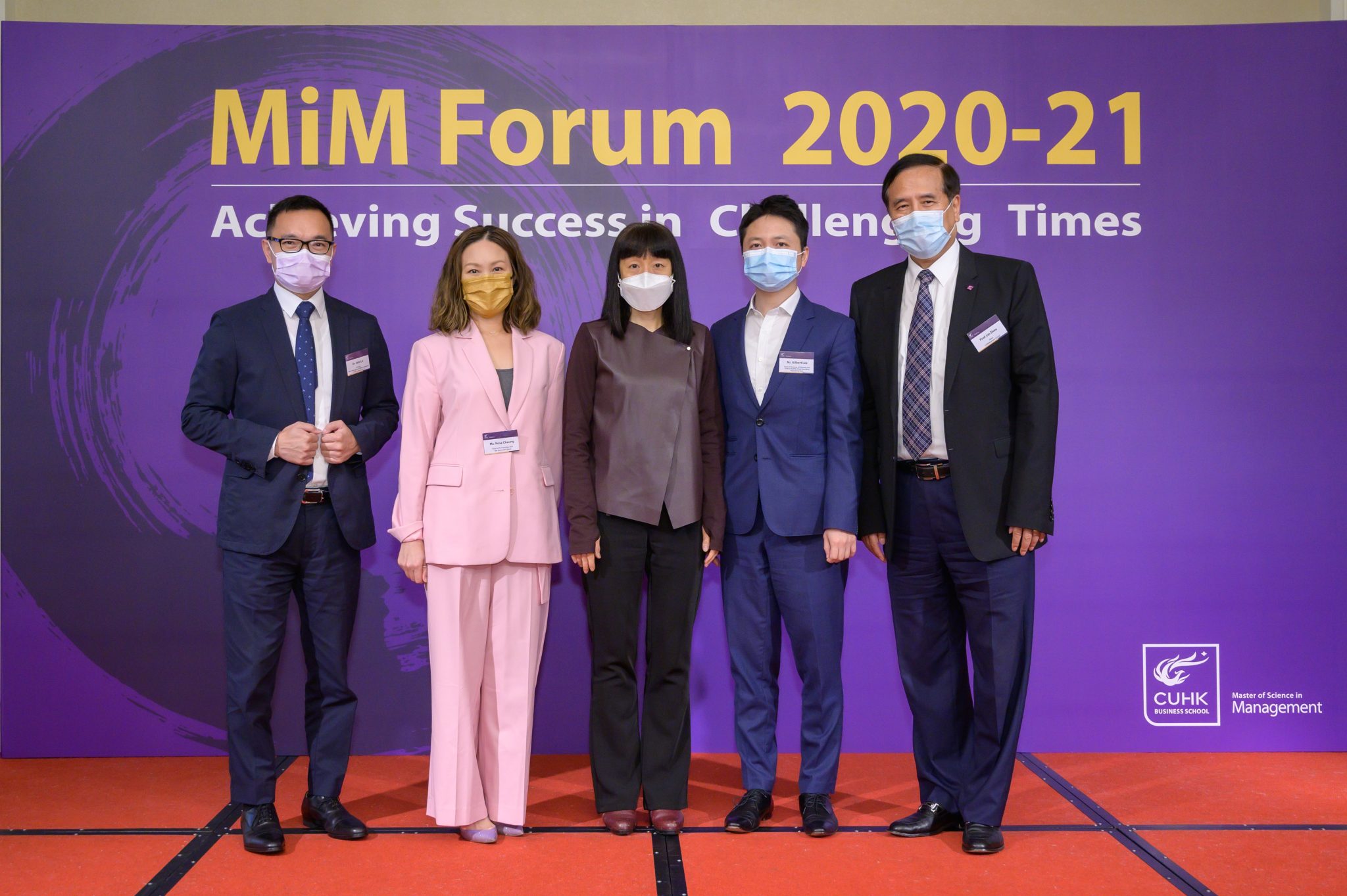 (From left to right) Dr. John Lai, Ms. Rosa Cheung, Ms. Cally Chan, Mr. Gilbert Lee and Prof. Lin Zhou
In his opening remarks, Prof. Lin Zhou, Dean of CUHK Business School and Choh-Ming Li Professor of Economics, thanked the guest speakers for their support to the School by sharing their industry expertise and wisdom with our students. He shared the Chinese poem with the students, "Only the toughest grass can stand strong winds. People of worth show their morality during hardships."(疾風知勁草,烈火見真金), indicating that masterhead in the business world like Steve Jobs is great not because he founded Apple but because he successfully overcame obstacles.
Dr. John Lai, Director of MiM Programme and Assistant Dean (Undergraduate Studies) at CUHK Business School, elaborated on the event theme in his welcome remarks. Using a quote from Charles Darwin, he iterated the importance of being adaptable to changes: "It is not the strongest of the species that survives, nor the most intelligent that survives. It is the one that is most adaptable to change."
On the topic of "Thirty Years in Tech: To New Beginnings," Cally Chan (EMBA 2007), General Manager, Microsoft Hong Kong and Macau, recounted the history of her company in innovation, and adding that "in the new normal, we need to do digital transformation that requires the right technologies and skillsets. But mindset is the most important." Cally went on to point out that "keep on learning is crucial as we all live in a dynamic environment, and no one dares to say he/she knows everything." In closing, she advised students that "you must be self-critical to keep improving and don't take everything for granted as there's no such thing as business as usual. What is successful now does not equal the future. You need to go beyond the comfort zone and learn from failure."
Mr. Gilbert Lee, Head of Strategy & Planning and Chief of Staff to Chief Executive, Hang Seng Bank, shared examples on how his bank stayed relevant to its customers' needs with the use of innovative technology, including social media marketing, data analytics and new forms of payment.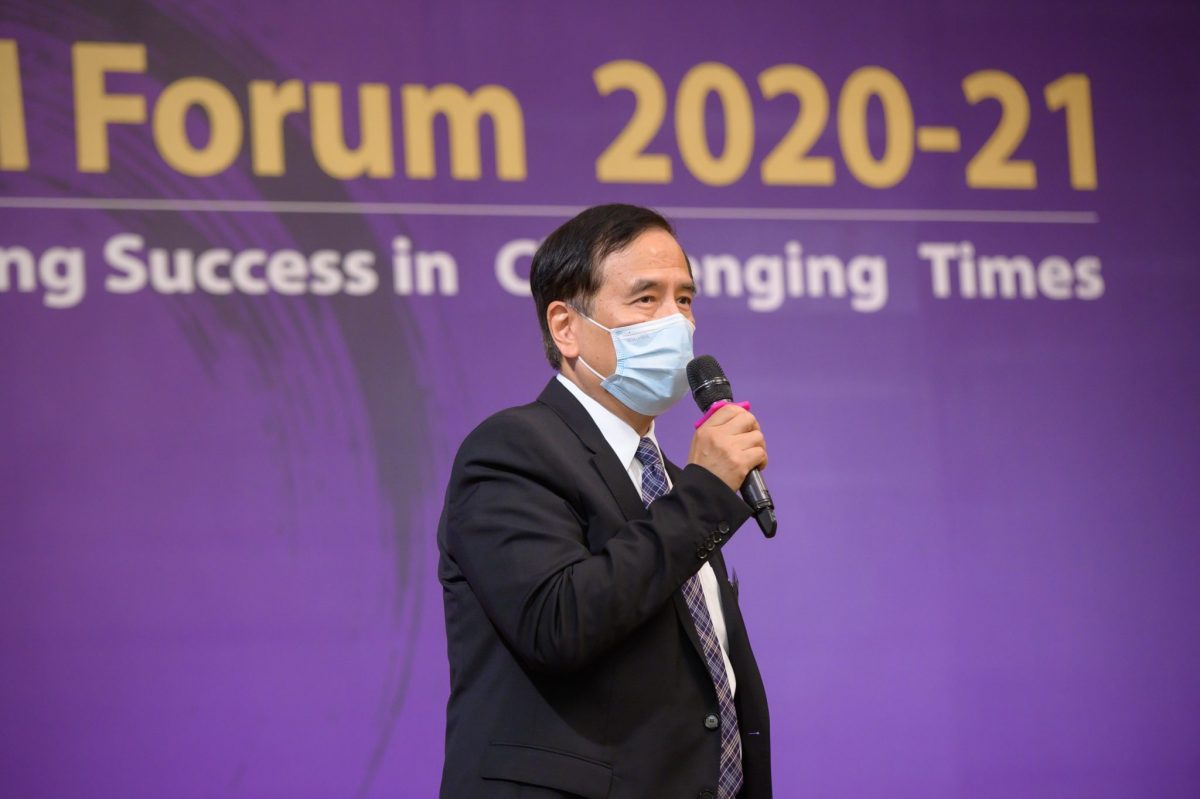 Dean Zhou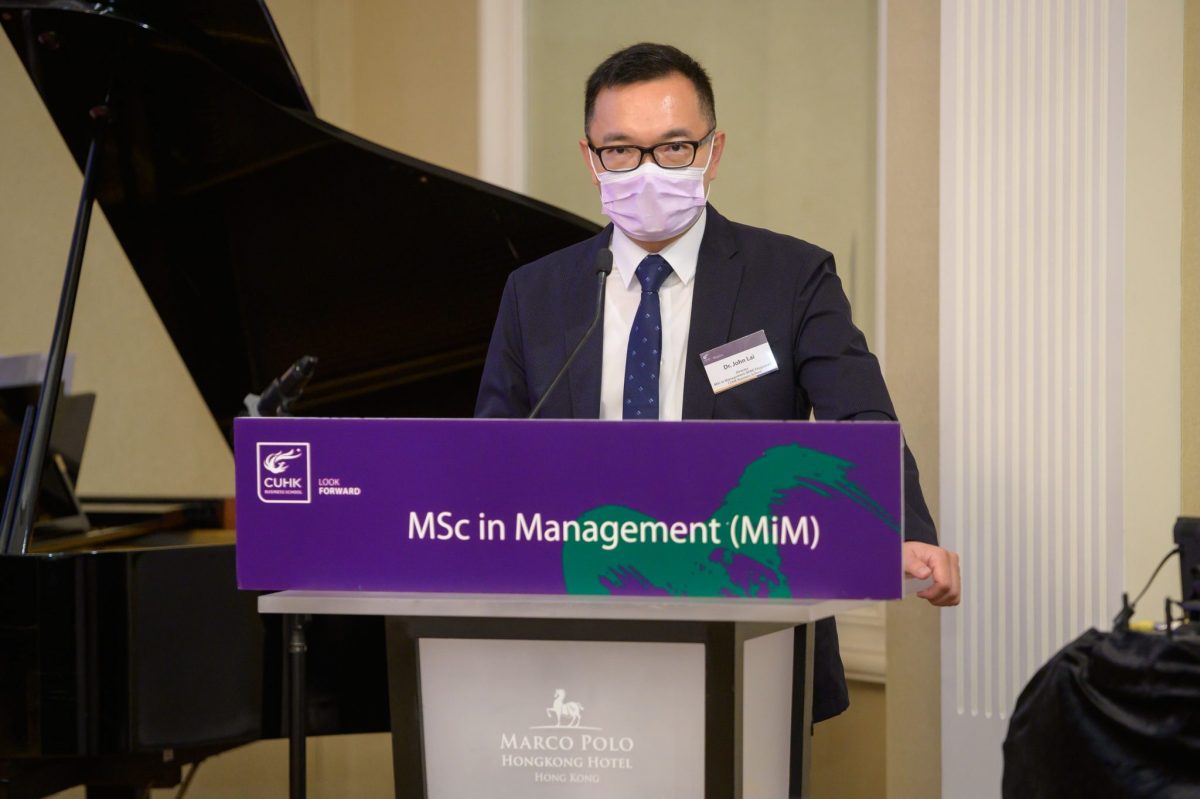 Dr. John Lai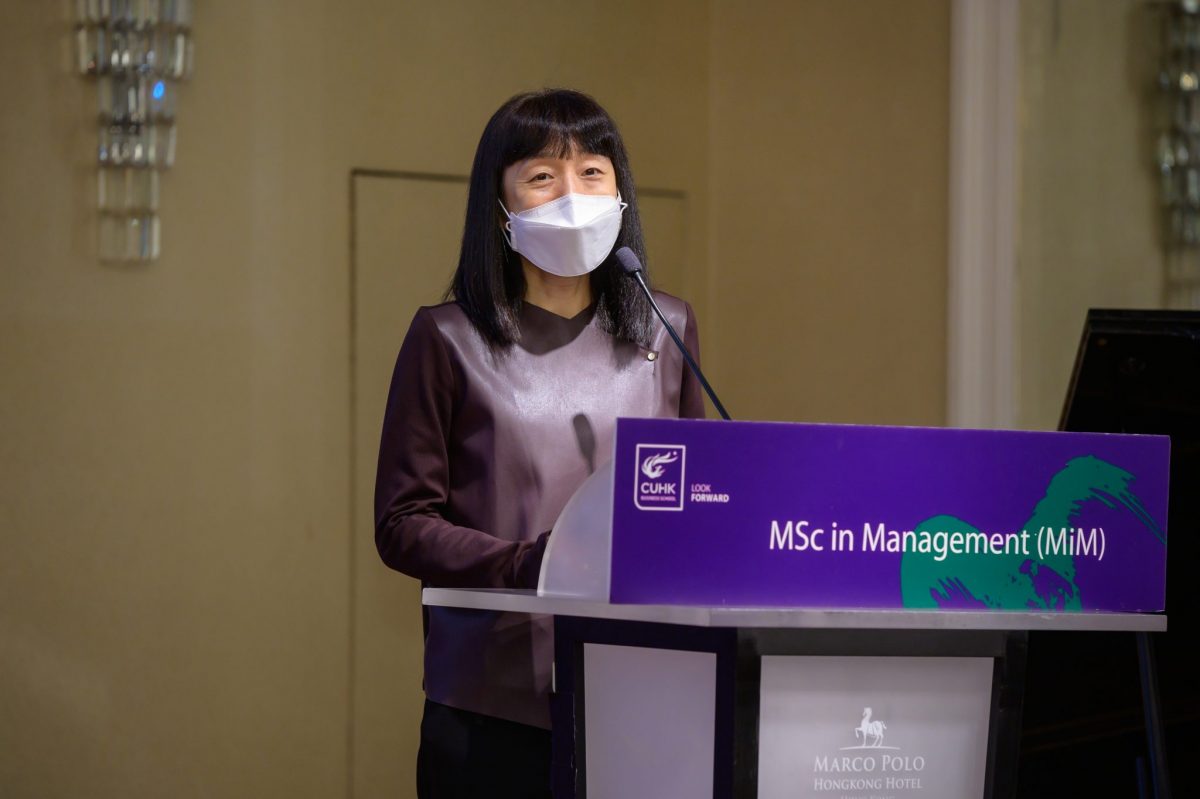 Ms. Cally Chan
Mr. Gilbert Lee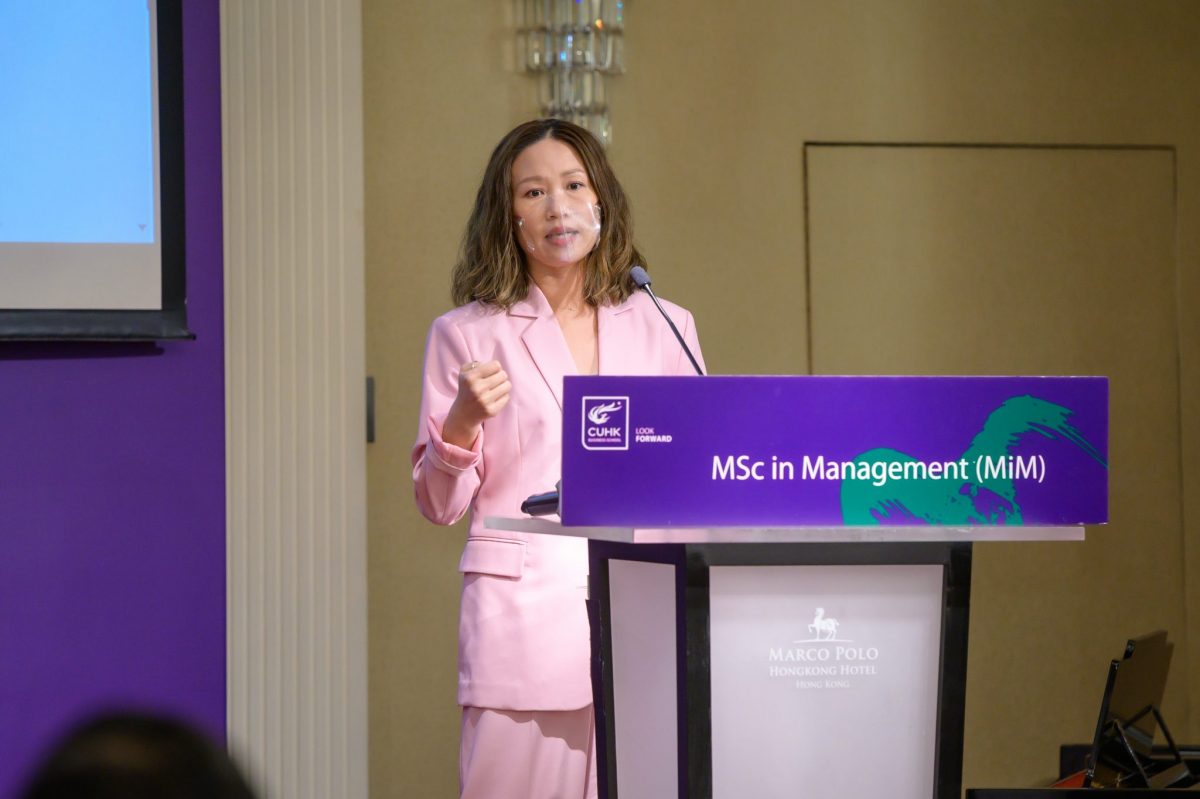 Ms. Rosa Cheung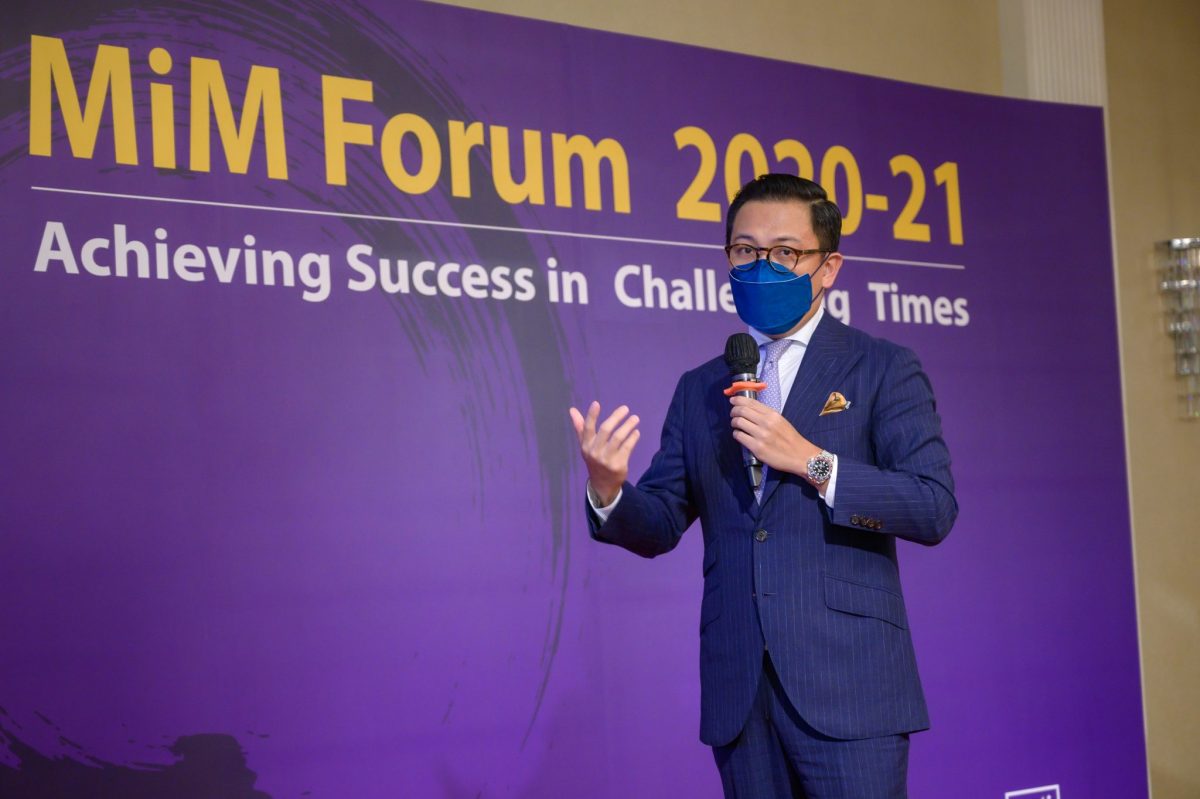 Mr. Joe Wan
Mr. Joe Wan, CEO of Tricor Hong Kong, concluded his speech by sharing a quote from Han Yu, a Chinese prose writer, poet, and government official of the Tang dynasty, "Progress in studies comes from diligence and is retarded by indolence; success comes from forethought, while thoughtlessness leads to failure."(業精於勤,荒於嬉;行成於思,毀於隨。)He encouraged the students to work hard and noted, "there's no shortcut for success, and one thing that all successful persons have in common is that they are very diligent."