Cheers All Around for Class of 2020 at CUHK's 88th Congregation for the Bachelor's and Master's Degrees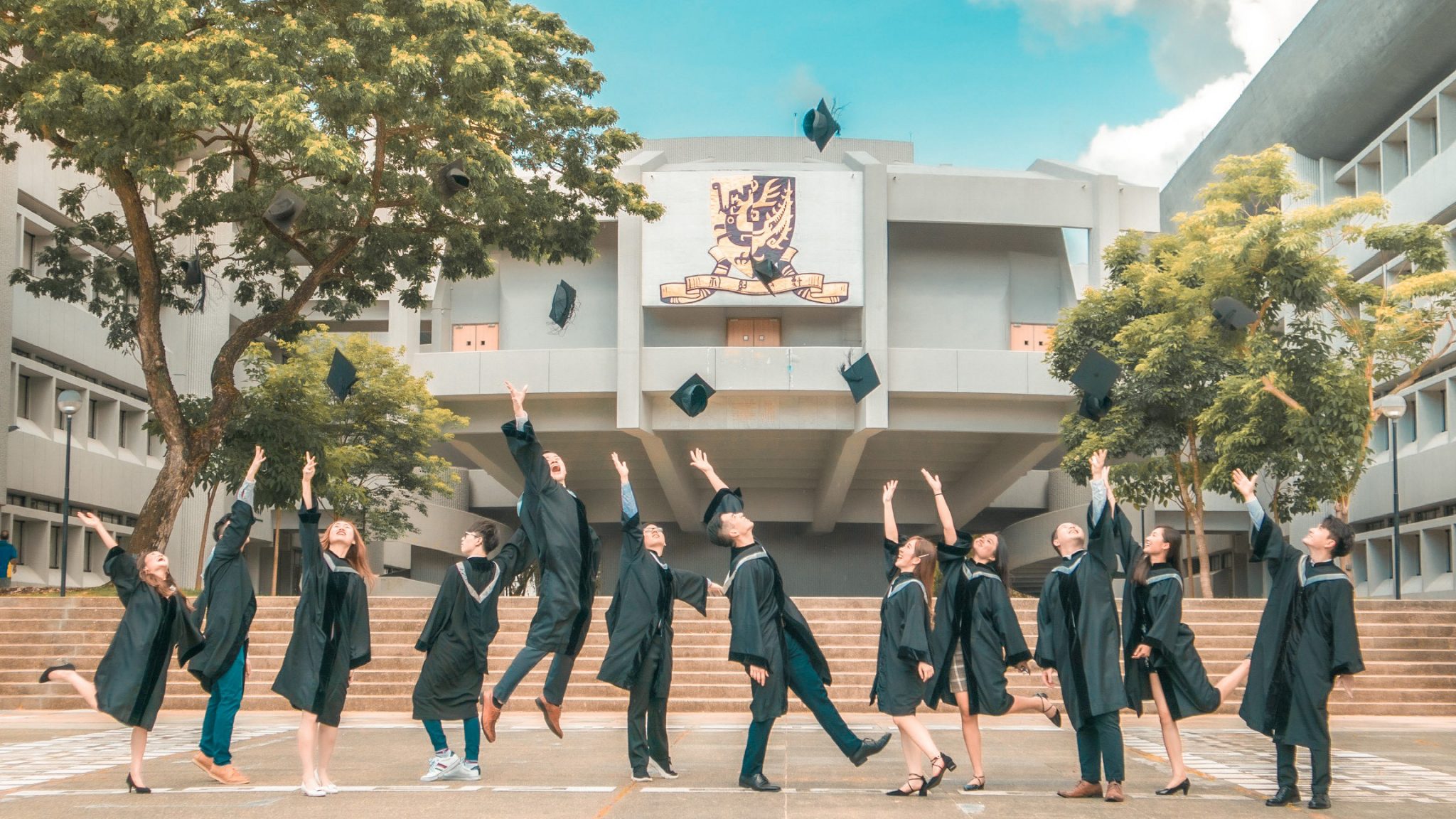 The 88th Congregation for the Conferment of Bachelor's and Master's Degrees of The Chinese University of Hong Kong (CUHK) was held online on 19-21 November. In order to protect everyone's health and safety under the global and local COVID-19 pandemic, this year the University held the graduation ceremonies via live broadcast on the scheduled dates for graduates and their families and friends.
This year's master's and bachelor's graduation ceremonies were divided into 17 sessions, hosted by colleges and faculties. The nine colleges of CUHK conferred the Bachelor's Degrees on 19 November, while CUHK Business School, along with the other seven faculties, held the Master's Degree Graduation Ceremonies on 21 November.
A total of 6,394 master's degrees and 4,761 bachelor's degrees were conferred at the Congregation. Among them, there were 1,069 Bachelor of Business Administration, 105 Bachelor of Science, and 1,160 Master of Accountancy, Master of Business Administration, Master of Professional Accountancy and Master of Science degrees.
At the Master's Degree Graduation Ceremony, Ms Angel Ng (BBA 1990), CEO, Citi Hong Kong & Macau (right) delivered a keynote speech to all the CUHK Business School graduates. The theme of her speech is "Courage Conquers", encouraging the School's graduates to be courageous for the challenges ahead. "In times of uncertainty, it takes courage to keep trying and keep believing. When you encounter problems, your natural instinct will tell you to run away. It takes courage to resist the urge to escape, but face the problems head-on even if it's unpleasant. Courage gives you patience and strength. With these qualities, you'll find solutions to almost all the problems."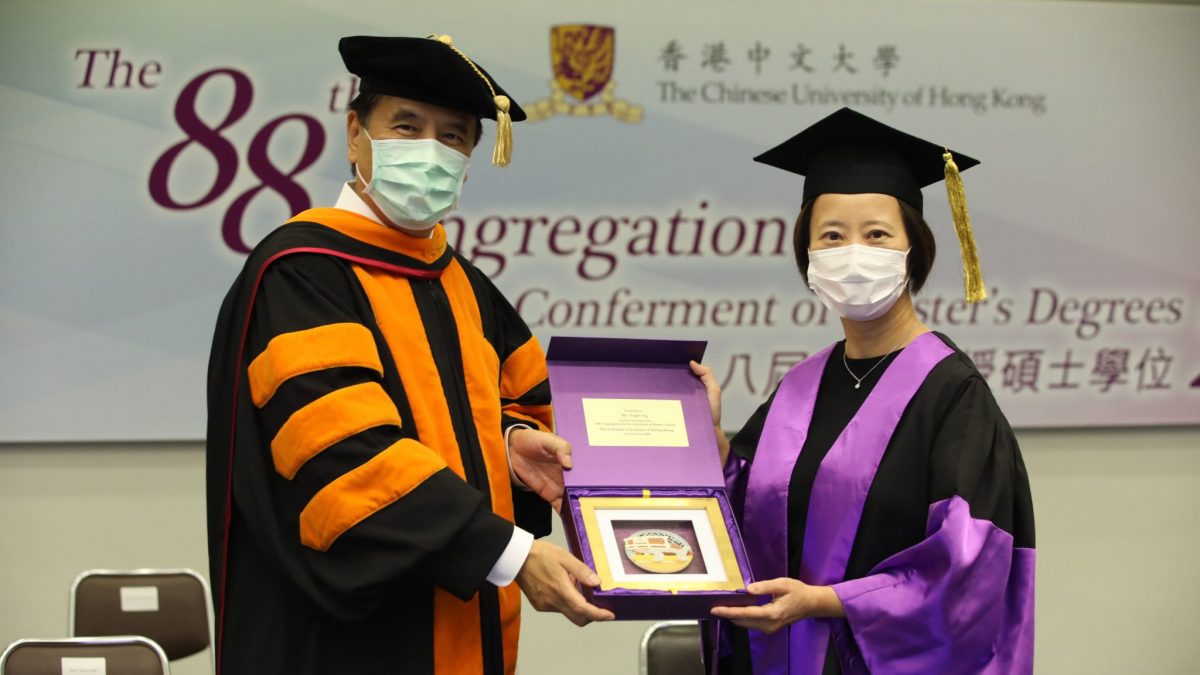 Ms. Angel Ng (BBA 1990), CEO, Citi Hong Kong & Macau (right) delivered a keynote speech to CUHK Business School graduates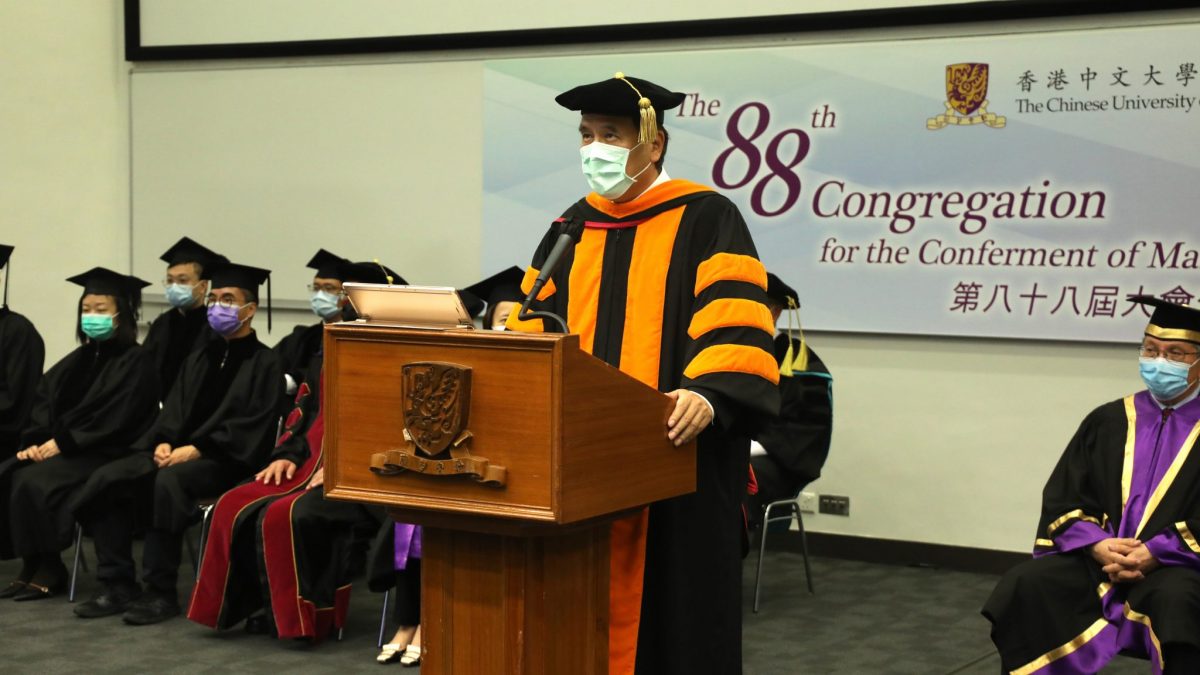 Prof. Lin Zhou, Dean of CUHK Business School officiated at the 88th Congregation for the Conferment of Bachelor's and Master's Degrees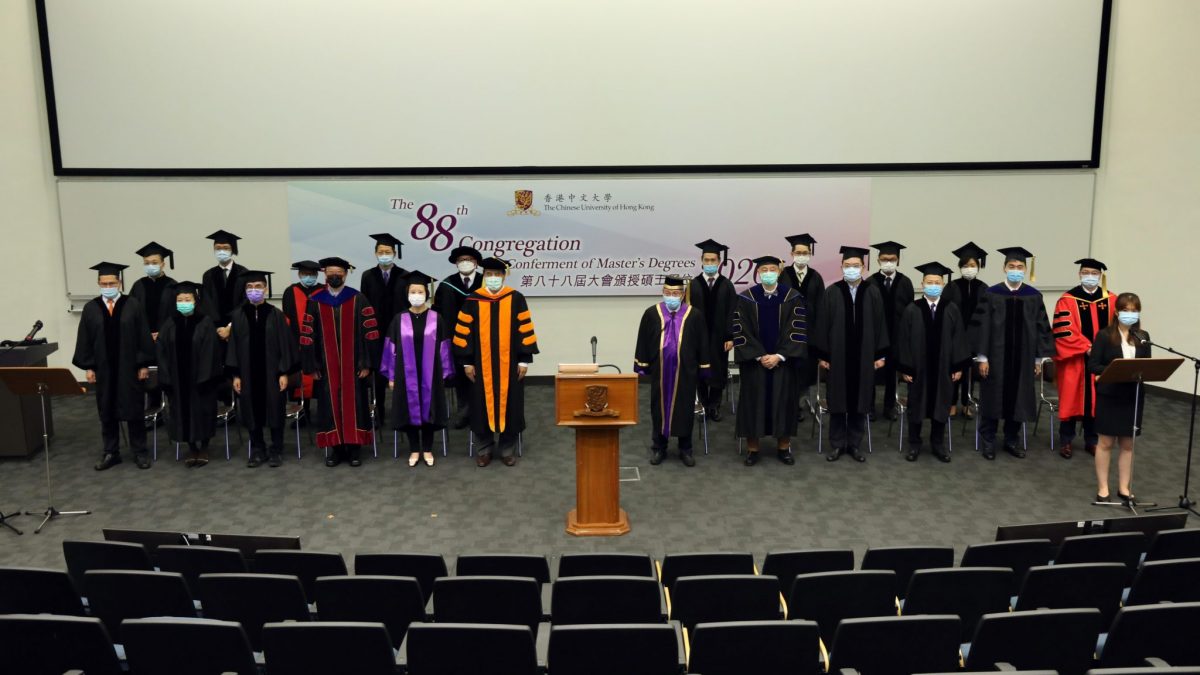 The 88th Congregation for the Conferment of Bachelor's and Master's Degrees was held on 21 November 2020
Capturing the Precious Moments with AR Technology
Graduation is one of the life moments that many students look forward to. With the ongoing threat of COVID-19, graduates may not be able to return to campus for taking graduation photos, but geographical constraints do not restrict the capture of such important moments. As such, CUHK Business School has created a photo-taking app harnessing the power of AR technology to let its graduates capture the important moments with their respected professors.
Developed with the support of the School's devoted alumnus Lucas Leung (BBA in Hotel and Tourism Management 2013) and his startup, TraVR, the AR graduation photo-taking app is available in two versions – one allows graduates to take photos with hologram images of their professors at the CUHK campus, and one for graduates in China and overseas who cannot be back physically to take a photo with the hologram image of Dean Lin Zhou.
Let's hear some of our graduates' sharing on this precious moment:
---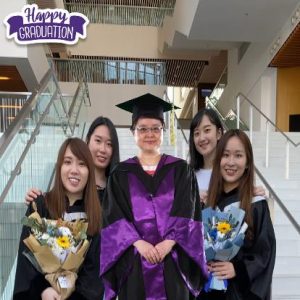 "My friends in CUHK definitely influenced me the most. Friends I met here are so kind-hearted and considerate, and they inspired me a lot. Studying in the Hotel and Tourism Management programme is the most unforgettable experience throughout my university journey. I learnt a lot at CUHK and met bunch of good classmates. I was able to improve my interpersonal skills too. Marketing knowledge is the most valuable thing I learnt in CUHK. I have never thought of stepping into the marketing industry before I took my first marketing course. Taking marketing as my minor has built up my passion, and I am determined to develop my career in the industry."
– Yuki Chan (BBA in Hotel and Tourism Management Programme)
"My friends and classmates definitely influenced me the most during my studies in CUHK. They are all talented, determined and kind-hearted. I learned a lot from them. Besides, the professors also inspired me a lot. They are very friendly and knowledgeable, especially Prof. Lisa Wan and Dr. Felix Chao.
Studying the course "Food & Beverage Management" is the most unforgettable learning experience in CUHK. I need to cooperate with my group mates and organise a Harry-Potter-themed dinner banquet for 60 guests. It was demanding yet fruitful experience. Although we had lots of work, it was fun! The Human Resources (HR) courses I took in CUHK definitely made an impact on my career. Not only can I enhance my knowledge in HR, but I can also improve my interpersonal skills."
– Carrie Fung (BBA in Hotel and Tourism Management Programme)
Notes: In the above photo, Carrie is the first student at the right-hand end of the row, and Yuki is the first student at the left-hand end of the row.
---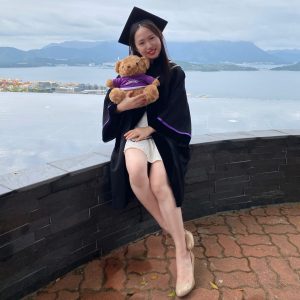 "The first person that come into my mind is Chi-kit Wong, 2018 MAcc graduate. I have connected with Kit in the Alumni Mentorship Programme, and he was my mentor. Since we have a similar academic and professional background, we discussed a lot about career development and future education possibilities. Kit is very open to share his strategies and techniques in preparing for the CPA and CFA examinations. In terms of career, he is willing to try as best as he can to accommodate internship and full-time opportunities for us. I am thankful for knowing Kit through the programme, which provides MAcc students with chances to receive invaluable advice in career and life from the School's extensive alumni network.
The studies in CUHK has equipped me with all-round accounting and financial knowledge that can be applied to my daily work. The in-class presentations also boosted my confidence to speak more comfortably in front of large audiences. The knowledge and skills gained from MAcc has helped propel my career and stand out among my peers."
– Tiffany Leong Yan Lai (Master of Accountancy [Part-time])
---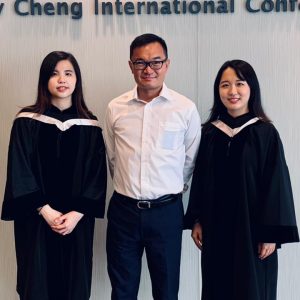 "The AR app gives me a great experience to be 'physically' back to campus. I'd like to thank the professors who taught me in the actuarial analysis courses. CUHK has trained me well to adjust myself and cope with the fast-changing environment, being able to apply my knowledge and skills in the real-life environment especially during the ongoing pandemic."
– Vivienne Toh (BBA in Insurance, Financial and Actuarial Analysis Programme)
---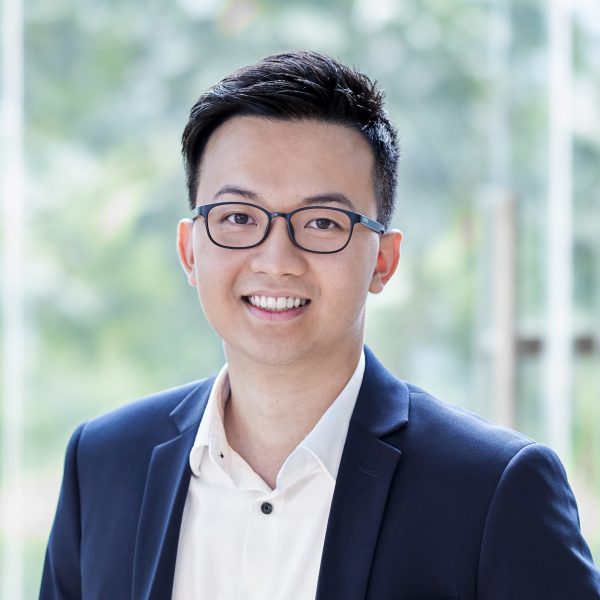 "I'd like to thank Dr. William Lau for his classes on statistics which guided me to learn statistics from a fundamental level. This allows me to build a strong foundation for more advanced data analytics classes. CUHK offered me a lot of opportunities and provided an optimal learning environment which had equipped me well for my future career."
– Hiep Vu (MSc in Business Analytics)
---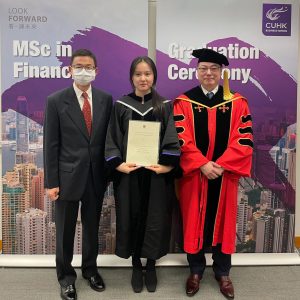 "This year has truly been a challenging yet fulfilling journey of self-discovery as well as personal and professional enrichment. CUHK MSc in Finance programme offers us not only a systemic coverage of academic studies, but, more importantly, it also connects us tightly with the industry through real-life case studies, lectures from practitioners and market updates and discussions with professors. The programme brings out the proactive, motivated and initiative-taking qualities of students which are later translated into passion and pursuit for a good start of career. It's been a pleasure to become part of the programme."
– Alex WANG (MSc in Finance [Full time])
---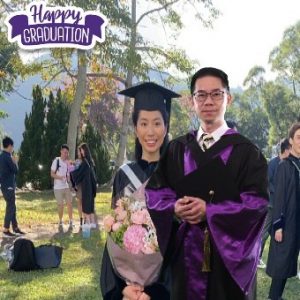 "My journey in CUHK has been exciting, rewarding, and unforgettable. I am glad that I have chosen CUHK for my bachelor's degree. Thanks for designing the app for us to capture the wonderful moment with our professors."
– Yee-wing WONG (BBA in Integrated BBA Programme)
---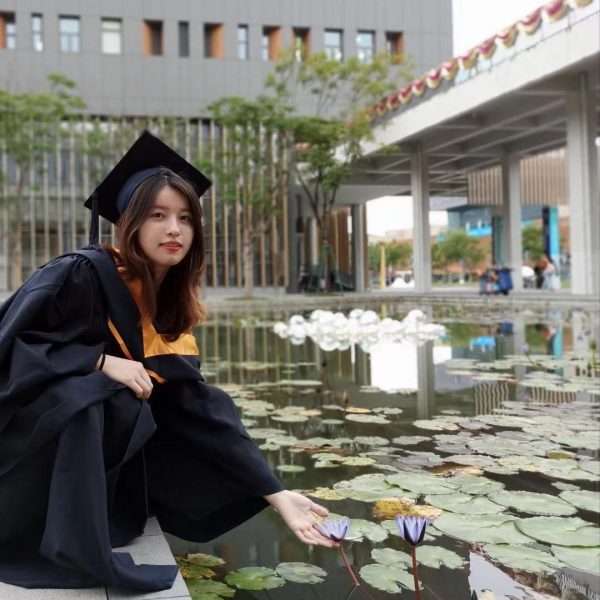 "It was undoubtedly a challenging year. The social movement and COVID-19 outbreak turned the learning environment upside down with classes, projects and exams all being moved online. I'd like to thank Prof. Zhaoyang Gu and all the MAcc programme staff, including Dr. Joyce Wang, Joyce Lee, Ellen Lin and Carmen Lo, for their tremendous support, care and guidance on career planning. I can feel that providing students with the best learning experience is a top-of-mind priority for them.
In the past year, what CUHK impressed me most was its strong alumni network. A lot of outstanding and committed alumni — many of whom are prominent business leaders/entrepreneurs — proactively took part in activities arranged by the programme to share their invaluable experiences with us. I feel so blessed to have met with them for a face-to-face sharing. I hope I will have the opportunity to return to my alma mater as an alumni speaker in the future.
– Wenyuan YAN (Master of Accountancy [Full-time])
---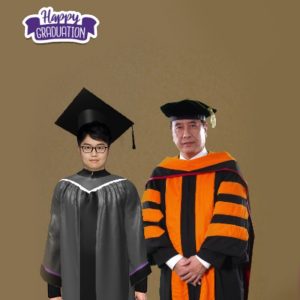 "CUHK MAcc's extremely robust and rigorous curriculum has stimulated me to think afresh. I'd like to express my heartfelt gratitude to every teacher in the MAcc programme for giving me a deeper and more international understanding of the financial field and nurturing me into a more qualified 'accounting professional'.
For example, Prof. Tianyu Zhang taught us in his Financial Accounting and External Reporting class about the huge impact and challenges of Internet, AI and other disruptive technologies on our career options, as well as accounting industry's future development trends. After that, I started paying extra attention to news about the Internet apart from learning professional knowledge. In Dr. Joyce Wang's Cost and Management Accounting course, I also learned a lot about business management, cost control, etc. These classes opened new doors in my professional life. From Dr. YY Butt's Taxation and Tax Planning course, I gained a better understanding of Hong Kong and the international taxation system. After taking the Business and Company Law course by Dr. Anthony Law, I grasped how businesses operate in different legal systems.
Studying in MAcc has helped cultivate my business mindset and global perspective, and I must keep up with the market trends especially when forging my career path. With this in mind, I finally chose to pursue a career in the fast-growing Internet industry. Although I am not a 'coding peasant', working in one of the world's Internet services giants let me stay connected with various Internet services companies and train up my industry mindset. I strive to become a thoughtful accounting professional with solid technical know-how in the near future."
– Hongbo YAN (Master of Accountancy [Full-time])